Tomorrow Brooke will be six.  We decided to let her have a party with a few friends this year.  She requested a My Little Pony party, so that's what we did.
The invitation: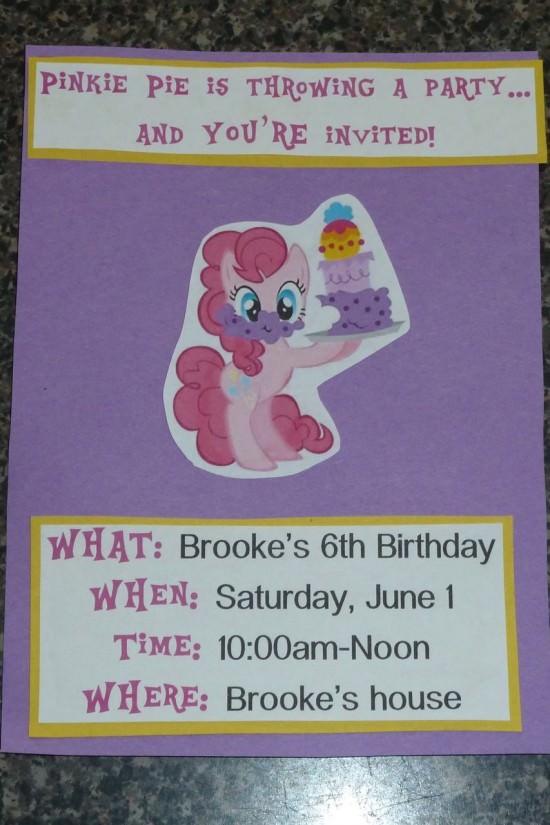 For those of you out there who aren't bronies*, there are two things you need to know in order to fully appreciate the invitation:
1) Pinkie Pie is the pony in charge of parties, so that's why it says she's the one throwing the party.
2) The pink lettering is the actual My Little Pony font that I downloaded.
Armed with that knowledge, the invitation is at least twice as cute, right?
(*While we're on the subject of knowing a lot about My Little Pony, did you know there's a My Little Pony culture out there?  There are quite a few teenage and adult women and men who follow My Little Pony so closely that there are websites, chat rooms, forums, and conventions dedicated to analyzing the intricacies of the series.  They call themselves bronies (as in bro + pony).  I find that baffling, slightly unsettling, a little creepy, and kind of amusing.  Especially when I stumbled upon this "conversation" meant to illustrate the bond that exists in this pony world:
Brony 1: What's your favorite pony?
Brony 2: Fluttershy, cause she's just so cute!
Brony 3: Hey man, those are fighting words. Rarity is obviously the best pony!
Brony 2: What are you going to do?
Brony 3: I'm gonna love and tolerate the crap out of you.
*hugs*
Bronies can also "brohoof" which is similar to a high five.  And now that you are all a little closer to being bronies yourselves, we will continue.)
Here's our birthday girl: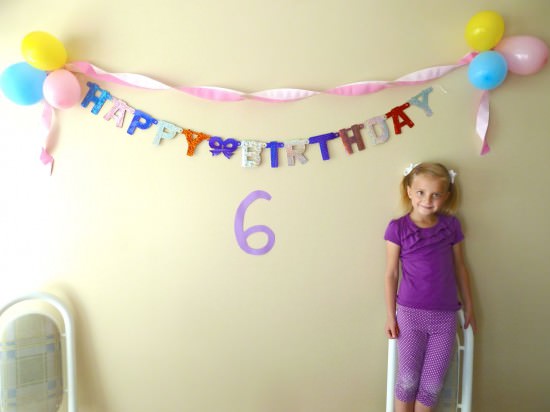 These are the only decorations you will see.  I'm adamantly opposed to killing myself over decorations when kids probably don't care about that kind of thing anyway.
Question:  what do you guys do to entertain the kids at a birthday party?  I thought it was surprisingly difficult to find fun party games to play.  I mean, a quick glance at Pinterest will show you dozens of  different ways to utilize mason jars in the best possible way at your party, but hardly any actual games can be found.  Unless I'm just a horrible Pinterester which I know is the case since I refuse to get an account and immerse myself in the world of impossible crafts, vinyl quotes, dream mansions, and chevron.
Maybe I'm just playing sour grapes.  Pinterest wouldn't want me anyway if this is the best I can do for decorations at my kid's party.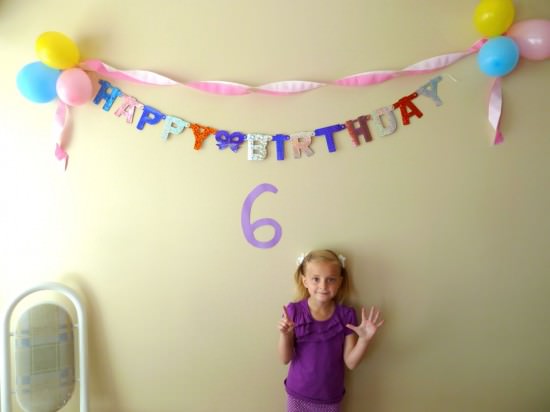 The internet was helpful in the end, and I did get a few ideas from it starting off with our first activity – a craft.  Brooke's favorite thing in the world is projects, so the kids made a pony out of their hand, glued colorful yarn on for the mane and tail, and used popsicle sticks for a fence.  It was very cute: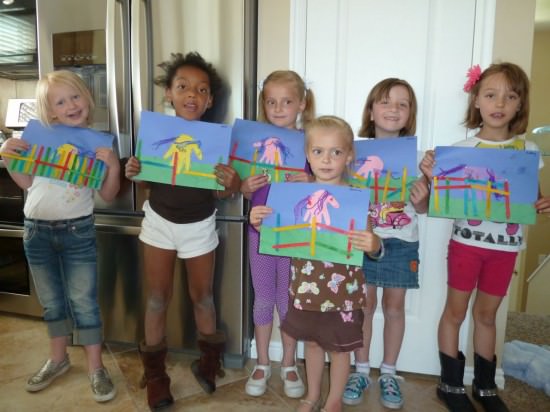 This is our balloon board.  Princess Celestia is in the middle.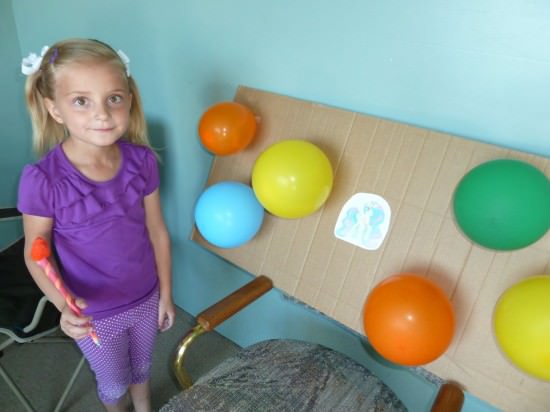 Each balloon had a paper inside with the name of a game to play: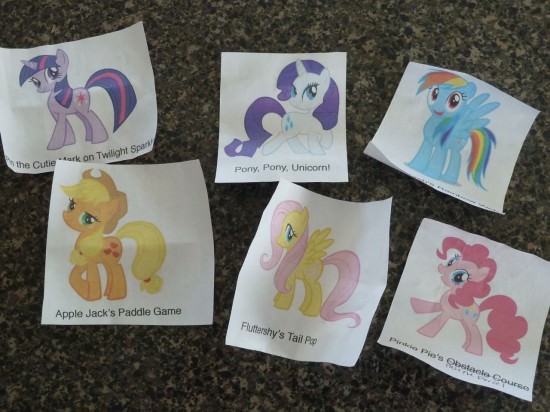 Brooke went first and popped the balloon with Apple Jack's Paddle Game inside.
I taped a paint stick to a paper plate and blew up red and green balloons.  The balloons were apples and the girls had to use the paddles to hit the balloons into a container (you know, to gather up all the apples for Apple Jack):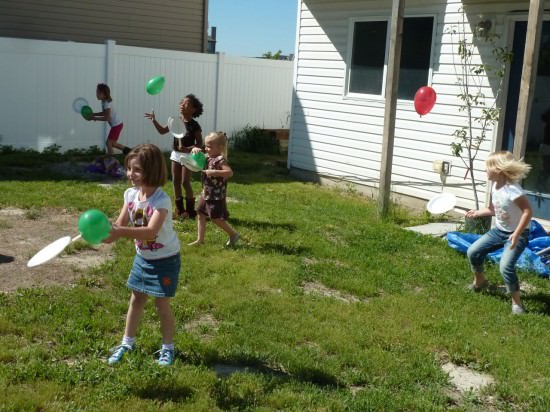 I'll go ahead and make a public apology to my neighbors for the few balloons that accidentally made it over the fence into their yards.  Sorry about that!
Our next game was Rainbow Dash's Rainbow Web game.  I didn't have high hopes for this game but it ended up being a favorite.  I got some rainbow yarn and Brooke made it into a ball.  We tied the yarn around the first girl's waist.  Then she threw it to someone.  That person wrapped the yarn around her waist and threw it to someone else.  We kept throwing it around until the girls had made a nice web.  Then they had to try to get out of the web.  Party game of the day right there: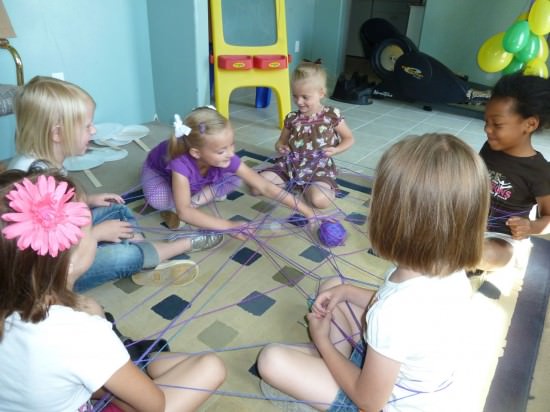 Next up we had Pinkie Pie's Pass the Parcel game.  I wrapped up some glow sticks in several different layers of wrapping paper.  The girls passed the present around the circle and when the music stopped they got to open a layer.  This was another fun one for them: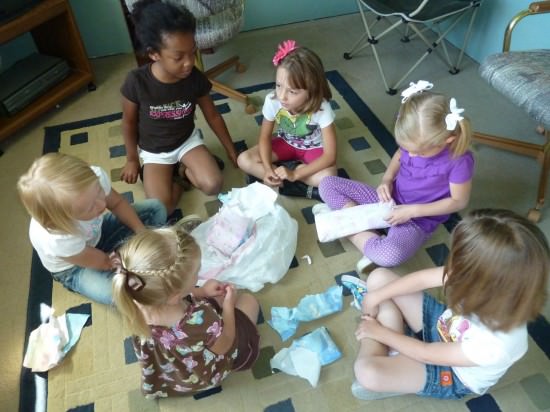 The next game was Rarity's Pony, Pony, Unicorn game (aka Duck, Duck, Goose):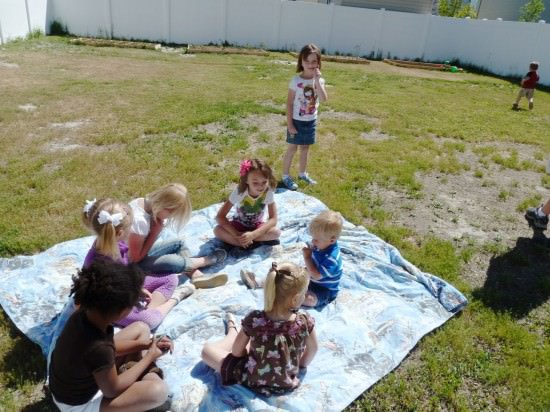 Then we played Pin the Cutie Mark on Twilight Sparkle:
I don't have to explain that the cutie mark is the decoration on the pony's rump, do I?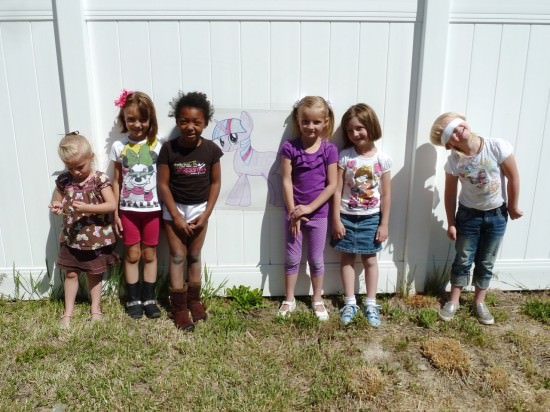 I am probably too impressed with myself for the Twilight Sparkle I drew: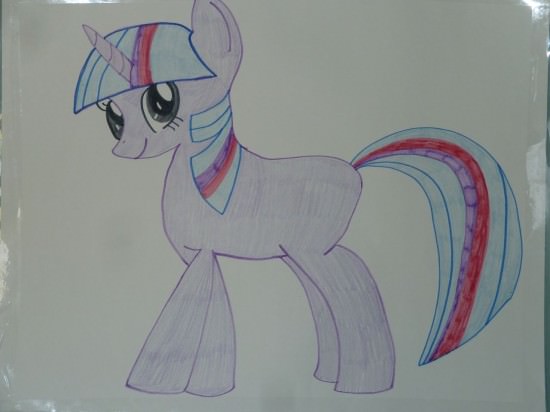 The last game was Fluttershy's Tail Pop.  I tied a balloon to string and tied the string around each girl's waist.  They had to try to pop each other's balloon: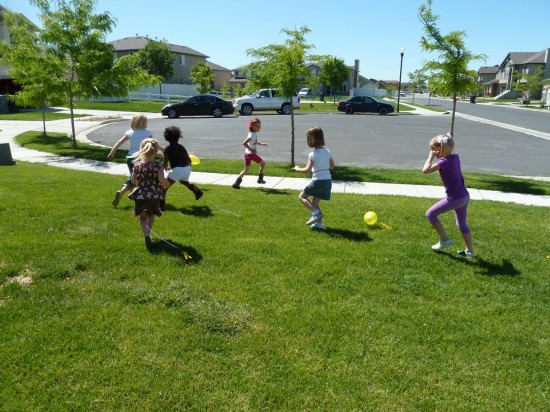 Then we had cake!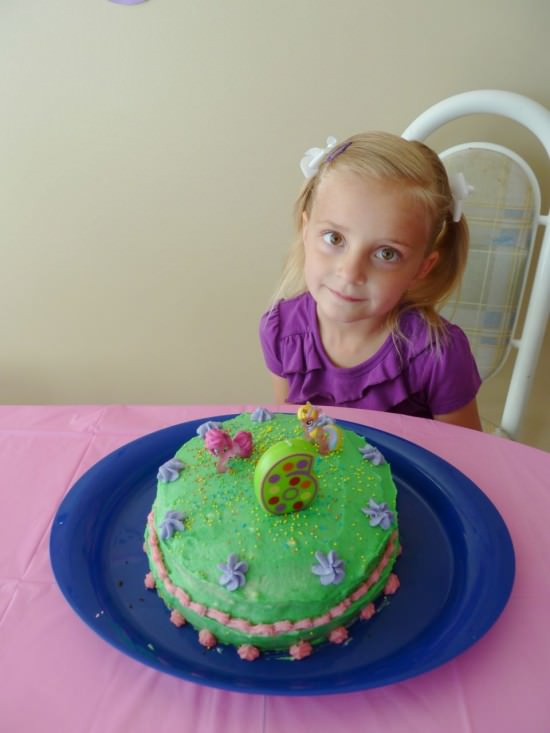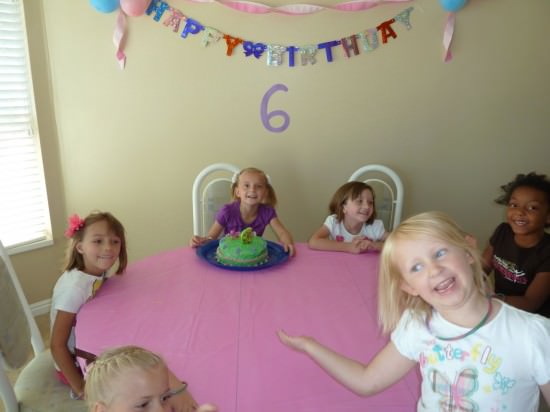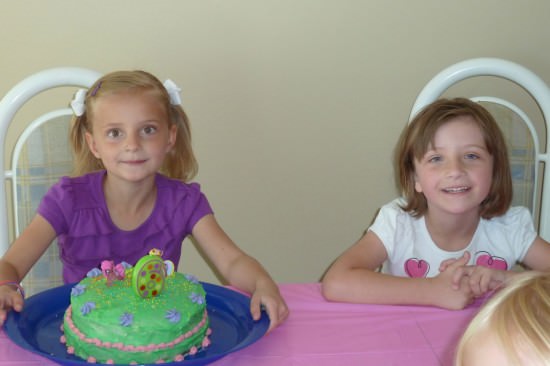 Brooke let everyone help her blow out the candle.  The more germs, the merrier, right?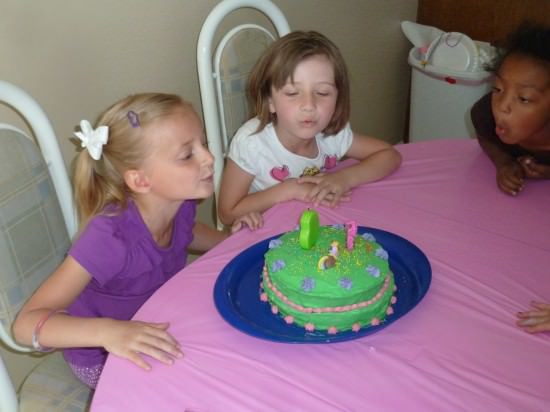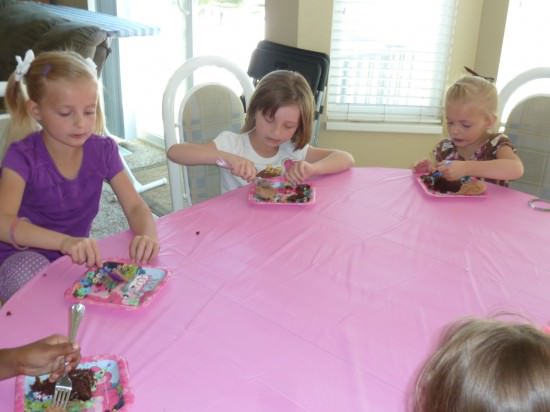 I had to get a lot of pictures of Brooke with her best friend, Ania: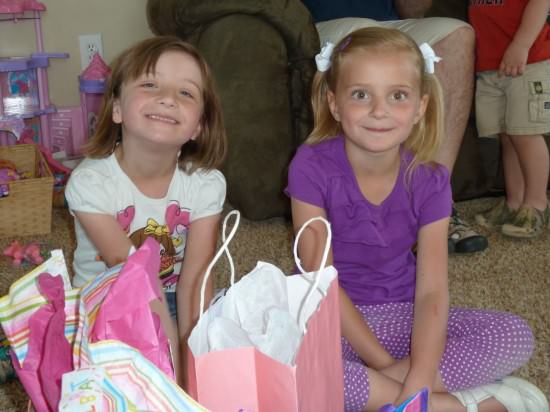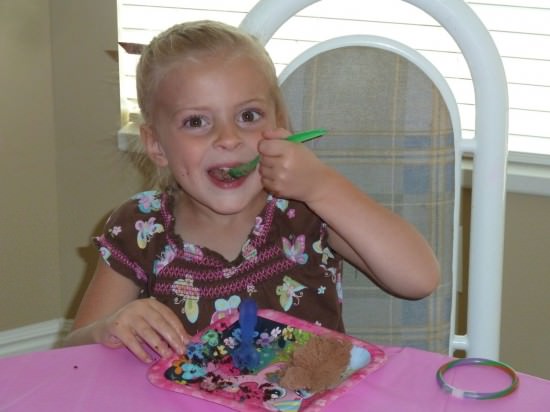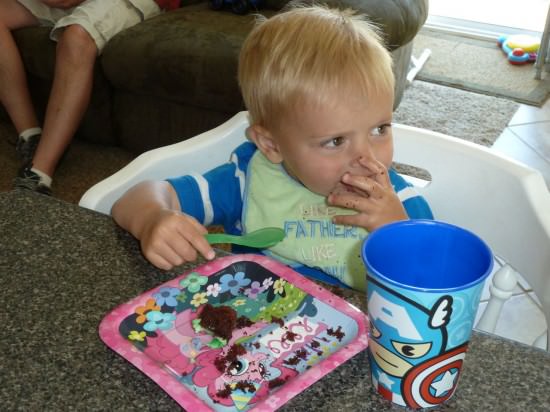 We ended the party with presents: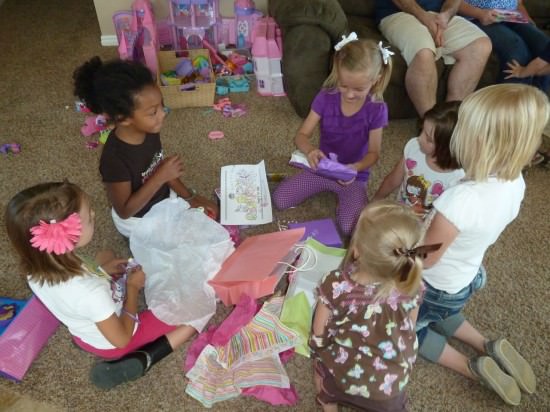 We had about twenty minutes left before parents came which was enough time for the girls to play a little bit with some of Brooke's toys.  I was nervous about the leftover time but it ended up being the calmest part of the whole party.
After the party Brooke and Caroline talked about how the party was so fun! and the best ever! so we'll call this birthday a success.
Brohoof.  /) * (\