Dallas and I have been parents for three years.  For three years we haven't had much of a break from our duties unless you consider the couple of nights spent in the hospital having a second baby a break.  We didn't.
Consequently, we felt it was time to get away!  To have fun!  To go on a vacation – without the kids.
First we secured babysitters.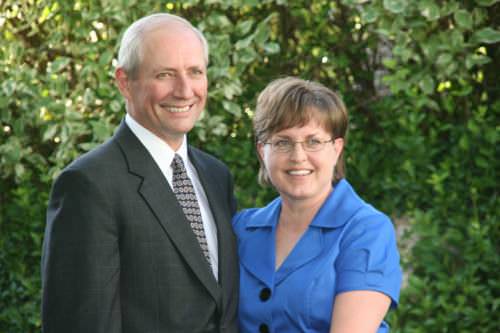 Thank goodness for parents who live close to us and who were willing to take on the task of parenting our girls for the weekend!
Next, we hit the road.  We stayed the first night in Salt Lake and the next morning, we drove to Moab.
Our first stop upon arriving (if you don't count the stop for the hitchhiker we picked up) was a visit to Moab Diner.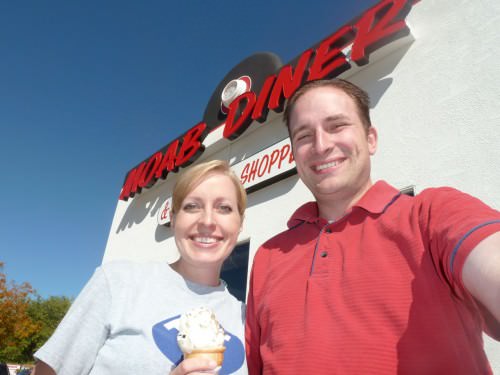 Get used to these shots of Dallas holding the camera and taking our picture.
Moab Diner – where the wait for the bathrooms is longer than the already-long wait for the food!  But, hey!  We didn't have kids with us, so who cares how long the wait was?  Dallas and I leisurely perused the menu, chose our lunch, ordered, and even had time to review the dessert menu.  The dessert was mostly ice cream, and I noticed it said "a la mode" for an additional price.  (What I didn't see right away was that the "a la mode" was there for an additional price if you were ordering pie.)  I chuckled at the idea of ordering ice cream a la mode.
When we made it to the ice cream counter, Dallas told the server he wanted cookie dough ice cream a la mode.  We giggled immaturely as the server considered our request and then laughed along with us.  Is this what happens when grown adults ditch the children?  They start acting childish themselves?  Apparently.
The Verdict:  Moab Diner – RECOMMENDED
Next stop – Arches National Park
Dallas has been dying to hike to the Delicate Arch.  He assured me he had heard somewhere that it was an easy hike, only a mile and a half to the Arch.  Well, with no children in tow, EVERYTHING sounded easy!
We arrived at the entrance, paid, and received a guide to the hikes that Arches National Park offers.  I looked through the list of hikes and noticed that the hike to the Delicate Arch was listed as a strenuous hike.  I don't do strenuous.  The brochure described hiking up steep slickrock, hiking ridges with hundred-foot drops, needing two liters of water per person, etc.  I was fairly sure I would not make it out alive.  Dallas took a picture of us as we were beginning our trek.  Notice the happy smiles, the non-sweaty foreheads, the 100% hydrated skin: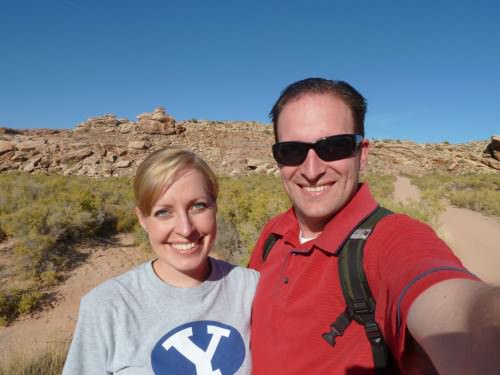 And, before we knew it, wha-bam!  We were at the Arch.  Notice our happy smiles, the non-sweaty foreheads, the 100% hydrated skin: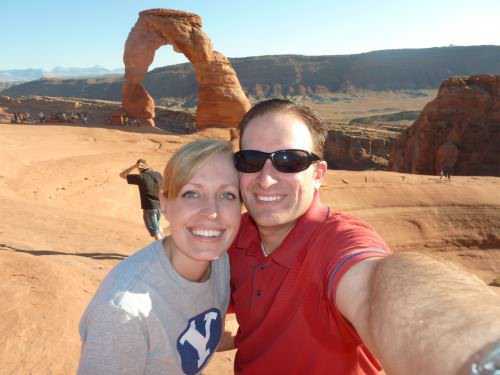 The hike was really no big deal.  If that's strenuous, I must be in better shape than I thought!  Sure, it was steep in some places and there wasn't much shade, but I worked myself up over nothing (as usual).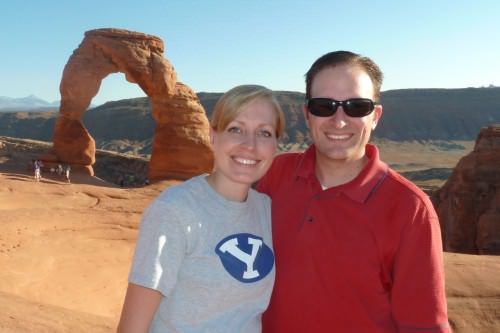 We were able to give Dallas's camera arm a break and get some nice people to take pictures of us.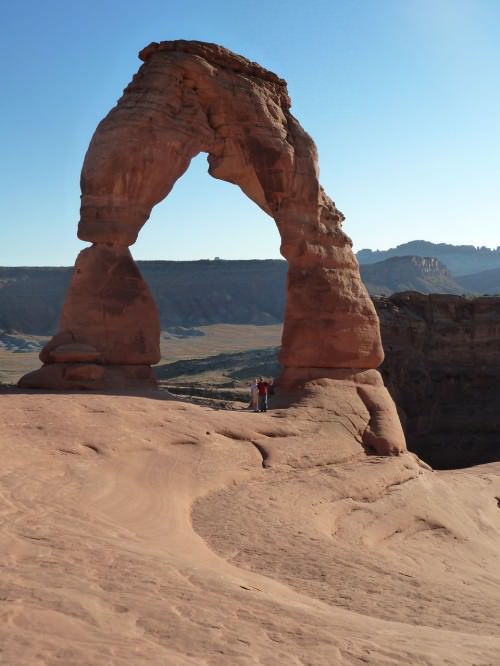 The Verdict: Hike to the Delicate Arch – RECOMMENDED
We planned this trip mere days before we went, so we didn't get our first choice of hotel for that evening.  We didn't get our second or third or fourth choice either.  Turns out last weekend was a half marathon and all the hotels in Moab were booked.  No big deal.  Dallas suggested we stay about an hour away in Green River.
That idea is what sent us that evening to Book Cliff Lodge.  (Cue the scary music and screaming.) When we booked the hotel online, we saw it had horrible reviews, but for some reason we weren't able to read the reviews.  Oh well.  Surely these people were overreacting, right?  Dallas and I aren't too picky about hotels.  We were willing to take our chances.
Our room had two king-size beds which seemed clean.  That's about the only good thing I can say about this place.  The bathroom was disgusting.  At first glance it wasn't too bad.  The toilet seat and bowl looked clean.  However, as my eyes drifted down, I saw the base of the toilet had weeks (months/years?) of pee stains and debris.  The tub had brown stains everywhere.  The floor had bits of toilet paper scattered about.  Ew, ew, ew.  You know your hotel is bad when you'd rather use a gas station restroom than the one you're paying for.
We survived the night and actually slept pretty well.  I attribute that to the fact that hardly anyone else was staying there, so we weren't woken up by other guests opening doors and talking in the halls.  As we were leaving, Dallas and I saw one other family.  The husband went to return the key while the wife took pictures of the swimming pool…which wasn't much of a swimming pool unless you prefer to swim with tumbleweeds instead of water.  I wonder if that woman has a blog.
The Verdict:  Book Cliff Lodge – NOT RECOMMENDED UNDER ANY CIRCUMSTANCES!
Goblin Valley was our last sight to see.  Dallas had been once before, but I never had.  Here we are as we entered the Valley: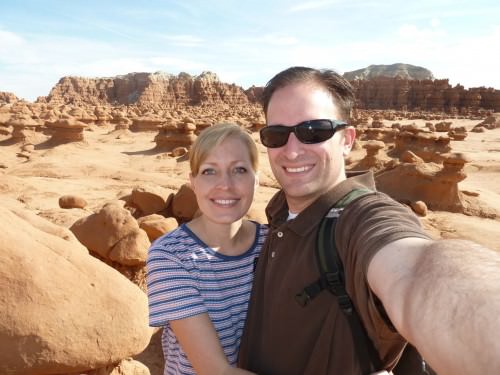 See those tall ridges behind us?  And that mountain just to the right of Dallas's head?  As we entered the Valley of the Goblins I thought to myself, "I bet there are crazy people who climb up there."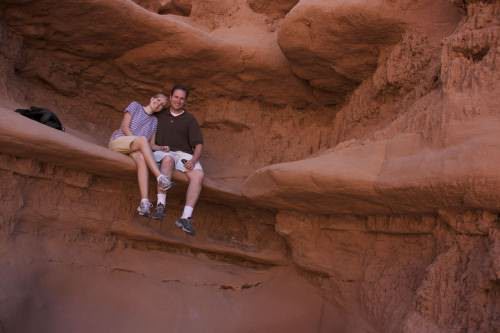 Yikes!  We turned into some of those crazy people!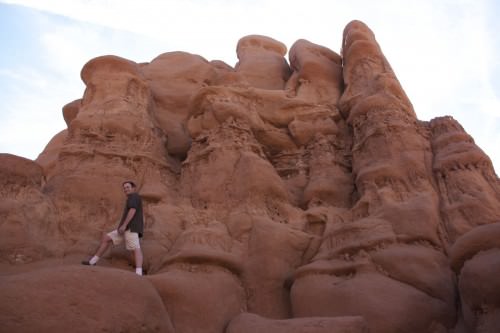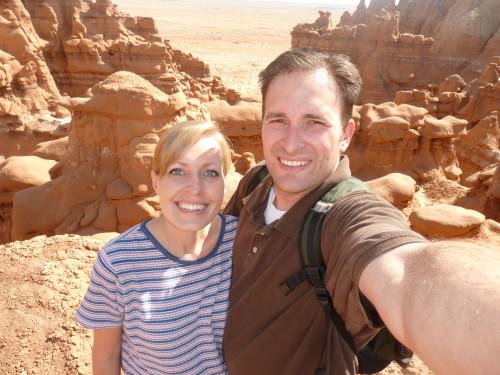 Here we are at the top of one of the ridges.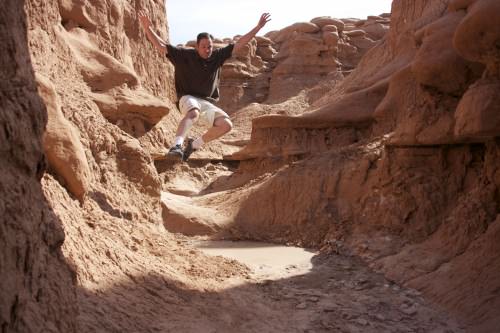 Dallas getting some air as he jumped over a puddle.
We loved Goblin Valley.  It was a huge valley full of structures and you could roam around wherever you wanted and climb up on anything that struck your fancy.  Since there was no trail and it was so big, we rarely ran into anyone else.  It was so quiet; we felt like we were the only ones there.
The Verdict:  Goblin Valley – RECOMMENDED
After our hike around Goblin Valley, we jumped in the car and drove home just in time for Sunday dinner with my parents. The girls were so happy to see us.  Brooke hugged and hugged us (unusual for her), and Caroline hugged and hugged Dallas.  She couldn't have cared less about me. Rascal.
Several times during our weekend Dallas suggested I call my parents to see how things were going.  I told him I probably didn't want to know.
I mean, did I really want to know that my mom lost Brooke once for 10-15 minutes and found her several houses down the street?  And that was only the first time she lost her?
Did I really want to know that Brooke was up every hour the first night, and during one of her nocturnal escapades she made an "M&M and marshmallow pie" that she devoured?
Did I really want to know that both Brooke and Caroline came down with horrible diarrhea?  (When asked about this, Brooke said, "Yeah, I had poop diarrhea.  It was a DISASTER!")
Did I really want to know that neither girl really ate anything except for junk the whole weekend?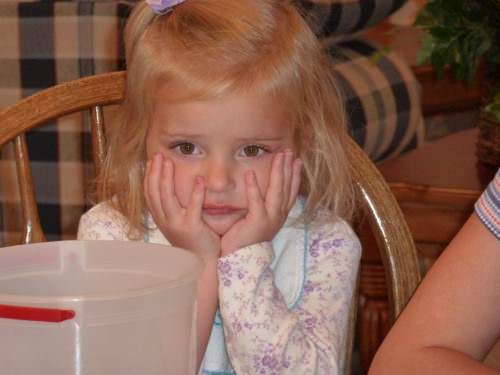 Brooke, who mysteriously came down with a stomachache the evening we came back.  Yes, that's a barf bucket in front of her.  No, she did not have to use it.
The Verdict:  Not calling home during our getaway – RECOMMENDED
The Overall Verdict:  Getting away for the weekend with your husband and not having a care in the world – HIGHLY RECOMMENDED
Now I just need to figure out how soon is too soon to ask my parents to babysit for us again…