There comes a time in a young child's life when he needs to give up diapers and learn to go in the toilet already.
This happens to coincide to a time in a mother's life that fills her with crippling fear, untold frustration, and utter helplessness.
Yes, folks, we're on day 3 of potty training Spencer.  Would you like some stats?
Day 1:  9 accidents + 2 successes = This is never going to work.
Day 2:  2 accidents + 4 successes = I will never leave my house again.  What's wrong with diapers again?
Day 3:  2 accidents + 5 successes = All I've thought about for the past 72 hours is my son's bathroom habits and I will never be able to think about anything else and when did he last go and oh my goodness he's just wandered out of eyesight so I have to leave for a minute and phew he's still dry but that could change at literally any moment and is he starting to do a little potty dance or has he always walked like that and what if I just never feed him or let him drink anything ever again and did someone spill water on the floor what is that and I CAN'T TAKE THIS ANYMORE SOMEONE PUT US BOTH OUT OF OUR MISERY!
Deep breaths. 
Deep breaths.
Perhaps I should just say I hate potty training and even though Spencer's having less accidents than he did on day 1, it's just because I'm the one getting trained.  Well, I should give the little guy some credit, too.  The past three days have trained him to run to the nether regions of our house the second I look away so he can do his business there instead of in the bathroom.  Does that count as progress?
I decided to follow the Toilet Training in Less Than a Day book.  I've had friends who have had great success with this method.  The "less than a day" part sounded pretty good, so I was sold.
I found a doll and made some underwear for it: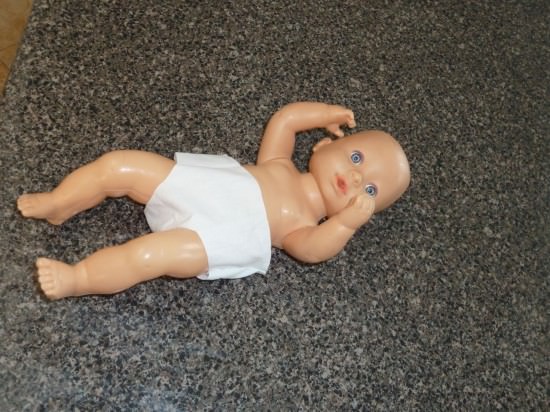 I stocked up on snacks and drinks.
I enlisted Lightning McQueen's help: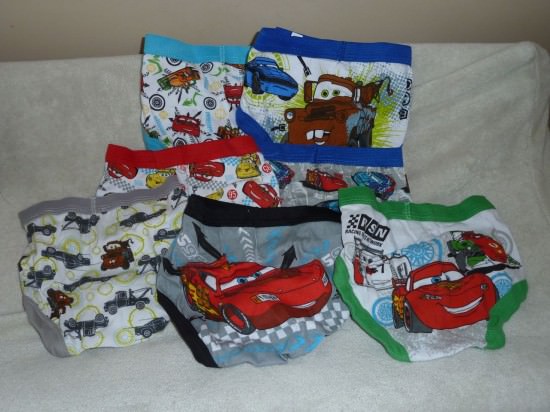 We were set.
We first taught the doll how to use the potty.  This was the most fun my kids have had all month.  They couldn't get enough of helping the baby lower its underpants, sit on the potty, and wait while I stealthily used a bath toy to squirt some water in the potty.  The squeals of delight let me know this method was going to serve us well.  Optimism!  Look how naive I was.
After Dolly was properly trained, it was Spencer's turn.  I had been offering him apple juice all morning.  He never gets juice except occasionally at restaurants and at that time all he wants to do is drink cup after cup.  Of course, now that I wanted him to drink cup after cup, he no longer had a taste for it and hardly wanted to drink any of it.
Consequently it took him forever to need to go to the bathroom.  I set the timer and he'd practice sitting on the potty, but after several times of nothing happening, he lost interest in that long before he actually needed to go.
So now I have to find ways to practically force the kid to sit and our happy morning spent potty training Dolly is such a distant memory that I can't even remember what it feels like to smile anymore, it's been so long.
He doesn't look too thrilled with the process either: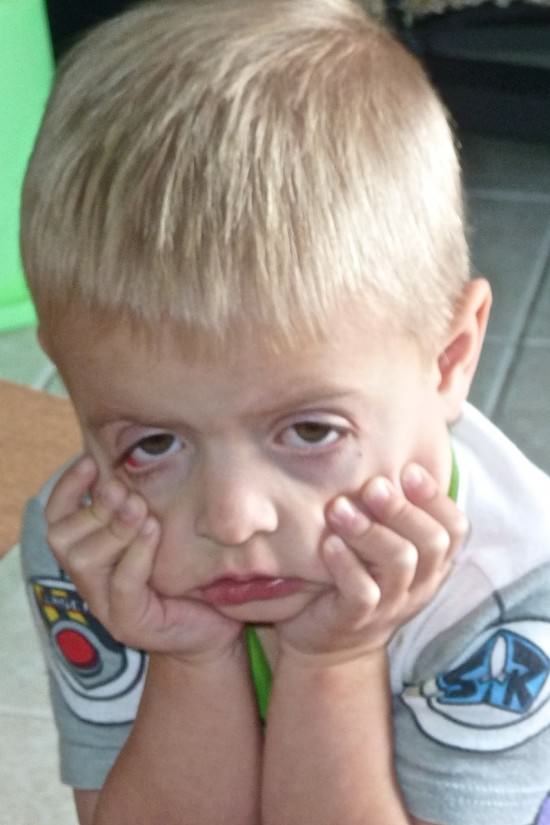 We finally have a couple of successes, but Spencer isn't exactly beaming with pride at his accomplishment, and I am starting to experience one huge contraction that could just be a permanent tightening of all my body muscles because I haven't been able to relax in hours (make that days, now).
Bedtime couldn't come soon enough.  After two especially frustrating accidents (both times happening seconds after sitting on the potty) Dallas and I sent him to bed and I proceeded to talk myself down from having a nervous breakdown.
I've already written more about this than I intended so let's just say that day 2 and 3 have been much less frustrating in the sense that I haven't been cleaning up accidents all day, but I still feel like we've made very little progress.  Spencer doesn't like to sit on the potty.  I have to entice him by letting him watch racecar shows on the iPad.  He'll go…but it always takes at least ten minutes of sitting for anything to happen and it's always at my insistence, not his.
It was not supposed to happen this way.  The book promised me a much different experience.
I demand my money back.