I never got around to posting last week, so this week shows two weeks' progress.  Let's see what we have.
Oh yes.  I left off describing the millions of paint drips we had after our attempt to use the paint gun: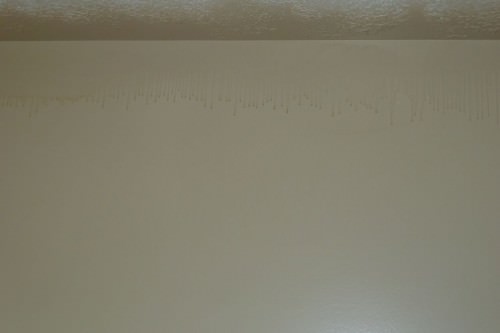 We spent days sanding down the drips leaving the walls a mess once again.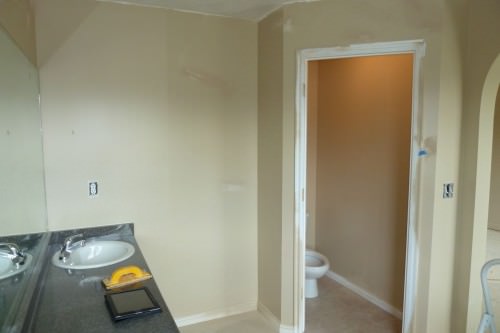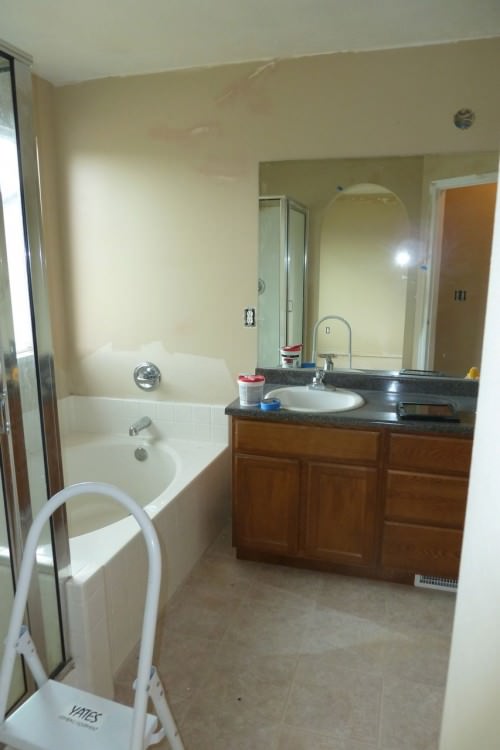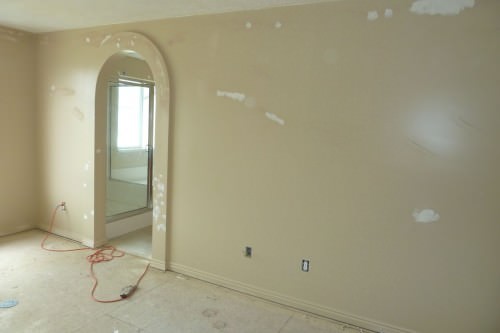 Since we realized we'd basically be repainting everything all over again anyway, we decided to engage in another round of spackling to get some holes that we missed the first time around: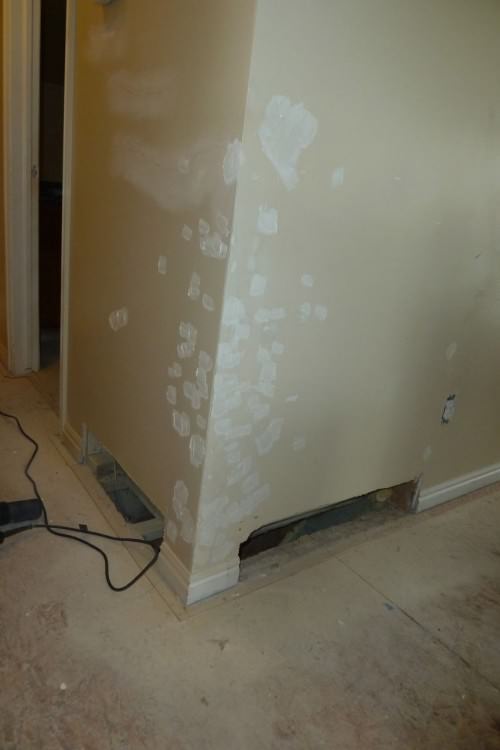 Now the painting is finally pretty much done and things are starting to look good.  How nice to be able to say that!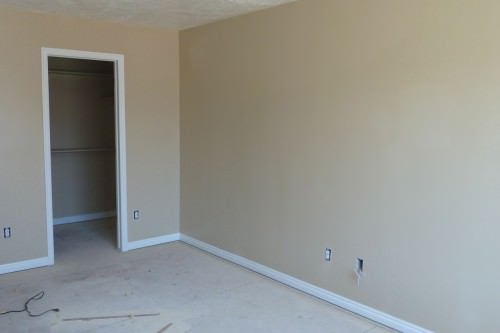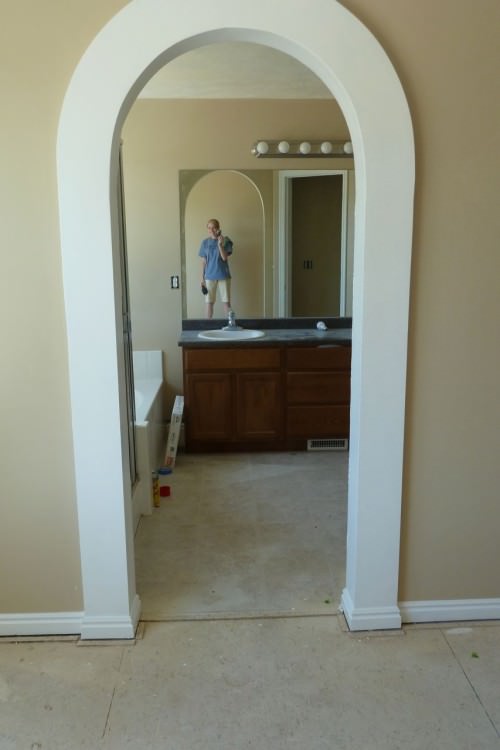 My brother Jacob and his family were in town and Jacob actually volunteered to come help us at the house during his vacation.  What a guy!  He helped us grout our tile: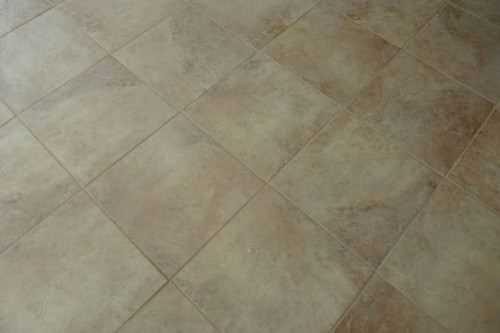 After finishing that he asked what else needed to be done.  Painting was the only thing that came to mind.  Our front room has really high ceilings and we needed someone to touch up the overspray.  Jacob agreed to tackle the task and am I ever grateful he did.  Mostly because I didn't want to do that job but also because he gave us my favorite quote of the day.  He finished the first coat and was glad to be done with that chore.  However, his joy was short lived when he learned his next job was…painting a second coat!  With a slight roll of his eyes he climbed the ladder once again and began the tedious work.  As he was painting he remarked, "You know, it's actually a lot easier painting a second coat.  And it's not like the nature of the task has changed."  (For those of you who didn't grow up in our house, allow me to introduce you to one of my dad's favorite quotes, "That which we persist in doing becomes easier to do, not that the nature of the task has changed but that our ability to do so has increased.")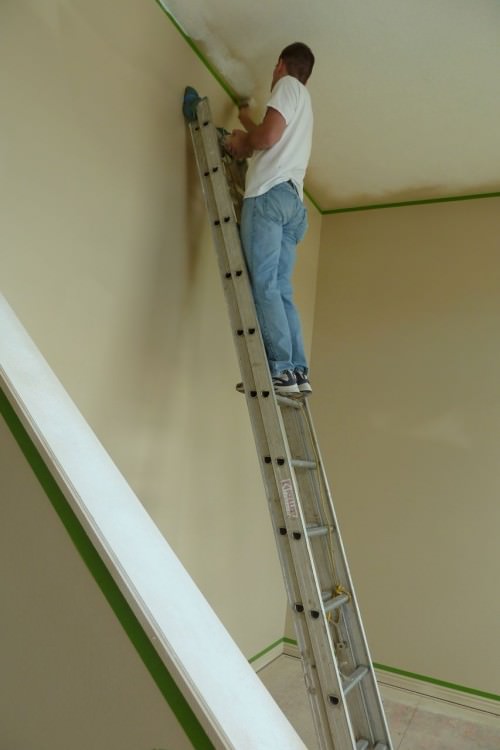 My dad tiled the backsplash area in the kitchen: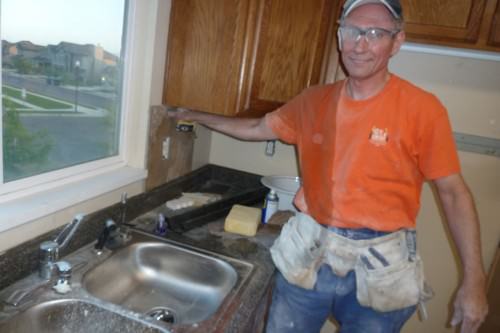 The kitchen is coming together nicely!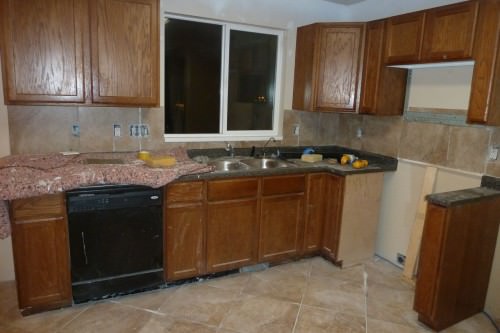 Dallas and my grandpa worked on hanging a chandelier in the entryway: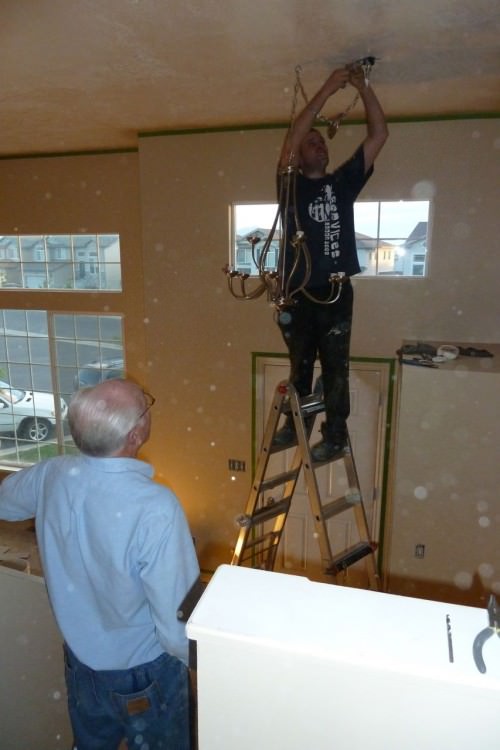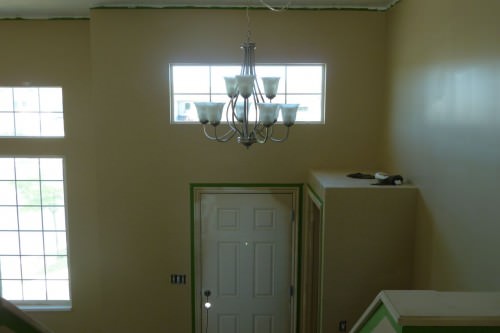 Dallas's dad came by and put on a new toilet seat: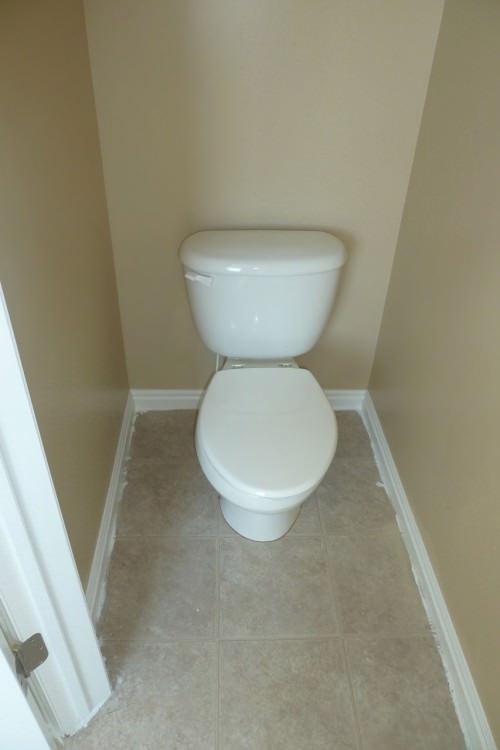 He also helped us begin to tackle the backyard.  We had a lovely weed patch: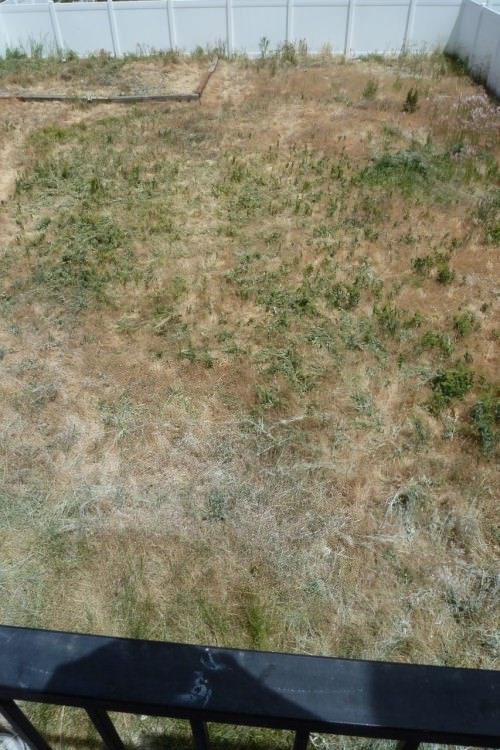 Dallas's dad brought his mower and cleared out the tops of the weeds.  Just doing that made the yard look so much better: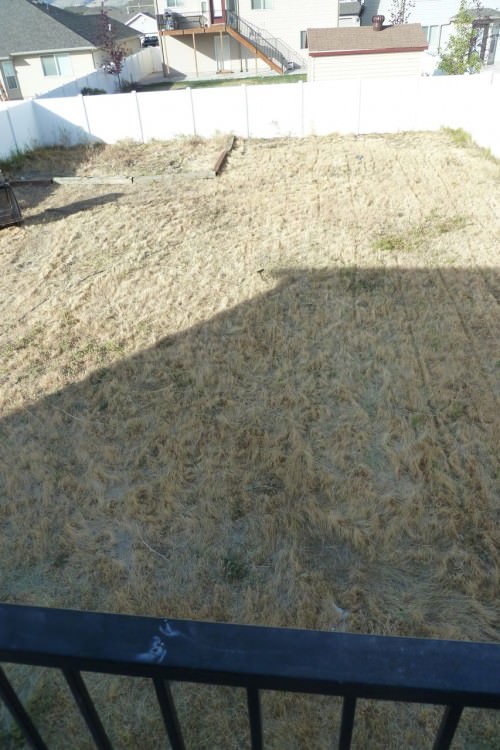 After some debate we decided to add new linoleum in the bathrooms.  We found we could save money by removing the baseboards ourselves, so we did.  The linoleum peeled right up: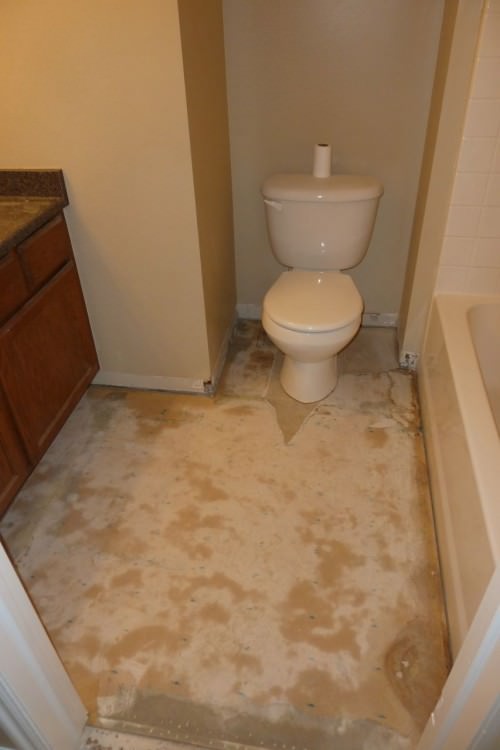 The master bathroom shower had a leak which we fixed when we first got the house.  However, as we ripped up the linoleum we saw the board under it was soggy and moldy.  Nice.  We ripped up the board that the linoleum was on to get rid of the mold.
My dad laid some linoleum in the laundry area, and he and Dallas spent time rolling out all the air bubbles: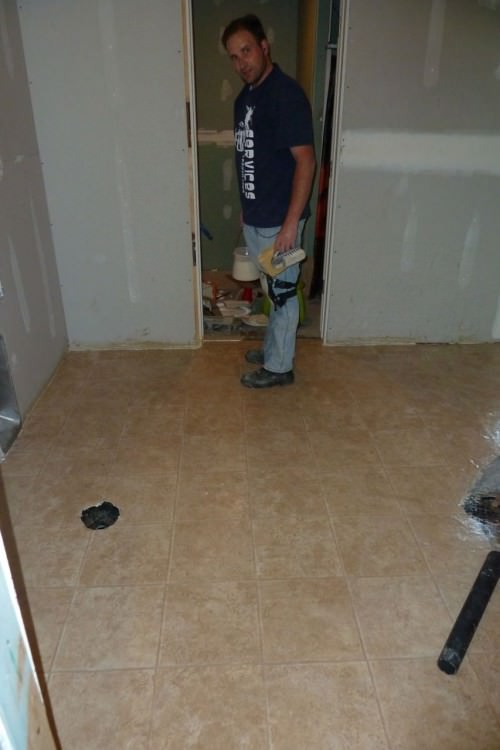 There was tile in the basement that had never been grouted so we used our leftover grout to complete that job.  The grout made that tile look so much better: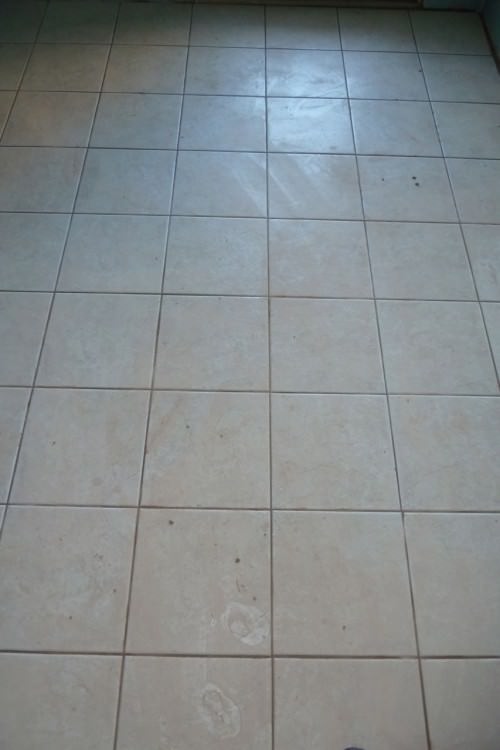 Dallas painted our door and shutters.  We decided to ditch the blue and use red paint.  Dallas was convinced it would look good.  I was nervous.  Now that it's painted, I am glad we went with red.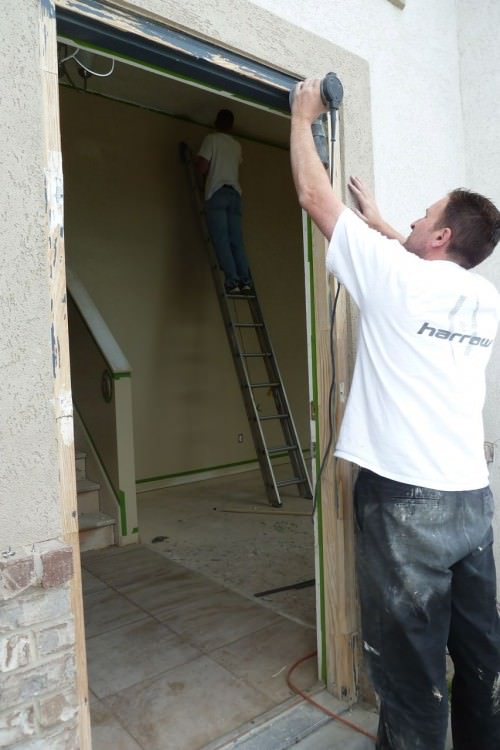 Dallas's mom thought our house could improve upon its curb appeal so she brought us over two flower pots.  Those flower pots have made all the difference!  I love seeing them on our front porch next to our fresh, red door.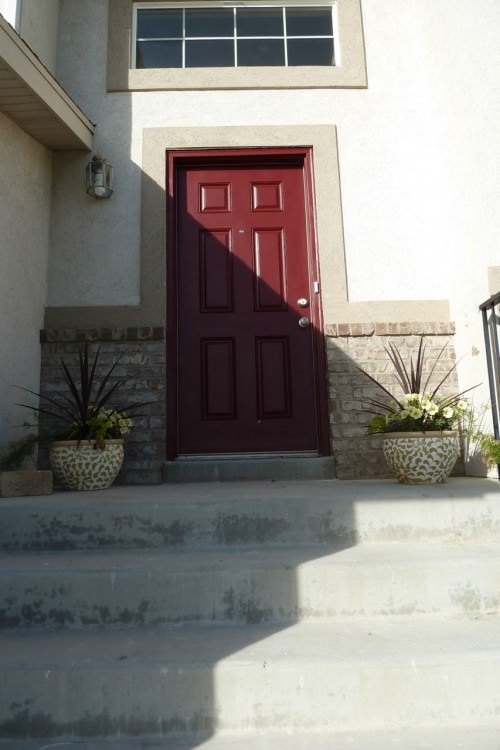 A few weeks ago when we were neck deep in renovations I told Dallas that someday we would enjoy going to our new house.  I think that day is finally approaching.  We really just need to clean everything and get the carpet installed and we'll be about ready to move in.  Hooray!