When we moved into our new neighborhood, we got into a conversation with one of our neighbors about Christmas decorations.  Just as I was saying we weren't the type of people to put lights on the outside of our house, Dallas was saying that we WERE going to put lights up this year.  It was then I realized that though we'd celebrated nine Christmases together, we had never had a Christmas in a house, so we'd never had to make a decision about exterior Christmas lights.
So, since we are outside-Christmas-lights people (who knew?), Dallas spent a Saturday decking the house.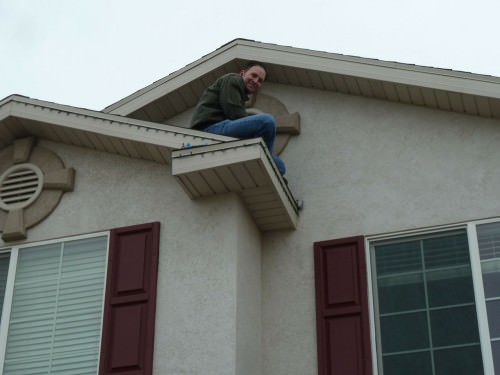 Here's the end result: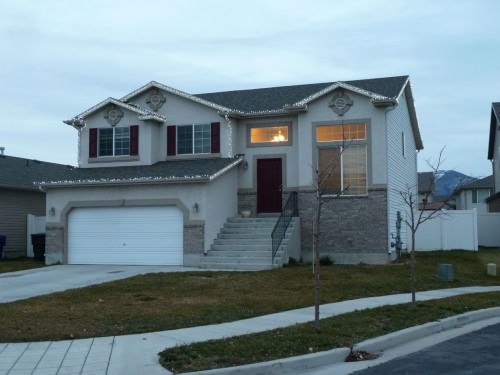 Probably should have taken the picture at night for maximum impact.  Oh well.
As Dallas was putting up the lights, he decided to film some footage of him stringing lights and pretending to fall from a ladder.  We had his video camera in one of the rooms above the garage filming outside as he was putting up lights on the garage area.  Every few minutes he would pretend to fall.  The results were hilarious, especially since one of our neighbors was also putting up lights and apparently got alarmed every time Dallas went into acting mode and "fell" from his ladder.  I'm afraid stunts like these are securing our place as the friendly neighborhood kooks.
We found out RC Willey had a day where Santa visited.  Since we needed to go to RC Willey anyway, we made a Santa stop while we were there.  Caroline told Santa she wanted a doll: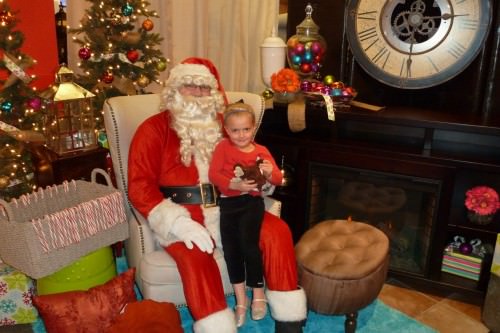 Spencer pretty much just wanted a candy cane: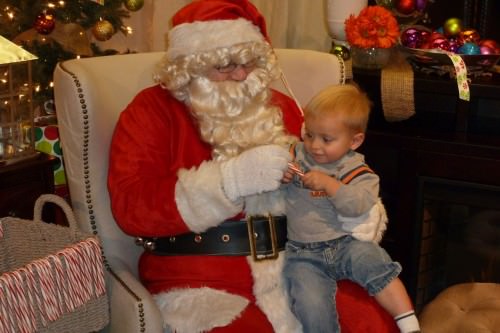 And Brooke wanted nothing to do with Santa.  She didn't say a word to him because she was "too shy" (her words).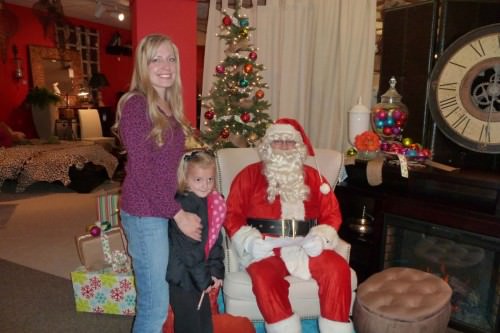 She told us beforehand that she wasn't going to say anything to Santa so she drew pictures of what she wanted so she could just give him the picture.  Problem solved.  I got a kick out of her wish list (click to enlarge):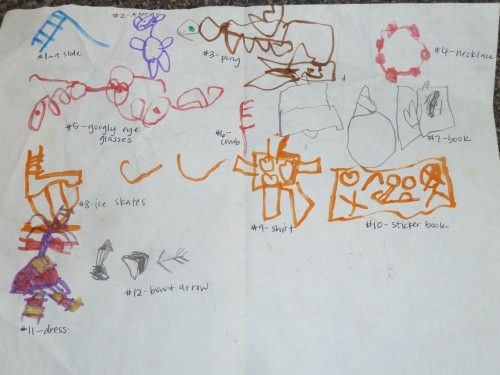 I particularly loved #5 – glasses with googly eyes that spring out.  Her drawing is quite realistic.
Here's another picture she drew of Santa coming down the chimney: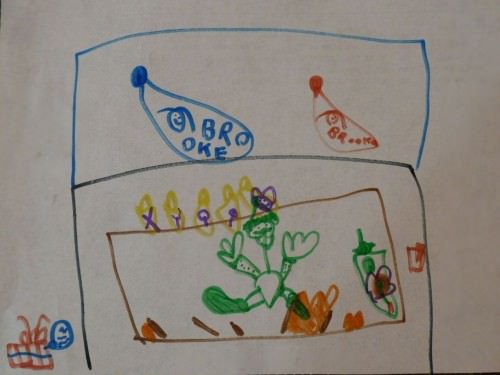 We saw Santa again at the ward Christmas party.  Here we are waiting in line: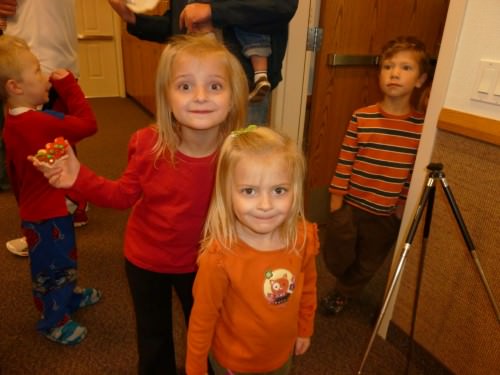 Spencer was brave: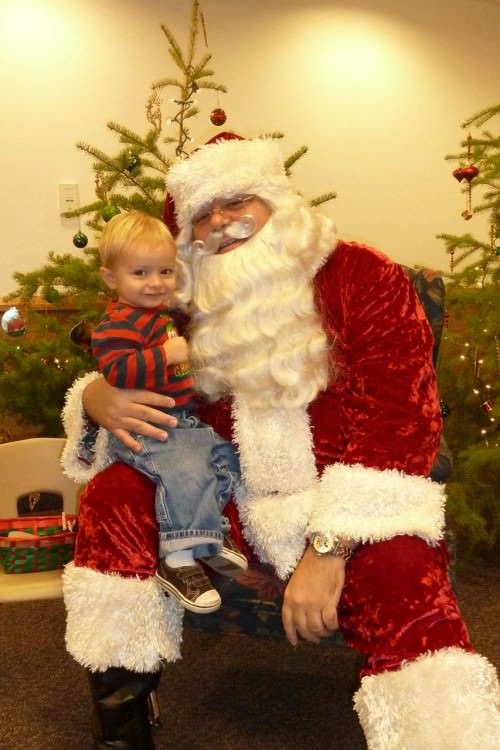 As was Caroline: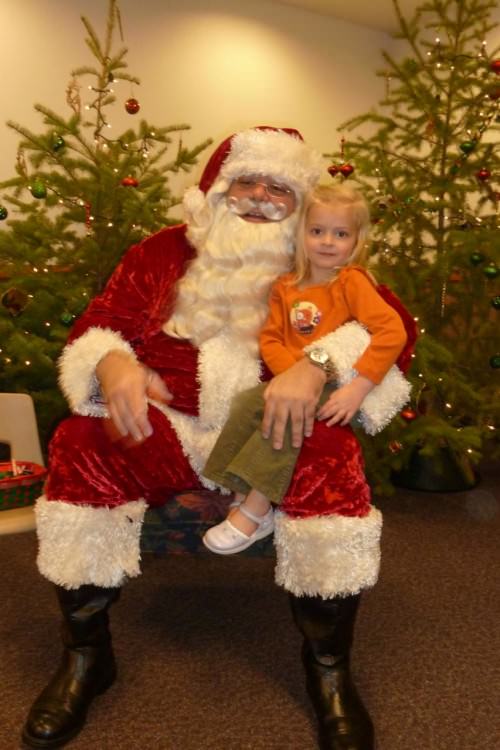 Some children in our family once again decided sitting on Santa's lap is overrated and opted out.  But we did get a family picture: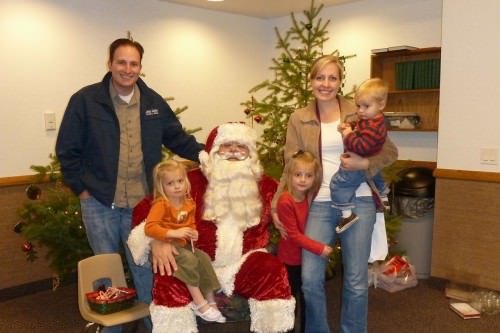 Brooke had her school Christmas program.  The kids sang Christmas songs complete with actions.  Well, most of the kids did.  Some kids just looked like this pretty much the whole time: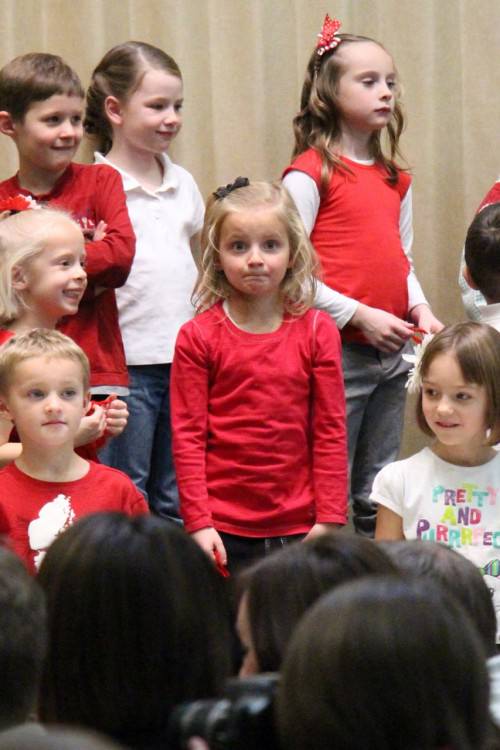 She did get into it a tiny bit when jingling bells was involved:
Ever since Halloween the girls have been begging to make candy houses.  Finally the day arrived: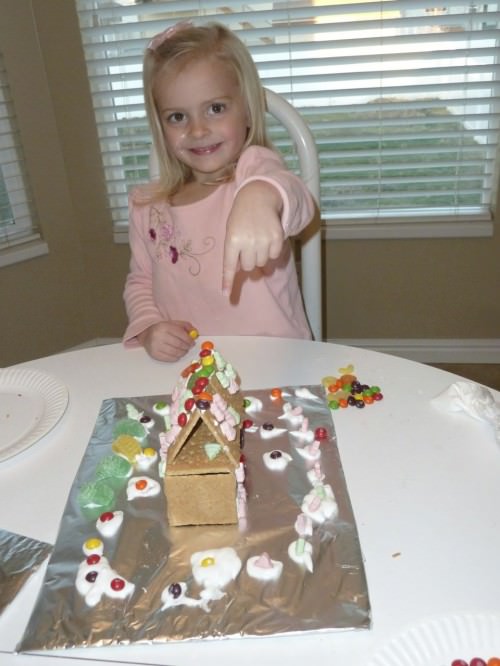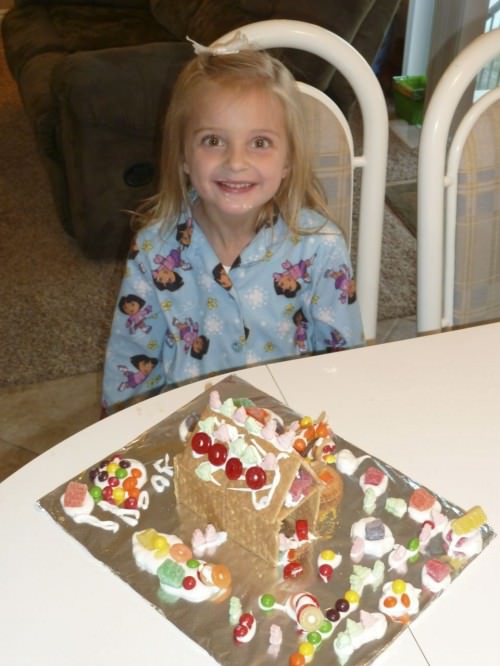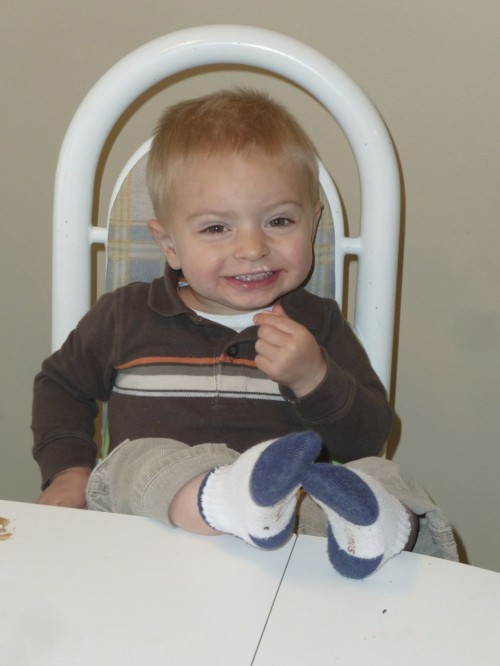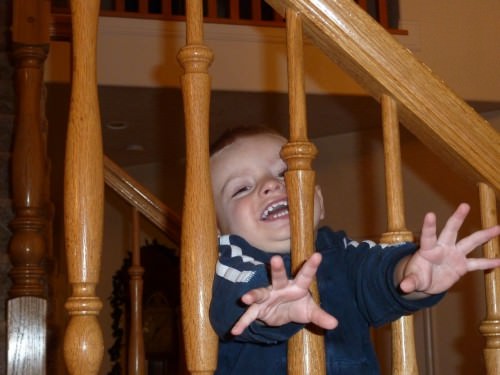 My family had a Christmas Eve program.  My uncle dared someone to stuff an entire Twinkie in his mouth.  You never know when a Twinkie will cross your path these days so Dallas jumped at the opportunity.  As he was asking if there were any other volunteers, he failed to realize he was holding a very willing participant: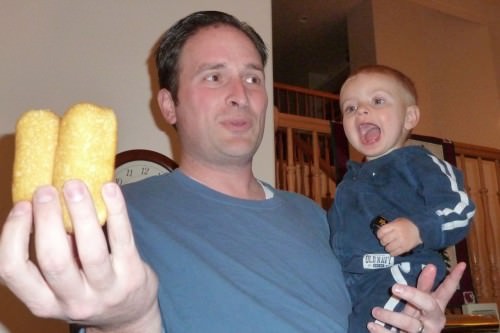 After our Christmas Eve program we hurried home to get ready for Santa.  Brooke laid out treats for Santa and some carrots for Rudolph.  I loved how she found a Christmas notepad and drew arrows to which person should eat which treat: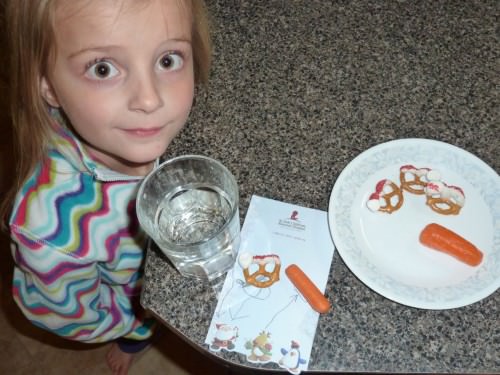 Shortly after this picture was taken we nestled Brooke into bed.  Did St. Nicholas come?  Did everyone's Christmas wishes come true?  We'll find out soon!