So I started this post a couple of weeks ago and forgot about it… The much awaited Favorite Brooke Moments is now here. If you missed leaving a comment about your favorite Rebecca moments be sure to go back and do that here
It is going to be hard to determine what my favorite Brooke moments are because she does something funny everyday.
One funny thing Brooke does is that she crawls as fast as her little body will carry her to the bathroom whenever we forget to close the bathroom door.  She somehow knows when we have forgotten to close the door and the moment we turn our back she is there either trying to get into the bathtub or getting the cap off the floor bolt on the toilet so that she can suck on it.  Gross!  It sometimes even becomes a game when we catch her in the act, she will giggle and try to race us there.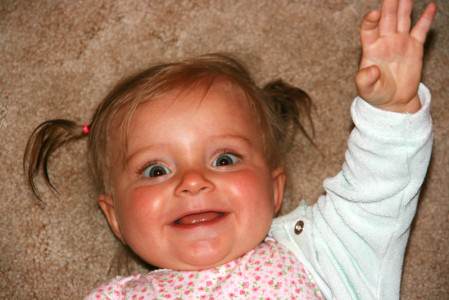 I also like it when she gets hyperactively excited when I come home.  It makes me feel needed at home.  If you haven't seen that post be sure to see that one because it is hilarious! We're So Glad When Daddy Comes Home!
One of my favorite rides on our trip to Florida was the Cat in the Hat ride because we were able to go together with Brooke and it was mostly fun to see Brooke's face on the ride as she experienced everything.
[quicktime]http://blog.dallasgolden.com/Media/catnhat.mov[/quicktime]
So now it is your turn to leave a comment about your favorite Brooke moment.  If you don't see a spot to leave a comment, just click on the title of this post and it will take you to a page that will have a comment box.  Make sure you are drummed up on your math so you can answer the security question right.