Related Posts
We had so much fun on our Yellowstone trip that we decided to do another spontaneous get-out-of-town excursion several weeks ago. We realized that since the kids only had in-person school on Mondays and Wednesdays, we could take advantage of their Thursday through Sunday days off…so we did!
We decided to head to South Dakota. Spencer is in fourth grade and gets us into national parks for free, so our first stop was Devils Tower National Monument in Wyoming.
Devils Tower was fun because there were all these huge boulders around it and we were able to jump from rock to rock exploring and climbing.
Brooke spent her time laying on a rock trying to get the birds to think she was dead so they would come near her. Whatever makes you happy, honey.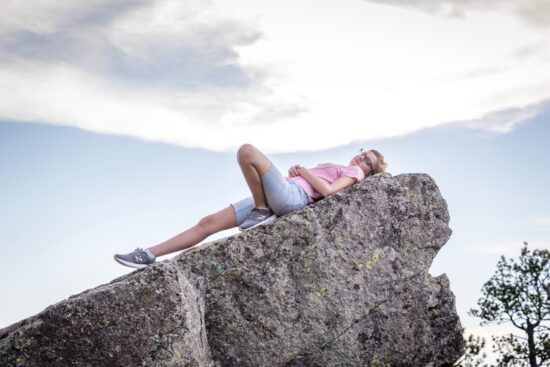 We saw a fox as we were driving up to Devils Tower. I've never seen a fox out in nature, and for some reason, I just loved watching it slink along the mountain. It is so magical to see wildlife in their natural habitat. We also saw prairie dogs, longhorns, and bison.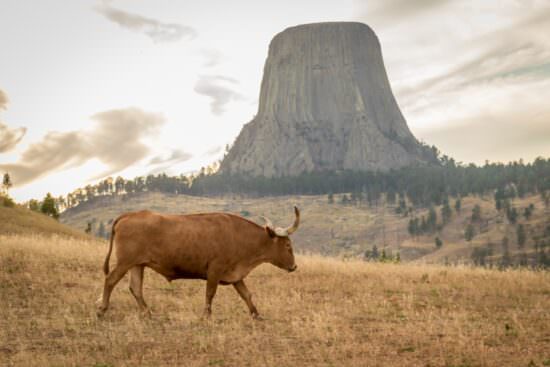 This is often my view of Dallas when we're vacationing:
We made it to our hotel in the evening. I went to check in and the lobby was closing. Turns out they didn't have record of our booking. It was Labor Day weekend, so I was worried they wouldn't have a spot for us, but luckily they found us a room.
The next day we got up bright and early so we could explore the Badlands.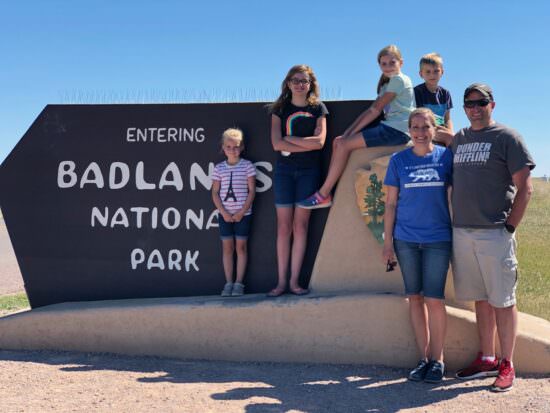 We got there and right away we saw bighorn sheep running up and down the mountain ledges. It was amazing to see how easily they went up and down the rocky faces of the cliffs.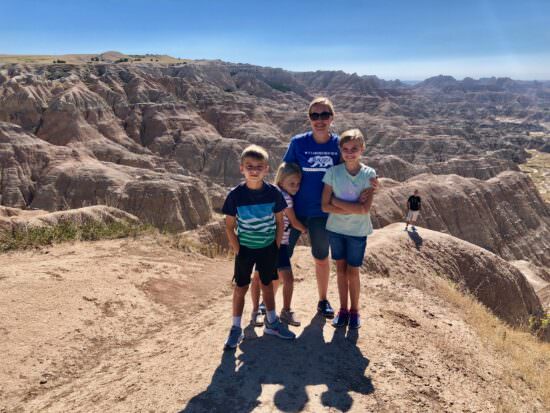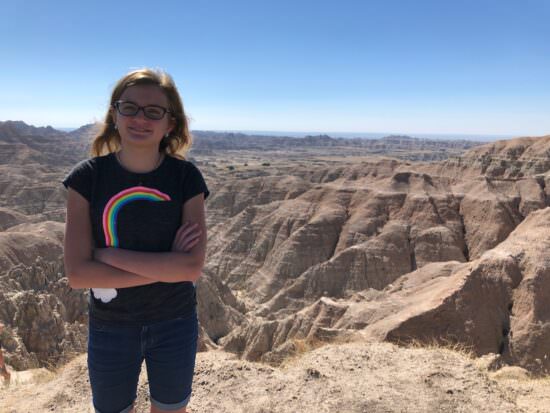 We saw more prairie dogs and the kids had fun trying to get close to them.
We mostly drove around the Badlands and just got out here and there to see things. However, we did get out and hike around a little bit. We did Notch Trail. It had a ladder you had to climb up which was fun: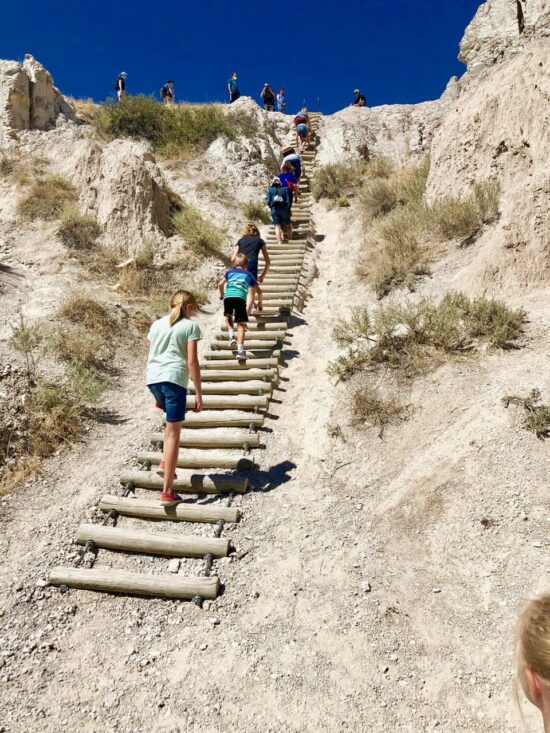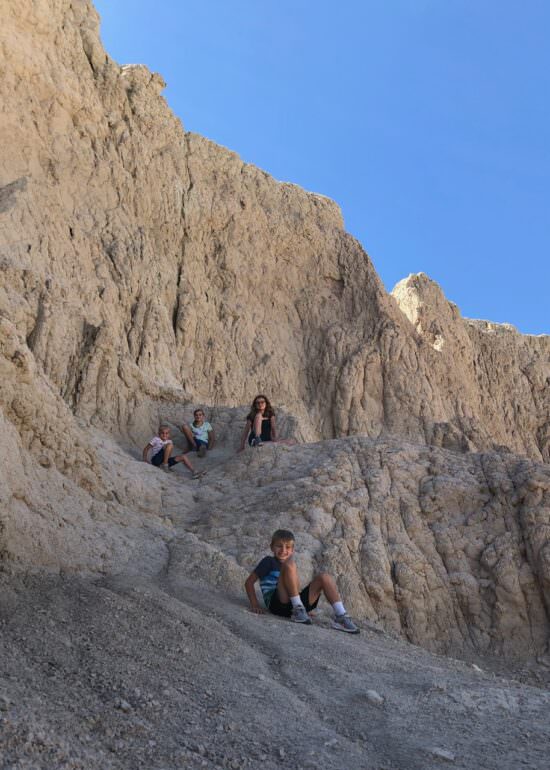 Those who go up must come down:
On our way out of the Badlands we saw the Delta-09 Minuteman Missile Silo.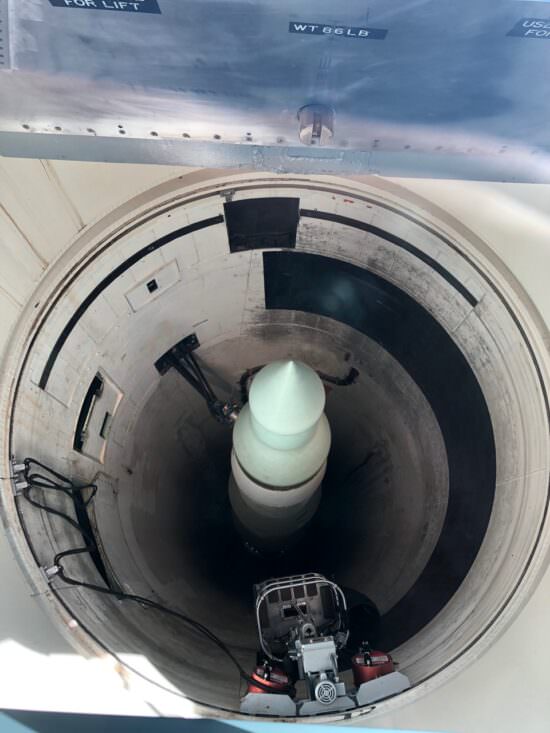 When I told my brother, Jacob, that we were visiting South Dakota, he told us we had to stop at Wall Drug.
"A drugstore? Why is that a must-see?" I asked.
"Because they give out free ice water," he said, as if that explained everything.
Turns out Wall Drug has signs advertising its existence all along the road leading to and from the Badlands. Those signs and my brother's recommendation convinced us to stop and see what it was all about.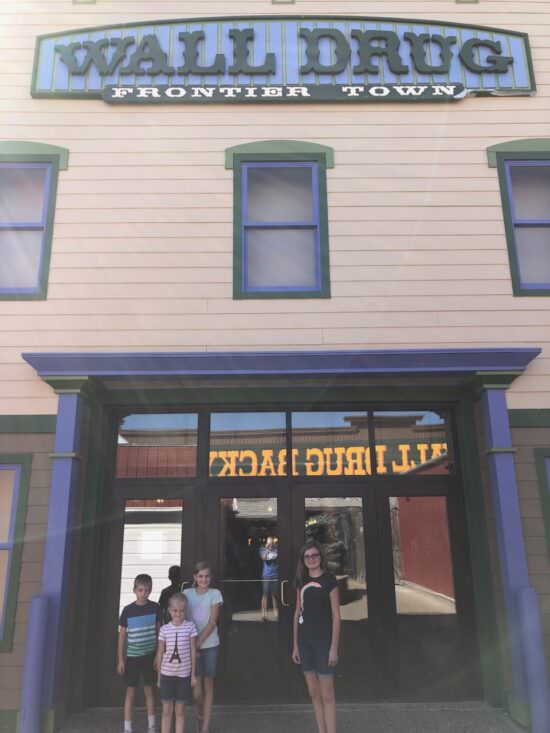 I had to try out the free ice water. Worth the drive!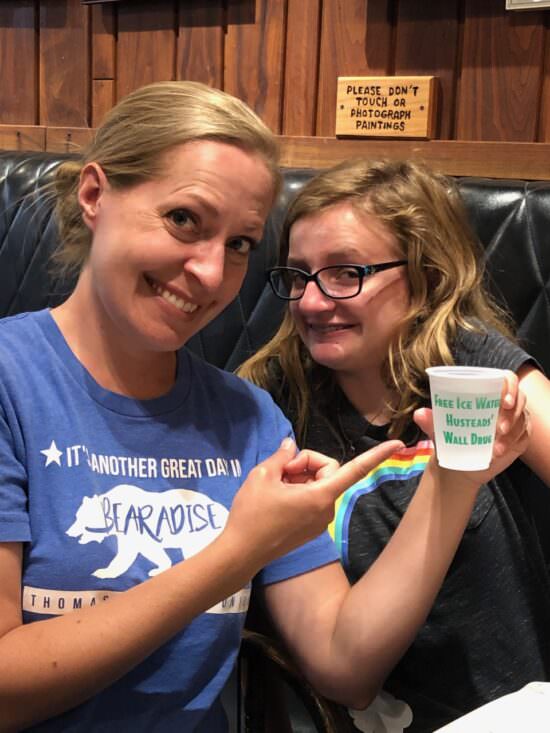 Wall Drug was started in the 1930s. The store wasn't profitable, so the family who owned it nearly closed up shop until they had the idea to hand out free ice water to those who were traveling through South Dakota. The ice water was just what the prairie travelers needed, and the water brought customers to the store.
Now Wall Drug is a huge tourist trap and a truly crazy place.
For example, there were terrifying mannequins here and there: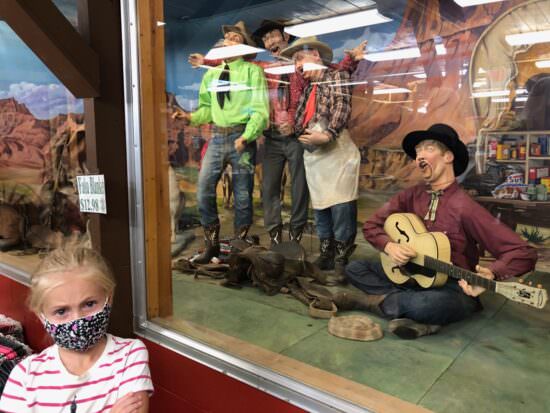 There was a caged dinosaur that would roar every so often: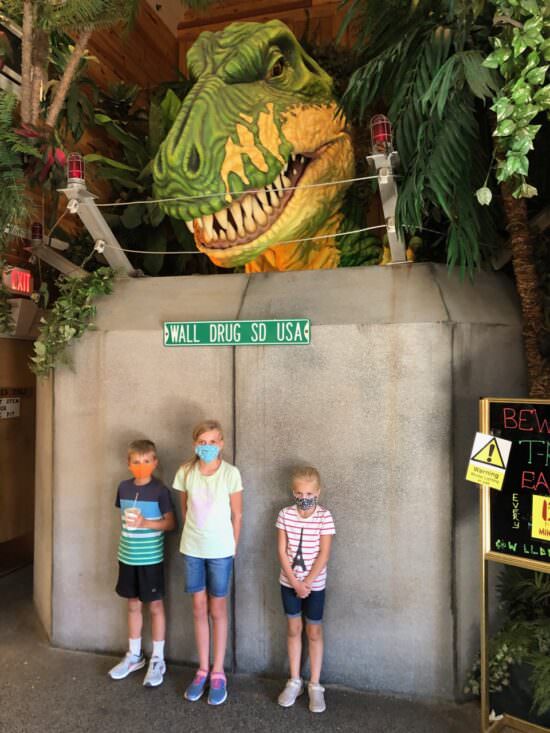 There were cheap rides to sit on: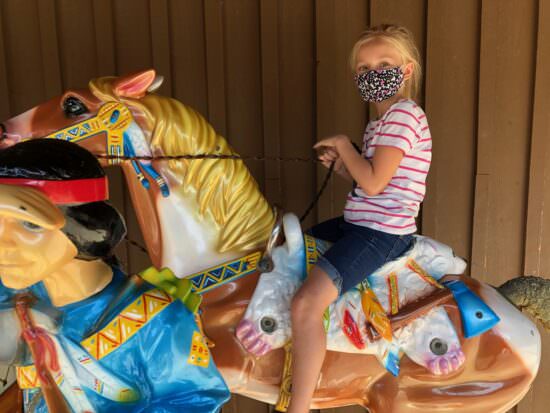 And of course, there was the giant jackalope photo op: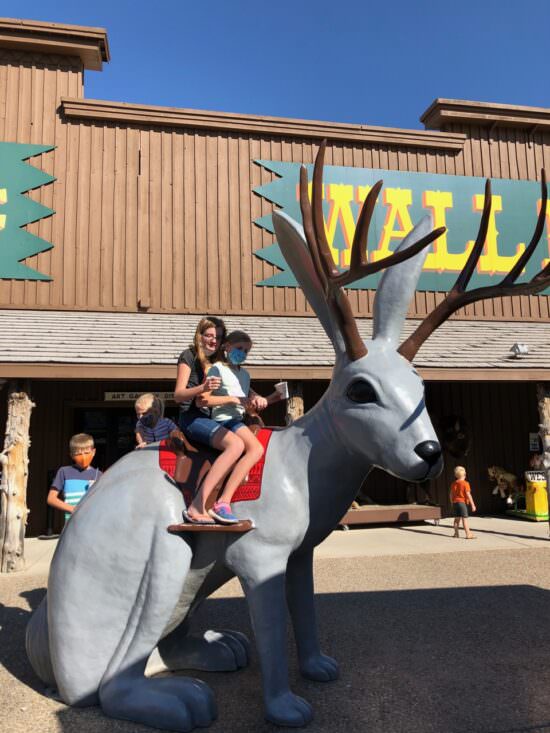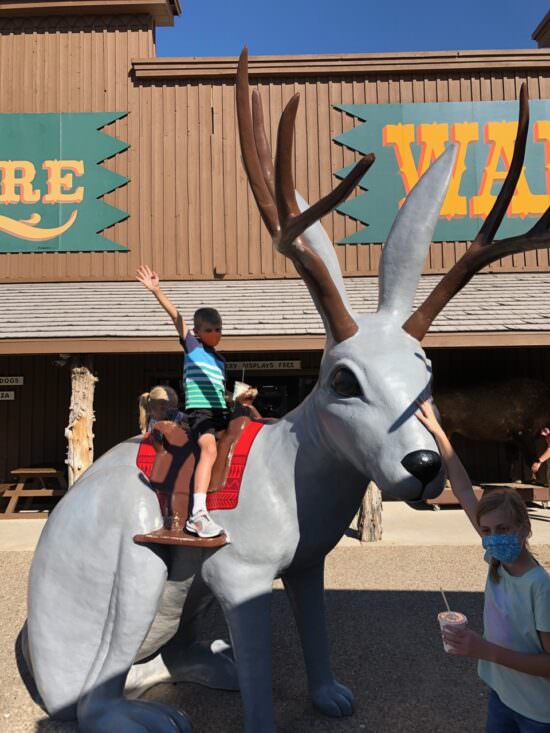 We often get Christmas ornaments when we go on vacation. The kids saw this outhouse at Wall Drug and had to have it as our remembrance of this trip: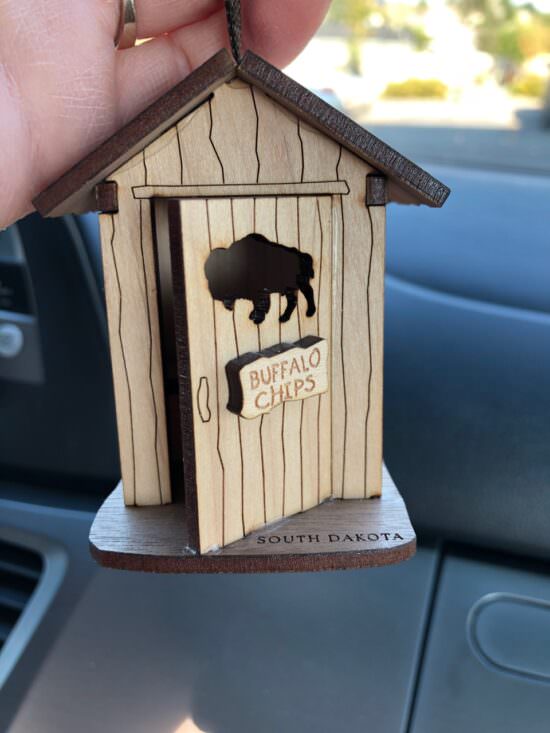 Thank you, Wall Drug, for giving us an outhouse to put on our Christmas tree. It reminds us of the horrible bathrooms we had to use at Devils Tower. We have never seen bathrooms so covered in urine. Now we will remember those bathrooms every year for the rest of our lives.
The kids were dying to make it back to our hotel so they could try out the pool. We got back with a little bit of daylight left and let the kids swim their hearts out.
It was pretty cold, so we had to call it a night and get ready for our next day of fun.
Our adventure the next day was seeing Mount Rushmore! I never thought I'd ever see it, so it was kind of fun to cross this off the bucket list.
Here we are walking up to the mountain. You can see it behind us: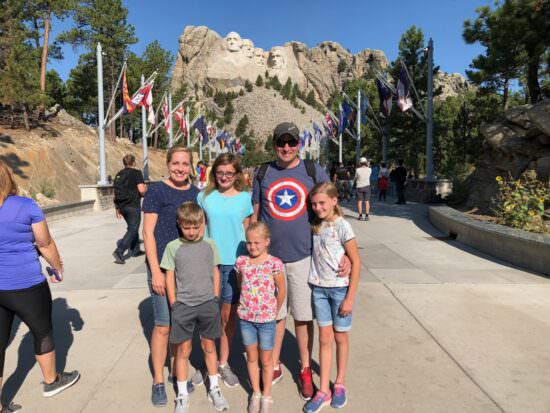 Here's a better shot of the faces on the mountain: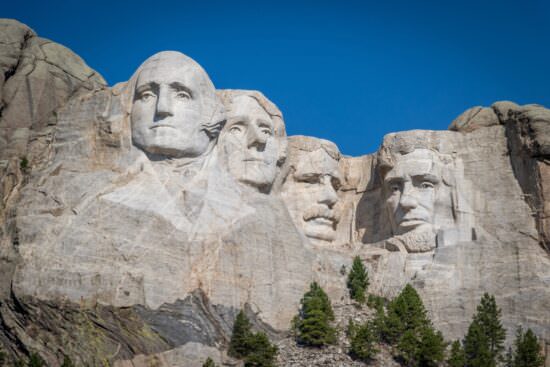 The kids mimicked the presidents giving us Mount Goldenmore: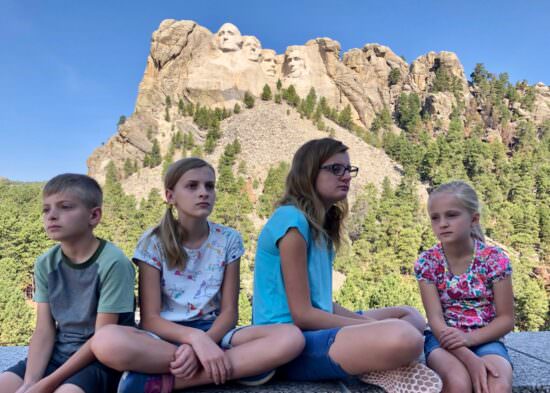 Brooke is our budding ornithologist and loved seeing this bird display:
Look at that Golden face!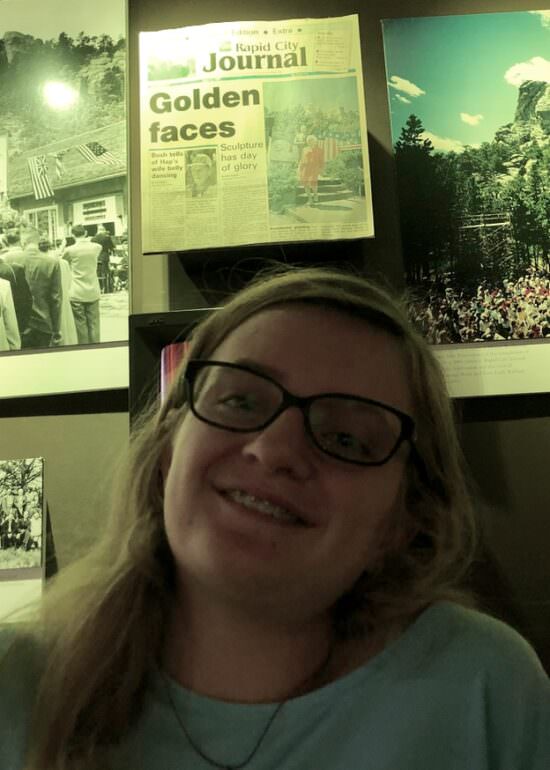 Madison had fun with the detonating simulator: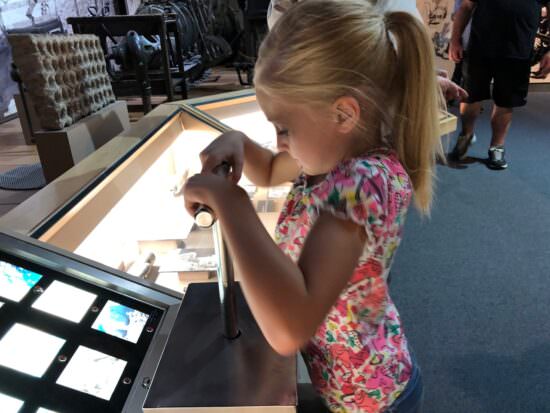 Fortunately, we got to Mount Rushmore early in the day and it was a beautiful day with clear, blue skies. Everything you could ever want in a sight-seeing day. Unfortunately, right after we got there, Brooke fell from a ledge and twisted her ankle. It immediately ballooned up, and she was unable to comfortably walk for the rest of the day. That put a damper on our exploring.
I sat with Brooke while Dallas and the kids walked around the trail and took in the sights.
Luckily our next stop was a drive through Bear Country, so Brooke was able to rest her foot while we drove around looking at bears, elk, wolves, reindeer, and mountain sheep.
We had to save time for another swim in the pool.
Every so often we'd hear this go by: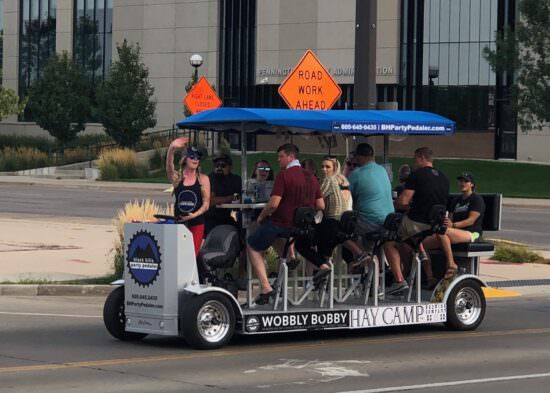 It's the Black Hills Party Pedaler. Apparently guests can tour the city while pedaling their vehicle and drinking.
We ended the day at Crazy Horse Monument.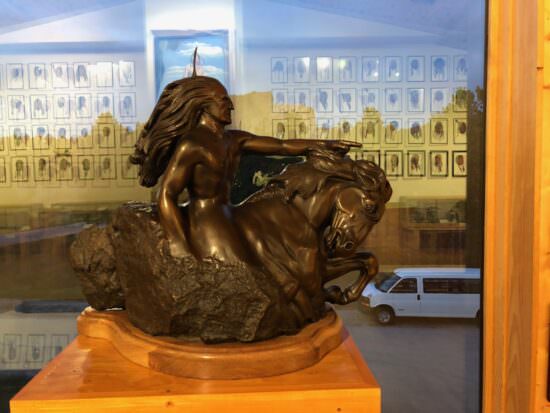 We toured the museum and stayed for the laser show.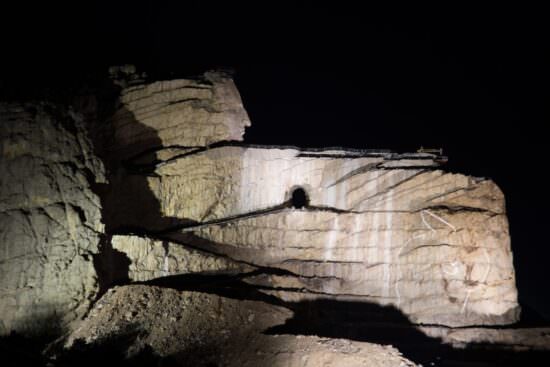 The light show was pretty underwhelming. I grew up seeing the laser show at Stone Mountain every Fourth of July, and this was definitely…not that. I was curious to hear how the others in my group would like the show having nothing to compare it to. The general consensus was that it was the dumbest part of the trip.
However, right as the laser show was about to start, Madison leaned her head on my shoulder, sighed contentedly, and said, "This has been a good trip."
It WAS a good trip. Now we need to plan another one!
Related