Ready for a birth story?  These are always fun, right?
Let's start with a 39-week-pregnant picture: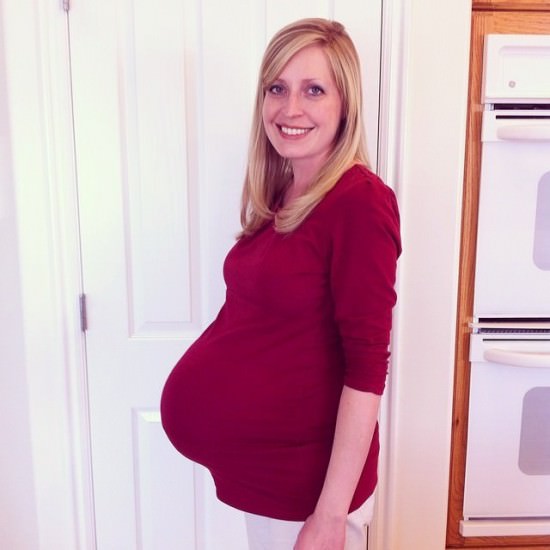 On this particular day I went grocery shopping and a grown woman asked if I was having twins.  The nerve.
My doctor said he could induce me a week early.  I tend to be against inductions when there isn't a medical reason for it, but it turns out I'm more against being pregnant for an extra week once I have it in my head that I can deliver early…so…induction it was.
On Friday, the 28th, my mom came over to our house bright and early to report for babysitting duty, and Dallas and I headed off to the hospital.
By 8:00 AM we had checked in and gotten settled in a room.  By 10:00 I was on pitocin feeling regular contractions.  By 10:30, the doctor had broken my water.  By noon I was getting an epidural (after having to wait for the lady in the next room get hers.  We could hear her screaming in pain so I'm glad she got hers first.).
At 1:00 I was offered a smoothie.  After having not eaten anything other than a light  breakfast, I was ready for something.  I gladly accepted.  I texted my sister and told her I was about to have a smoothie.  Her response, "They're letting you eat?!  Don't do it!  You're going to puke.  Save it for recovery!"
By 1:20 I had finished the delicious smoothie.
By 2:30 I felt the unmistakeable urge…to vomit up my smoothie.  Should have listened to my sister.  Luckily my nurse was there and quickly gave me some anti-nausea medicine so crisis averted.
By 3:10 I was finally feeling the urge to push.
At 3:22 Madison made her appearance into the world. 7 lbs 4 oz and 20 inches long.
Madison screamed and screamed and screamed.  And screamed and screamed.  And screamed.  For the next two hours.  The only times she stopped were when she found her fingers to suck on.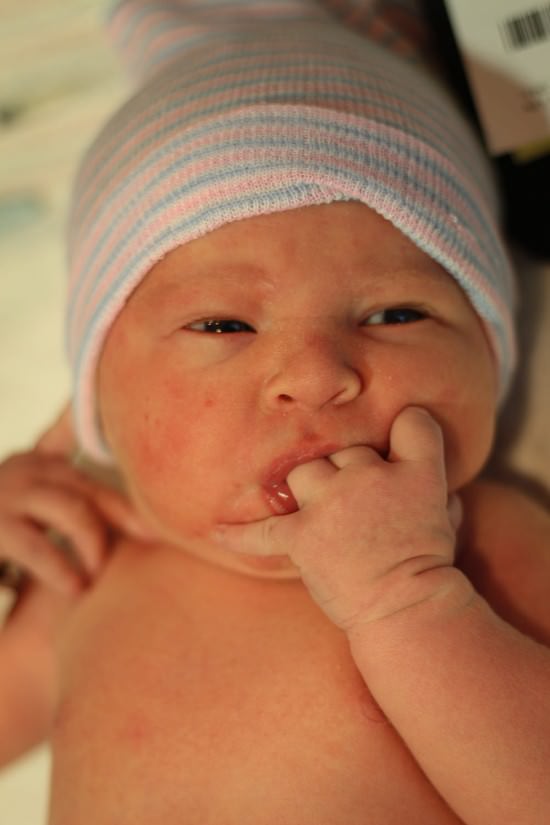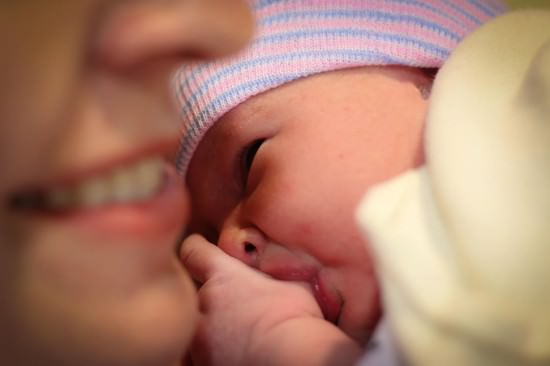 Adorable.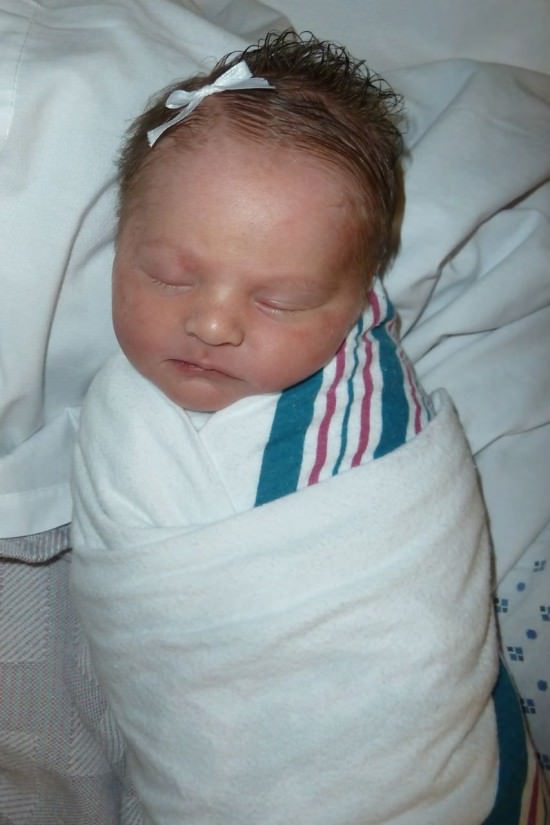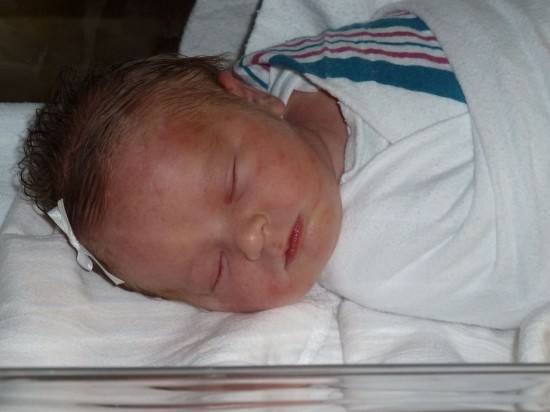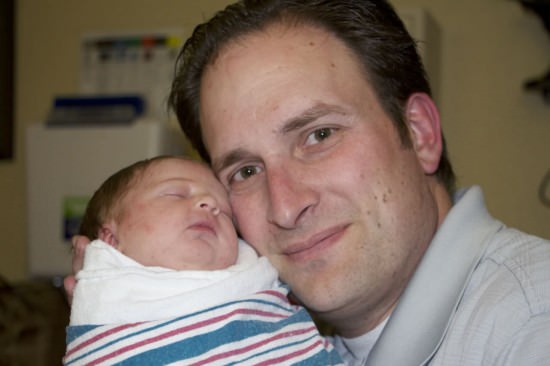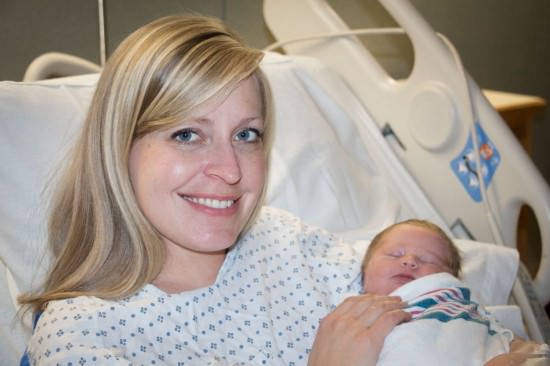 She surprised me and Dallas by not looking like the other kids when she was born though I think she's looking more like them now.
Labor and delivery went pretty smoothly and all was well until I got up to go to the bathroom.  I had some chest pain which I ignored.
The next time I went to the bathroom, I again had chest pain…and it was a little more intense.
The third time I went to the bathroom I felt like I was being stabbed through the heart repeatedly.
Apparently chest pain after delivering a baby is not a symptom that doctors and nurses are happy to hear about and I promptly had all sorts of heart tests ordered for me.  After an EKG, an ultrasound of my heart, blood tests, and wearing a heart monitor for 24 hours it was determined that my heart was fine and they couldn't find anything wrong.  Luckily, my chest pains subsided and I've (mostly) felt fine since.
Madison wasn't a fan of the car seat: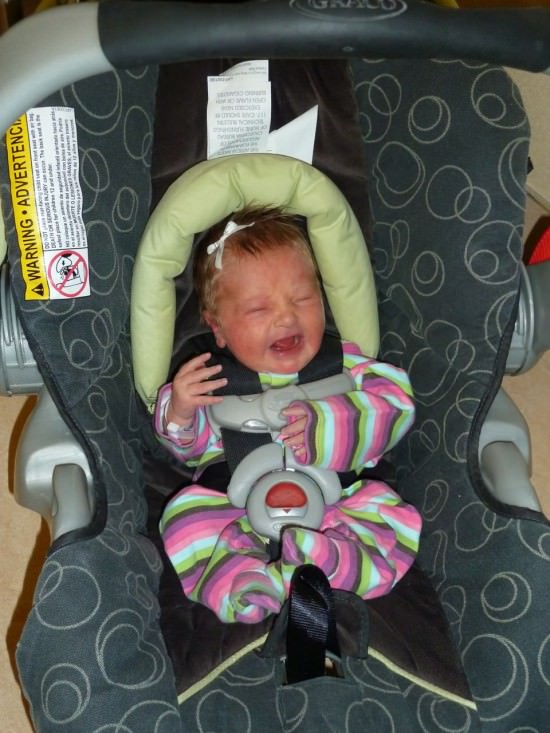 The kids have reacted to Madison pretty much how we expected.  Brooke has only wanted to hold her once or twice: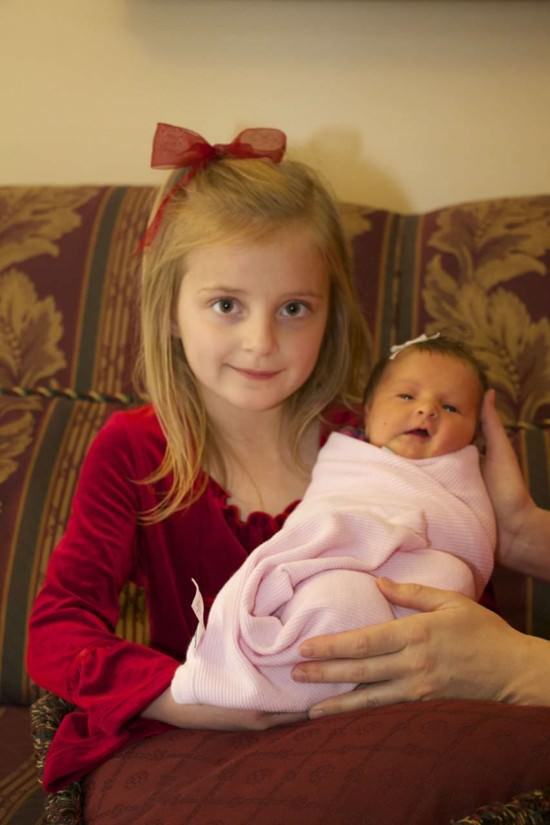 But she usually has some stuffed animal or another perched near Madison showing her some love: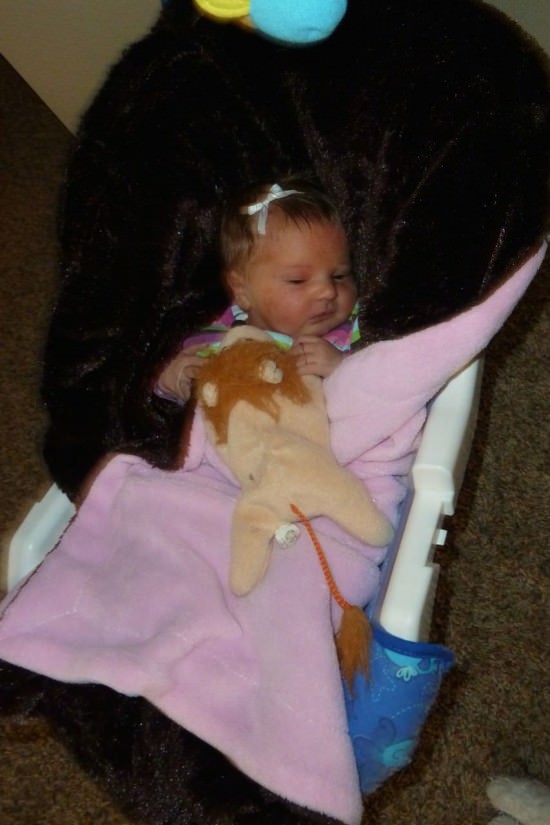 Reminds me a lot of when Caroline was a baby.
Caroline was eager to hold Madison in the hospital…for a second.  Then she got uncomfortable and said, "Umm, please get this thing off me."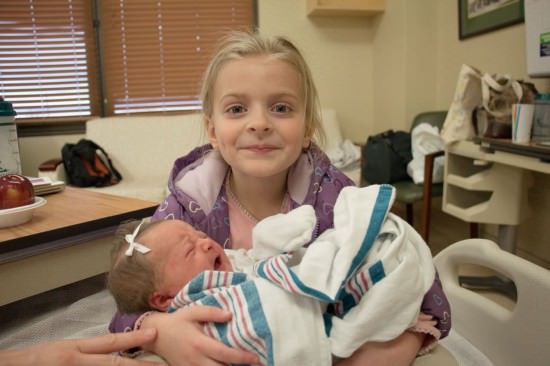 Since then she's wanted to hold Madison a million times a day: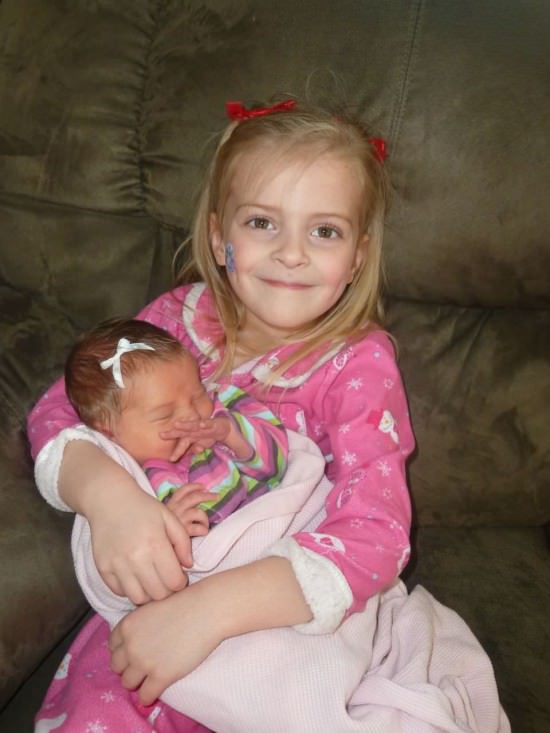 Apparently I don't have any pictures of Spencer with Madison.  We had to laugh when he visited in the hospital.  The girls carefully crept up to me and the baby and laughed and smiled at Madison.  Spencer inched toward me and carefully inspected the hospital bed trying to figure it all out.  He will usually coo at her once or twice a day, but he continues to really be interested in her swing or car seat or bouncer or wipe container.  Silly brother.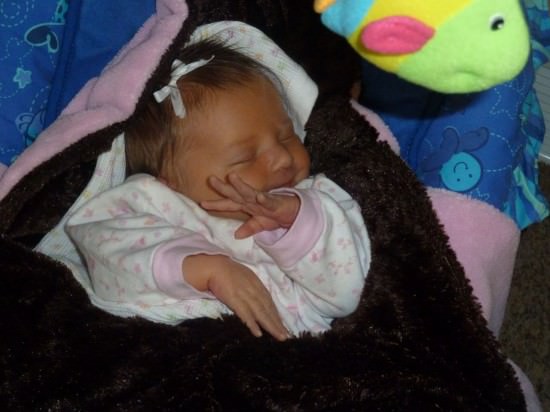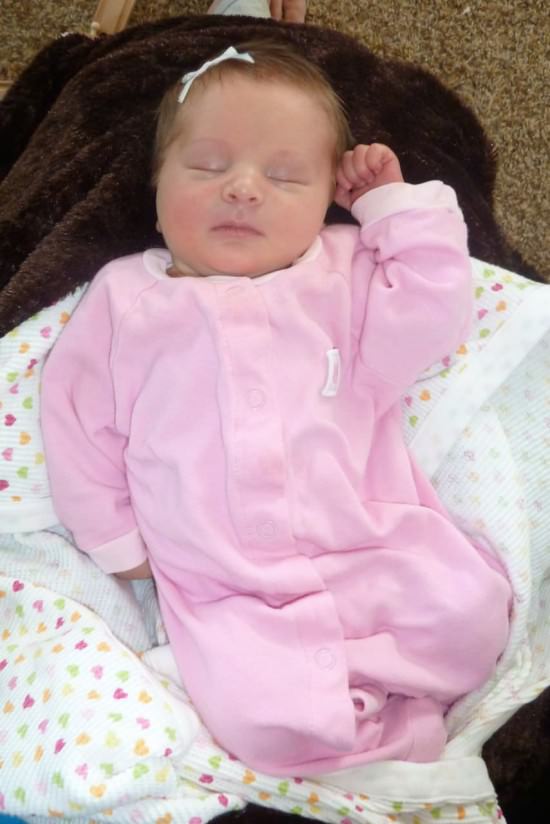 Oma came to visit: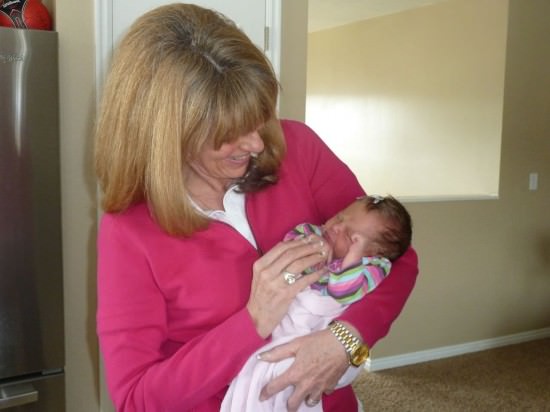 And so did Grandma and Grandpa Golden: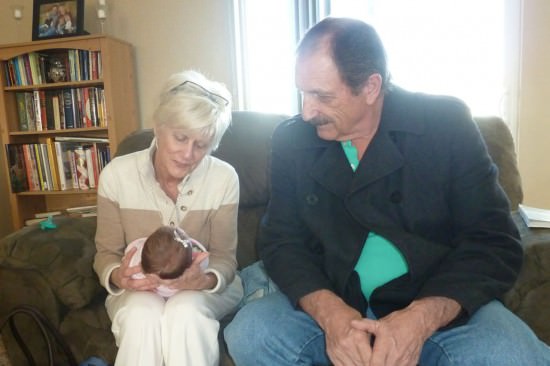 We are just loving our new baby girl!