Our Washington adventures continued with playing kitchen: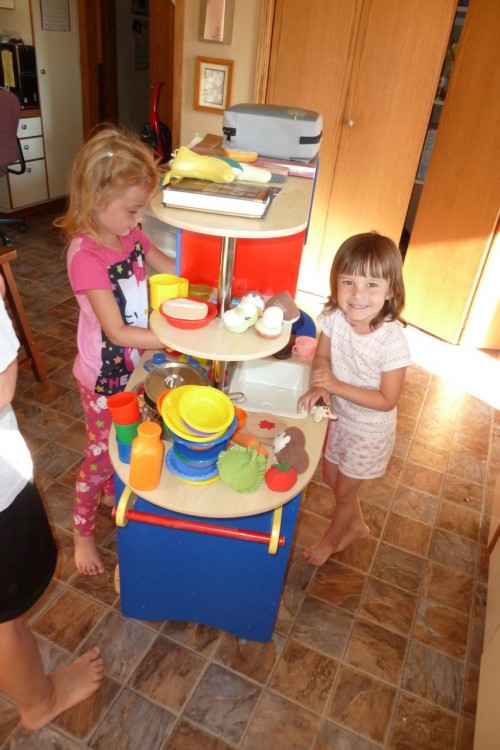 Every morning I would do the girls' hair.  Kate tested my hair-styling abilities with her sometimes-elaborate, always-hard-to-interpret descriptions of what she wanted.  This day she wanted "two braids going into pigtails out the side of her head."  Here is what we came up with: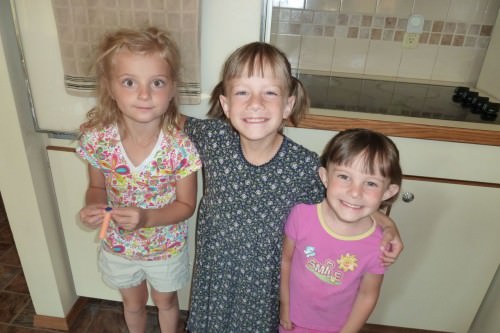 (Unfortunately Brooke hadn't gotten her hair done at the time of this photo shoot.)
I was happy to try to make Kate's hair wishes come true because she loved getting her hair done (as long as I was very careful not to pull at her head) and all day long she would be so careful not to mess up the style.
Nina on the other hand was a different story.  She also liked getting her hair done but she usually asked to have the hair bands removed sometime during the day.  My favorite was when we had done her hair all up and she literally stepped out of the bathroom and then asked for me to cut the rubber bands out.  Funny girl.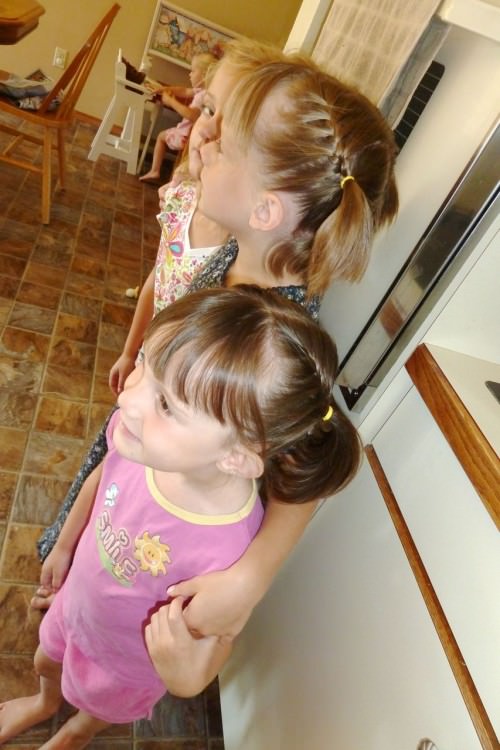 Kate got a sticker puzzle book from her mom this day and all the girls enjoyed watching her make pictures with the stickers: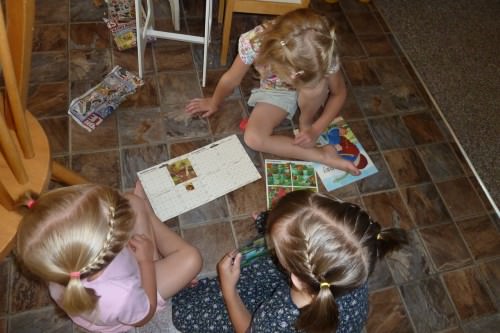 Thad always got nonfiction books for his book gifts and entertained us all with fun facts that he learned from his reading: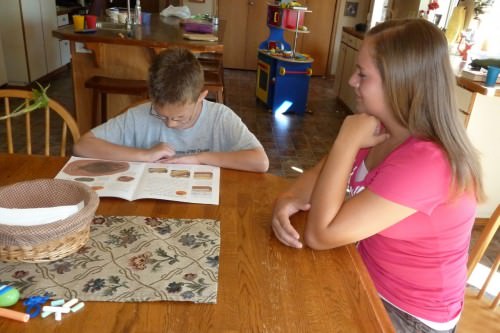 Our activity this day was riding bikes at the church parking lot.  Hailey told us that they usually go to a different church, but we decided to go to their own church building because I had a great plan.  I knew that with seven kids (Hailey stayed home) it would only be a matter of minutes before one or more of them needed to go to the bathroom or get a drink (despite going to the bathroom and getting drinks right before leaving).  Mark had a key to their church building so we would be able to get inside as needed.
Perfect plan.
Imperfect execution.
After probably twenty-five minutes of loading kids and bikes into the cars and about five whole minutes of actually riding bikes, the chorus began: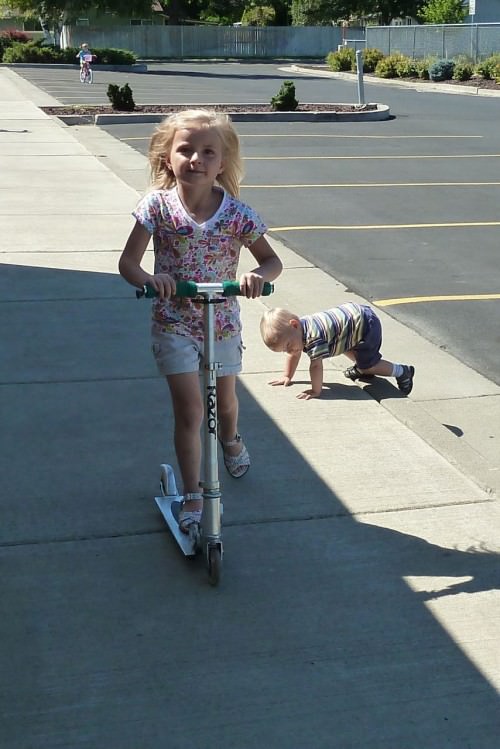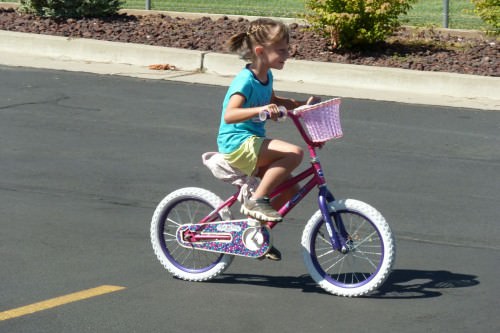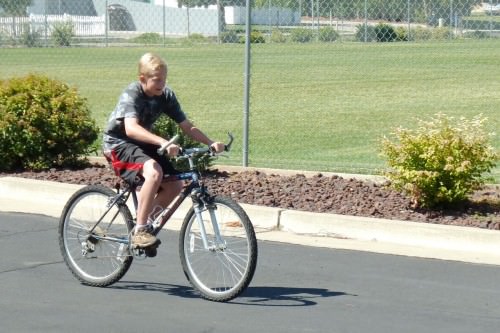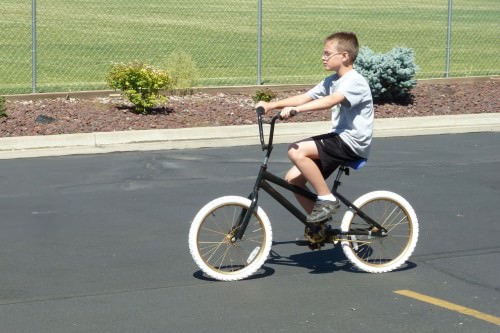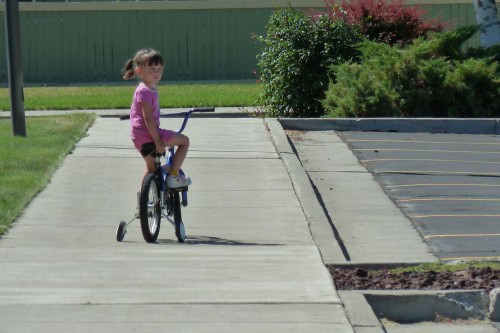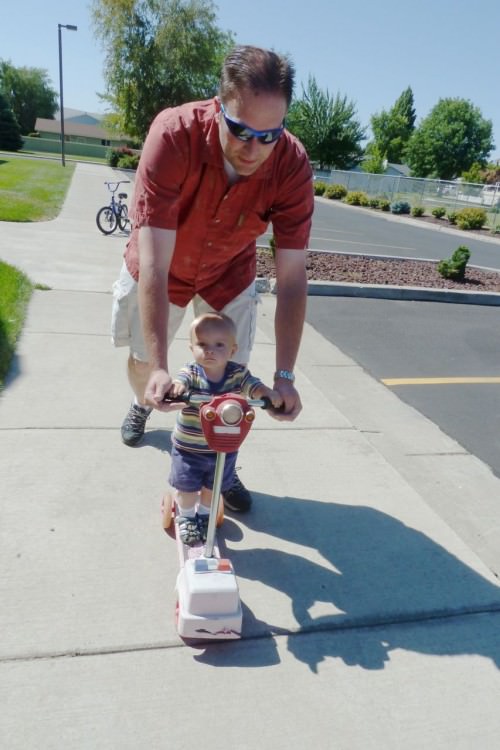 "I'm thirsty!"
"I need to go to the bathroom!"
I patted myself on the back for knowing this would happen and for being prepared.  I asked Dallas for the keys to the church.  He handed them over…and we realized that we had taken the key chain WITHOUT the church keys.
No way was I going to take the kids back to the house so soon so we made do.  We found some water bottles and crackers in our car (part of our stash of road trip treats) so we sat in the grass and had a mini picnic.  I made the kids sing me songs to earn crackers:
Dallas apparently took pictures of grass while this was happening: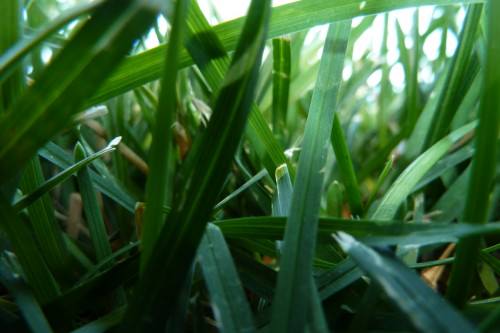 When we got back to the house Dallas introduced Caroline to one of the boys' lizards: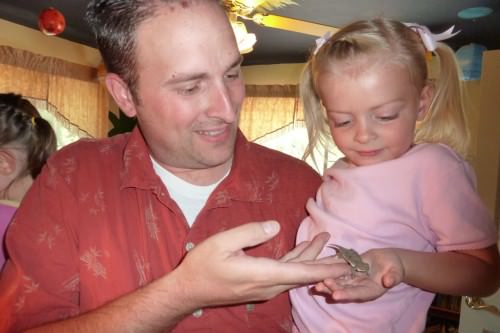 Then it was swim time again: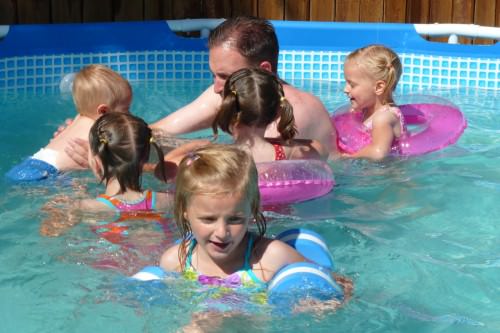 And tramp time: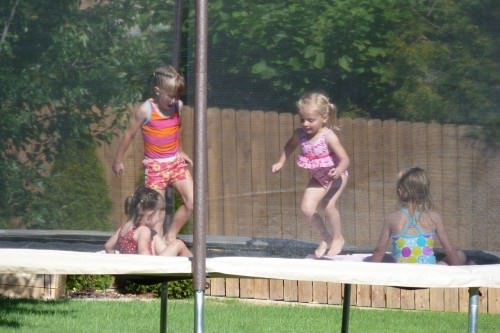 And berry-picking time: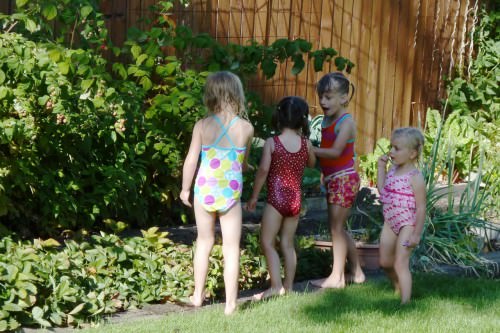 Those four girls were just adorable running around together all day long having the time of their life.
Before bed we did our art project which was making bunnies and carrots with pipe cleaners and pom poms: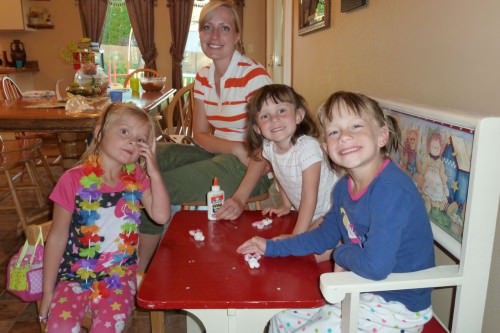 And that marked the end of another successful day!