We just got back from a week-long all-inclusive luxury vacation getaway.
And by "luxury" I mean we were staying at my aunt and uncle's house in Washington.
And by "vacation" I mean we were there to babysit their five children so they could go on a cruise.
I'm serious about the "all-inclusive" part, though.  I think my aunt doubles as superwoman because every breakfast and dinner was already made up and in the freezer, and she left us a weekly schedule with outings, art projects, and new books every day to keep us all busy.  The luxury part wasn't too far off either, especially if you talk to the kids because they had tons of fun toys, a trampoline, a swing set, and a pool in their backyard.
Really, the only downside was we needed to get ourselves to Washington which meant a 12-hour car trip each way.  Gulp.
We decided to get up really early so the kids would sleep the first leg of the journey.
Ha.
Ha ha.
We did leave really early but the kids were WAY too excited to see their friends to even consider going back to sleep at that point.  All was well, however, because they were quiet and happy.
We stopped for gas, let the kids out of the car, and had a doughnut breakfast: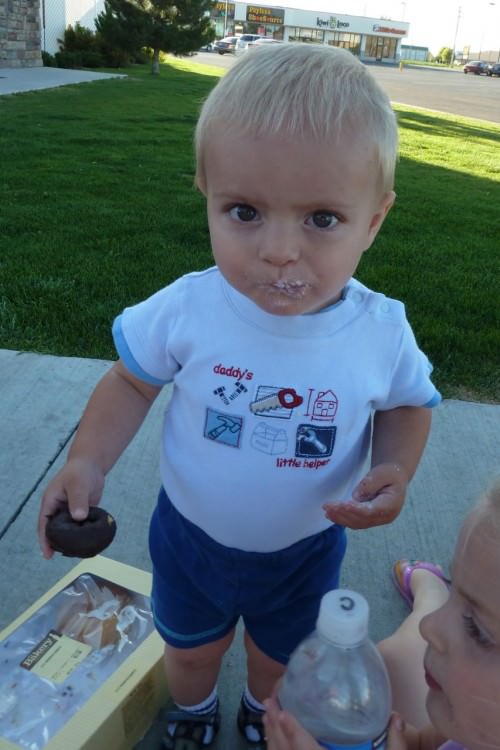 Dallas used this light pole to stretch his legs and we loved it when Spencer imitated him: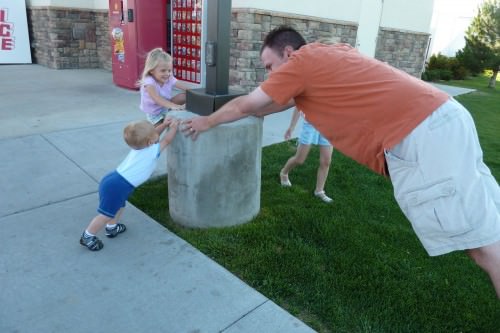 The car ride there was a breeze.  The kids were so good and their favorite game was called "The Laughing Game."  The girls would try to get Spencer to laugh and if successful, they'd laugh like crazy.  It was a good game: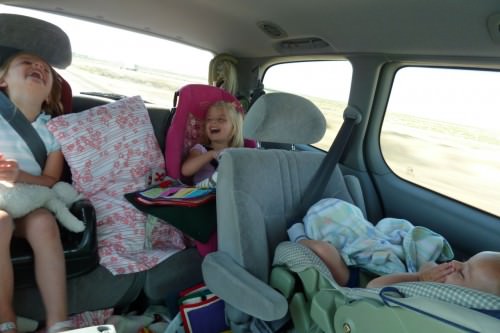 We got to Mark and Michelle's house on Friday night and were given all our instructions.  Then we got a good night's sleep and bid Mark and Michelle farewell Saturday morning.  After they left, we got right to work having fun.
Our daily routine consisted of an activity in the morning, lunch, and then swimming/trampoline/toy time in the afternoon.
The activity for that day was playing at a park.  The kids had fun playing and then running over to the skate park area and using the bike ramps as slides.  Brooke ruined a pair of shorts that way.  Oops.  I just realized I didn't check to see if anyone else ruined their shorts.  Sorry if they did, Michelle!
When we came home we had lunch and then the kids swam in the backyard.
Here's Kate trying to get warm after her swim: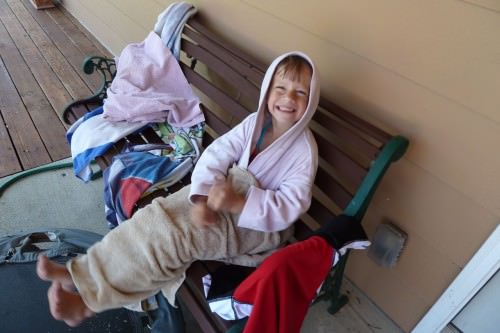 Trampoline time: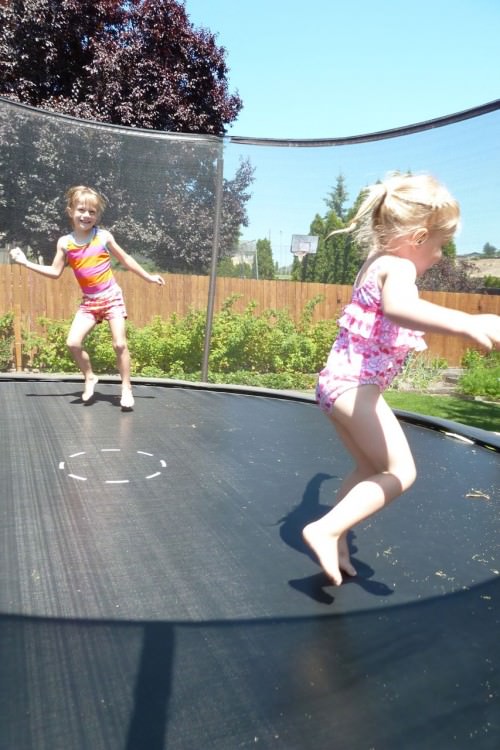 The other kids in the pool: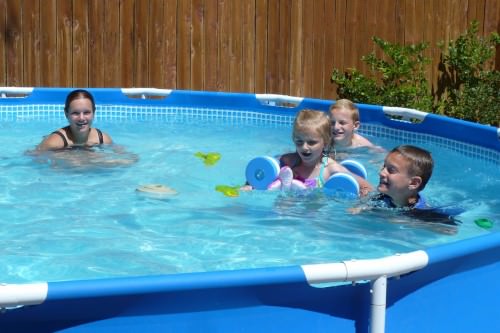 Caleb was so cute with Spencer.  He was always on a quest to get a high-five.  Spencer was pretty stingy in giving out his high-fives, but when he obliged Caleb was thrilled.  Here they are playing with the play kitchen: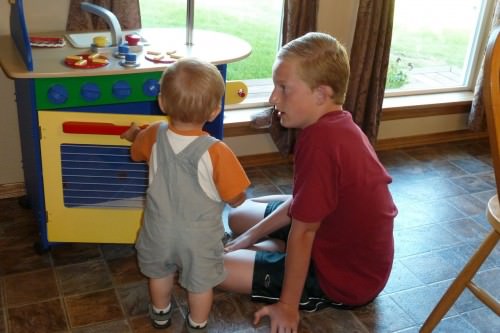 After dinner Kate and Brooke started a band: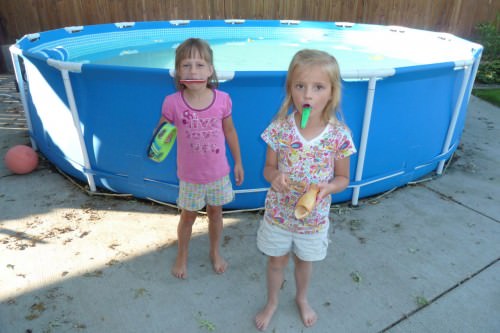 Nina was always camera-ready: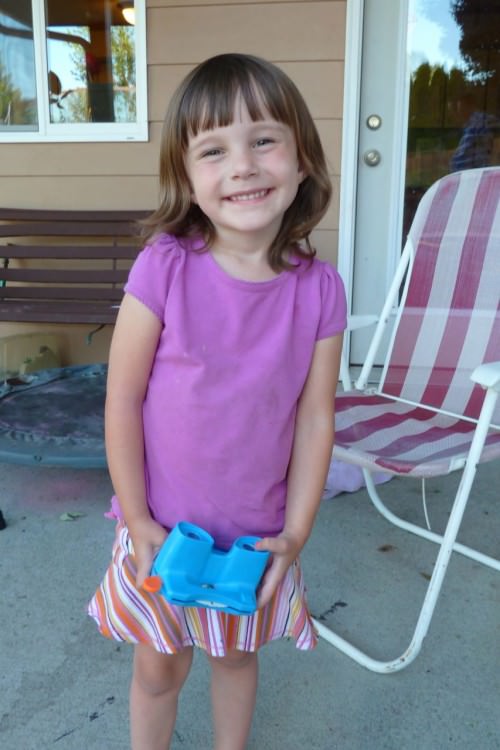 After baths we'd usually put Caroline to bed and then the older girls would do an art project.  Brooke had spied some paper bags, and she wanted to make puppets so the other girls did, too.  They turned their puppets into monsters and took turns scaring each other with them: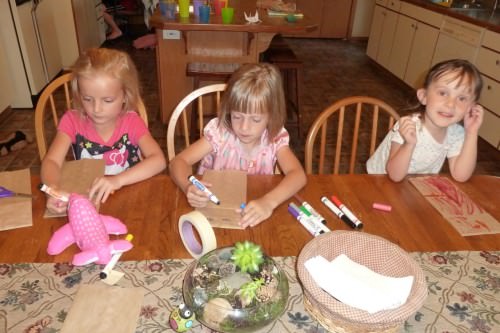 The first couple of days Caleb was usually found flipping through this origami book and making creations out of paper and dollar bills:
The next day was Sunday.  We had a relaxing morning since church didn't start until 1:00.  Luckily Spencer napped before we left so he wasn't a beast during church.  Also, remember the part where my aunt is superwoman?  She had a sacrament meeting bag all packed full of fun new coloring books and things for the kids to do to keep them happy during sacrament meeting.  Funny thing is, apparently you actually have to remember to bring the bag to church in order for it to do any good.  When we got to sacrament meeting and I realized we had forgotten the bag, I nearly died.  Church was starting so we just went in and hoped for the best.
The kids were so good except for Brooke and Caroline who choose that time to whine and complain loudly about everything.  We had brought a diaper bag, but I had cleaned it out for our trip so literally the only thing in it to occupy the kids was about five sheets of paper.  We didn't even have a pen.  You better believe I was wishing I had studied Caleb's origami book a little harder the day before so I could have kept the kids busy making paper animals and toys.  Instead the only thing I could do was make those stupid accordian fans.  Wahoo.
Somehow we survived sacrament meeting and then we sent the kids off to their classes and enjoyed the rest of church.  When we came home Hailey got dinner ready and we ate and then went outside to blow bubbles and play croquet: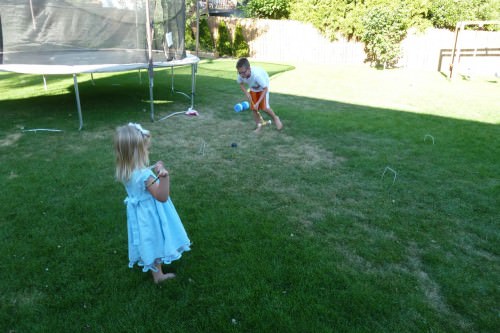 The girls loved having cereal no matter the time of day.  This was their bedtime snack (I love Caroline's face):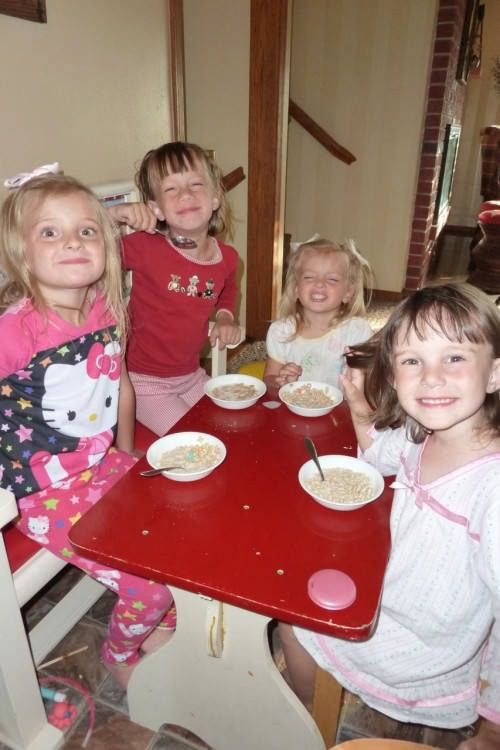 The next morning Brooke and Thad played a marble game: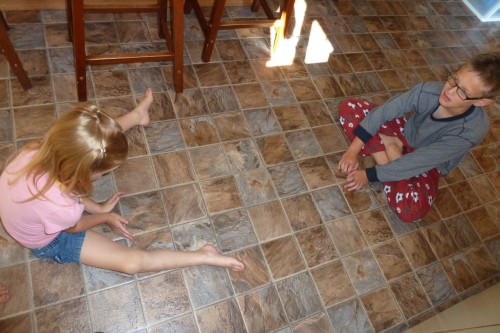 Then all the kids joined in: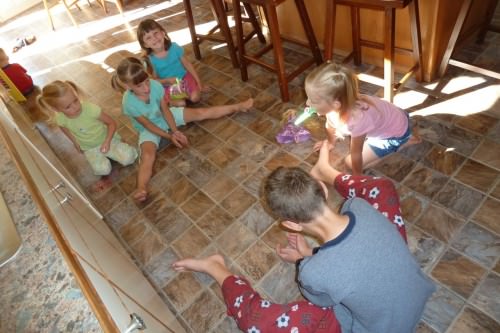 They had fun doing puzzles:
The city sponsored an activity where kids could go to the park and complete an art activity:
They painted lizards: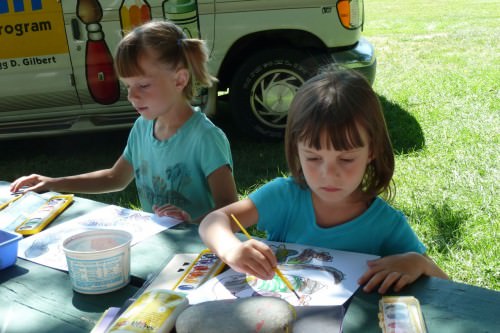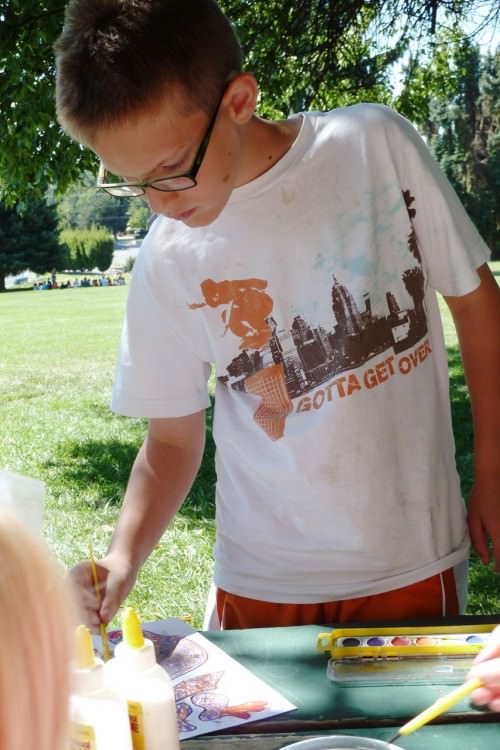 And apparently Spencer ate dirt while this was happening: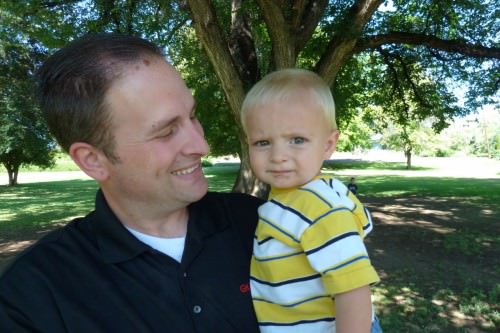 Here are the kids and their finished lizards: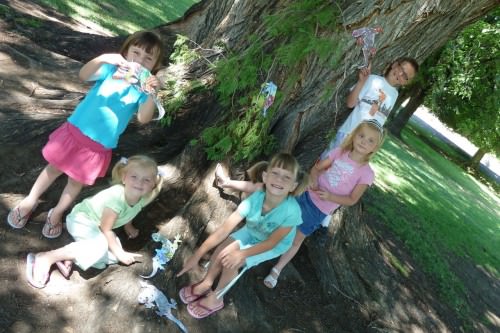 Then it was back to the house for swimming: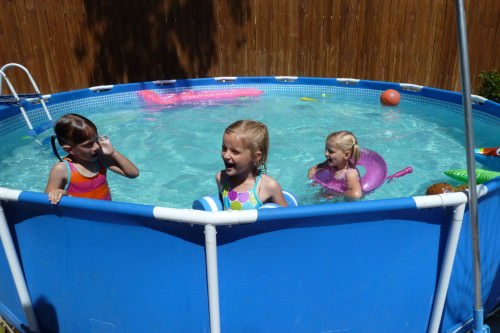 And jumping: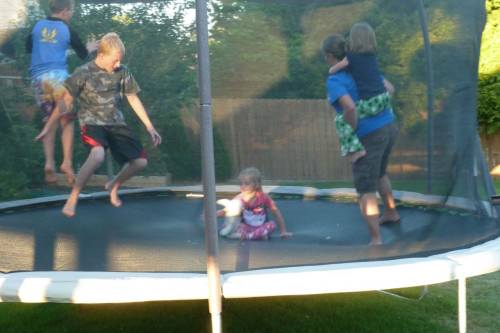 And that was only the first three days.  Stay tuned for part II of the trip!