We had one full vacation day left.  We toyed with the idea of doing some sightseeing, but Brooke informed the group that she was planning 13 pool parties for the day, so apparently we already had a full itinerary.  Brooke woke up bright and early and recruited the kids to help her clean the pool and lay out all the pool toys.
Dallas made himself a limeade and chilled in the hot tub: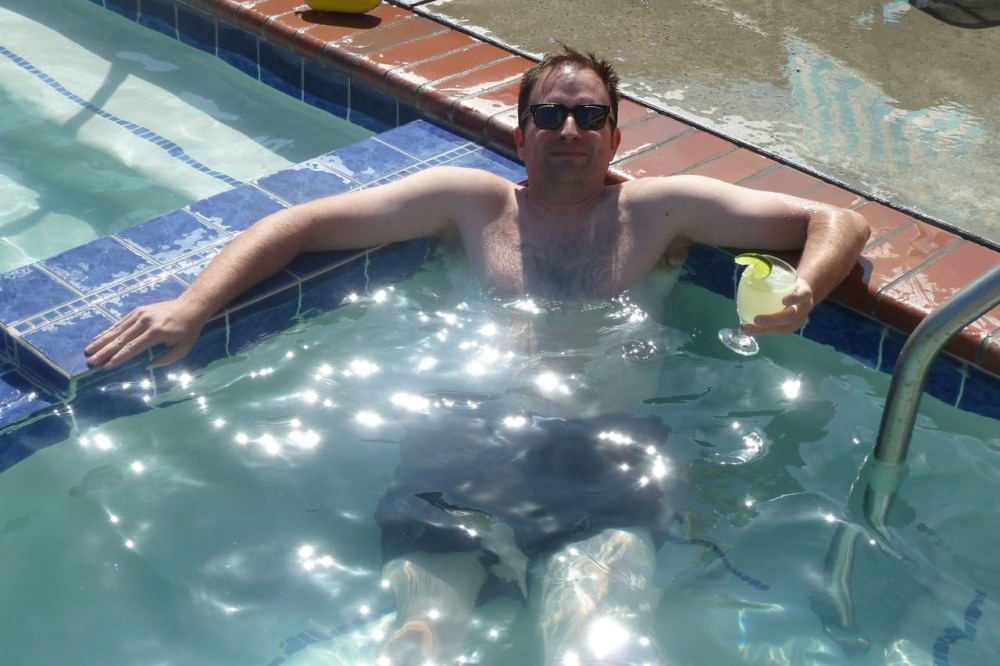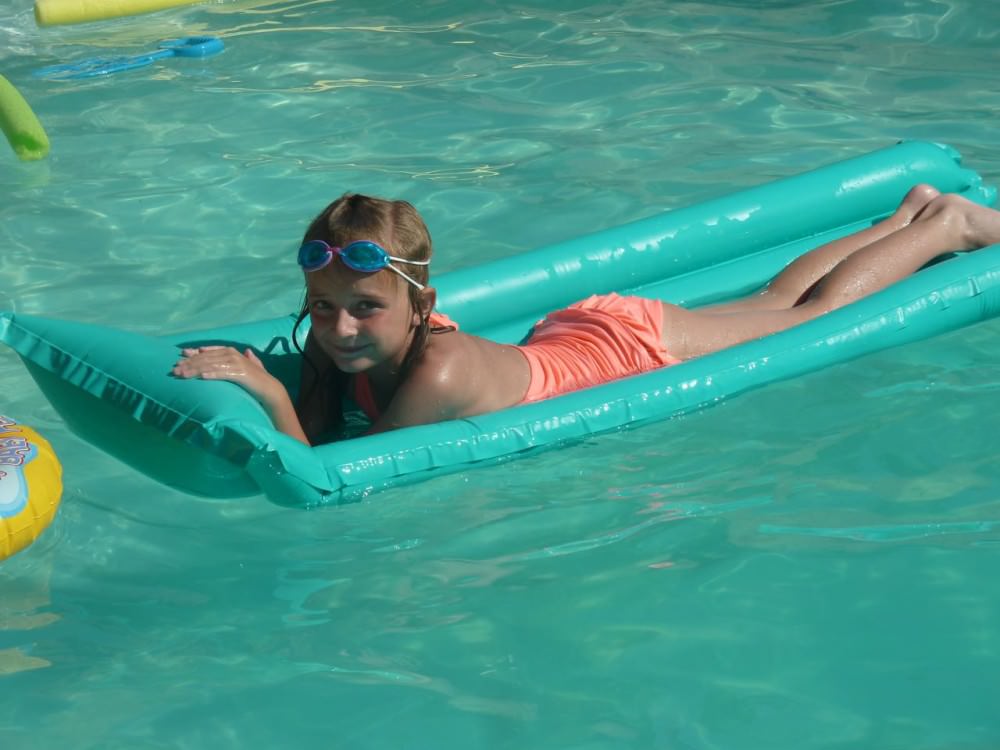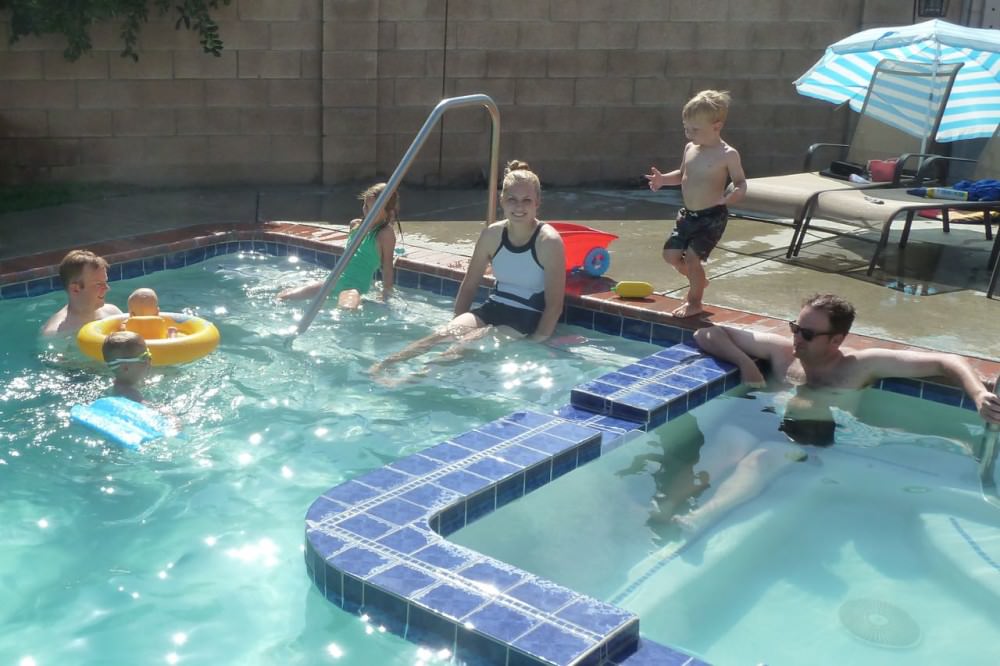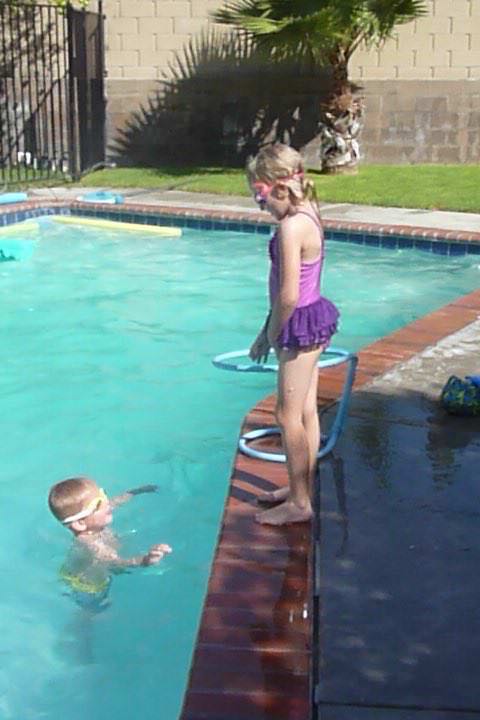 Caroline overcame her fear of jumping into the pool from the wall:
I loved how she would cross her feet as she jumped: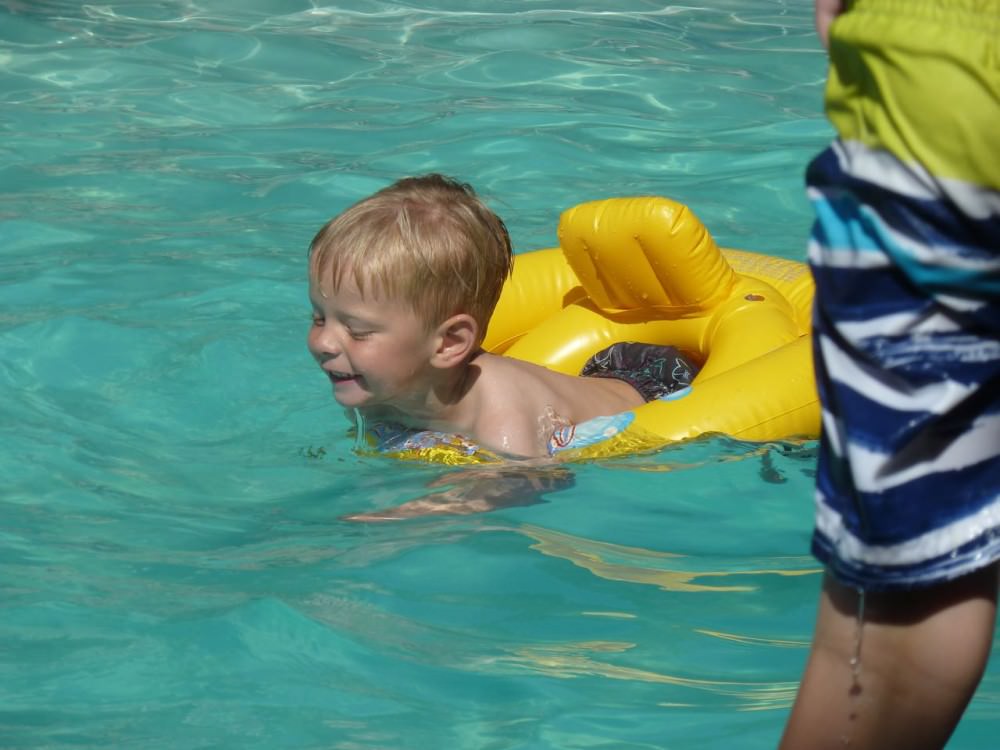 Meanwhile, we made Ben and Haley slave away in the kitchen getting our dinner ready: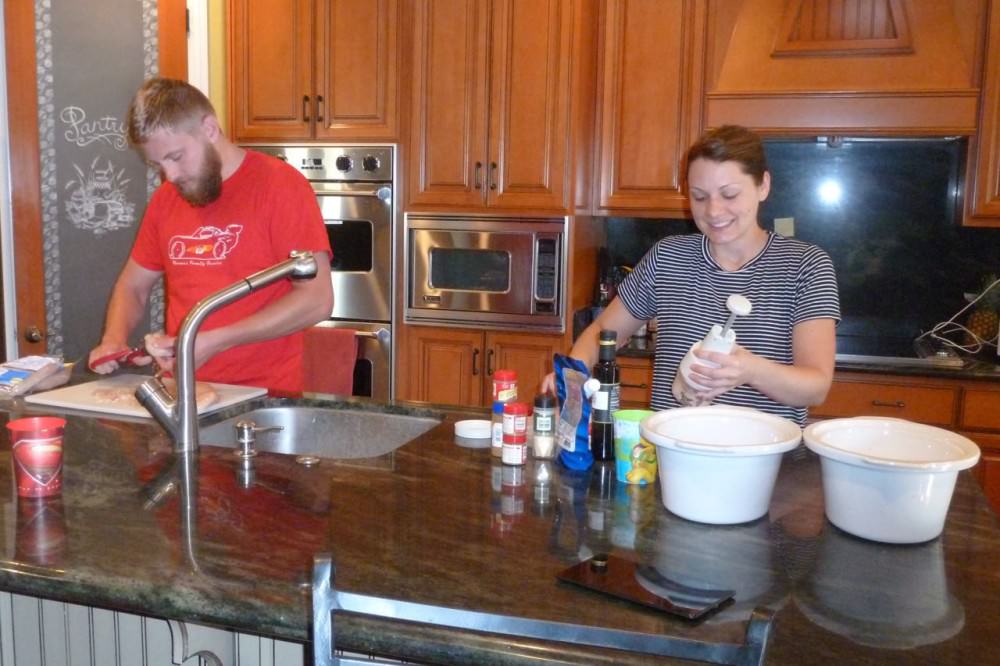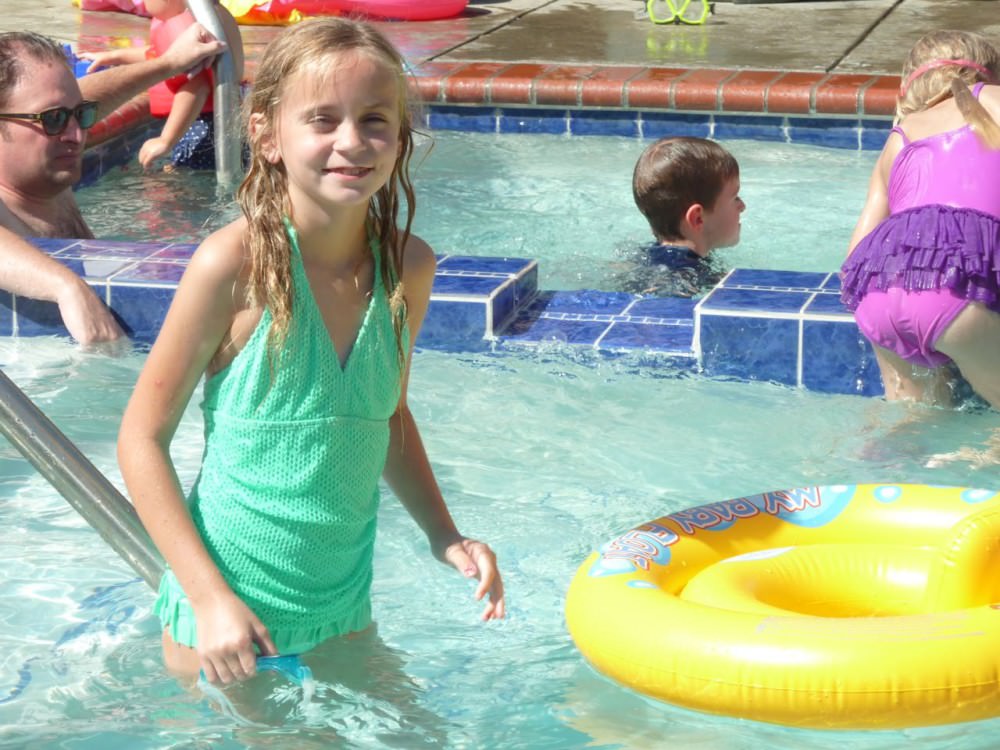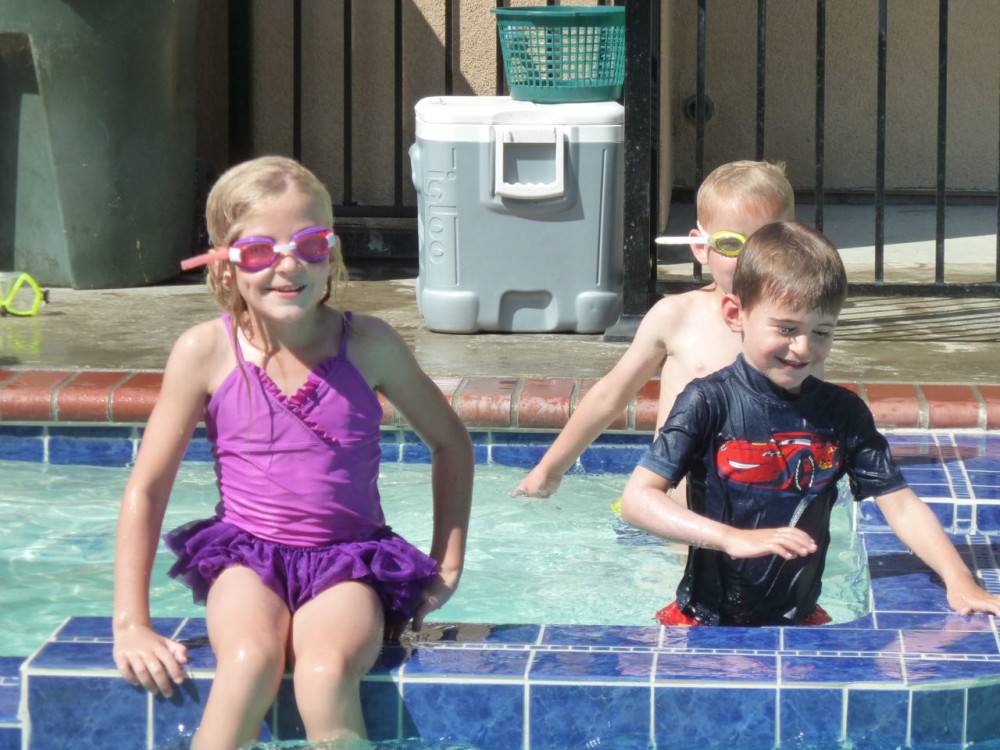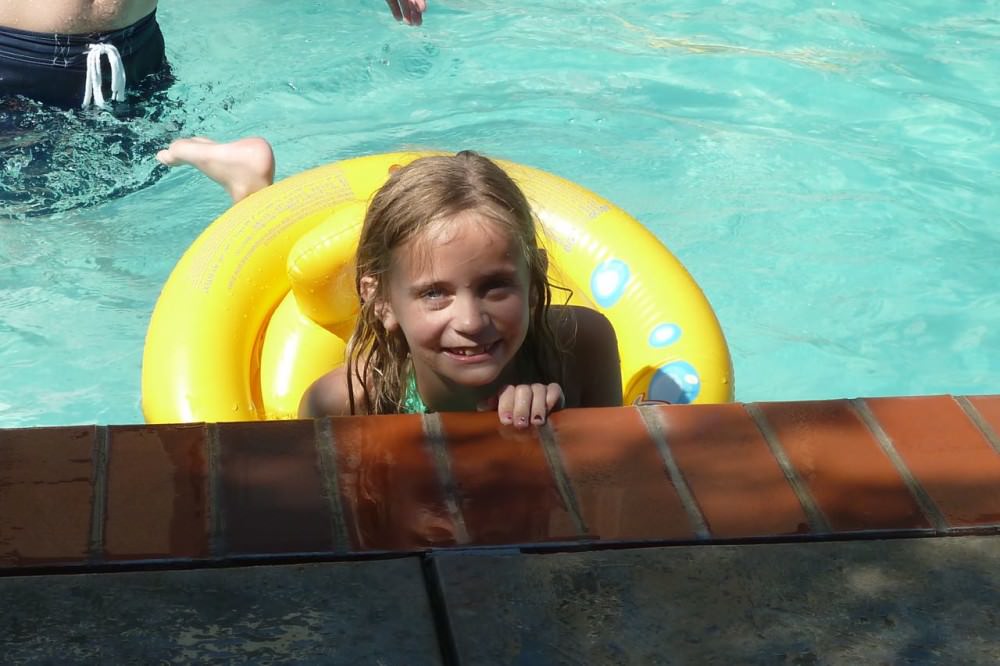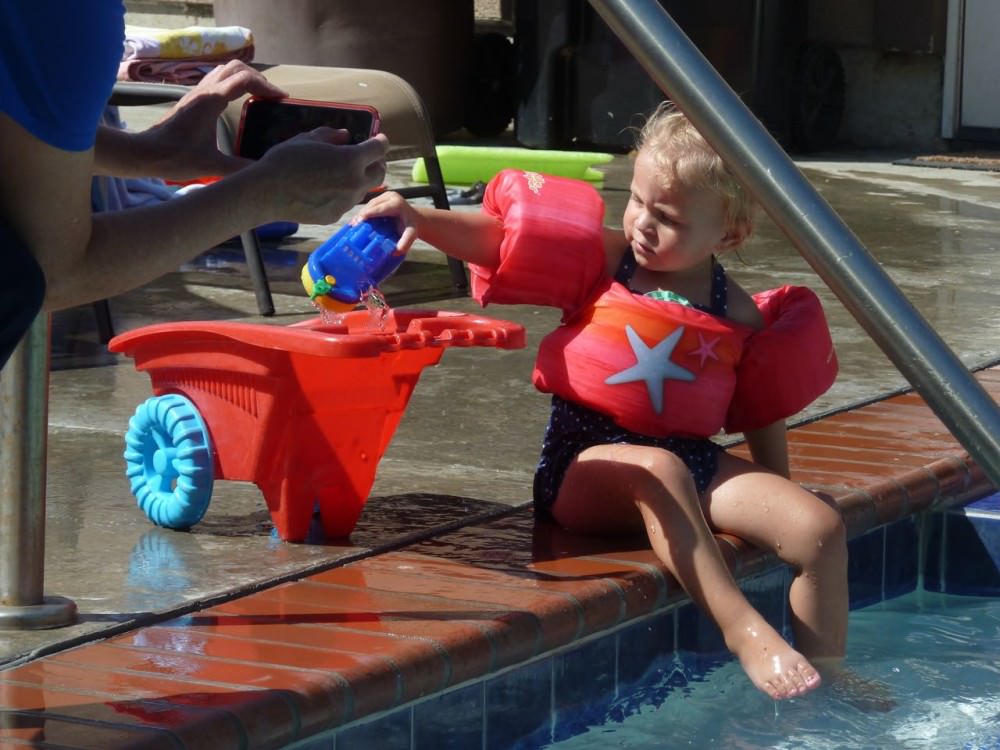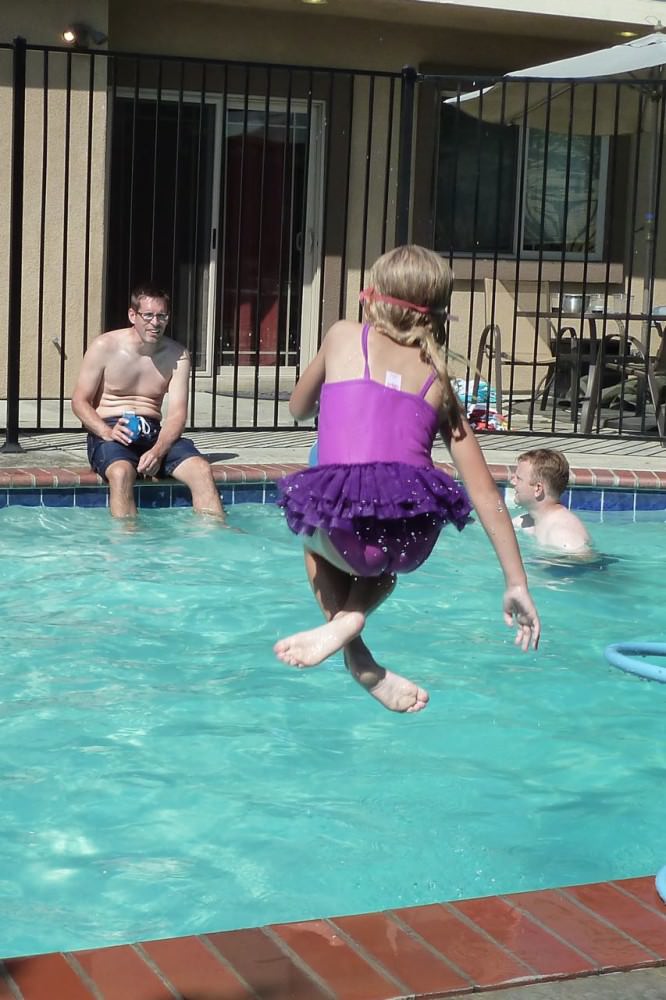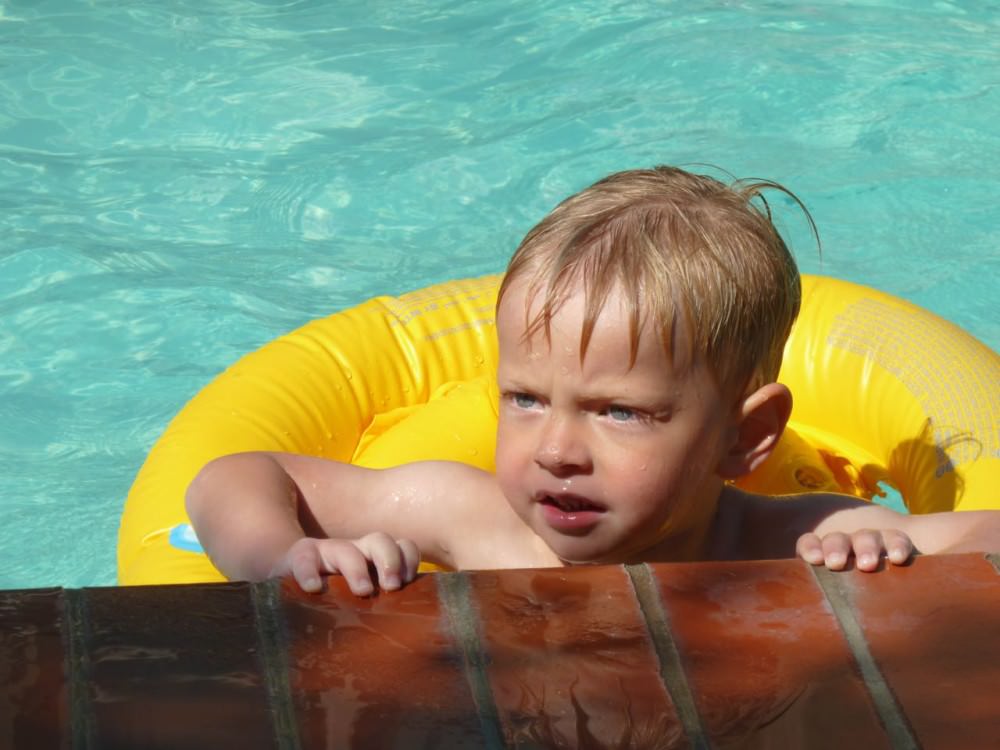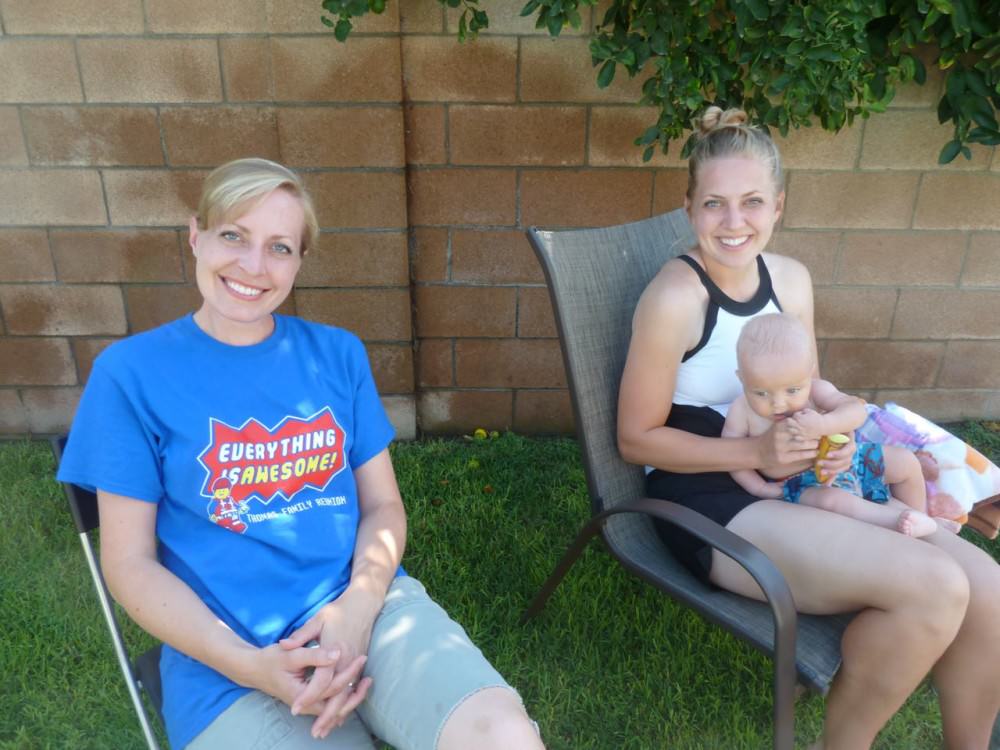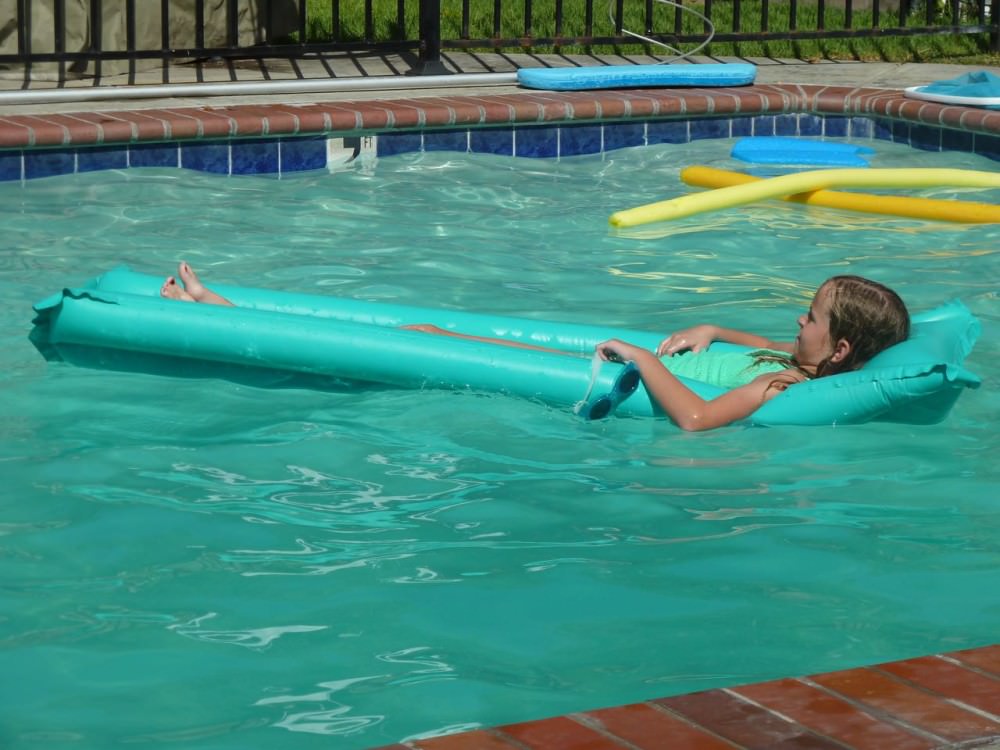 Spencer swam for a bit and then resumed his preferred activity – playing with cars: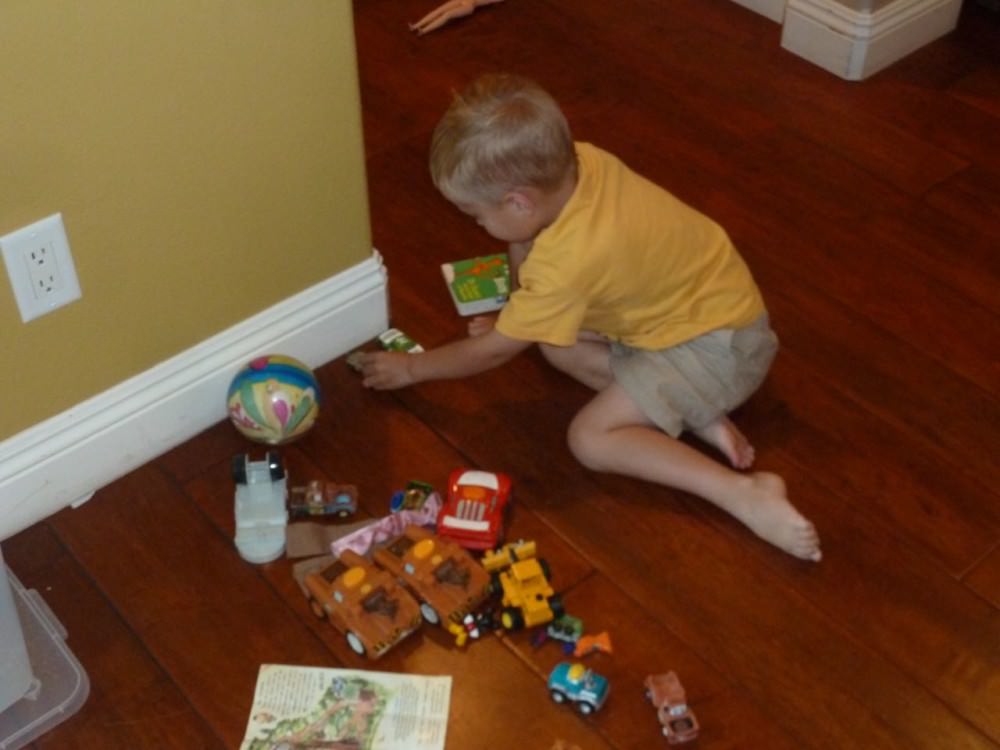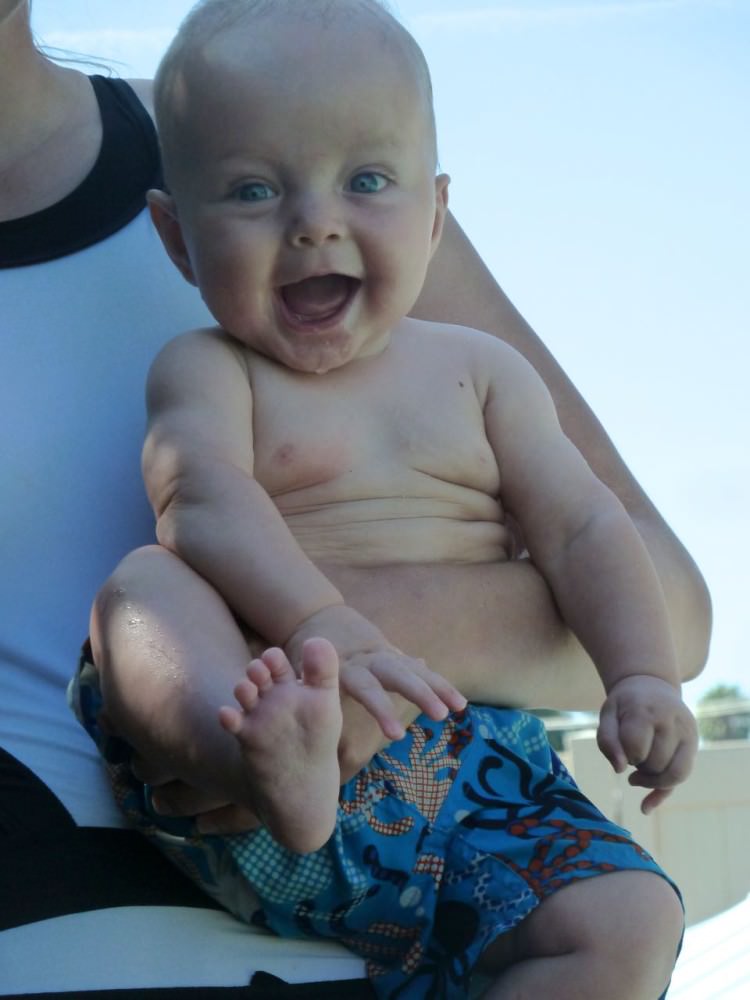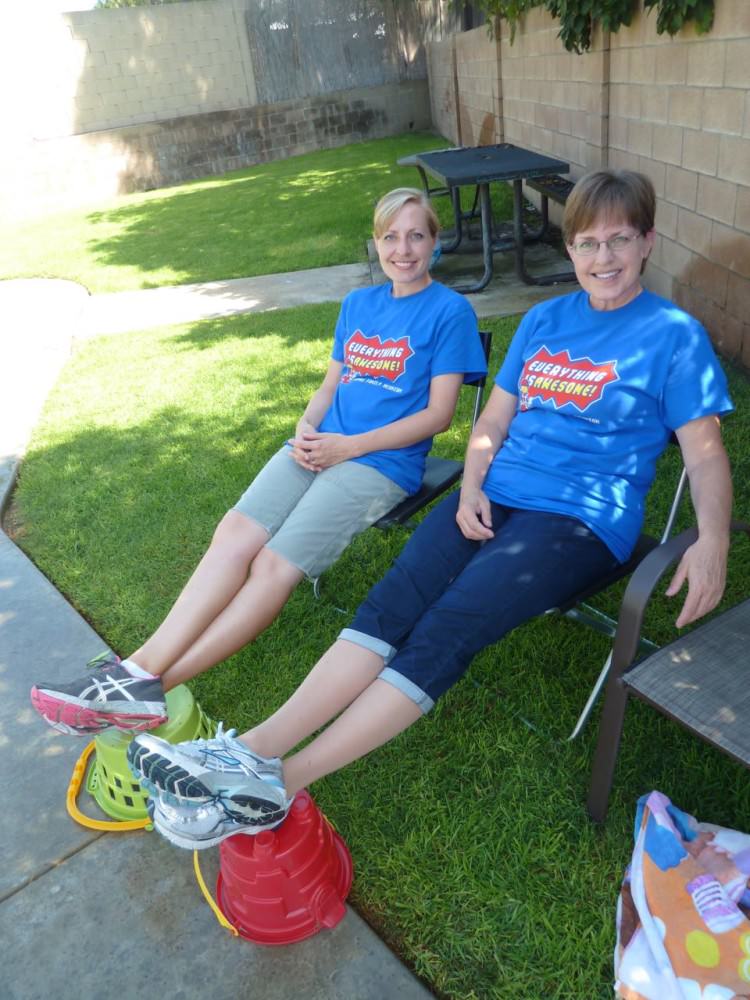 Brooke threw thirteen fantastic pool parties.  Here is the pleased hostess herself when everyone was hip-hip-hooraying her party:
One of my favorite pictures from the trip: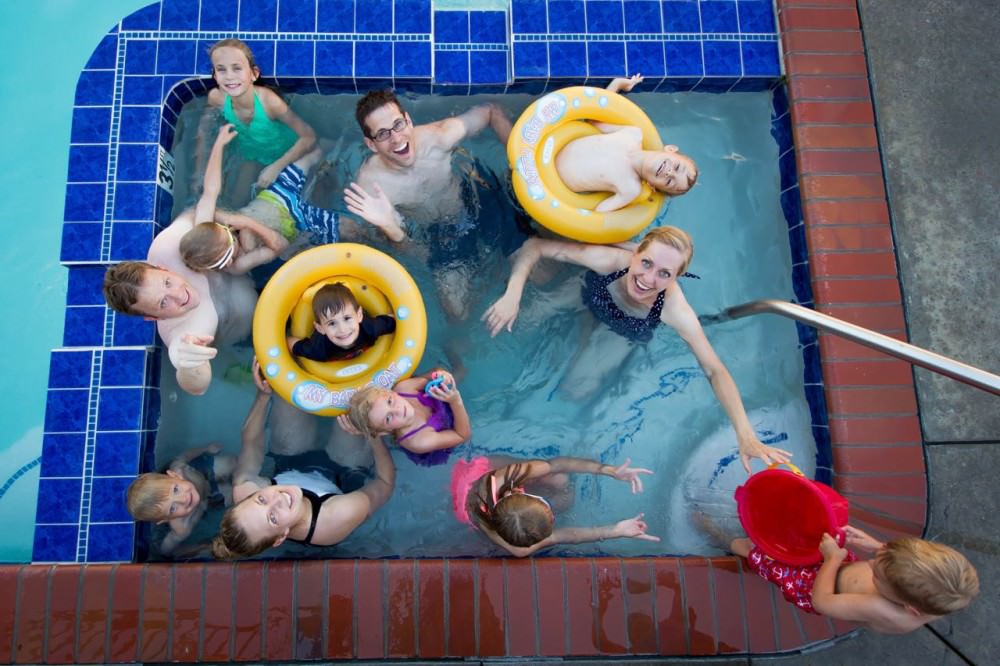 After the party we ate: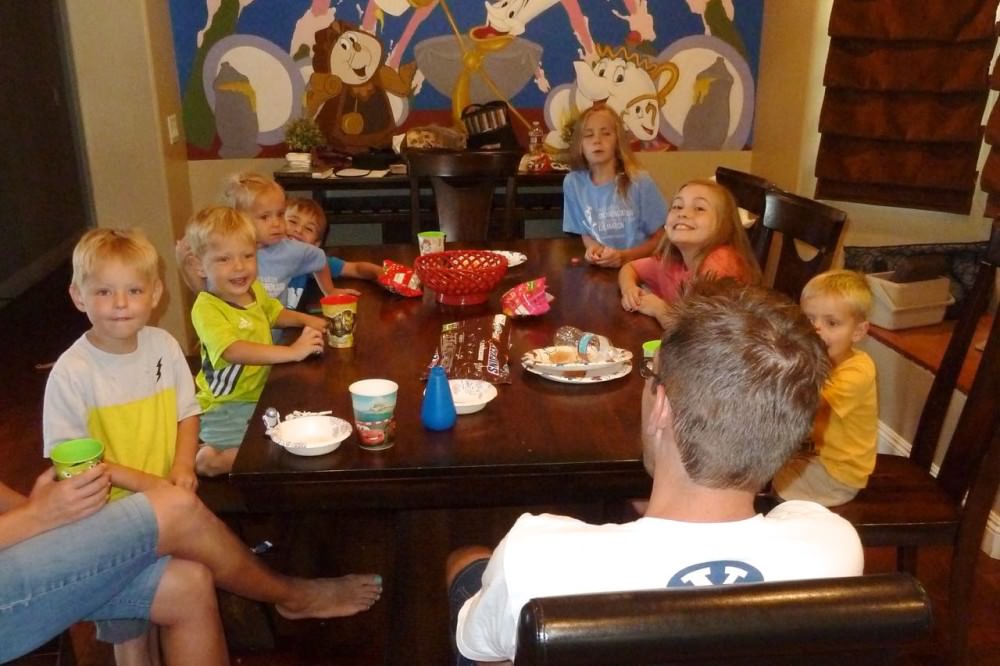 And Claire got disgusted about something: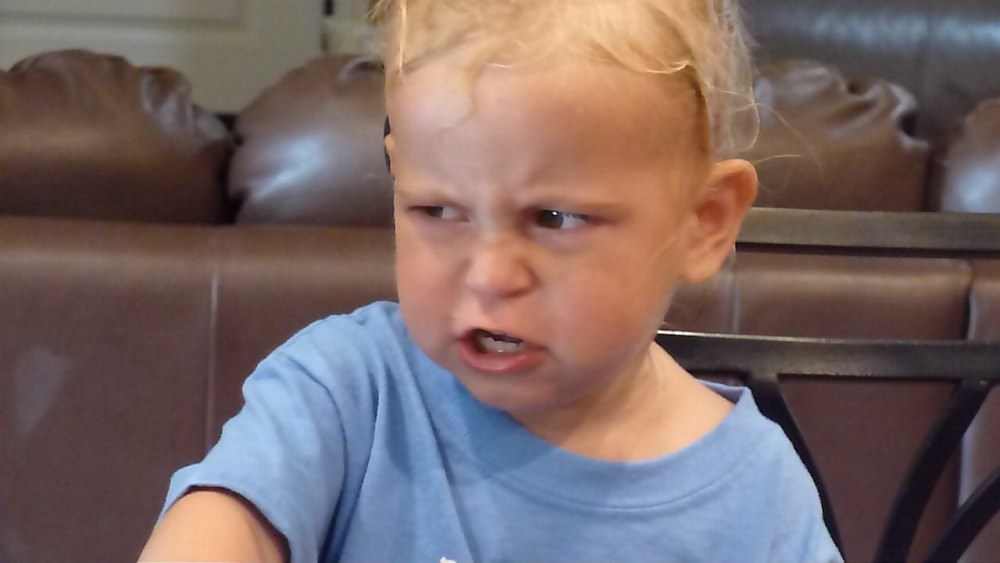 We were exhausted: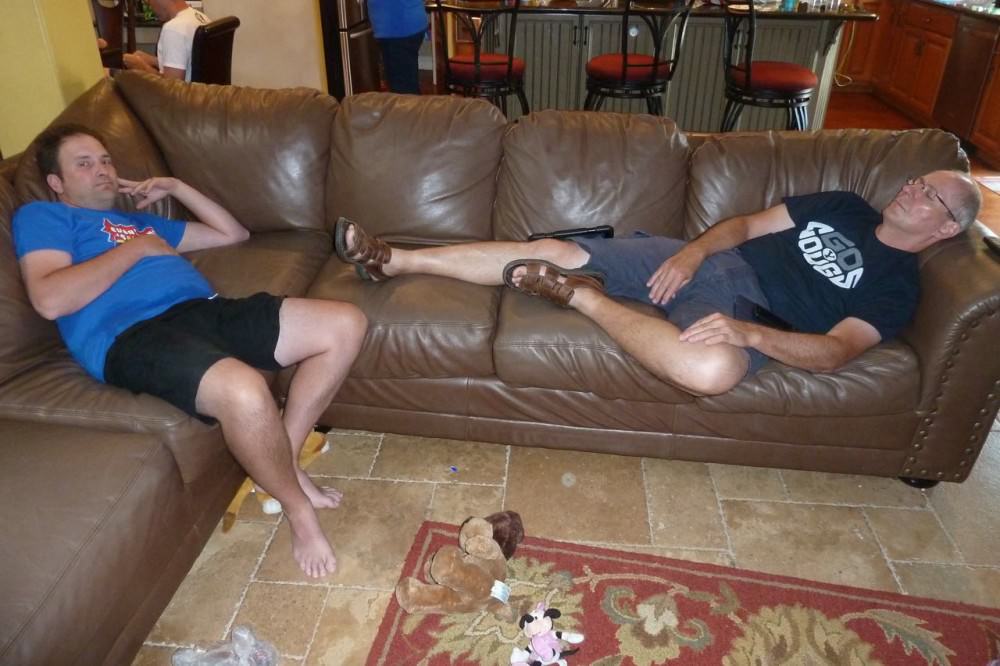 But root beer floats revived our spirits.  We enjoyed watching my Dad cram his cup full of ice cream and then make a huge mess as he tried to pour root beer in: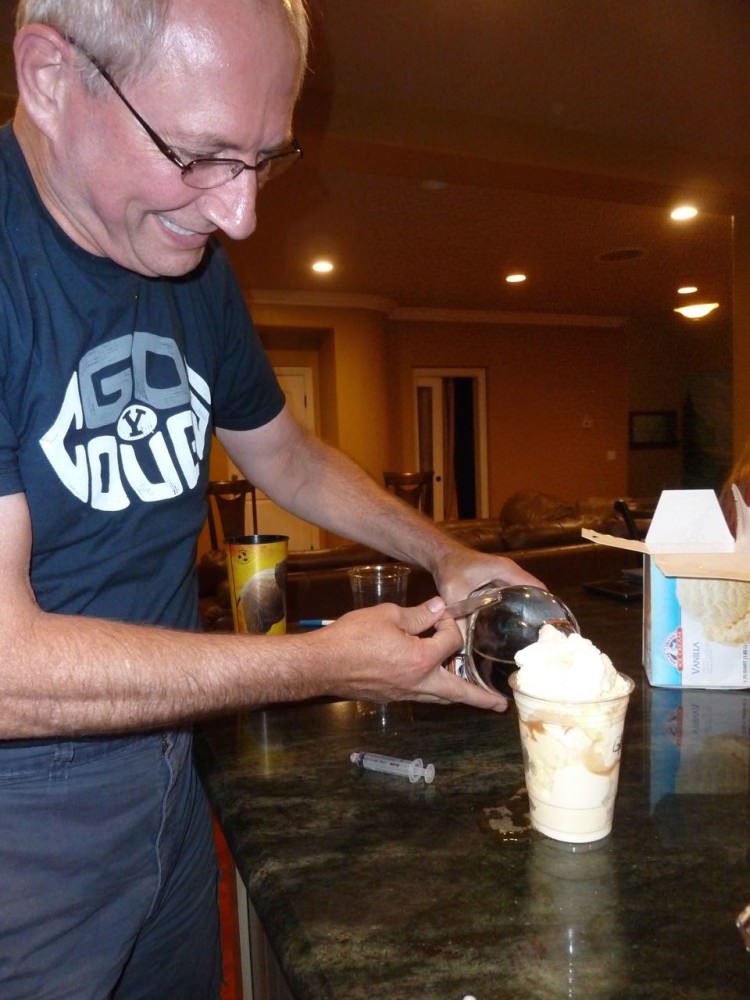 The next day it was time to go.  Boo hoo.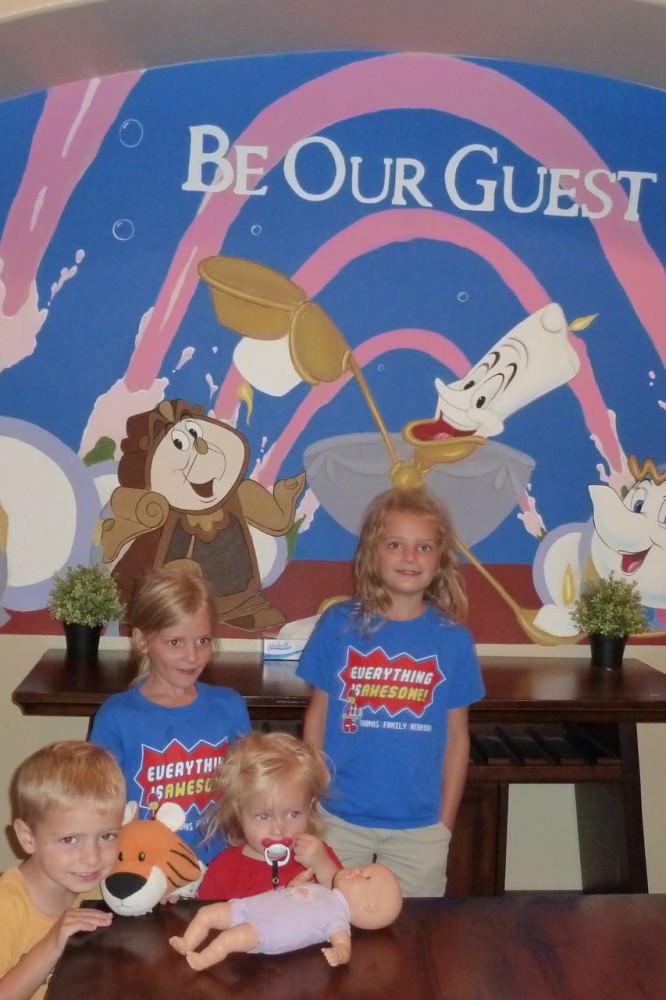 We decided not to bother with combing hair and instead took pictures by the murals one last time: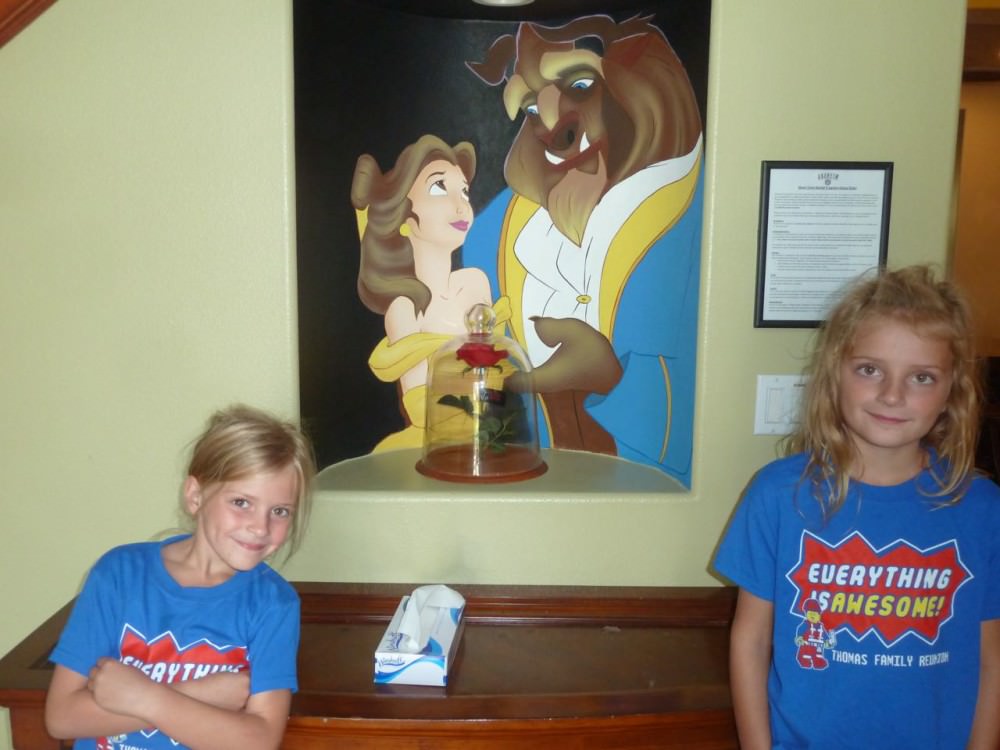 I also had to get a quick shot of the cute bunk bed in the kids' room: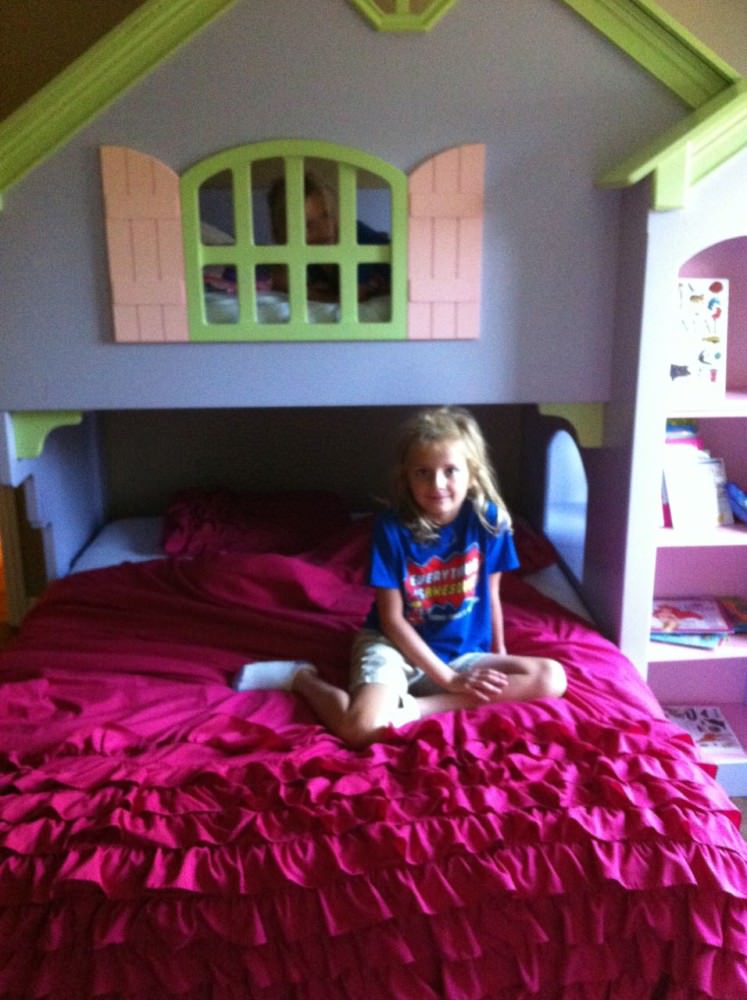 Good-bye Belle's Castle: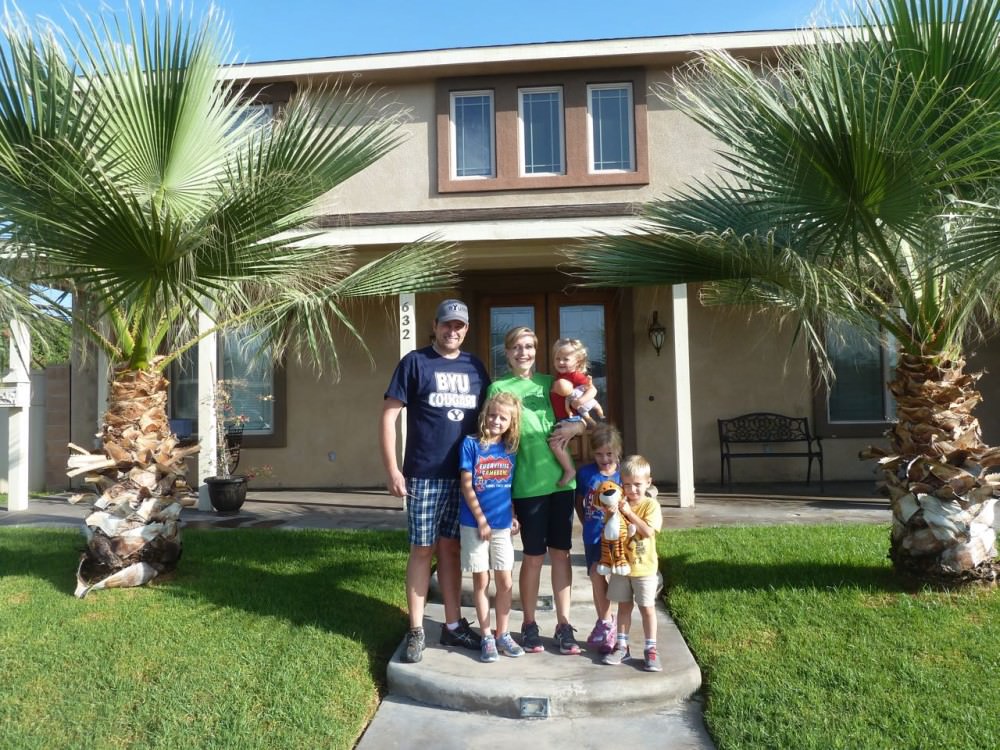 We passed a casino in Primm that advertised a display of cool cars from movies.  Dallas made us stop to see them.  Some kids were more happy than others about this: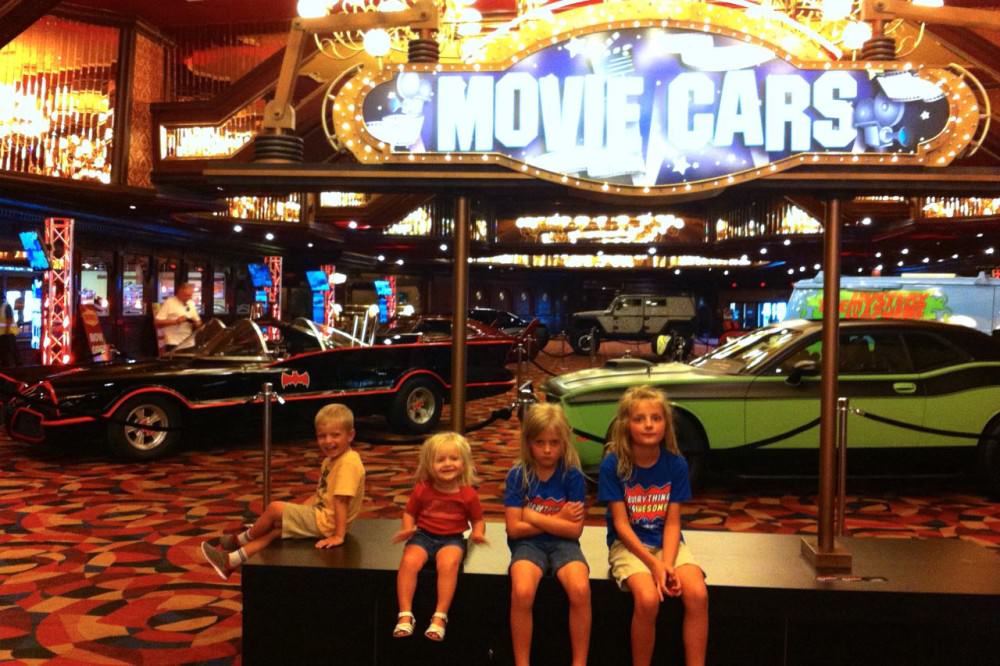 (Not pictured – the adult that also had a bad attitude about the stop.)
Of course Dallas was right that Spencer would love to see the cars.  He smiled bigger at these cars than he did at any other time on our trip, so I guess it was worth it: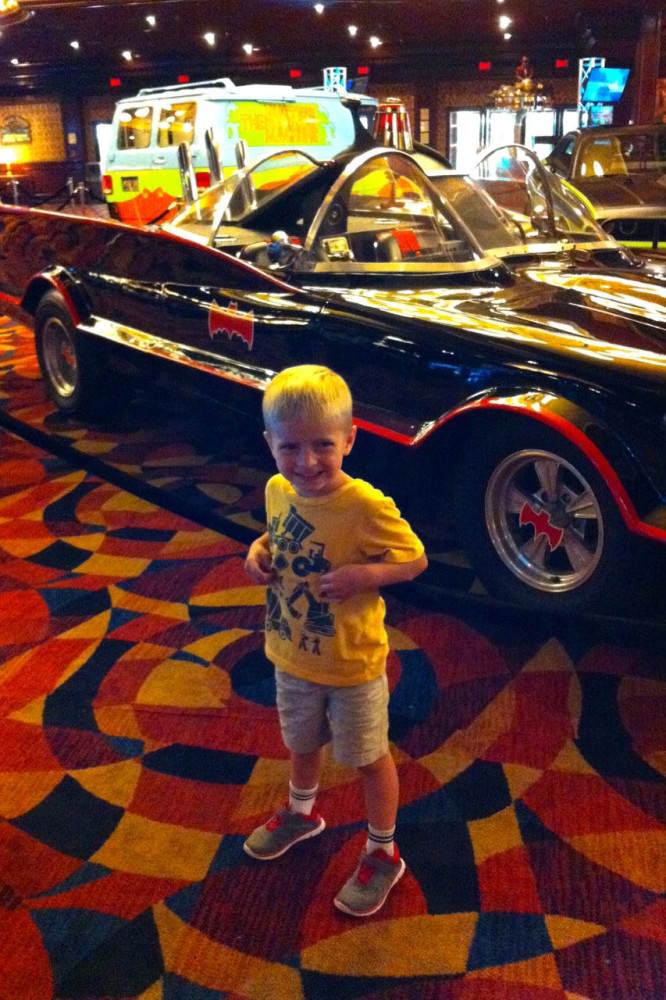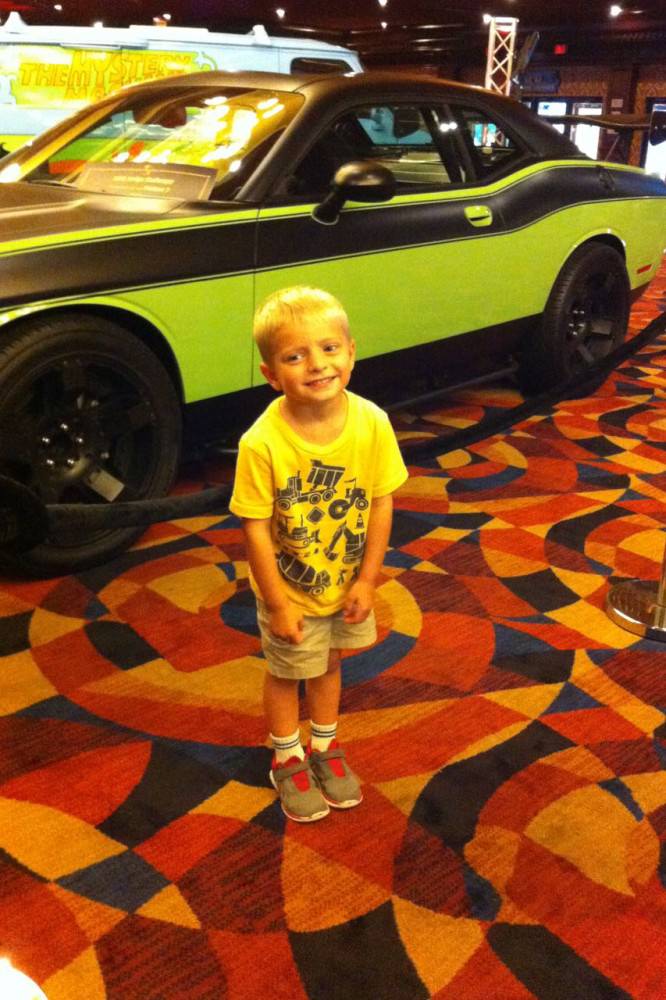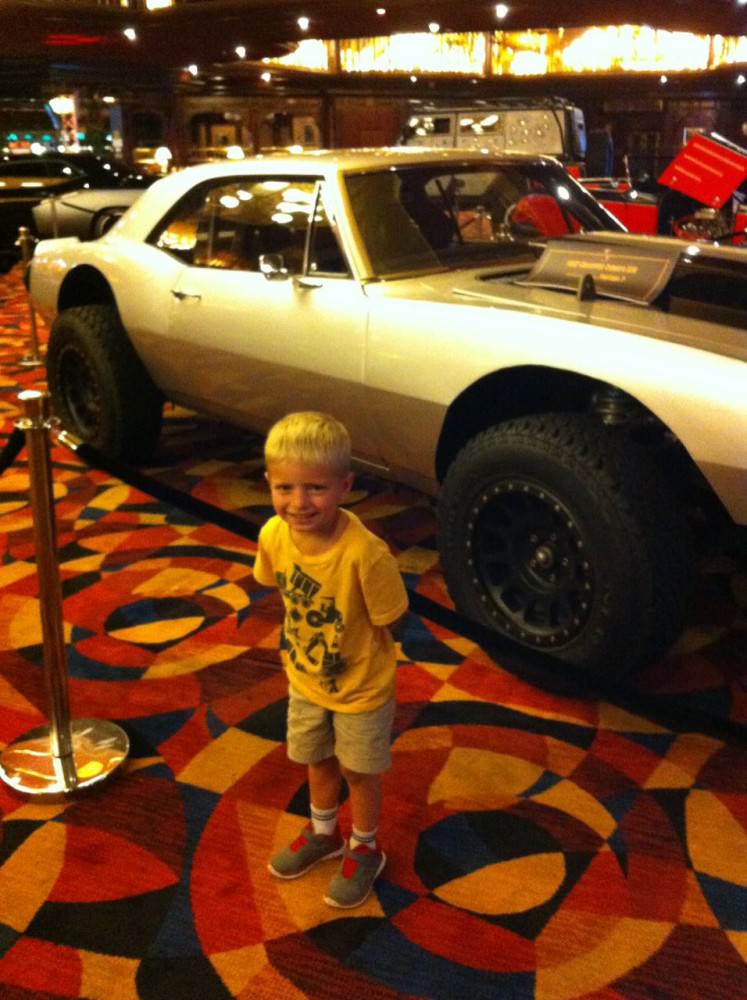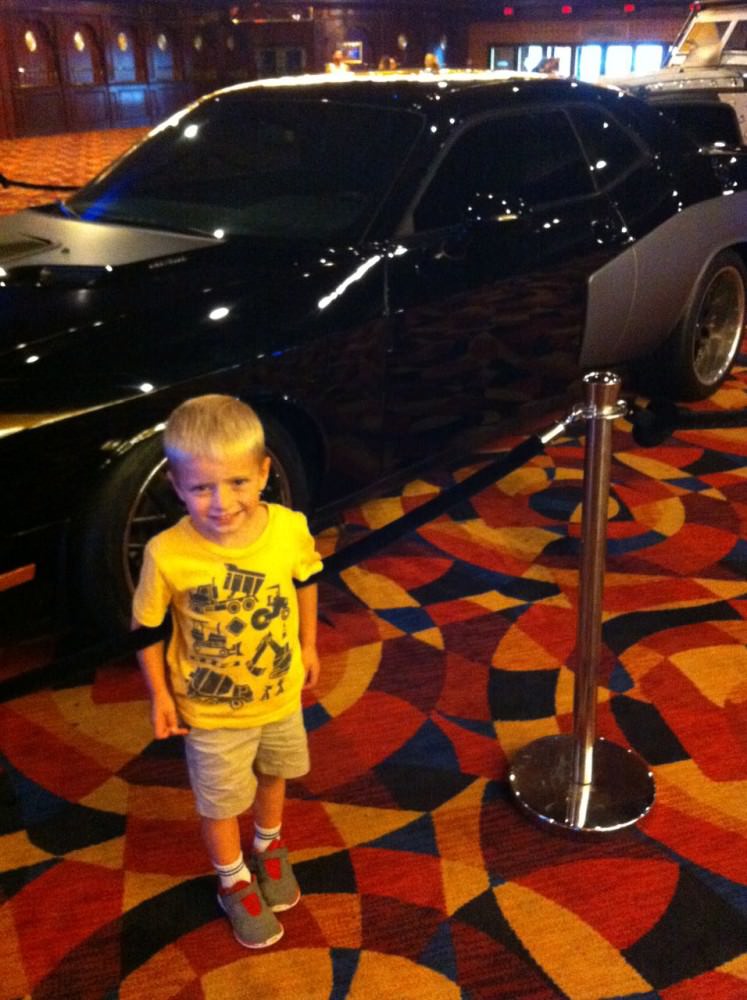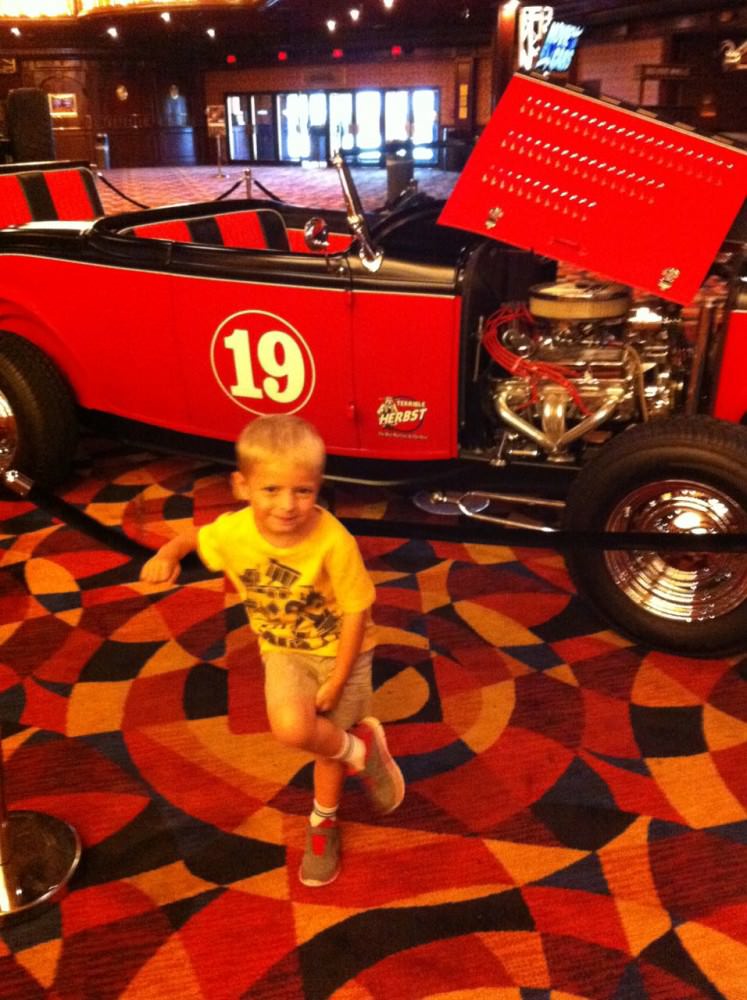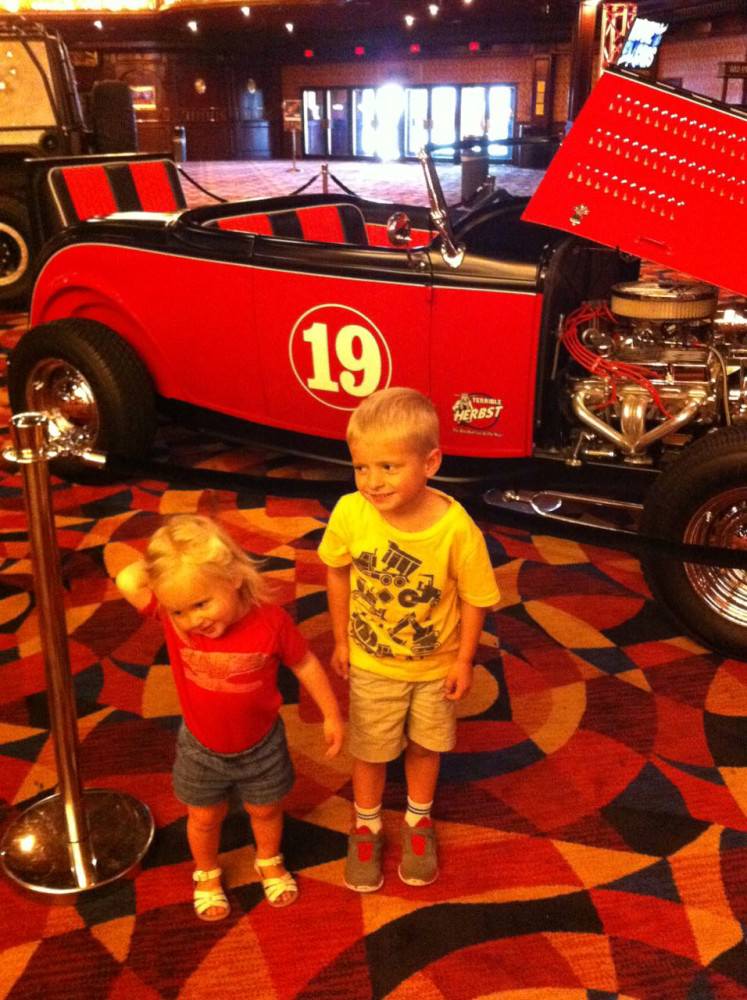 We continued on our merry way.  As we were passing St. George, the car began acting up.  We limped along to a Maverick and discovered our alternator had died.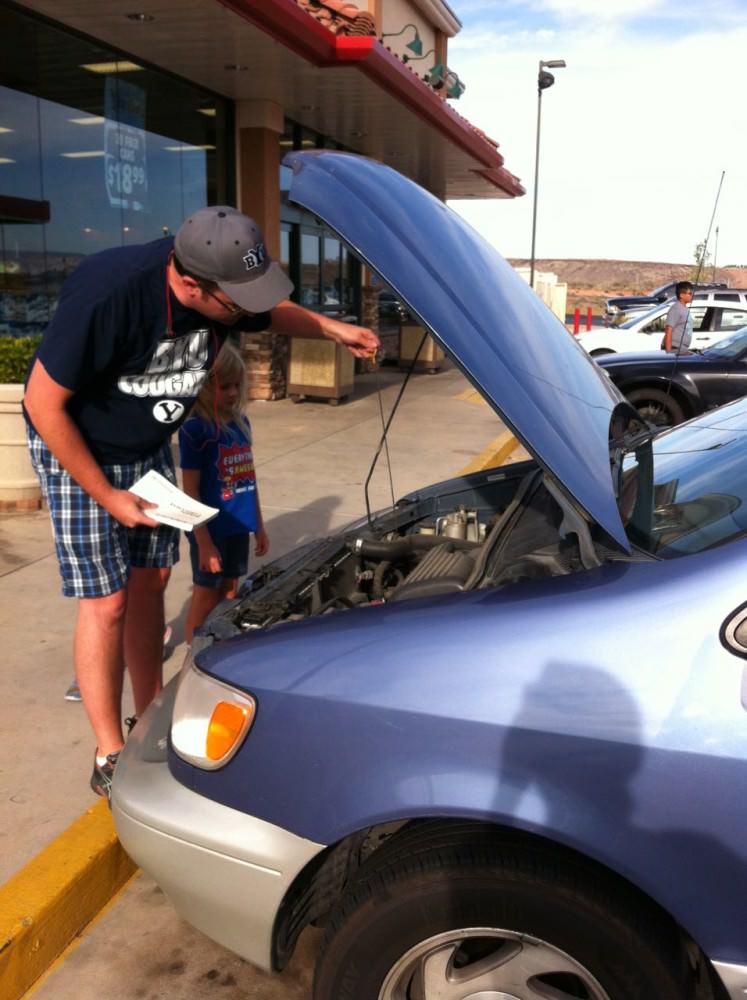 Cue panic.
We were driving home on a Sunday and it was almost 5:00.  How were we supposed to find a shop to help us at a time like this?  No sooner had we popped the hood than we got inundated with the good people of St. George offering help.  Those people were so nice.  I found myself wishing that a mechanic would just stop by because that's what we really needed!
Before that thought had fully formed in my mind, a woman came up and asked if she could give my kids a sucker.  I said sure and thanked her.  She then pointed to her husband who was looking under the hood of our car now.  She said, "We saw you stopped, and it looked like you needed help.  My husband is a mechanic, and I always encourage him to help people who need it because he's good at what he does, and if you're good at what you do and someone needs you, you should help them, you know?"
Bless you, you sweet woman and handy husband.
The mechanic started to charge our battery with his truck while he coached us on how to install an alternator.  He told us that our battery power should be enough to get us to the nearest AutoZone, and there we could buy an alternator and do the repair.  I had no clue a layperson could even conceive of replacing an alternator himself, but Dallas is undeterred by car projects and was ready to take on the challenge.
With a fully-charged battery and instructions fresh in our minds, we bid our angels good-bye and made the terrifying drive to AutoZone knowing the car was ready to die on us at any moment.  Luckily, we made it to AutoZone in one piece.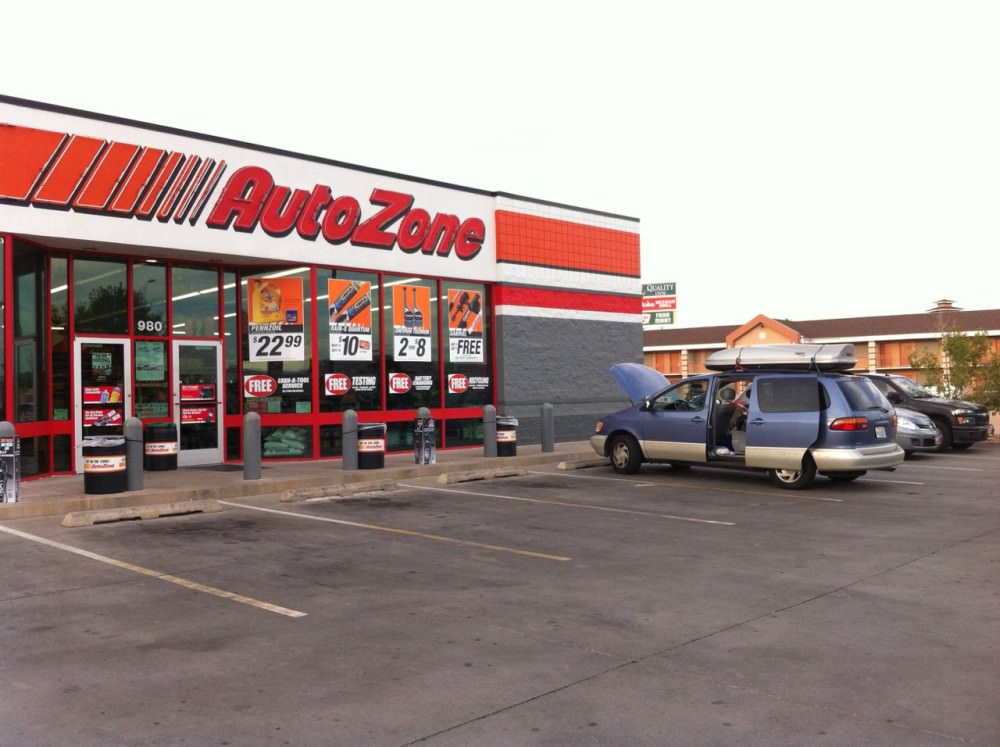 Dallas got to work replacing the alternator.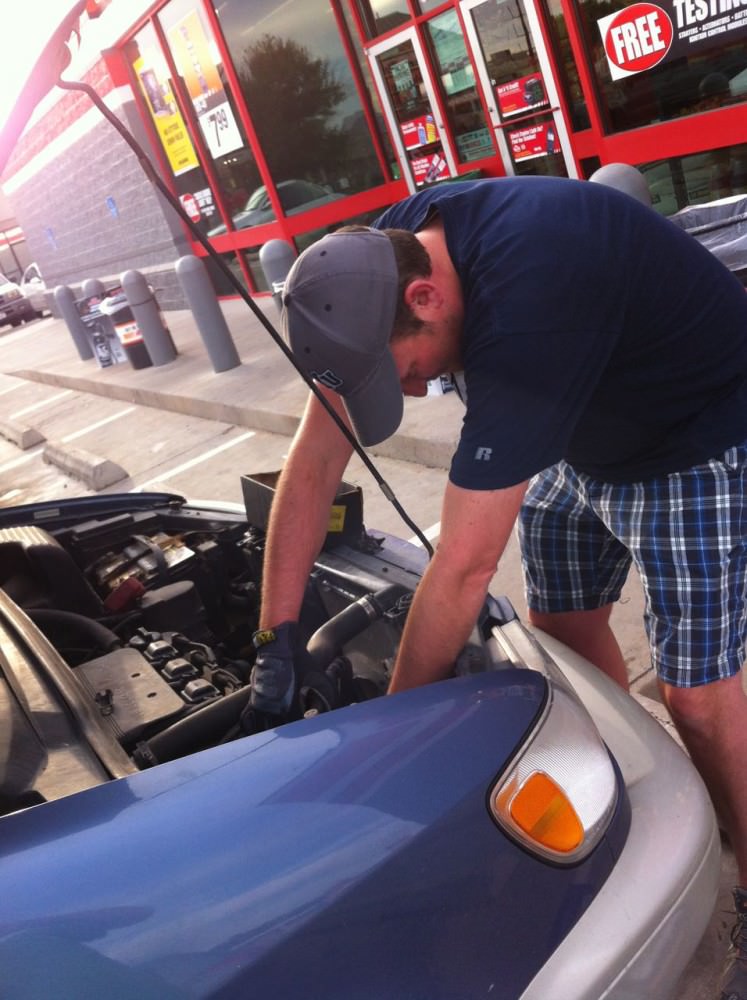 The kids and I helpfully gorged on car treats: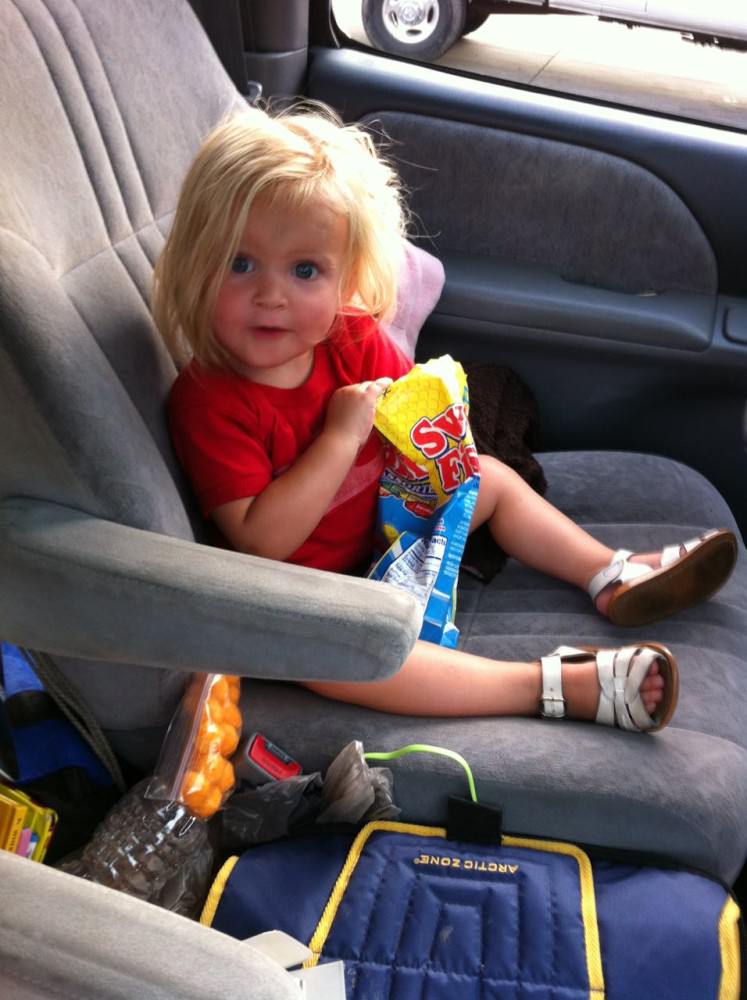 I took a moment to be really grateful for that mechanic and his wife and for the fact that we had plenty of food and water with us as well as games, coloring books, movies, etc.  The kids were busy and fed and happy, and if Dallas couldn't fix the car, at least we had everything we needed to stay the night somewhere.
Let's also take a moment to be grateful that Madison is still with us.  I had kept her in the car pretend driving and eating snacks.  At one point I took a kid to the bathroom.  When I got back, I looked in the car and didn't see Madison.  Brooke was in the front now snacking.  Brooke said, "Oh, I let her out of the car to follow you to the bathroom."
Cue panic again.
Madison had certainly not followed me to the bathroom meaning she was roaming around outside somewhere.  We were in a parking lot.  We were right next to a busy road.  Dallas and I started frantically searching for her all the while trying to make sure we had gotten the correct information out of Brooke.  During all this chaos, Spencer planted his feet down in the middle of the parking lot, arms straight out, eyes wide, while he said with all earnestness, "It's okay, guys. I know what she looks like!"
Luckily, after a minute or two of frenzy, Madison poked her head out from behind a neighboring parked car and smiled at us as if wondering what all the commotion was about.  Relief.
I was grateful again because Dallas finished the job just before it got dark.  We started up the car and it worked!  Dallas did it!  I love that guy! (Even if he makes me stop to see movie cars when I just want to get home.) We were on our way again!  We had said a family prayer before we left California that we would travel safely and while our car failed us, kind people around us didn't, and we felt blessed that this setback was solved fairly easily.
HOWEVER.  This meant we had a really late night, and the kids were set to go back to school the next day.  I opted to bring them to school late in favor of sleeping in and getting a good bath.  Not ready to be done matching, the girls coordinated their shirts for their return to school: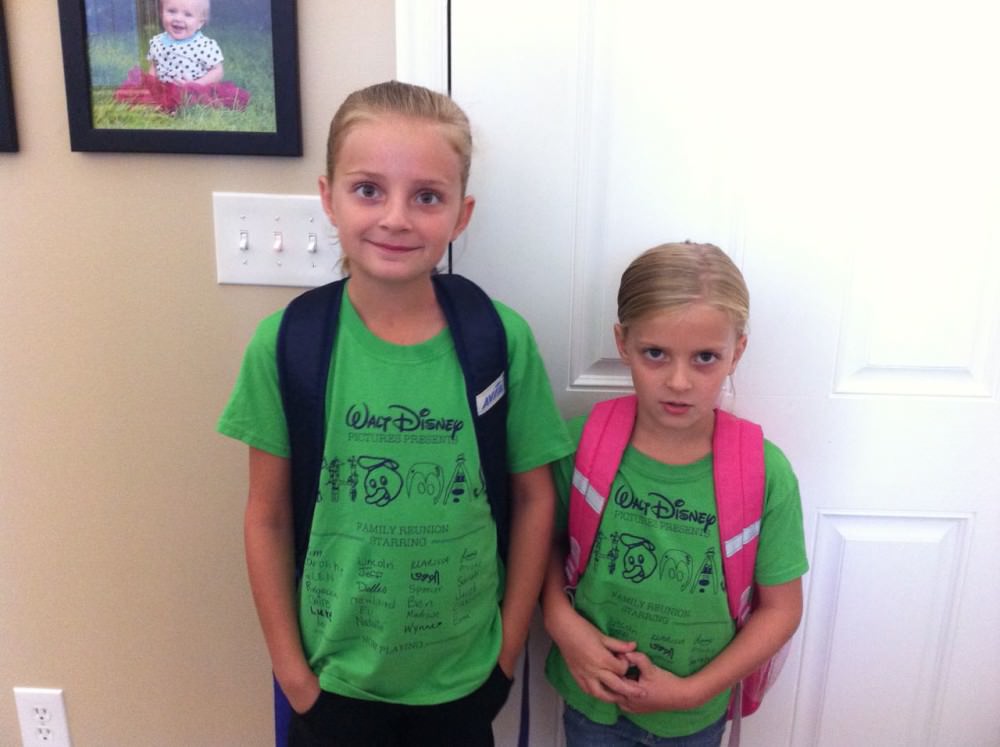 They wore the Olaf shirts the next day.  On Wednesday they put the red Cars shirts on.  As they were about to leave, Caroline shrieked, "It's picture day today!  We can't wear this!"  They quickly changed into other shirts and as Caroline was leaving she said, "Whew.  I can't believe we almost wore Cars shirts for picture day.  That would have been so embarrassing."
Why does it have to be so hard to enter reality again after a trip?  The idea of grocery shopping nearly did me in, and I contemplated how long we could live off of condiments and Rolos: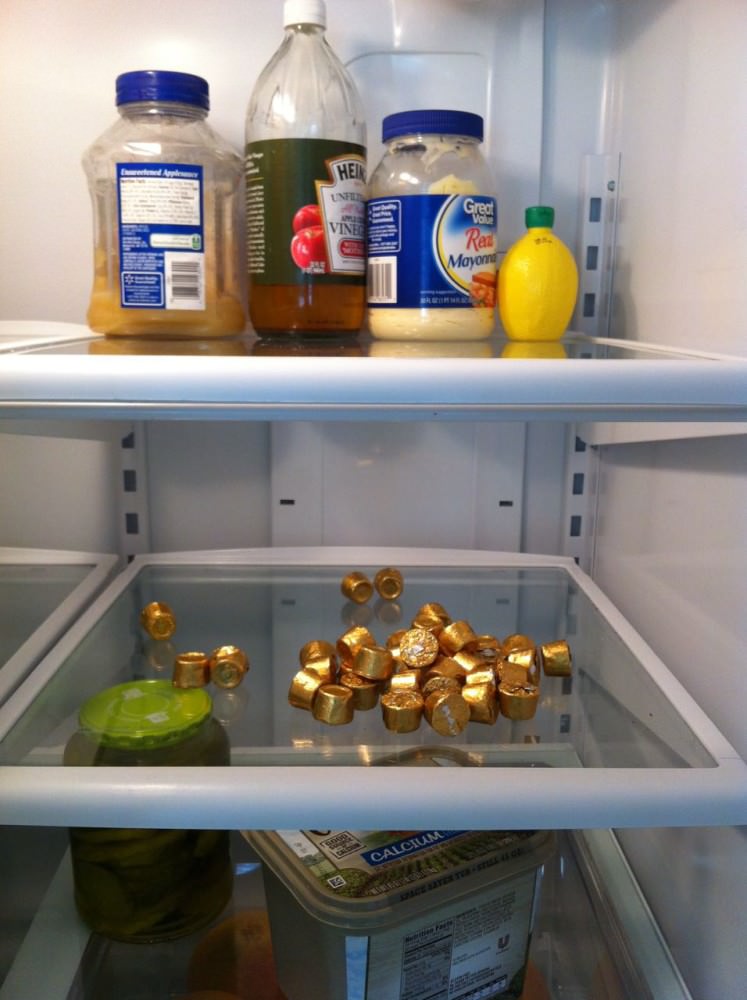 If that failed, I could always turn to my crock pot of cheese balls: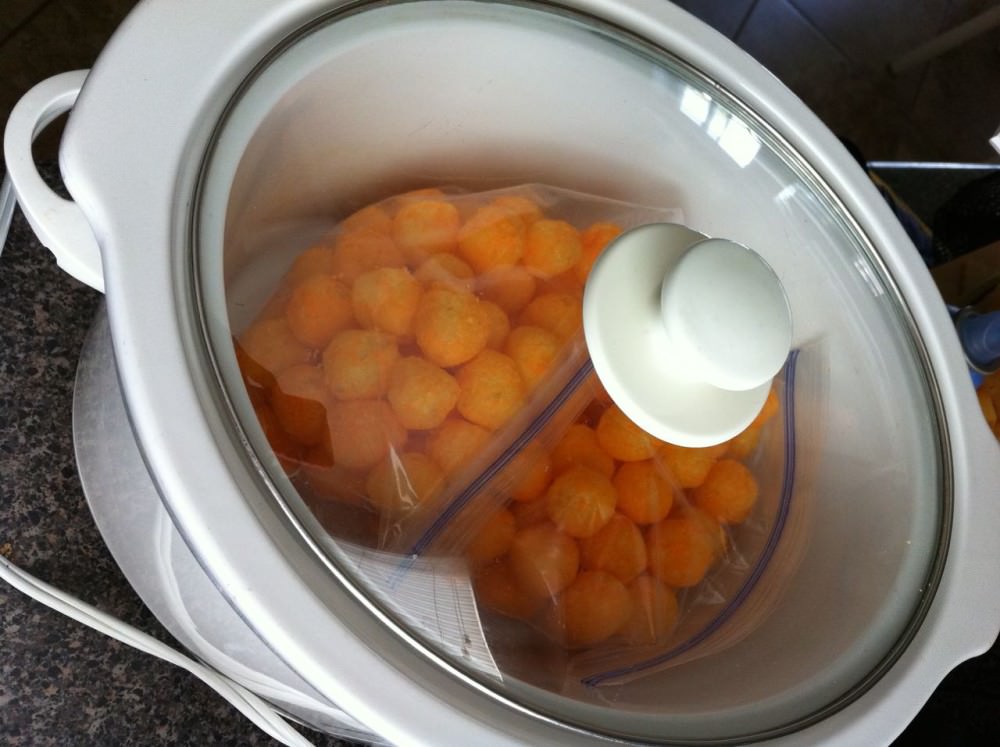 We had so much fun that now the only thing left to do is start planning our next vacation!