Caroline and Spencer were telling each other secrets at lunch.  It was pretty much the cutest thing ever: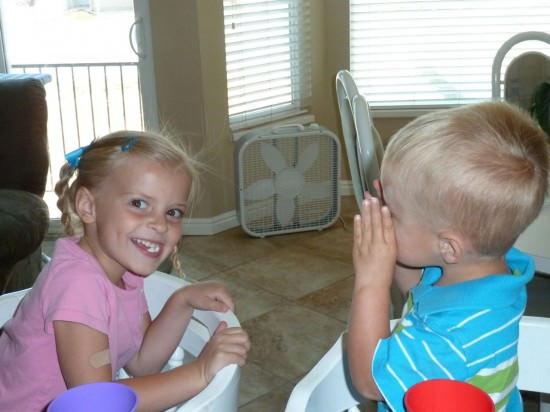 Especially when they got caught: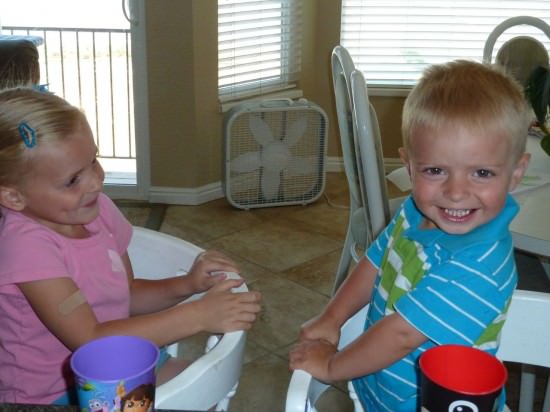 One day we were running a little late and I was trying to herd the kids to the car so we could get Brooke to school on time.  I heard a panicked, "Oh!  It's show-and-tell today!"  I told Brooke to run and grab something as quickly as she could.  She chose her horse.  Dressed up in a skirt.  With a flower around its neck.  Sporting fairy wings.  It was quite the sight: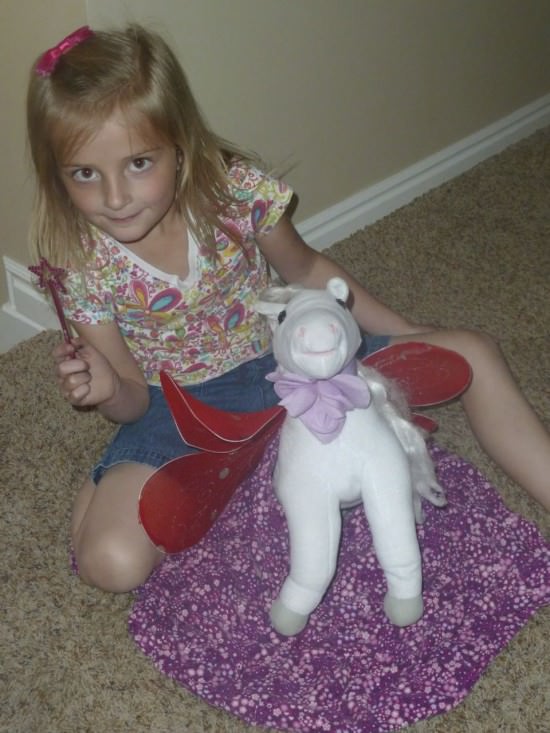 I love it when Spencer plays with little people and animals.  Here he put all the ponies in a circle: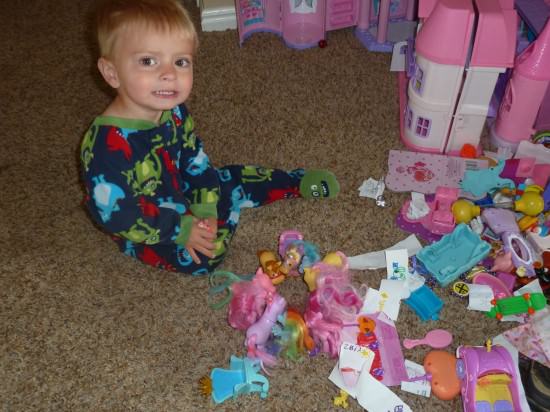 Brooke and Caroline went to a birthday party.  (Almost) everyone got their faces painted.  Brooke chose to have her arm painted instead "so I could watch what they were doing and so it didn't get in my eyes."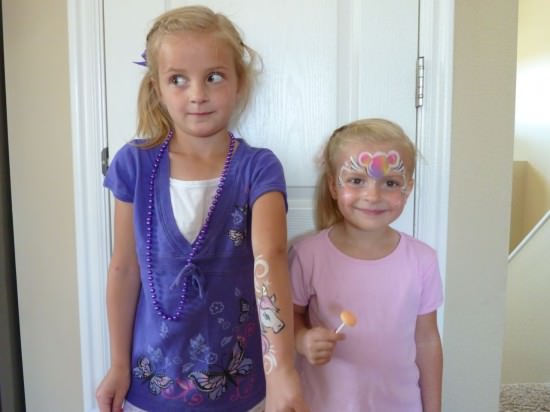 One day Spencer sat like this at the counter and the girls thought it was hilarious that he looked like he was only a head: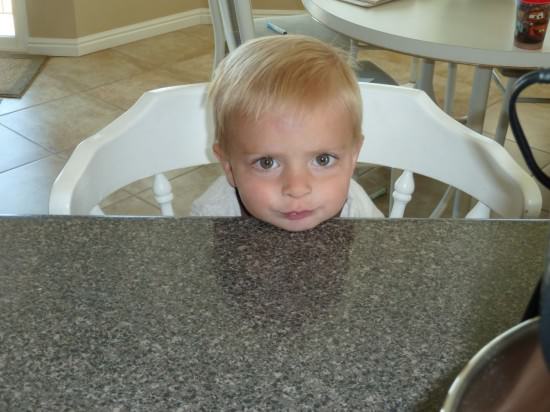 Caroline has really taken to watching out for Spencer lately.  Here she is reading to him.  Also, I was being stingy with band-aids and wouldn't let the kids have any unless they were actually bleeding, so Caroline found stickers and placed them on every one of Spencer's leg scratches: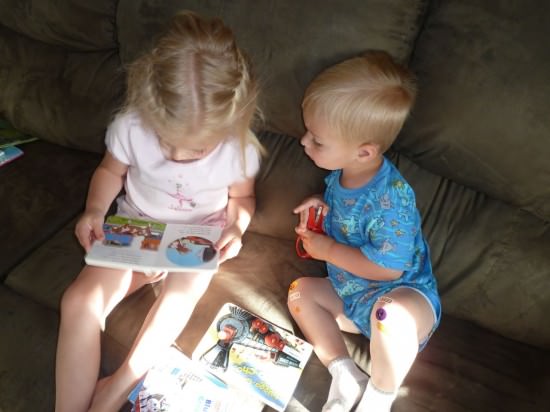 Brooke loves to put her toys in shoes as if the shoes are cars or boats: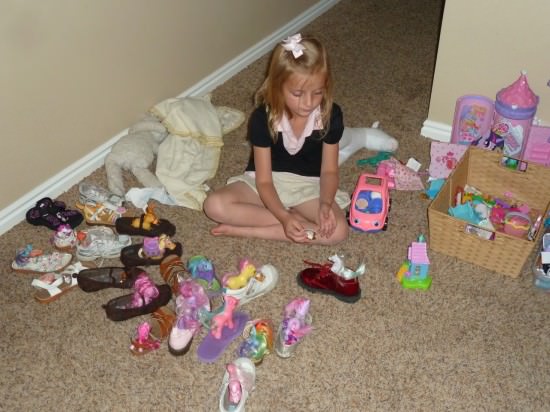 She also loves to arrange all her toys just so.  Here everyone is looking at the little dog, Charlie, who got an award for something: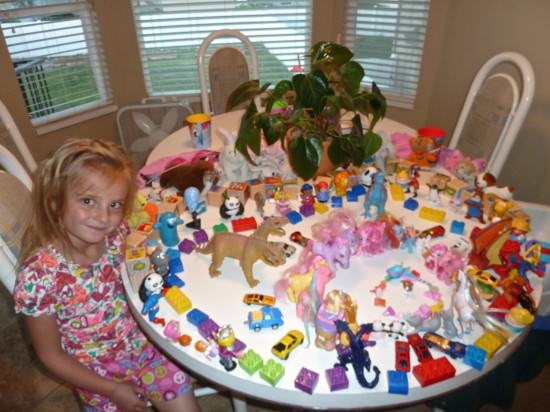 What was on the back of one of Brooke's school papers?  This: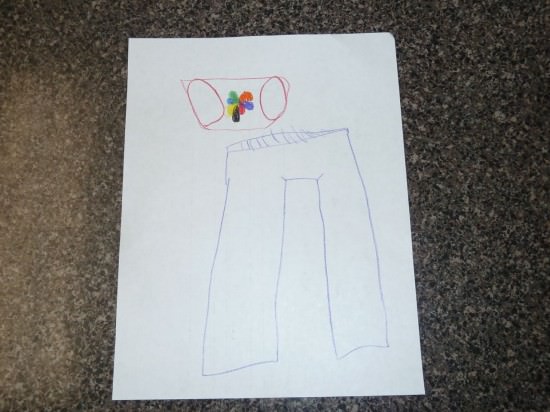 When asked what she drew she said, "There's some pants and the underwear is above it."  I'm still unclear as to why she felt the need to draw underwear on her paper, but I've come to the conclusion that the way Brooke's mind works will likely always remain a mystery to me.
Since she had a birthday, Brooke got to be Star of the Week.  She helped me decorate her poster.  I left for a minute and when I came back I saw Brooke had drawn an interesting pony.  Upon closer inspection I saw she had made the pony out of the letters of her name.  I was speechless: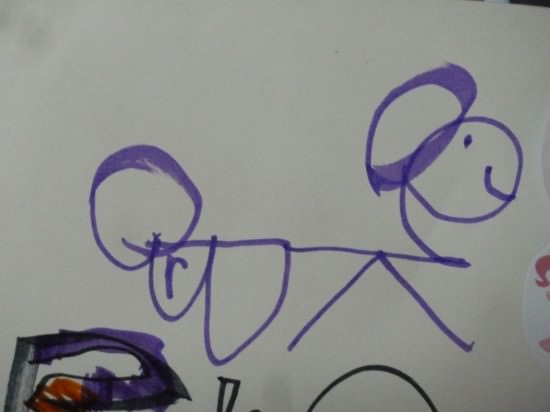 That Brooke.  She just keeps things lively around here.