I can sense that you aren't going to want to miss one day of my 31 day marathon!  Maybe you haven't realized that you can have our blog entries delivered directly to your email address.  Let me show you how this is done.
On the right side of the window you will see the box that looks like this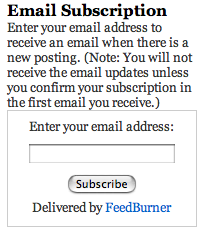 Enter your email where it says "Enter you email address:"  Pretty self explanatory, but you probably haven't noticed it before.
When you click "subscribe," a window will come up that looks like this: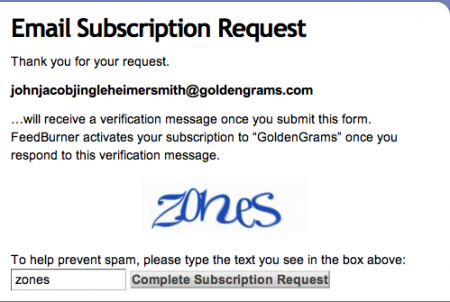 You aren't done yet. Be sure to enter the verification message in blue into the box and click "Complete Subscription Request."
You would think that you are done at this point, but you aren't just yet…
Check your email and you will find an email asking you to activate your subscription.

Be sure to click on the long blue link to activate you subscription.
Now you are subscribed and you won't miss any of our posts.