Here's the Christmas recap I'm sure you've all been waiting for.  The kids were so enthusiastic to decorate for Christmas that some of us were able to catch a quick nap as the halls were being decked: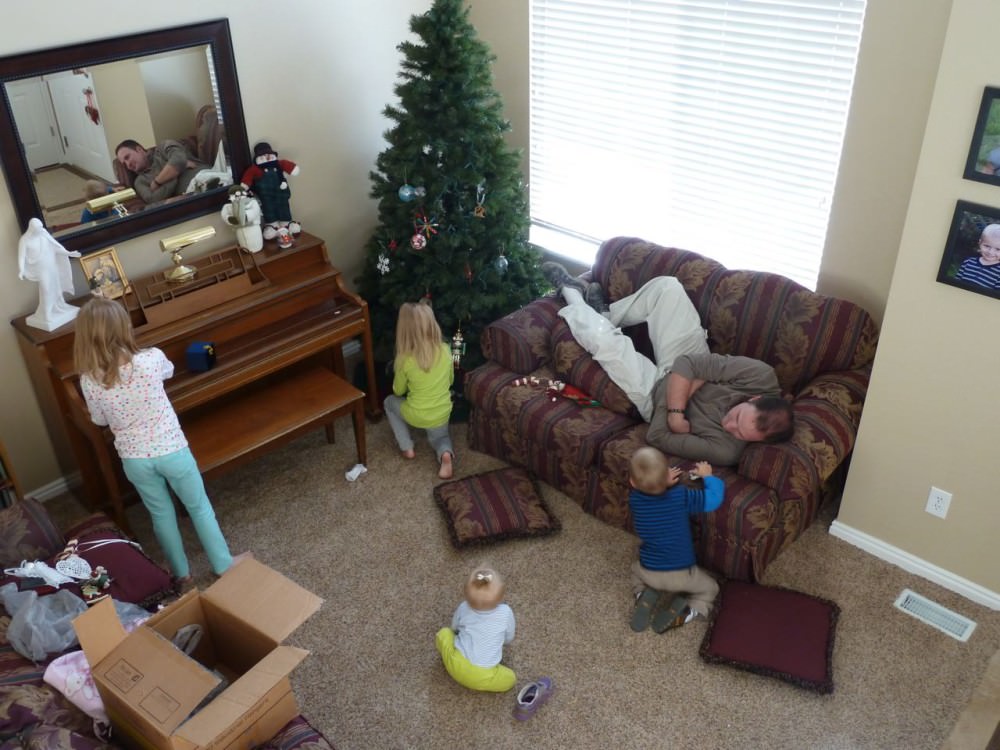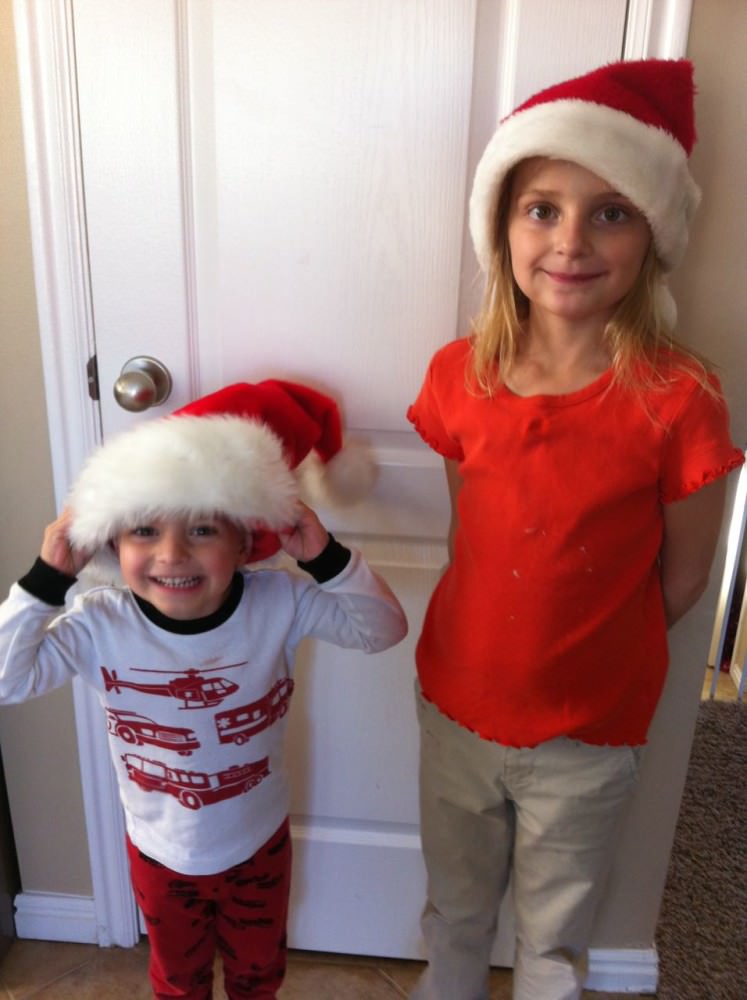 Decorating candy houses: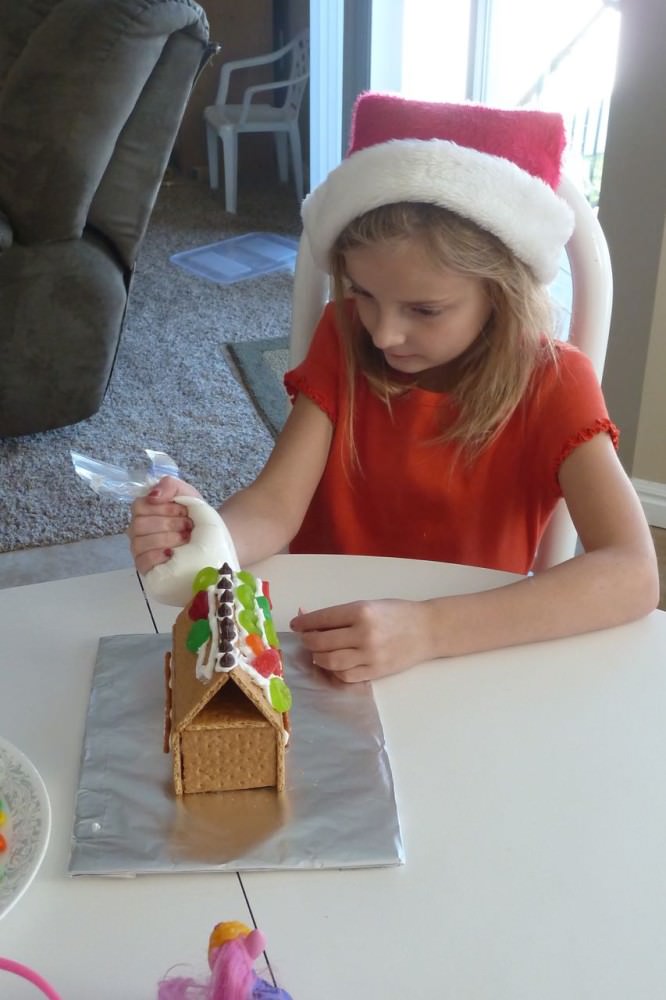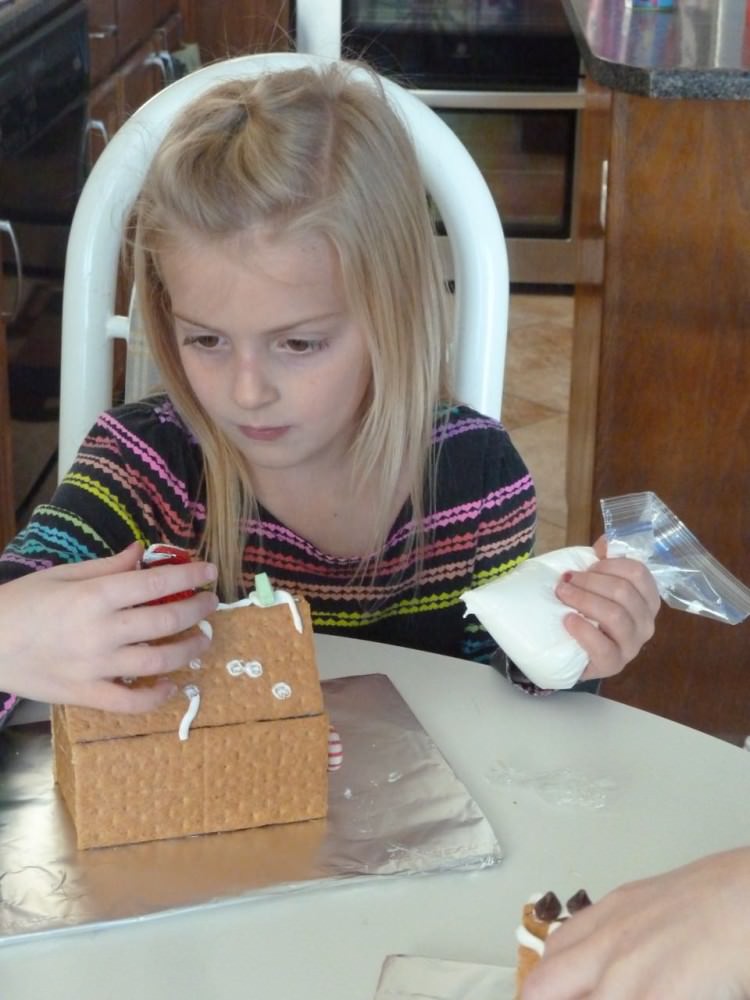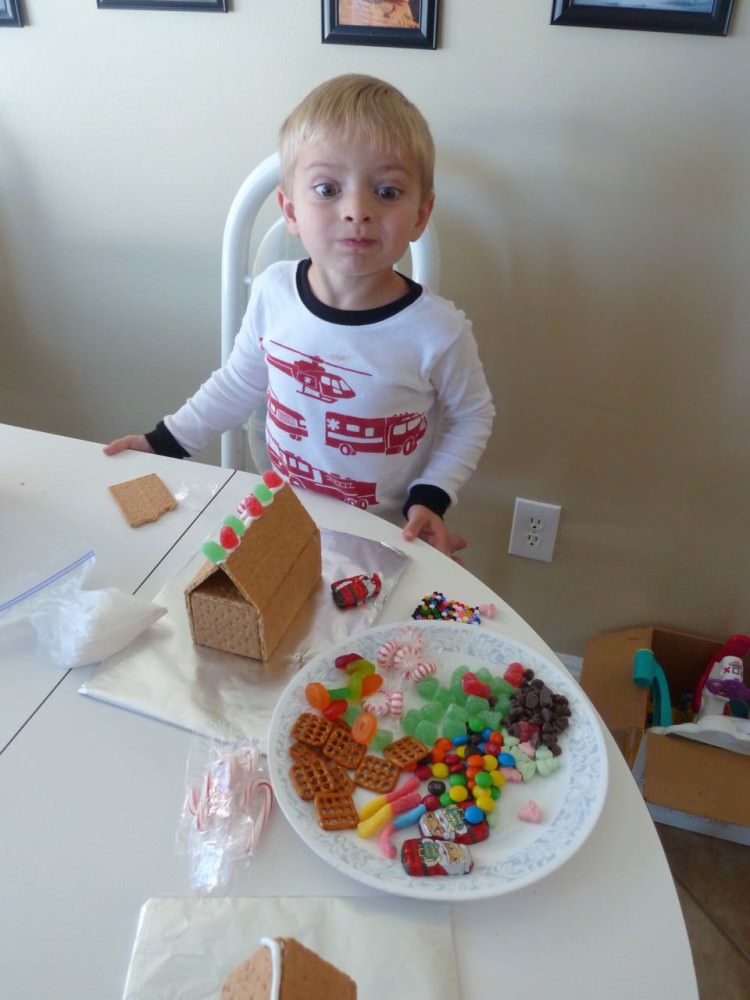 We visited Temple Square with some friends: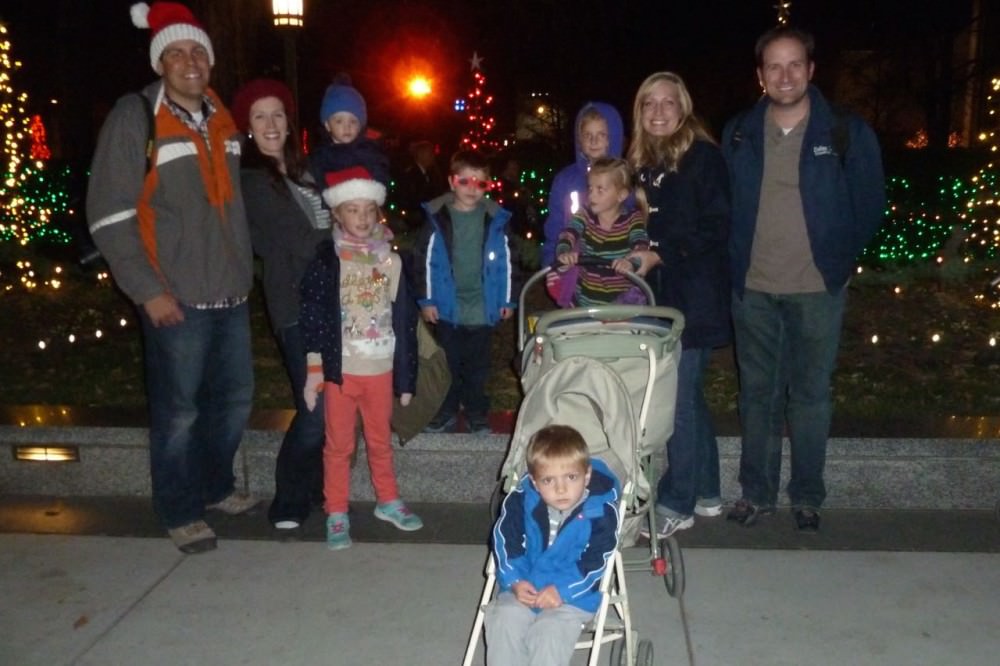 Madison can't be seen in the previous picture since she's in the stroller, but if you could see her, this is what she looked like all bundled up: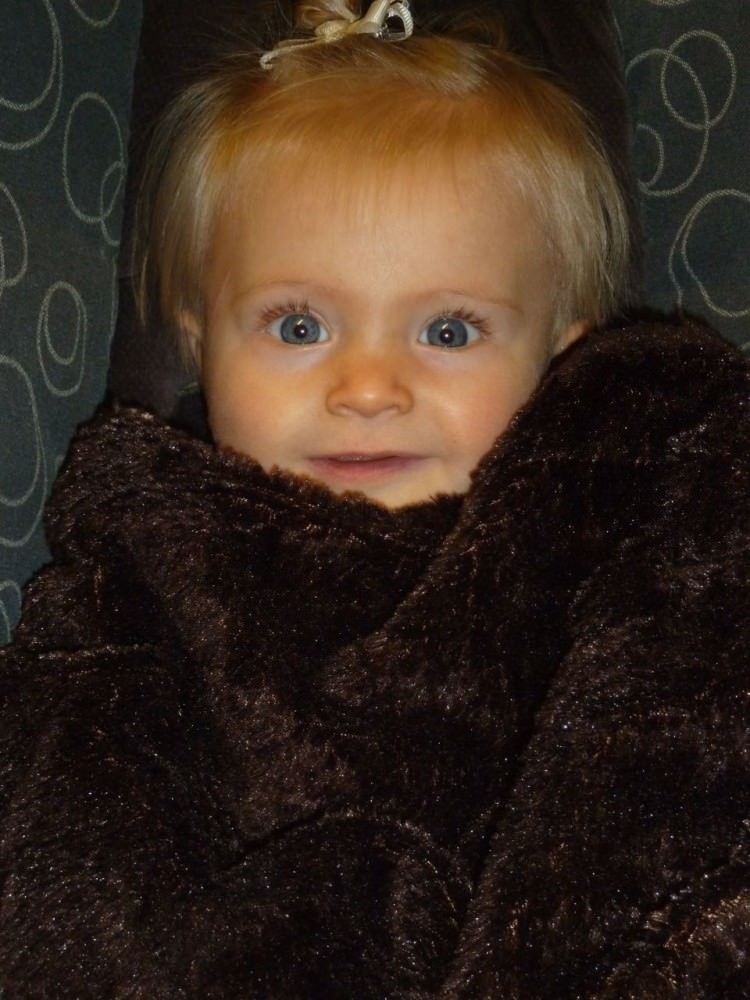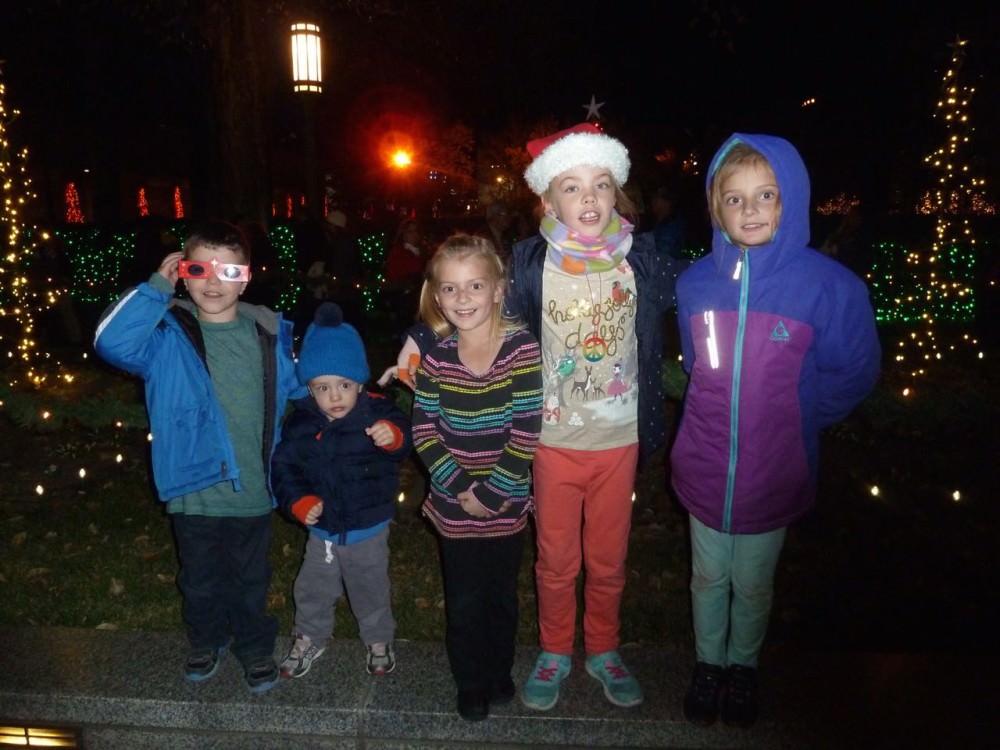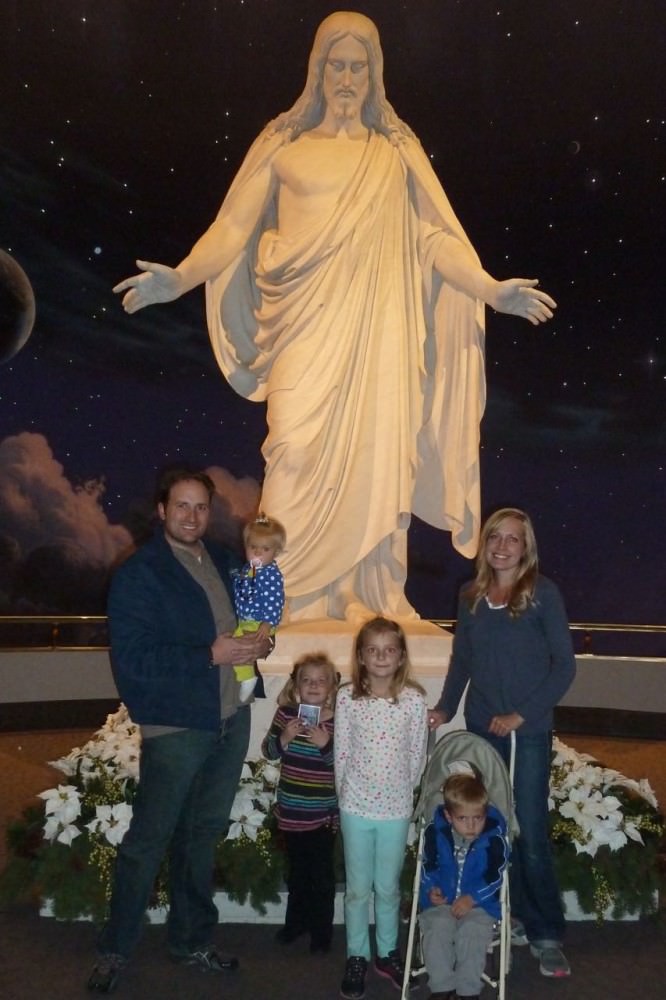 Our Temple Square visit took an unexpected turn once we learned the Muppets were performing with the Mormon Tabernacle Choir and Orchestra.  When Dallas heard that he had us all heading over to the theater attached to the Conference Center to wait in the line there to see the show.  Unfortunately we had to wait a long time…and we hadn't eaten dinner yet…and it was bedtime for the kids…and they were restless…so we didn't last long once we actually got in the theater, but it was a good idea in theory.  Maybe we'll catch the full show on DVD sometime.
After that we went to the food court for our long-overdue dinner.  Spencer opted to forgo dinner and sleep instead: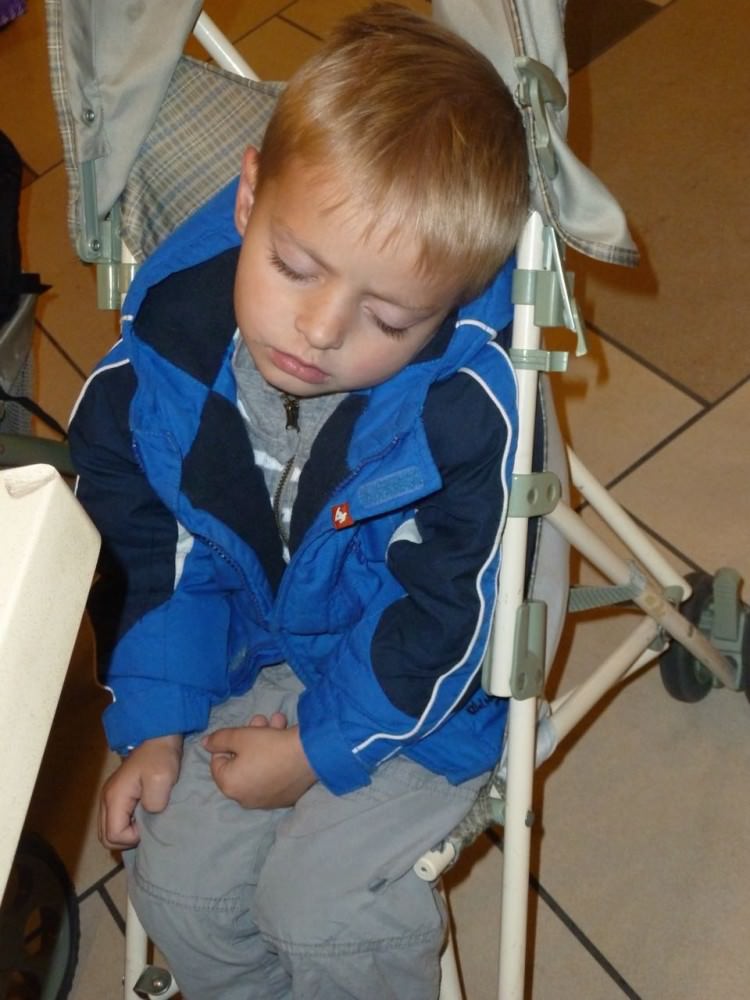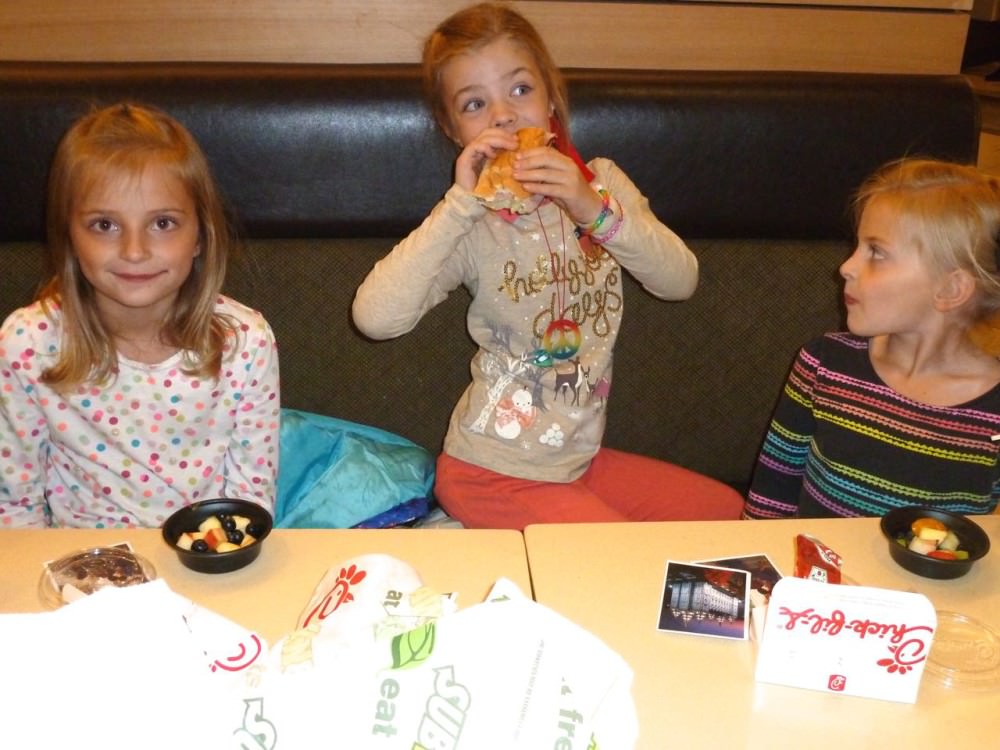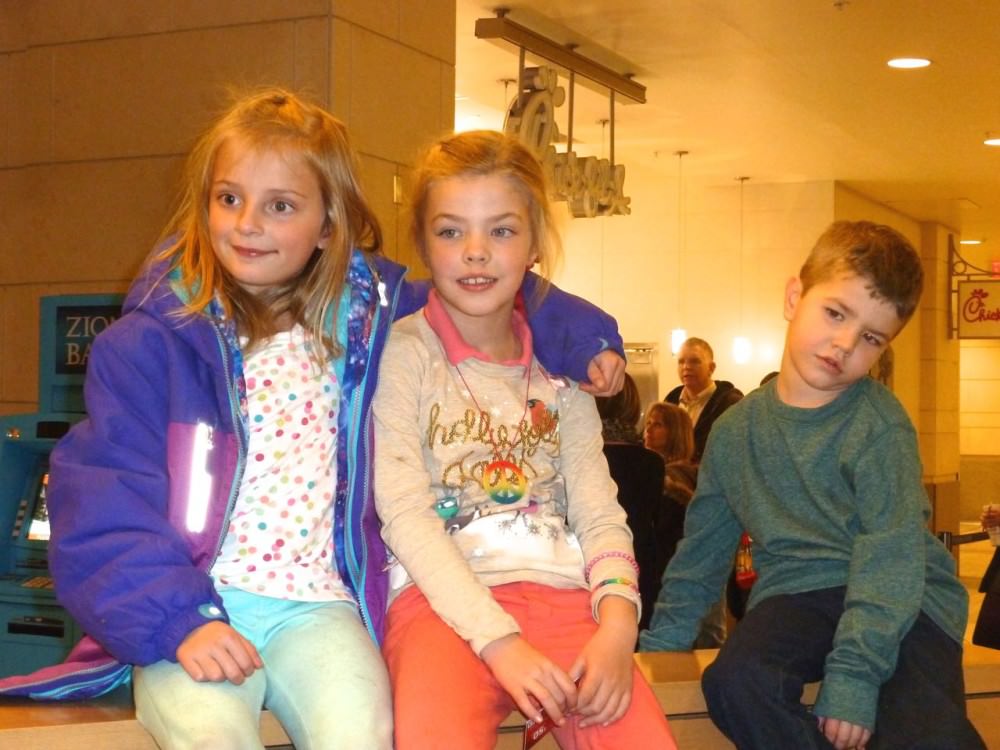 We almost didn't get pictures with the kids and Santa this year.  Every year our ward has a Santa at the ward party.  This year was no different except that Dallas was asked to be the photographer for the event.  We had our late night at Temple Square the day before the party so I decided to sleep in and bring the kids to the party at the very end just to say a quick hello to Santa and then leave.  That way I wouldn't have to wrangle all the kids by myself during the whole party, but we'd still get to see Santa.  Unfortunately my timing was a little off and we were walking out the door right as Dallas texted me to say that the party was over and Santa was gone.  Luckily we tracked down a Santa at RC Willey and were able to get pictures and hand over wish lists after all.
Madison cracked us up as she craned her neck all the way around to really take in who this weird person was who was holding her: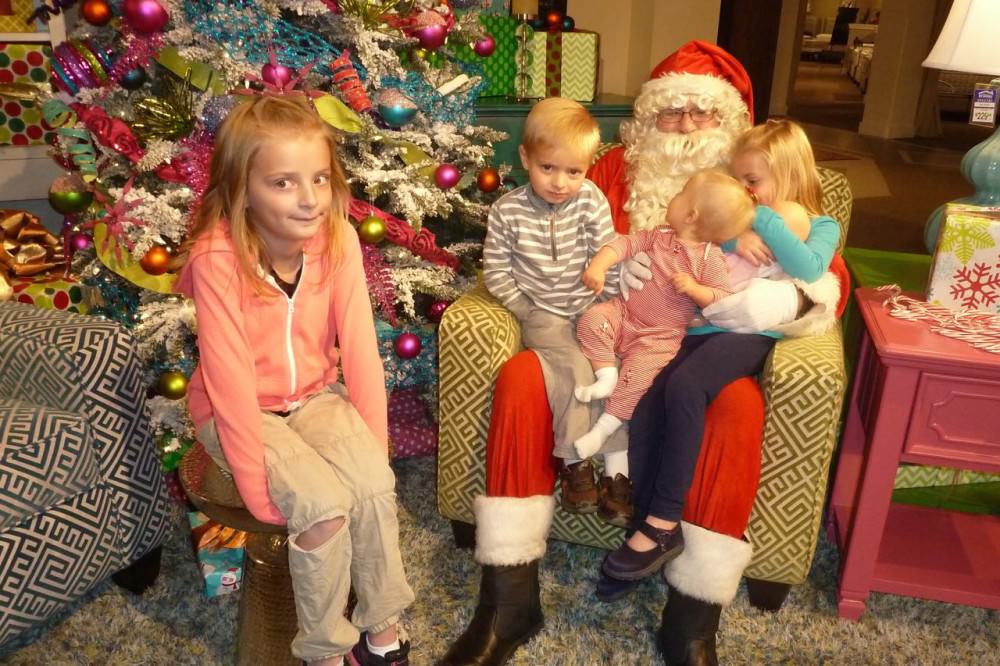 Still not willing to let the bearded man out of her sight: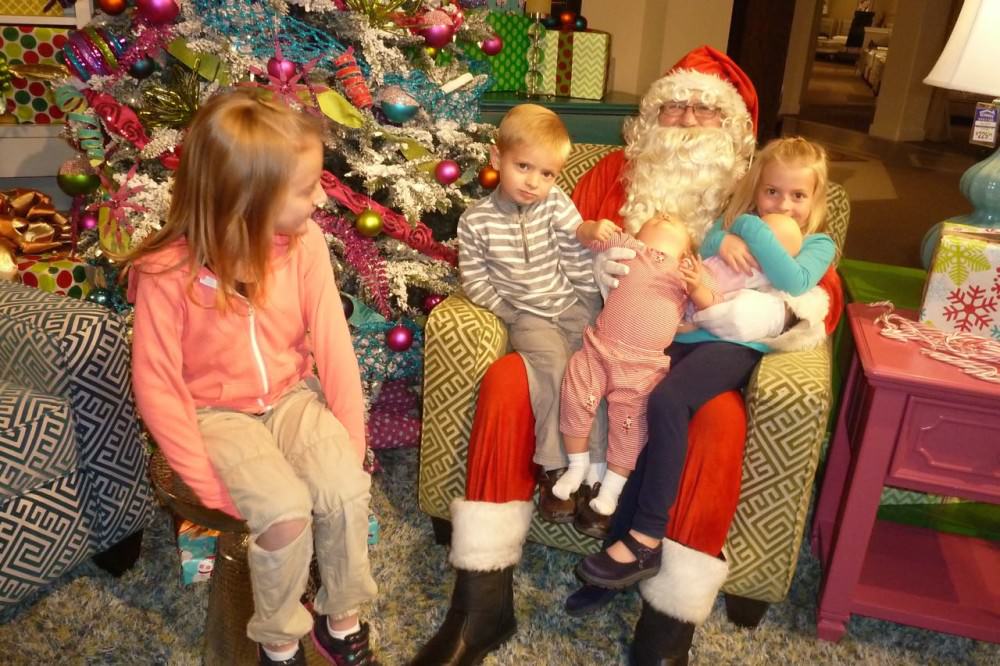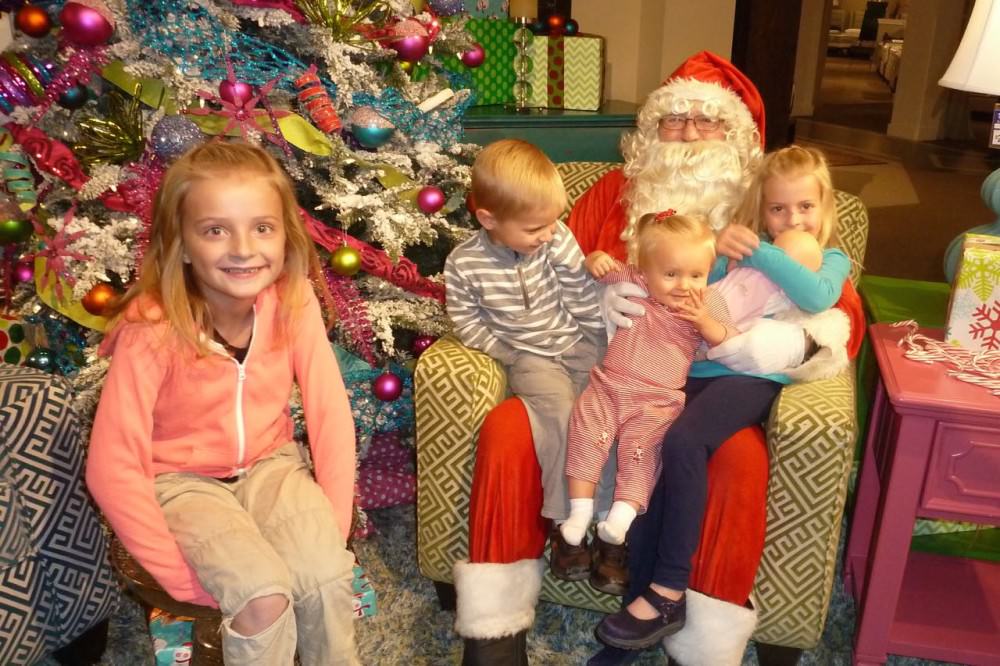 Brooke had her heart set on Legos this year.  I loved that for her wish list she drew out each Lego piece that she needed along with numbers indicating how many of each piece she wanted: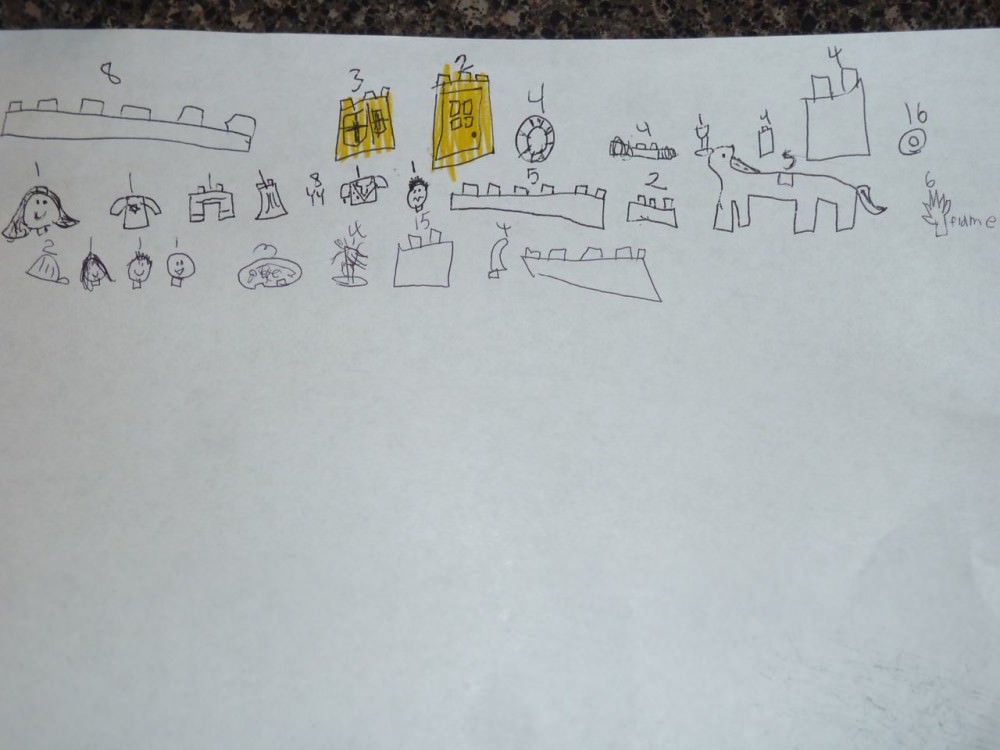 Christmas is just so fun with kids.  I remember as a teenager waking up one Christmas morning and realizing the magic of Christmas had kind of worn off because I wasn't excited for new toys or anything like that.  Having kids brings back all of that fun.  I love it.
On Christmas morning the kids slept in and then were so quiet in their rooms.  I found the girls were anticipating getting new ponies for their collection so they had arranged all their old ponies in position "to greet the new ponies and welcome them to Ponyville."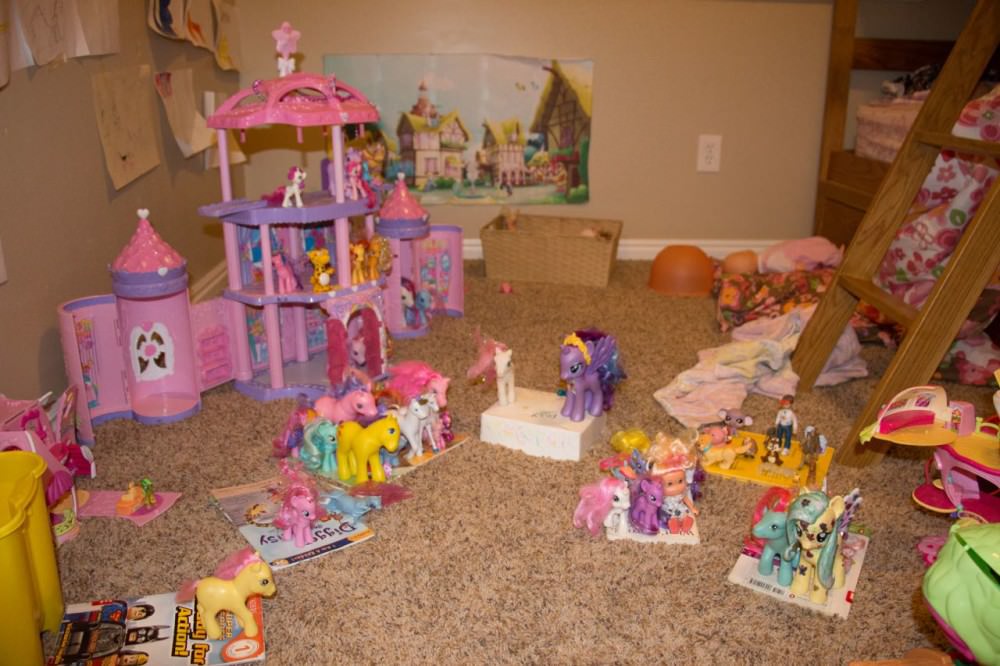 Santa came!  We have a Lego set for Brooke, Elsa and Anna dolls for Caroline: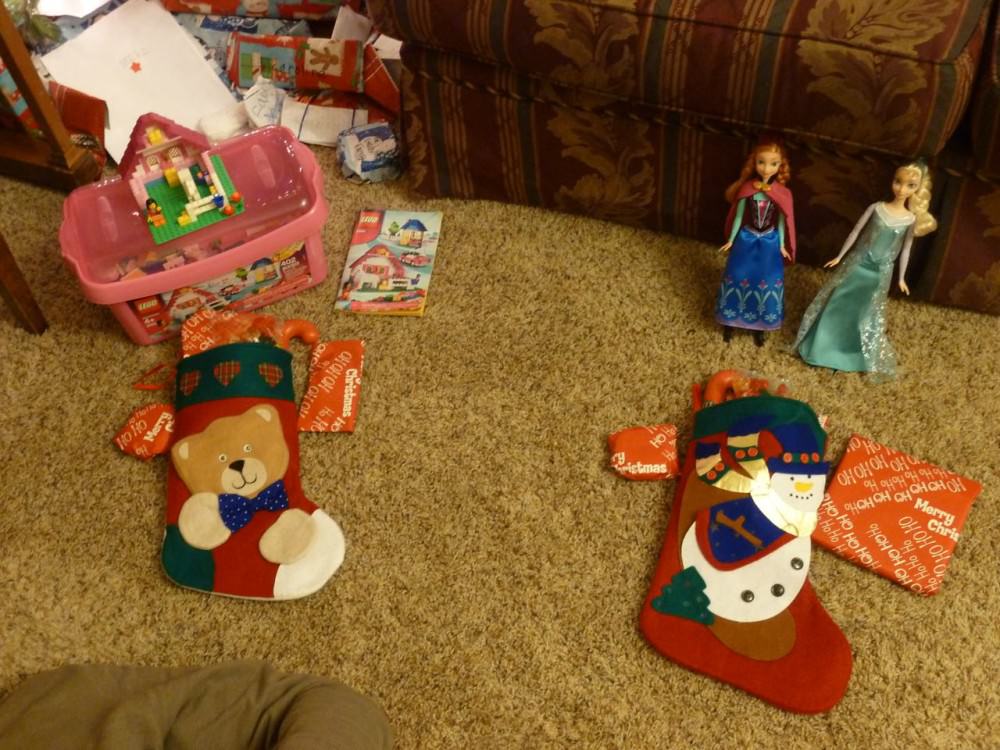 A Lightning McQueen scooter for Spencer and a ball-popper toy for Madison: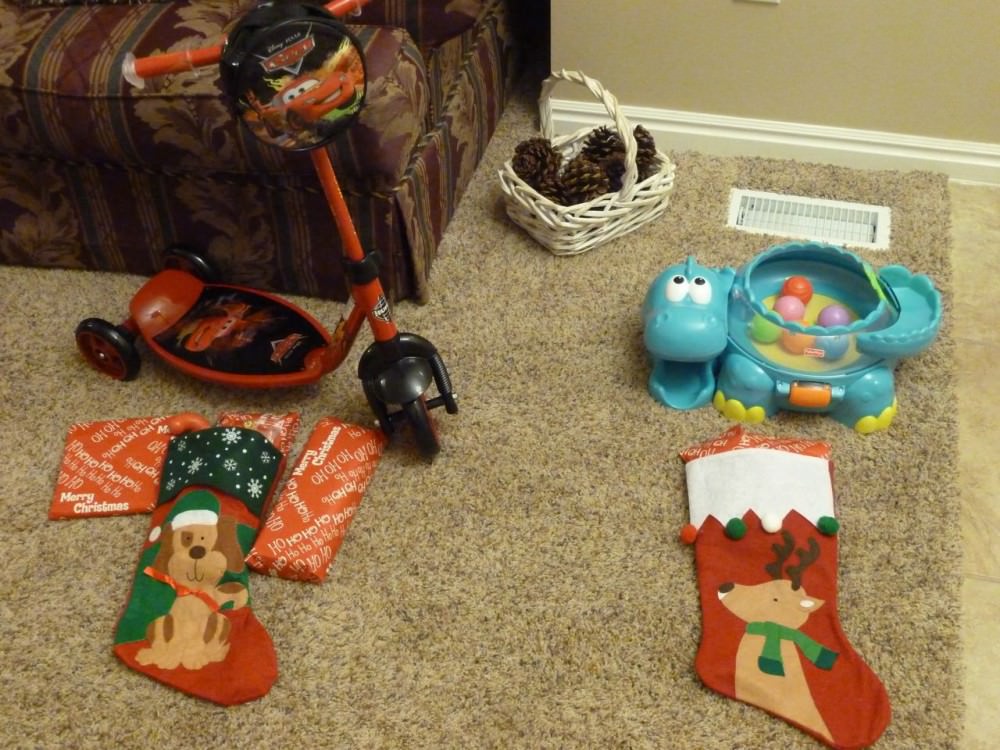 The big kids were excited to see what Santa brought: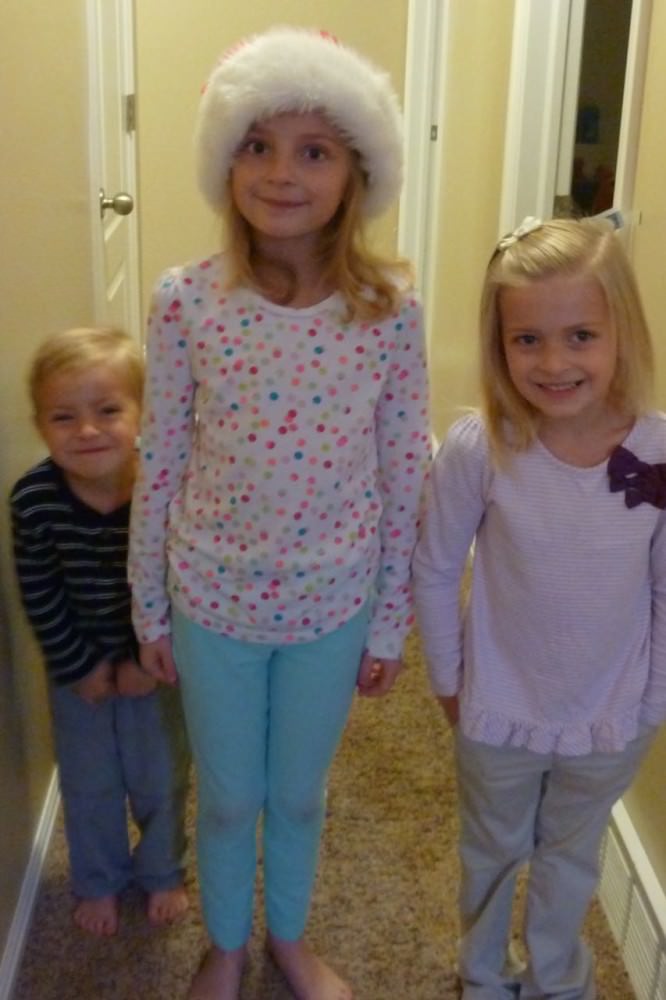 The littlest kid didn't appreciate that her breakfast was being delayed: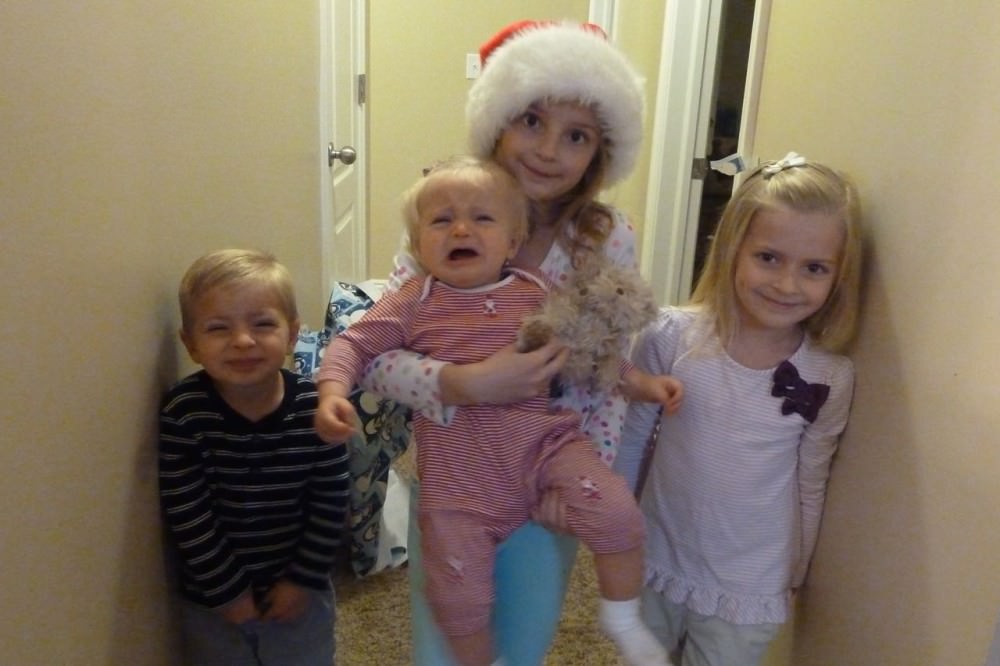 After breakfast we had our happy girl back: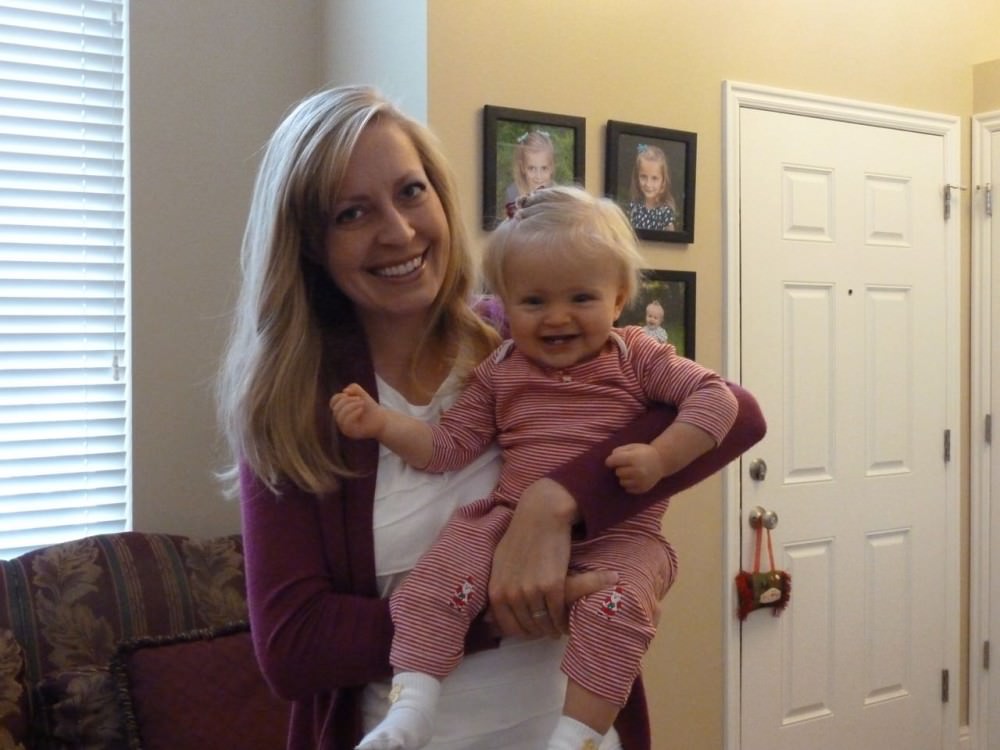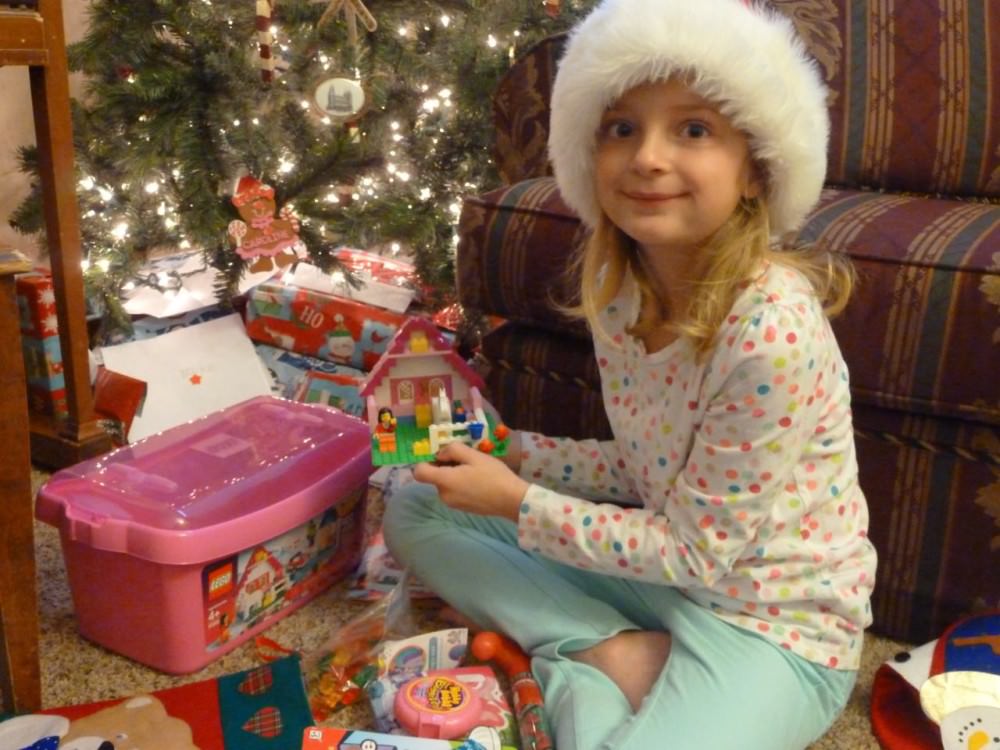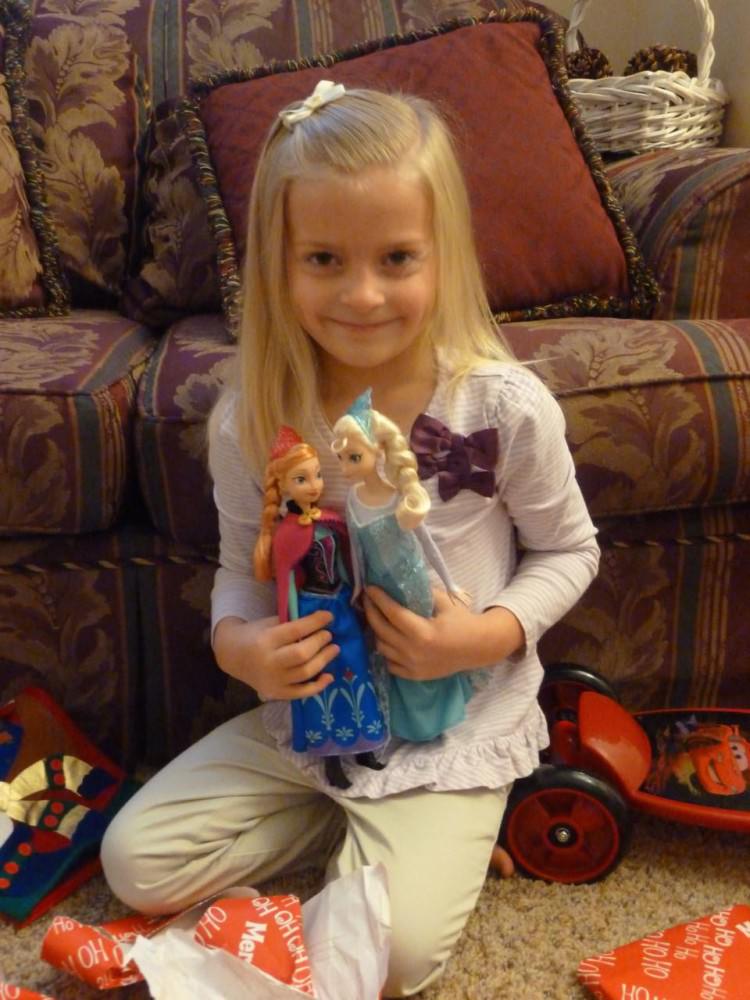 Santa always gave Dallas and his siblings gummy bears in their stocking and he's kept up the tradition when he visits our family.  Spencer stuffed his cheeks to capacity and downed the bag in minutes: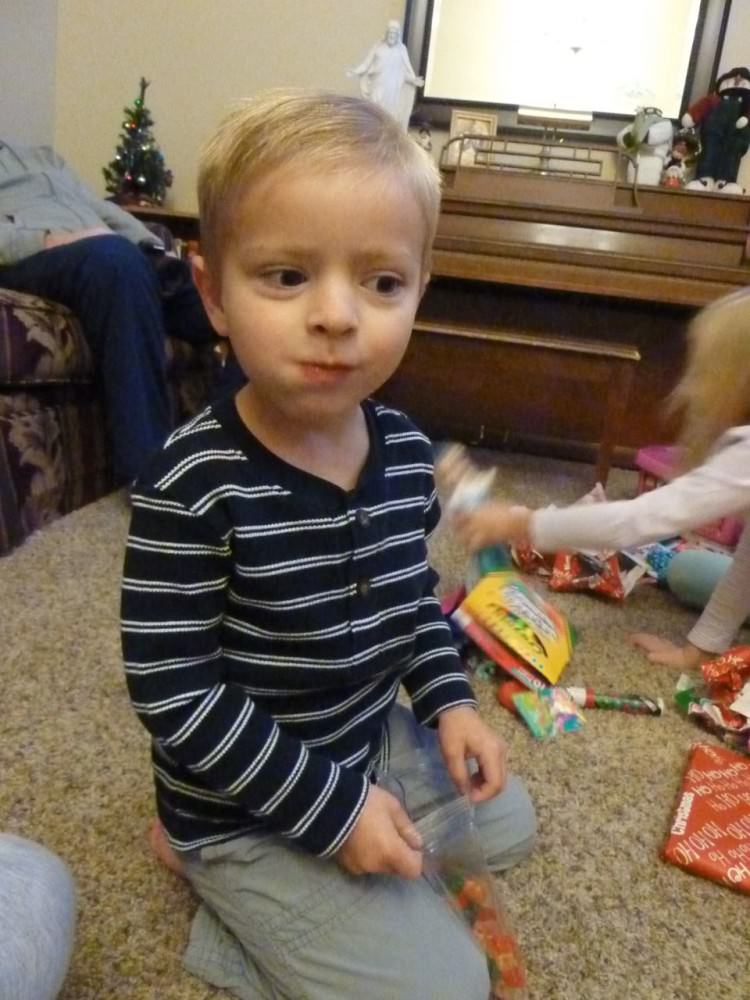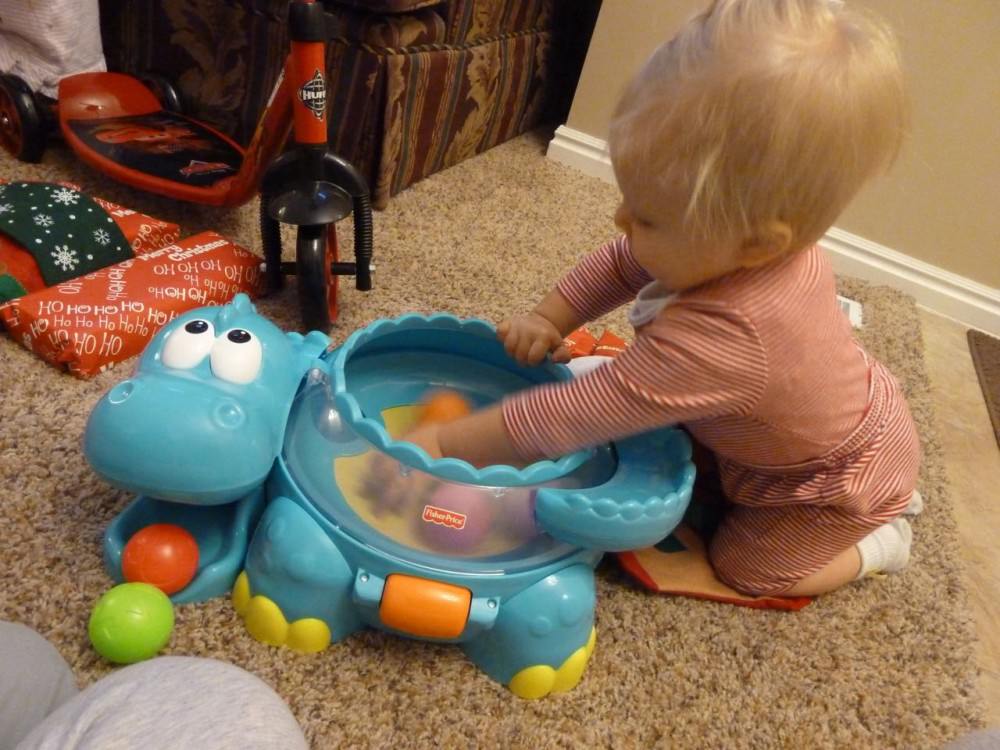 Brooke was really concerned that we didn't have presents under our tree the moment the tree was up so she got right to work making a bazillion homemade gifts for everyone.  Here's a decorated leaf for me: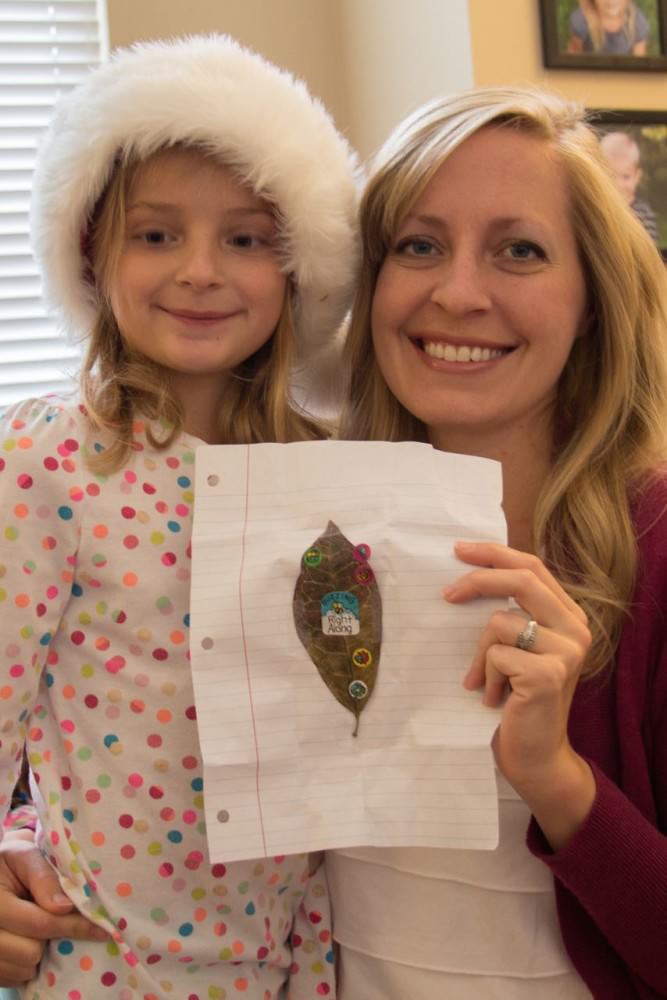 She made a headband for Madison: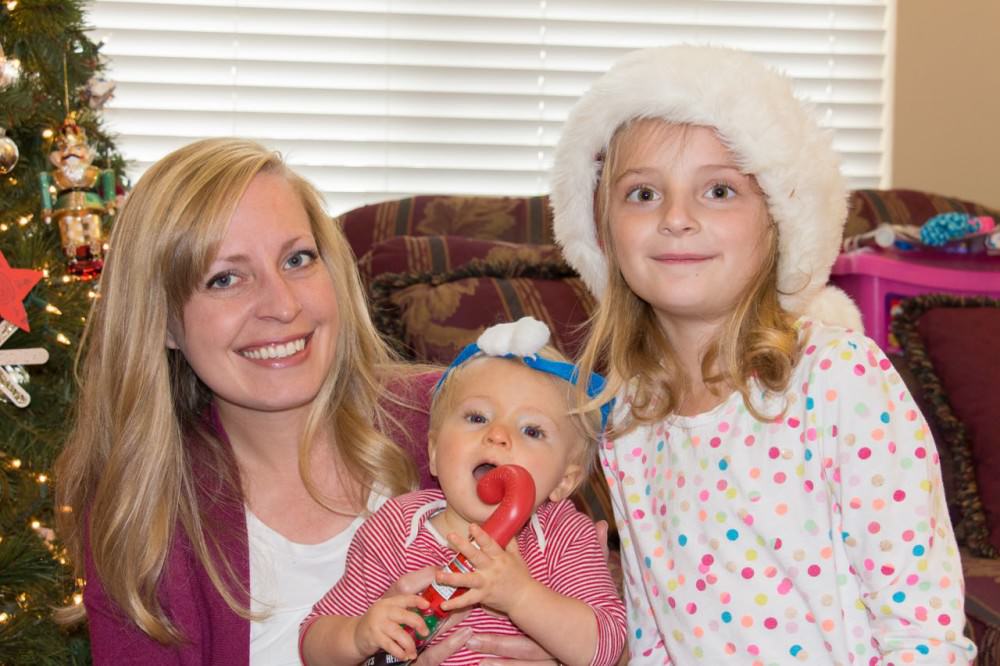 She also made flash cards with pictures and words so Madison could learn objects' names: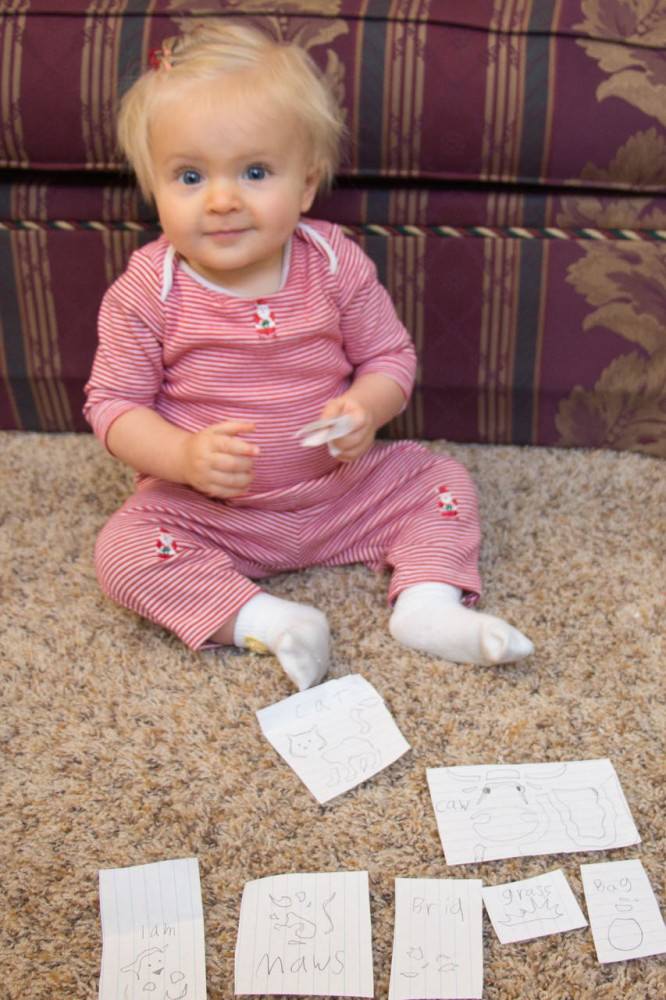 She made a container of tiny paper airplanes for Spencer.  I love that she has the age indication on it (2+).  Brooke has recently discovered toys come with age recommendations and she takes those very seriously.  Woe be unto Spencer should he try to touch something that's marked 4+ and Brooke finds out about it.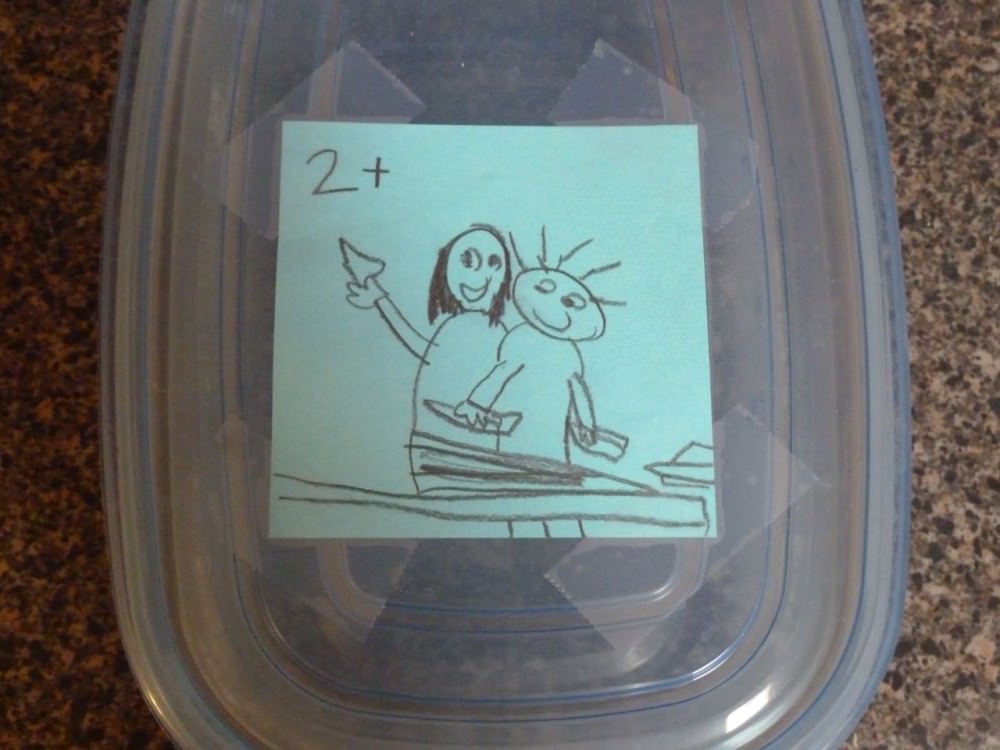 Caroline got a telescope/megaphone from Brooke: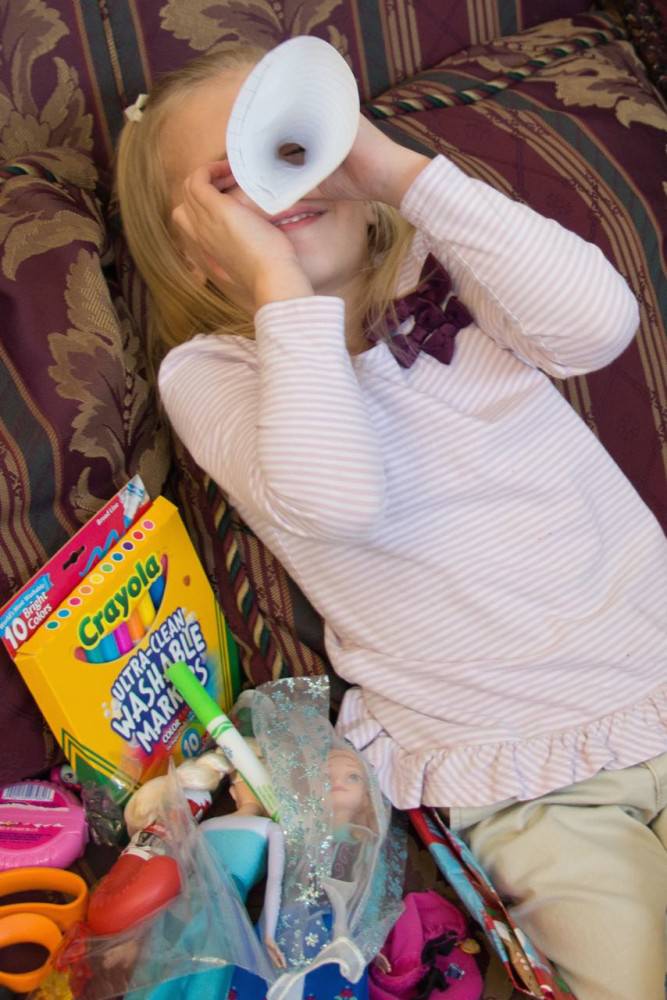 Spencer and Caroline got their own Lego sets: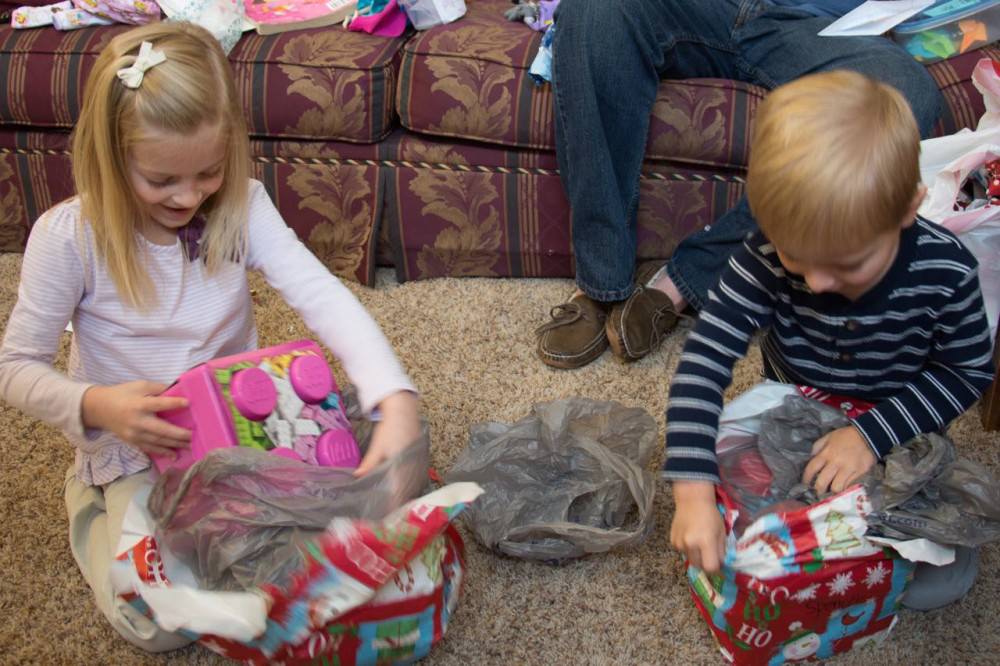 Caroline ran right over to me and gave me the longest, tightest hug she's ever given me in her life.  Who knew that Legos were the way to win her everlasting affection?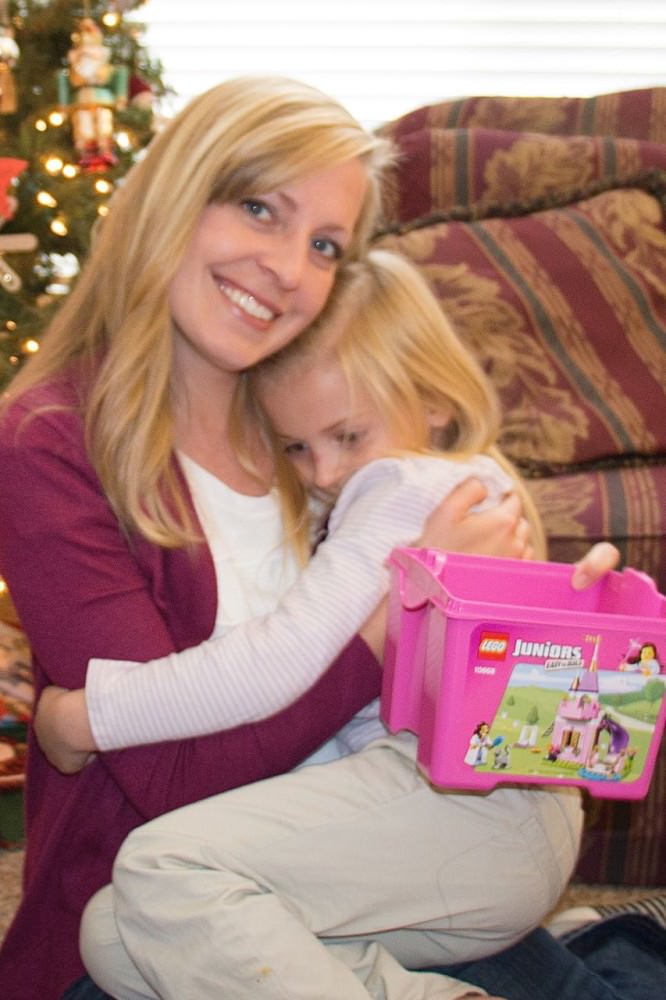 Madison got a doll.  She giggled and giggled when she saw it: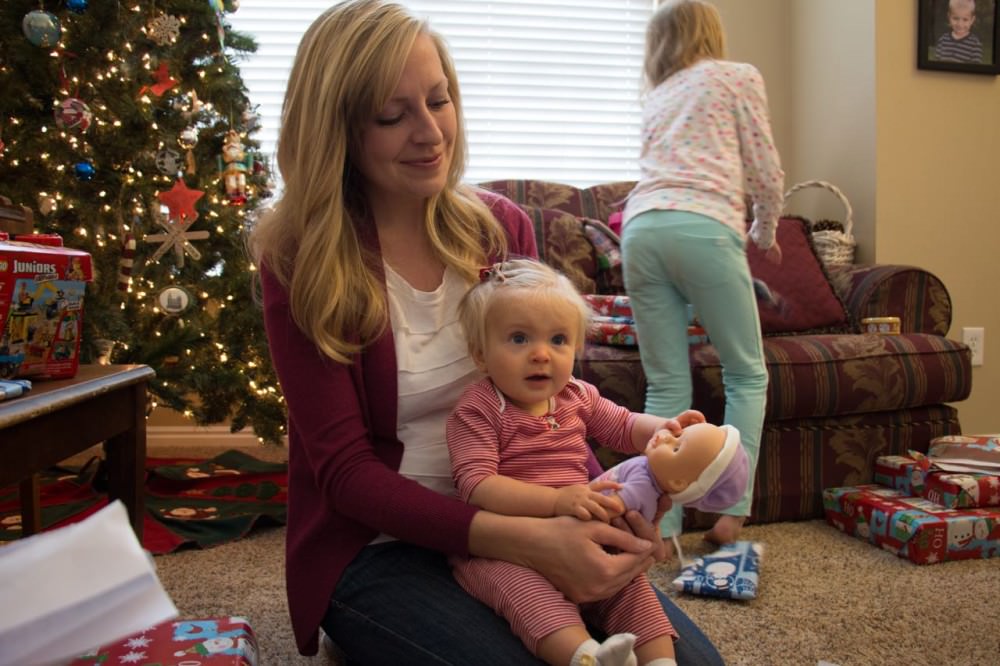 Caroline got Madison a little chick that she bought at the school Santa shop: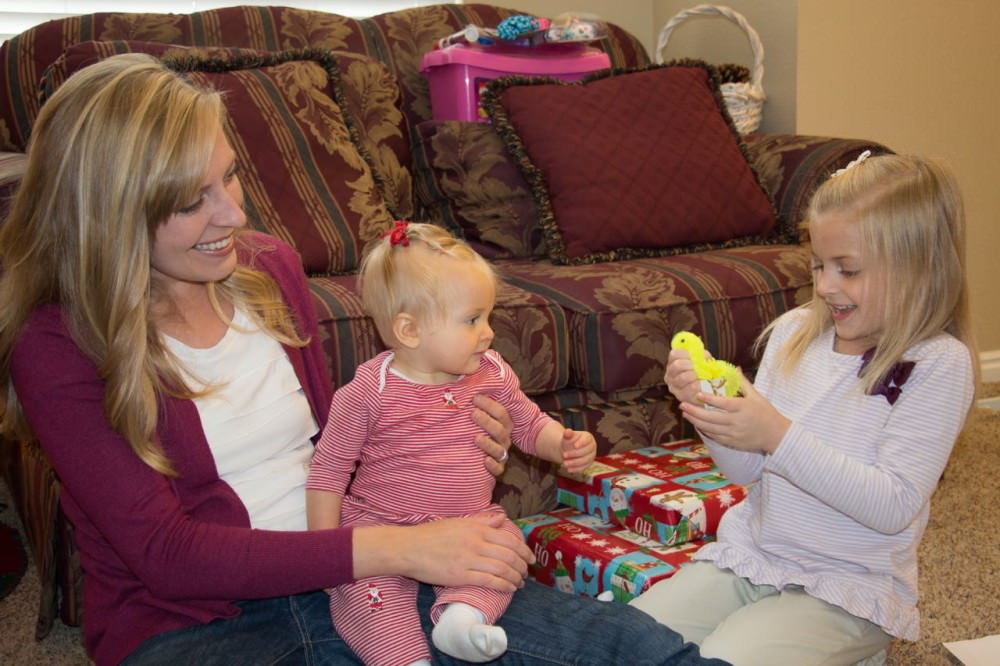 My one gift for Dallas was a model airplane.  Too bad he stumbled upon it before Christmas and ruined his big surprise: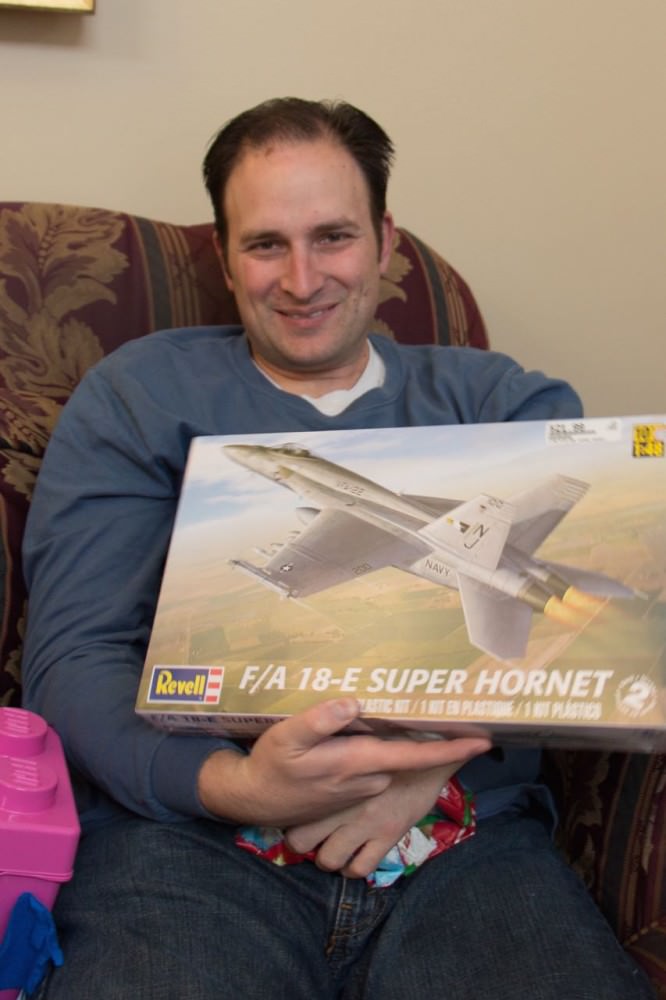 Dallas surprised me with new bedding?!  Nice!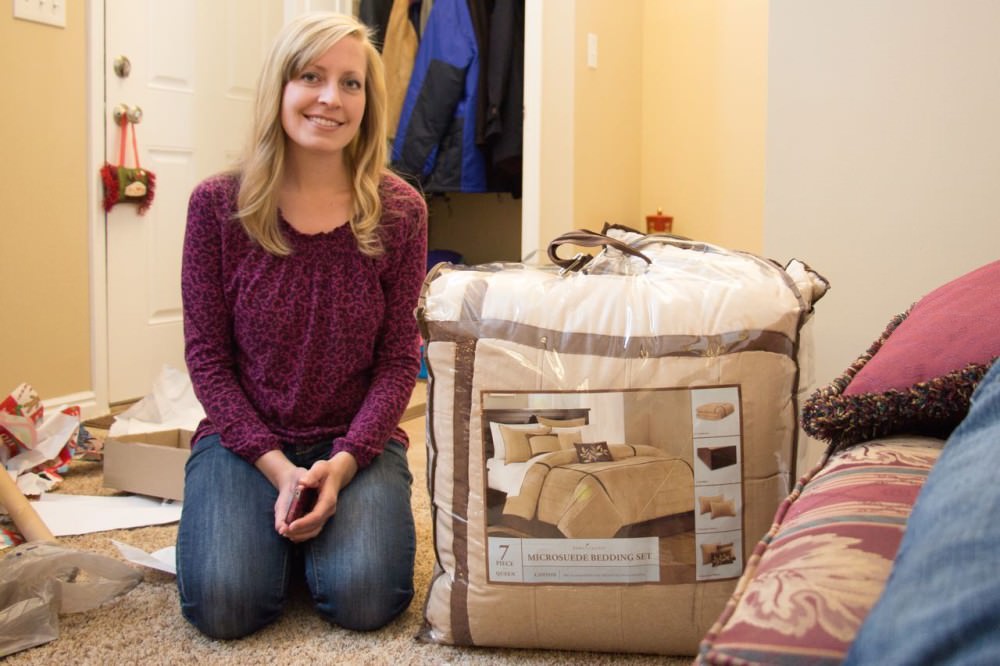 The day after Christmas we played with Sarah and her family and Abe and his family and my parents and Ben.  We broke into my parents' church building to try out the new Christmas scooters and to play some reindeer games: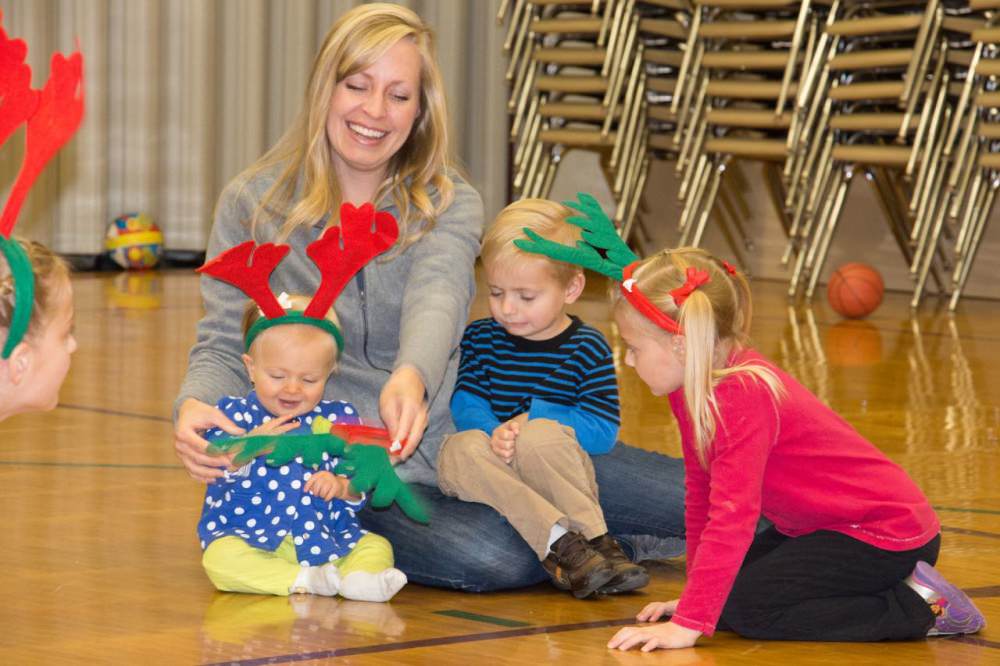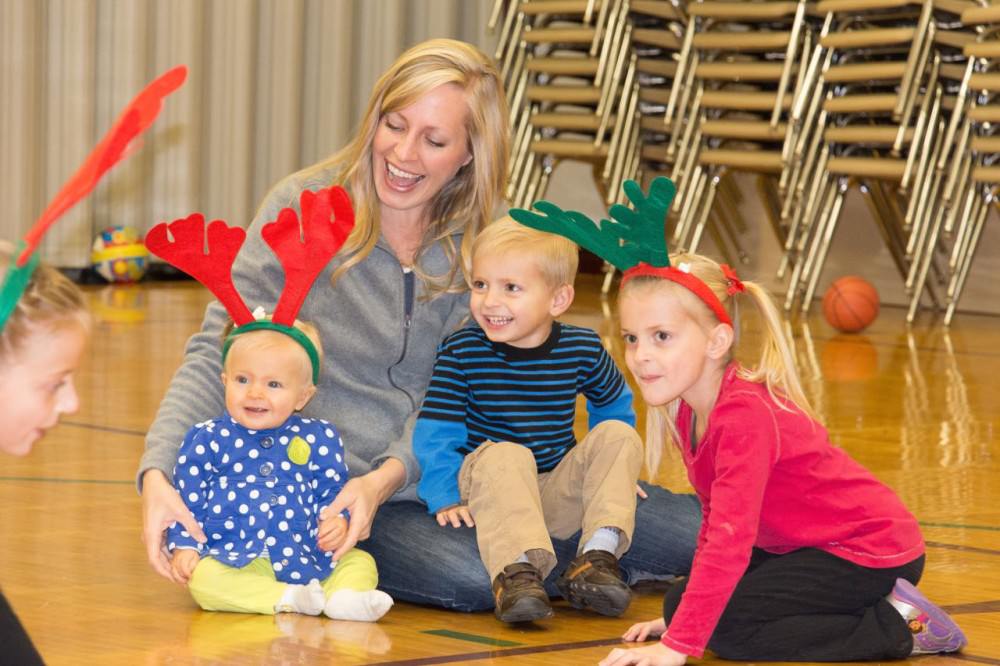 Sarah organized the reindeer games and they were so cute and fun.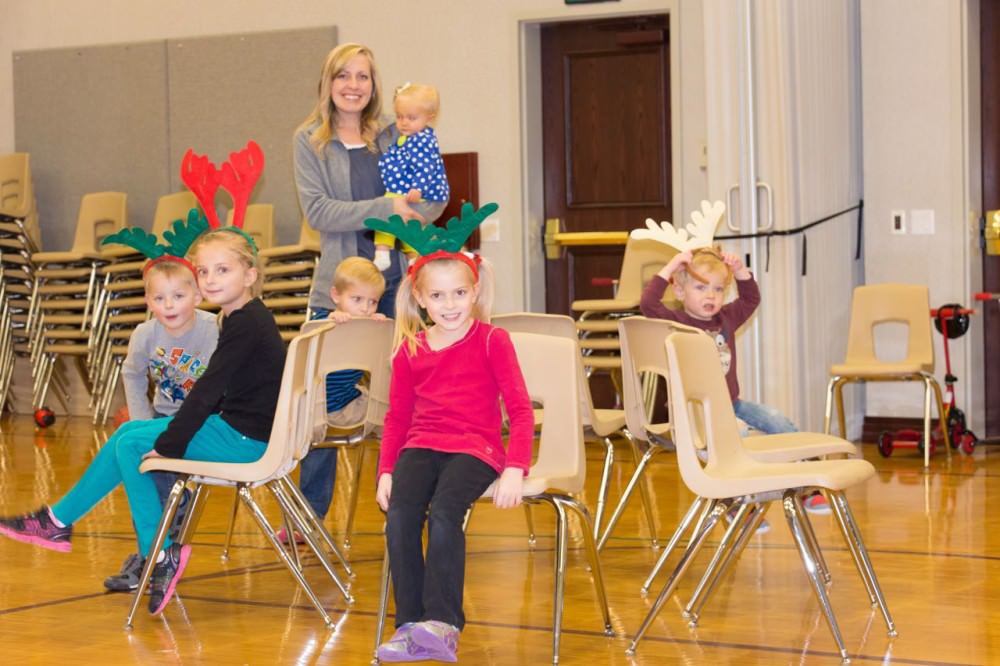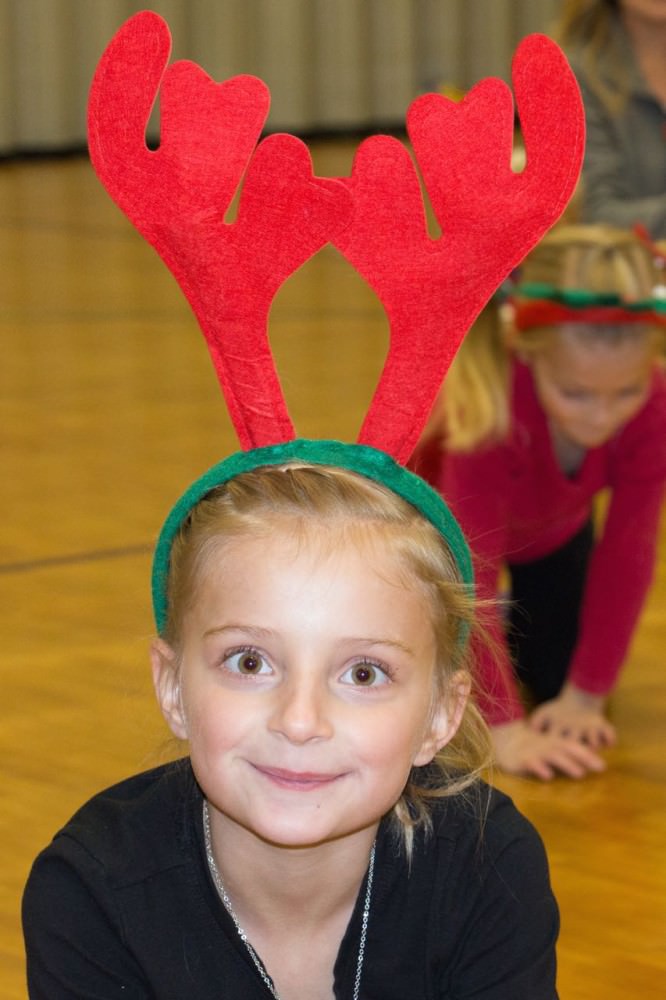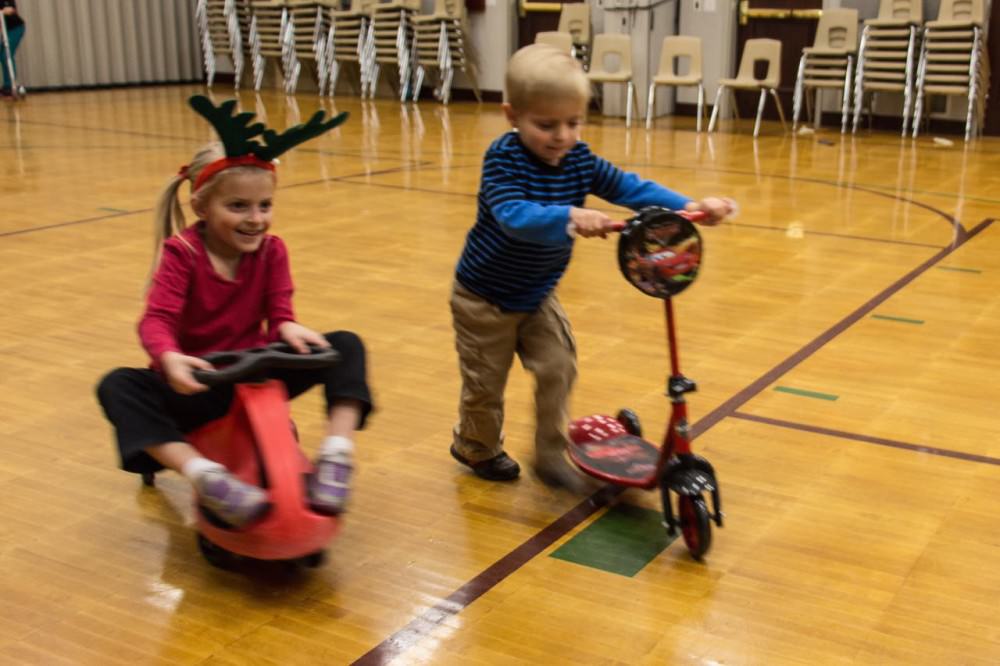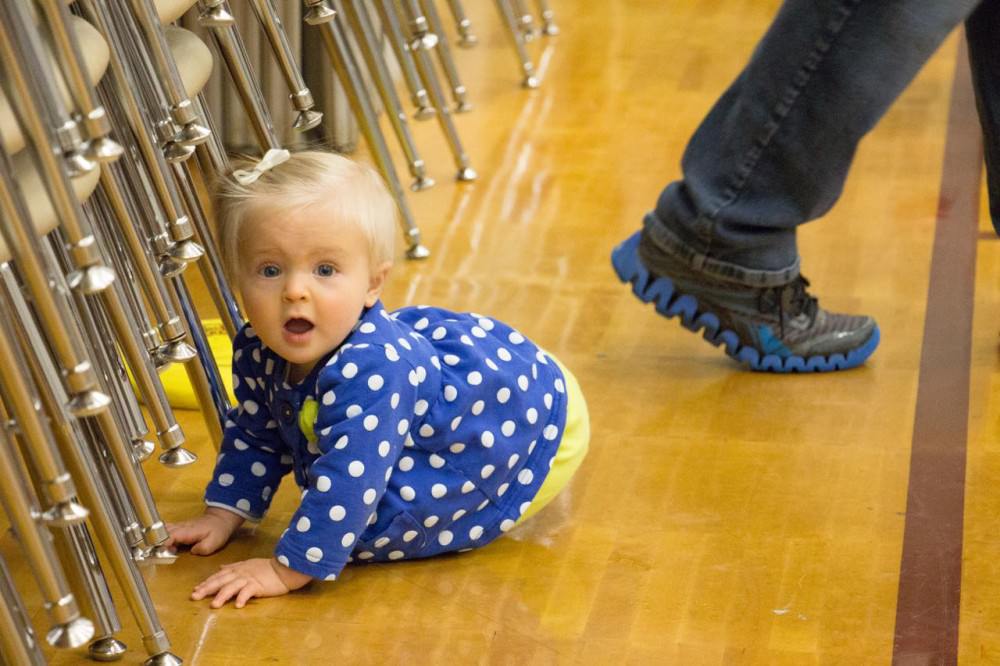 Santa Newland came for Christmas!
We took advantage of our Christmas snow to go sledding.  Dallas was feeling sick so he stayed with Madison and Spencer (who didn't want to go) and I went with Brooke and Caroline and my siblings:
A couple of days after Christmas we got together with Dallas's side of the family for their annual Christmas party.
Madison bonded with Oma: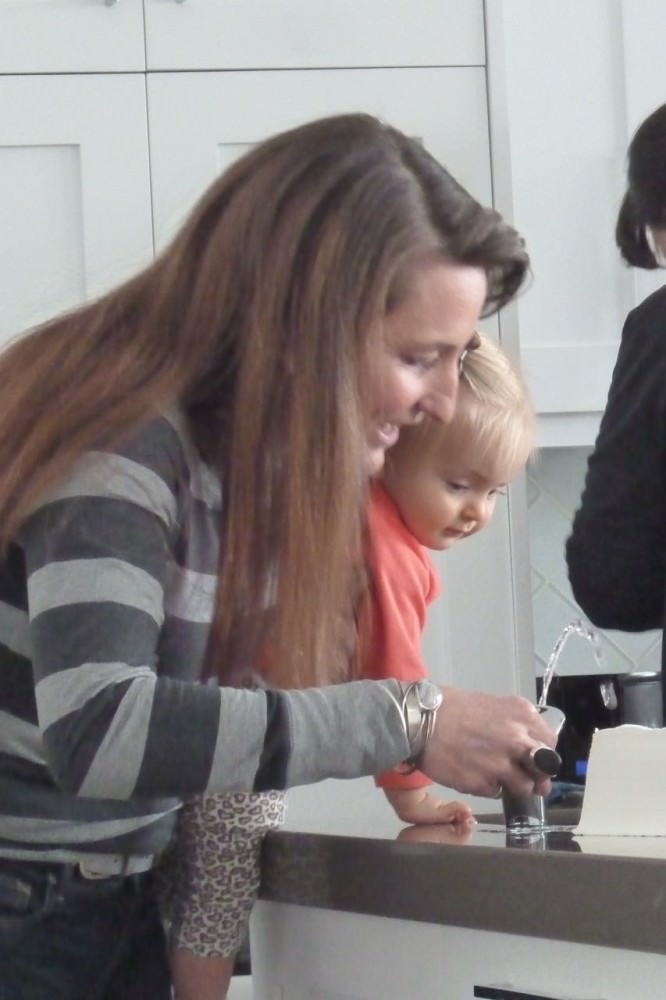 I was so mad that in all of our Christmas festivities we had never taken a family picture so I forced Oma to take one of us.  We almost all look normal: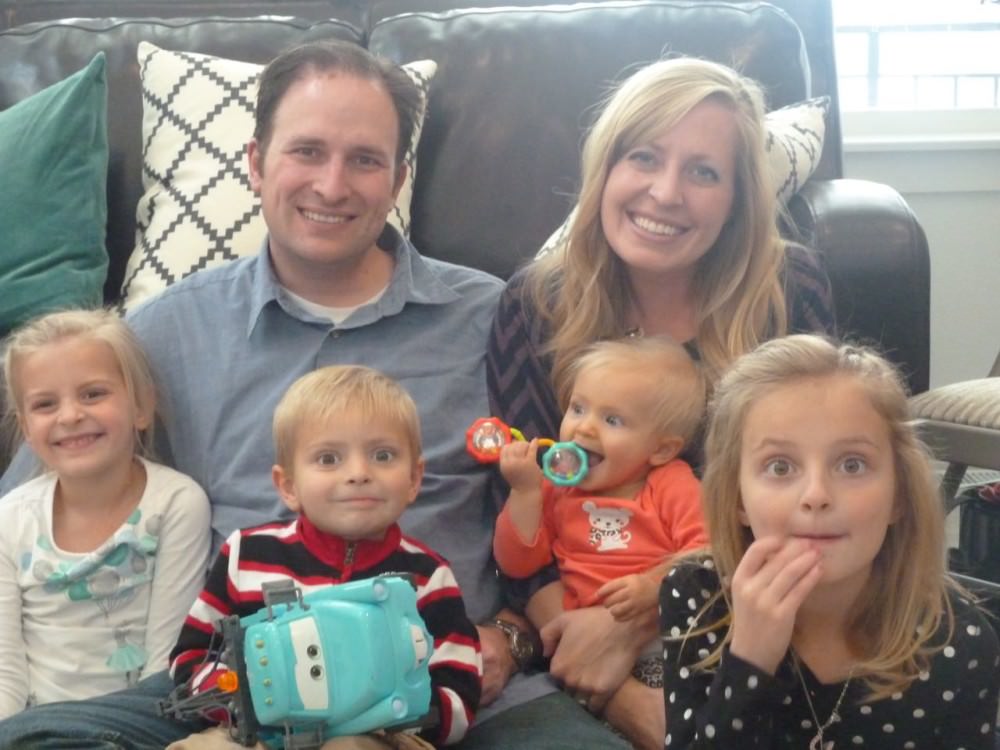 The Christmas aftermath is wonderful.  The house is a disaster, the weather is freezing, but the kids are so happy playing with new toys that it doesn't matter!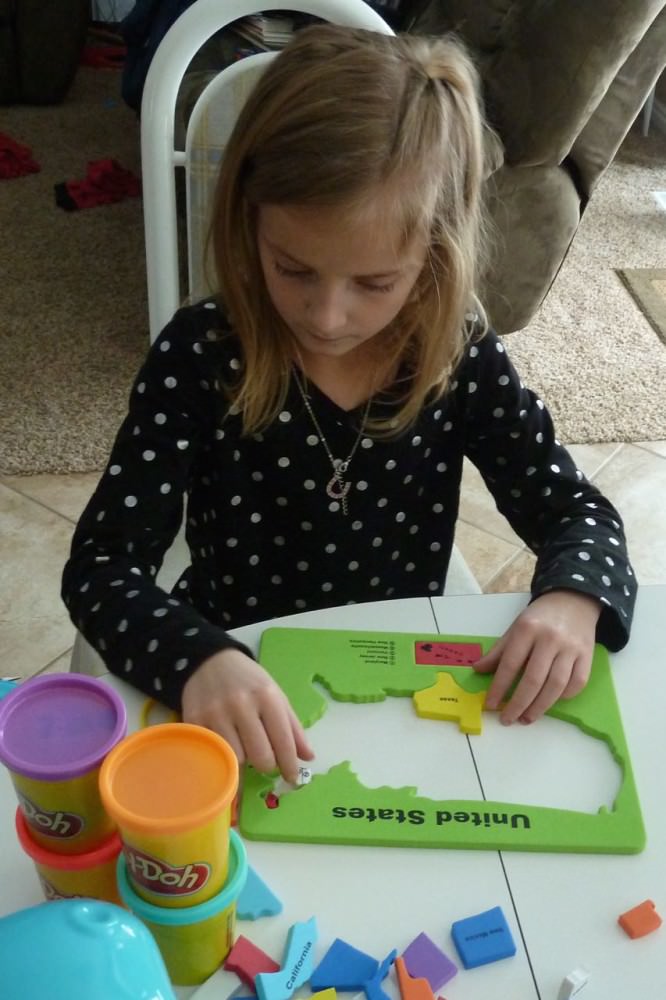 The biggest victory to come from Christmas was Brooke and Caroline were able to use the Bubble Tape Santa brought to finally learn how to blow bubbles: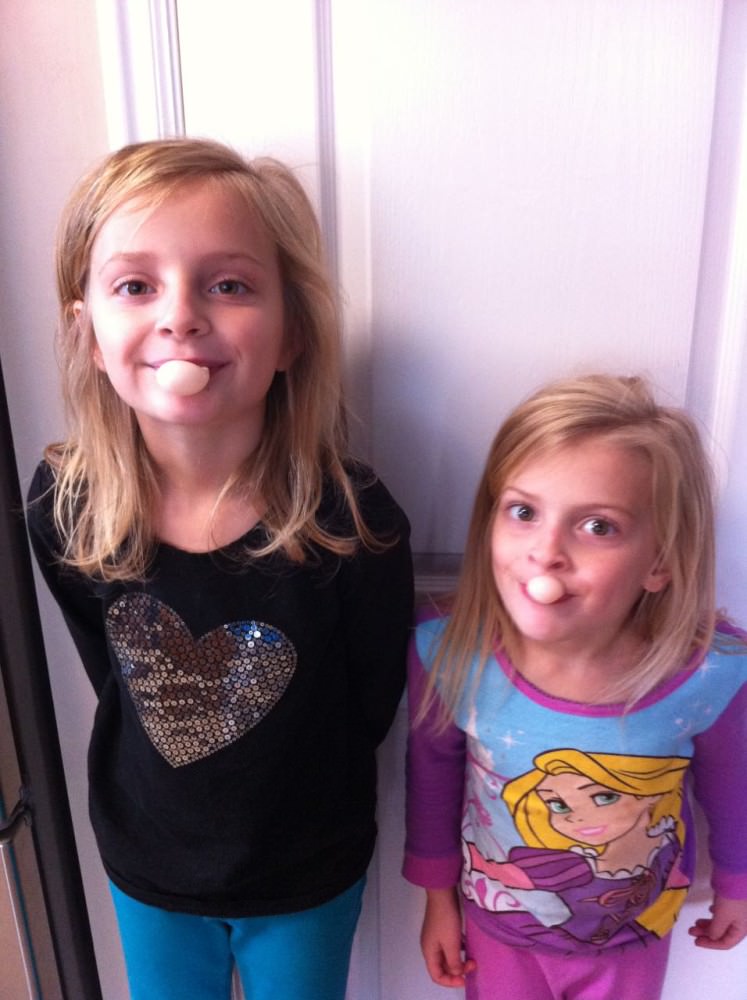 And with that, we will call this Christmas a happy success.
*Special thanks to Sarah and Mom for some of the pictures I stole from your blogs!