Last week on Dallas's day off, we took advantage of the great weather and went to the zoo. We had a fun time looking at the animals. However, I was not a very good photographer. Most of the pictures I took are downright lame. Don't believe me? Fine, I'll post some…but don't say I didn't warn you.
This was the very first picture of the day. This is actually a good one. Dallas is smiling his dazzling smile, and Brooke is almost looking at the camera. All in all, not bad. Let's try one with animals.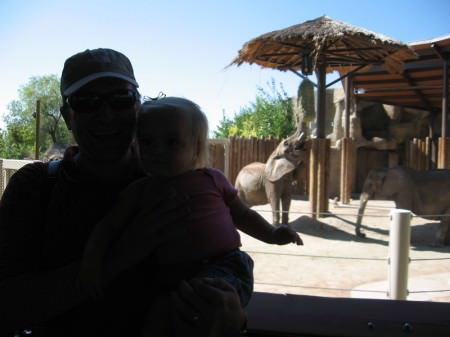 Here's where it starts to go downhill. There's a nice shot of an elephant, and that dark blob in the foreground is Dallas and Brooke.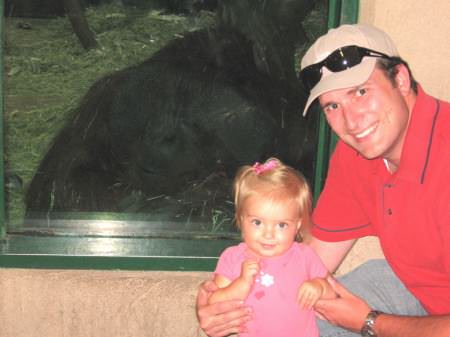 Here's a good shot of Dallas and Brooke, and the dark blob in the background is a big gorilla. Can you tell?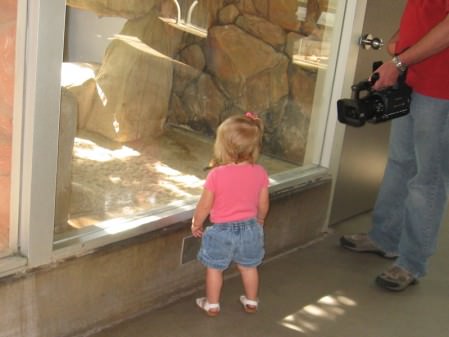 Brooke's favorite animal to look at were the meerkats. There was a little meerkat that was going crazy running all around in his enclosure. Brooke was mesmorized. I pulled out my camera to get a great shot of Brooke admiring the meerkat. Instead I got Brooke's backside and the meerkat is completely covered up by her body.
At the very end of the day I was able to get a shot of a couple of prairie dogs. I think I'll sell this picture to National Geographic: