For President's Day, we decided to take advantage of the days off school to explore Zion National Park a little bit. We were hoping southern Utah would give us beautiful weather and gorgeous views.
Unfortunately, the further south we drove, the worse the weather got. We ended up driving through a blizzard, but finally made it to Zion in one piece.
The weather was too rainy for hiking, so we drove around a bit to take in the mountains.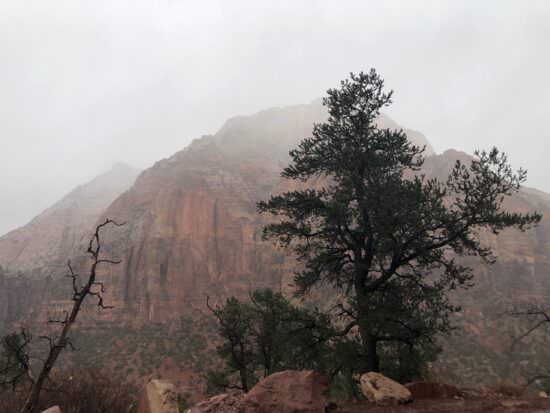 The only other thing we could do was head to our hotel and enjoy the indoor pool. The kids loved having the pool almost to themselves.
After swimming we got all tucked into our beds and fell right to sleep. Unfortunately Madison didn't STAY tucked into her bed. She fell out of the bed at least a half dozen times and I had to keep putting her back. Silly girl.
The next day was everything we hoped for! The weather was perfect. The skies were blue. Zion was ready to be explored.
We hiked Canyon Overlook Trail first. That was a nice, easy hike and Madison loved being able to scamper on rocks.
Vacationing with a teenager can be…challenging. We're never quite sure what mood our resident teen will grace us with each day. Luckily finding a cactus was just the diversion Brooke needed to keep her mind busy and happy as she hiked.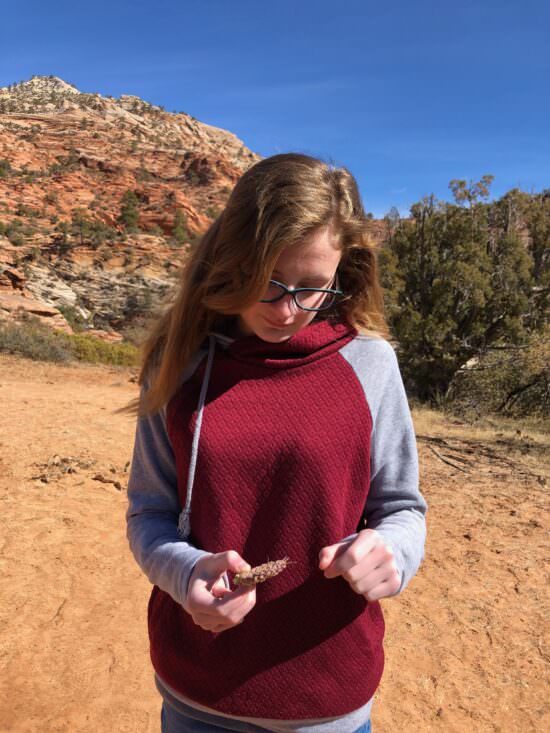 We made it to the overlook!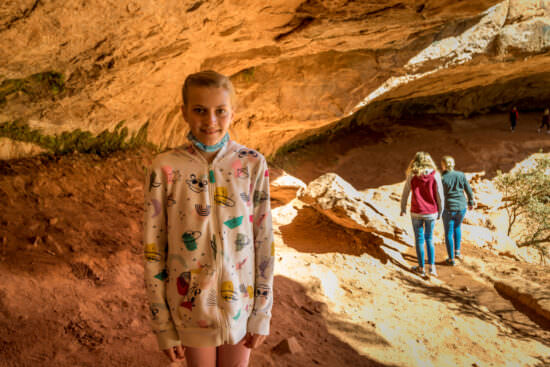 I had been warning people to watch out for puddles and ended up stepping in one myself. Brooke thought that was hilarious, so she made me reenact the scene.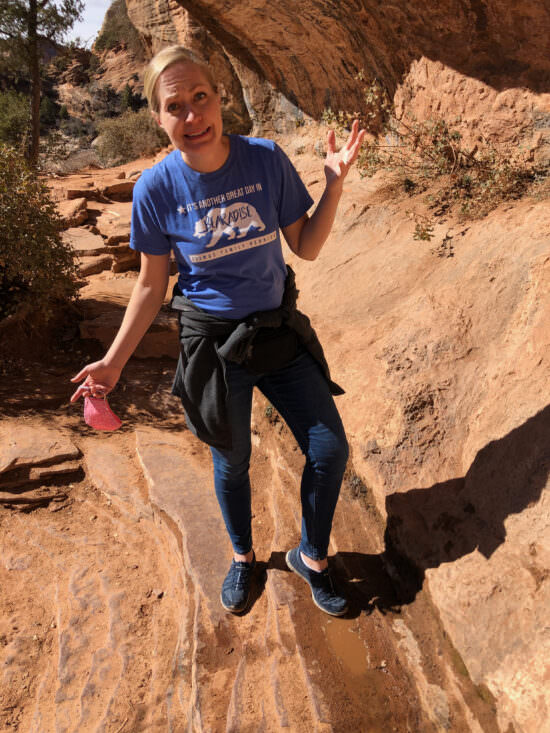 We planned to catch the shuttle to take it further up the canyon, but we didn't get a spot. We decided to hike Watchman Trail instead. This was a three-mile hike. The kids' legs were already tired from the first hike, so there was a bit more grumbling this time around, but we all hiked to the top, enjoyed the view, and made it back down in one piece.
After their long day hiking, the kids were itching to get back into the hotel pool for another evening of swimming.
The next day was our last day at Zion, so we had to be sure to get a picture by the sign: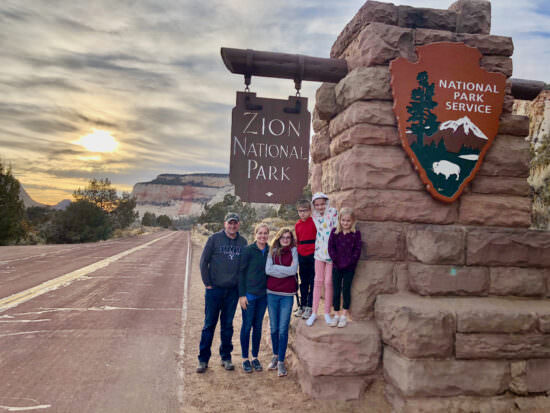 We drove up the canyon a little bit, but most of the kid-friendly hikes were closed, so we stayed in the car and just took in the beauty and grandeur of the mountains.
We drove through Kolob Canyon and were amazed at the beauty of the snow-flecked mountains.
We had a great family getaway!