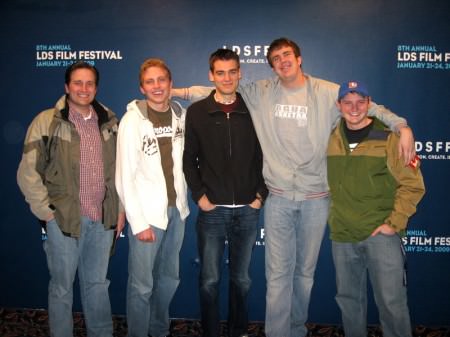 Last night Dallas and I had a fun date night.  We went to an event at the LDS Film Festival held at the Scera Theater.  Dallas, my brother Ben, and three of Ben's BYU friends spent last weekend filming a three-minute short for the 24-Hour Filmmaking Marathon.
Last Friday at 10:00 am Dallas, Ben, and friends met at the Scera to get the theme for their film, a prop, and a dialogue line they had to include in the film.  They had 24 hours to come up with an idea, film it, and edit it together.  The theme this year was sacrifice.  The prop was a match, and the dialogue line was "Let me be your…"
After a couple of failed attempts, they finally came up with an idea that worked.  They started filming at about 3 in the afternoon and wrapped up a little before 8 pm.  Dallas was up late into the night editing the masterpiece.
I think the boys did a great job, especially considering the lack of time and dearth of acting lessons between the boys.  Dallas will post the video when he gets a chance.
Anyway, last night was the screening of all the 24-hour films.  There were 41 shorts presented.  We were quite impressed with the quality of the films.  We had some good laughs.
I'm proud of my boys!