Our special girl had a special day.  Brooke is now four!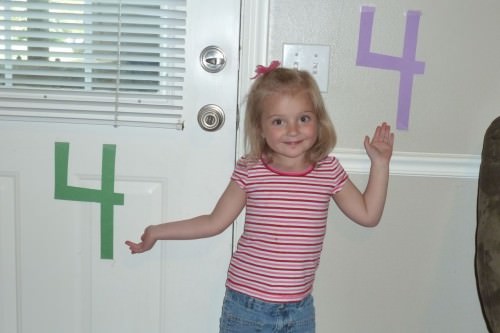 Festivities began with a card from her ever-thoughtful great-grandparents.  The card turned into a fun castle toy: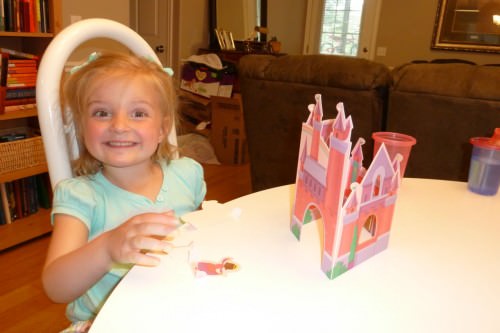 Festivities continued with a birthday dinner from her ever-obliging grandparents.  The restaurant of choice was Texas Roadhouse.  Brooke loves the peanuts and riding the saddle and everyone else loves the rolls!
At first Brooke was a little apprehensive about the saddle: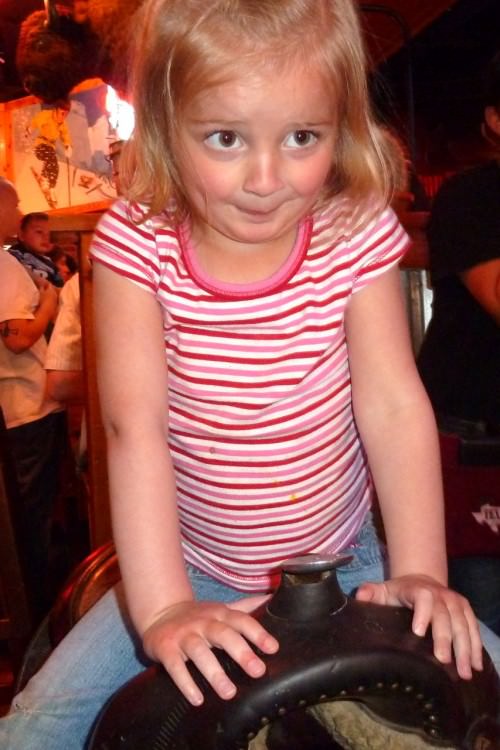 The apprehension mixed with a healthy dose of shyness brought us this face: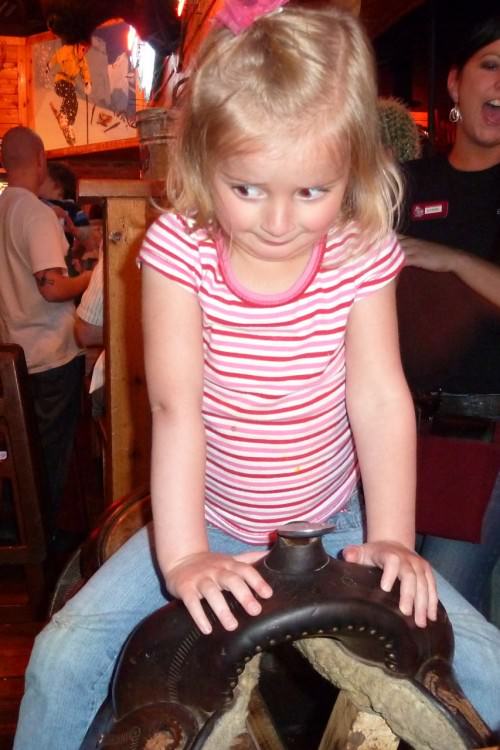 Finally we got a smile.  Third time's a charm: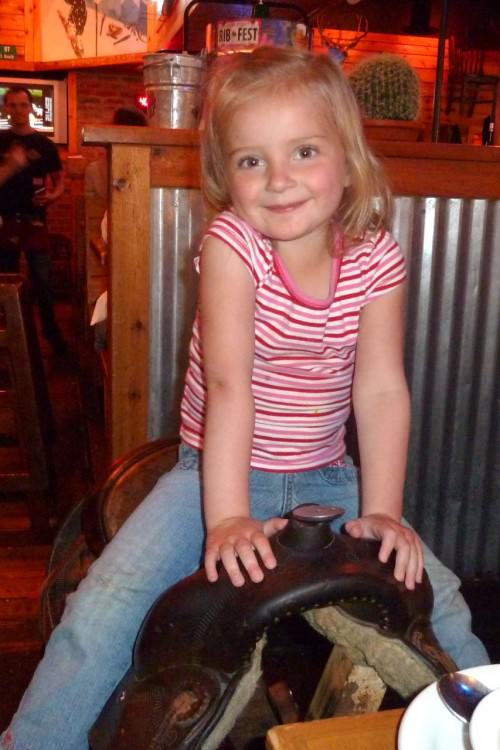 Here's a rare specimen these days – a brave Caroline!  She had no problem hopping up on the saddle: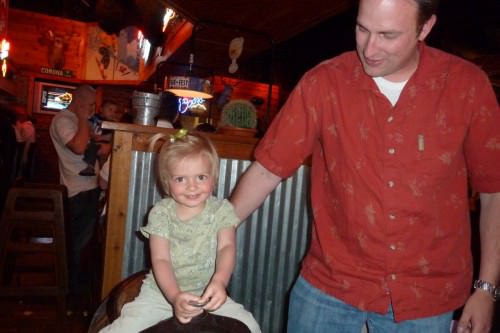 Spencer was there, too.  Too little to ride the saddle this year.  Good thing Grandpa was there to hold him: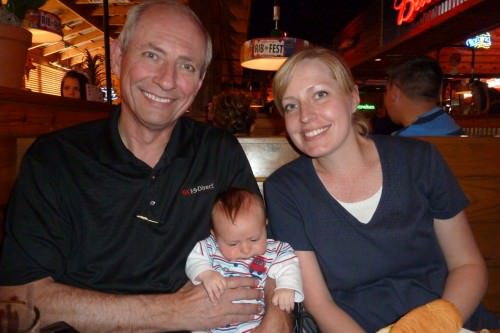 Sorry Mom.  No picture of you.  I thought I took one, but I guess it disappeared.
Moving on…
Several days before Brooke's birthday, I asked her what she wanted on her cake.  Her response?  "I want a picture of me going to a pet store and getting my dog and then I'm walking my dog, and I'm at my friend's house, and we have hearts above our heads because we love each other, and Mom's there, too because we love Mom."
Well, here's what she got.  Stand in awe at my awesome cake decorating skills: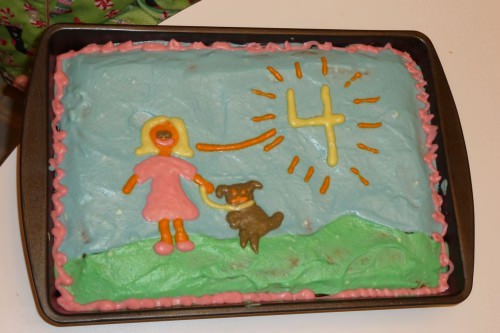 So apparently all of Brooke's wildest cake dreams didn't come true.  Maybe next year.  I'm not exactly sure what's going on with the dog's legs.  Or arms.  Ignore them.  Also ignore Brooke's uni-eye.
We invited Brooke's friend, Emma, to Provo Beach Resort to play: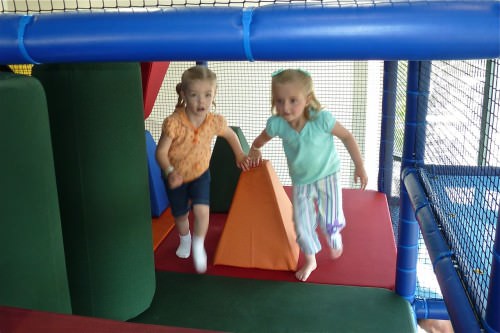 Oh, what's this?  Someone was too scared to play?  Instead she preferred sitting on her Dad's lap listening to his iPod play her favorite song – "Sweet Caroline":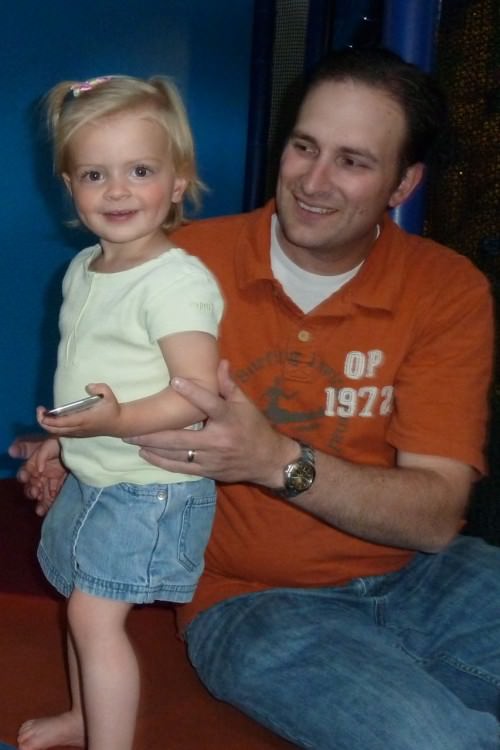 They had bowling lanes that were just right for little kids: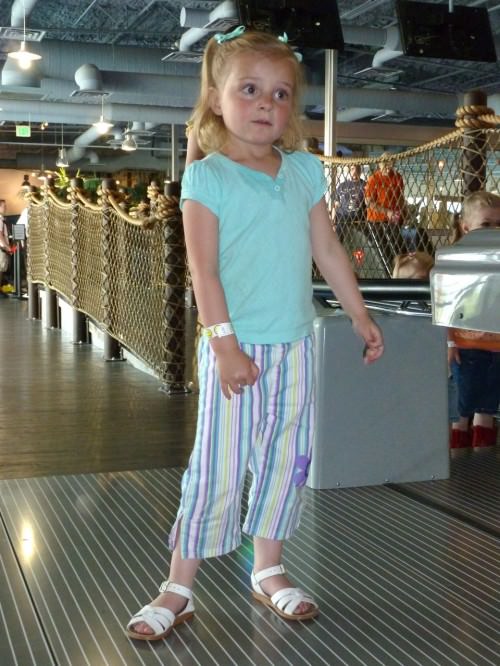 Finally, the carousel ride: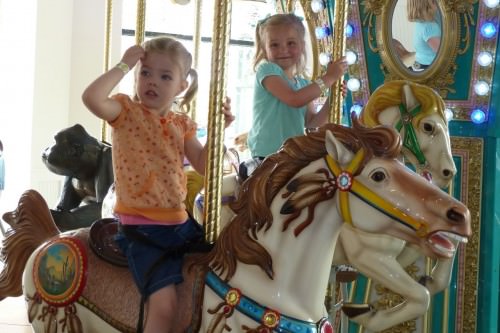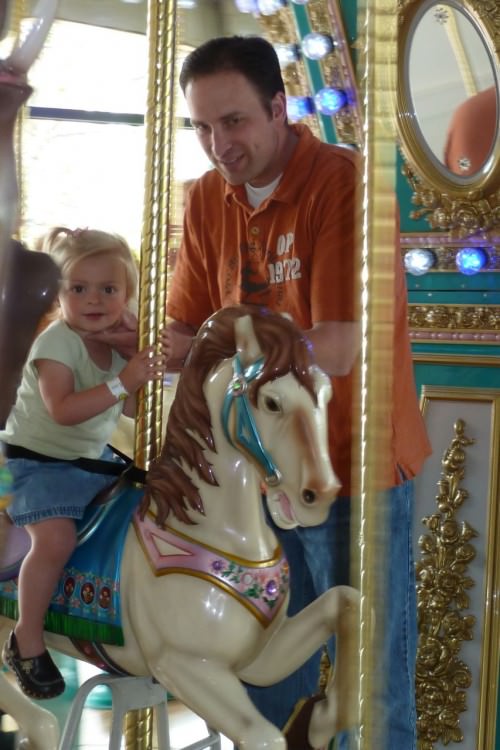 We sure do love our little girl!