My flight from San Francisco to Salt Lake has been delayed. Although I am anxious to get home to see my wife and baby, I feel no impatience.
There is a couple standing by the check-in counter waiting to board the plane. They have been standing there for the past hour as if by forming the line early it would cause the plane to arrive sooner. Maybe they are standing there so they will be able to obtain their seats sooner. One hour of standing surely can't equal fifteen extra minutes of sitting. The man must have hemorrhoids that just flared up because he just loudly abused the gate attendant because of her lack of information. Please, please, please don't make me sit next to him.
There is a teenage girl nearby who is wearing her sleeping jumper so she is ready for the slumber party being thrown on the plane.
The call has come and it is now time to go.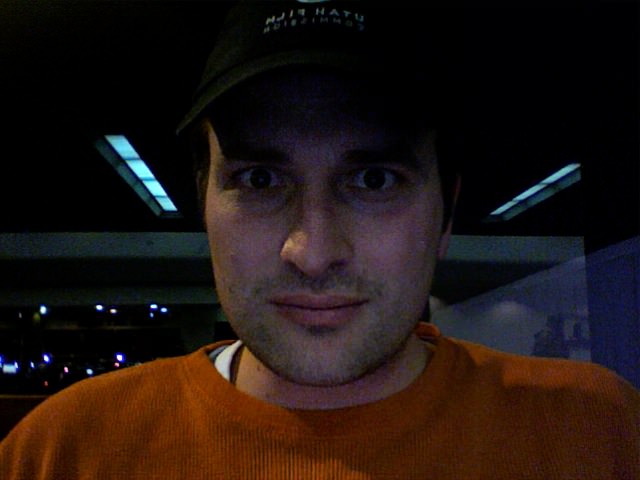 I'm now in the air. Boarding the plane always reminds me of the slow heroic march of astronauts portrayed in movies as they board the space shuttle. This time is different because the plane is too dinky to dock with the terminal thus we we entered the plane via the tarmac, giving me an opportunity to smash my large wad of gum to the underside of the plane and jamming my iPod headphones into the gum giving a mighty good impression of a plastic explosive. Don't worry–I took a picture of myself since it may be the last time you see me breathing in free air. Well, you may have figured out that we made it off the ground without incident. I'm thinking they must not have sen my handiwork or that I didn't actually do it, but would have if I came prepared with a fist full of chewed up bubble gum and if I were actually willing to throw away a perfectly good pair of headphones.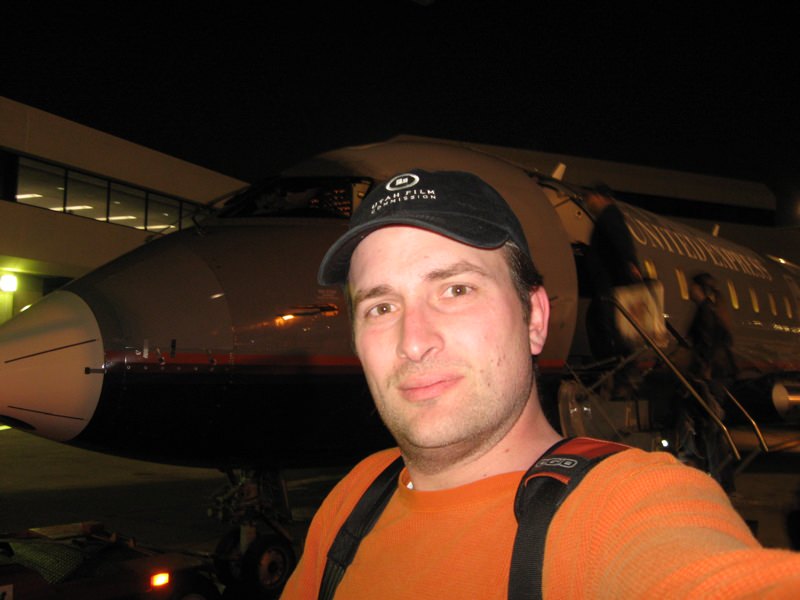 On the plane my seat is occupied by a girl. According to the stamp on her book (she has dog-eared the library book!), she is a student at San Jose University and based upon her braces, the vivid red fingernail polish she wears, and her choice of literature, I figure she is a freshman although she looks much younger. I've let her retain my seat by the window although thus far she has yet to take in the beauty of the world outside the window.
The stewardess comes from the Land Down Under which gave the safety instructions more interest because of her accent.
There are two girls up one row and to the right of me who are thumbing through a women's magazine pointing out the cute guys. One has chosen Matthew McConaughey as her guy of choice while the other fingers George Clooney as hers. Kevin Kline is passed over.
The stewardess has come by with drinks and I have juice while my seat thief took the hard stuff (coffee). I felt quite uneasy as they passed the hot brew over my lap and I was grateful that we didn't hit any turbulence.
The man on the other side of the row is looking at pictures of his family on his iPhone…
Whoa! We just drastically changed directions downward causing my stomach to turn upside down. That means that what I was about to say is more exciting because I was about to say that I wish I were home and now we are just about there!
We've landed and I'm just waiting for the two most important people to pick me up.
My seat partner spent the entire landing nervously hopping about her seat. She still never looked out the window.
I'm convinced that our landing had more of the stomach sickening G-forces than a roller coaster and that it would be cheaper to just take a flight than to pay the expense of Disney Land.
Rebecca has just called and it is time to go home! See ya.