It was a rough time for both me and Spencer this morning.  We had to do our unfortunate duty for our son so he wouldn't get picked on in gym class.  If Abraham could survive at 99 years old under an unpracticed hand and dull knife then our son would rock at one day old.  He probably got a premortal briefing about this so he probably was expecting.  He barely even cried.
I managed to maintain consciousness.  I'm a habitual breath holder which may have contributed to my light-headedness because by the time the rabbi-doctor was done with the removal I needed to sit down.
I don't know why the hospital hasn't given me my right of passage t-shirt yet and Spencer's consolatory onesie.  The shirts probably wouldn't be worn by anybody aside from redneck families.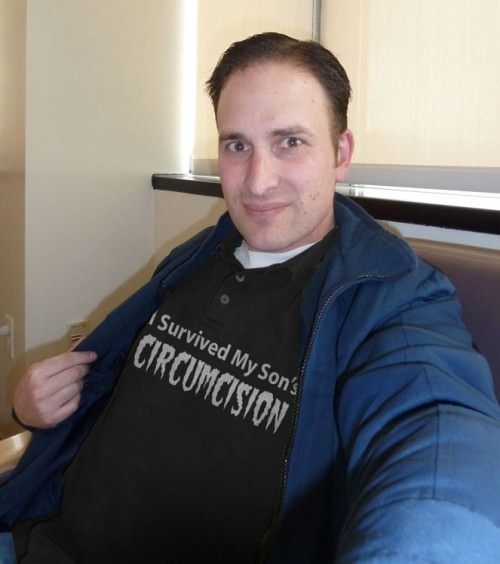 Rebecca's note:  Dallas came back into the room rolling Spencer's bassinet looking as pale as a ghost.  When the doctor who performed the circumcision came into the room to talk to me, he assured me that Spencer did great and Dallas…well…he could learn a thing or two from Spencer's sturdy disposition under medical pressure.