Related Posts
Brooke, Caroline, Family Fun, Madison, Spencer
I've been storing up kid artwork for a while, so here's a post dedicated to our aspiring artists/graphic novelists.
Brooke's school papers continue to be used (for better or for worse) as her sketch pad:
Holidays bring out her creativity:
She saw our bananas and couldn't resist giving them a little personality: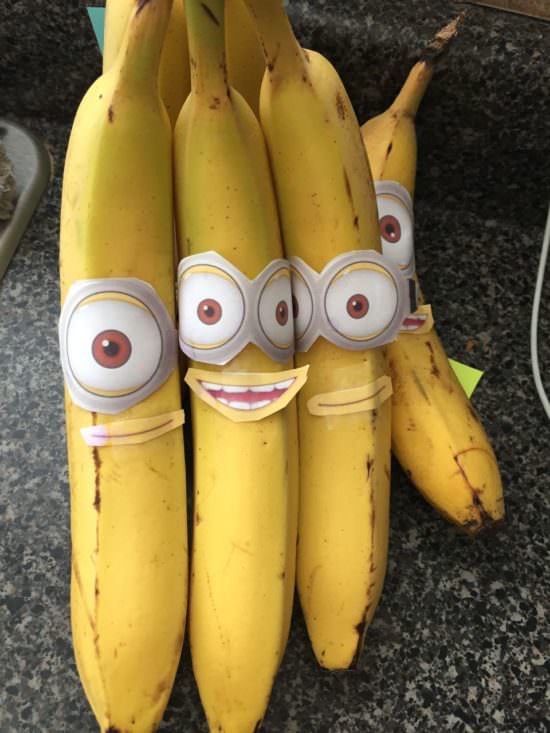 And then we have the endless doodles and comics she draws on every scrap of paper she can find:
Caroline isn't quite as prolific of an artist, but she does do cute drawings as well: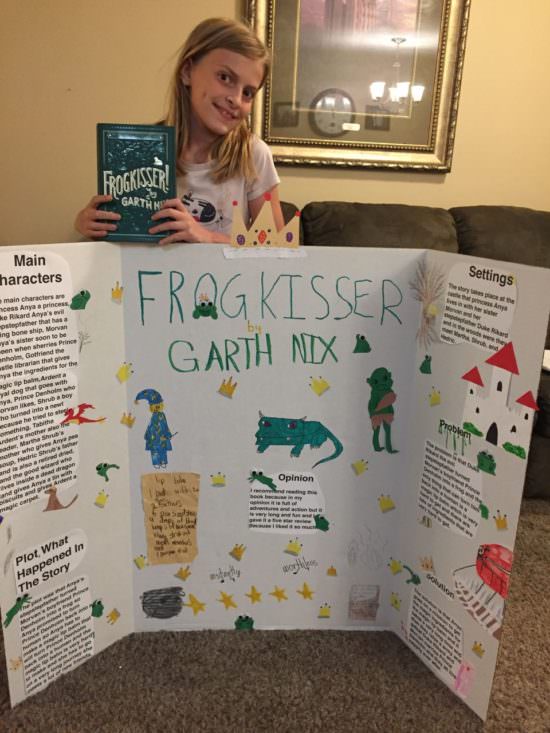 Spencer enjoys drawing also. Here we have a self portrait: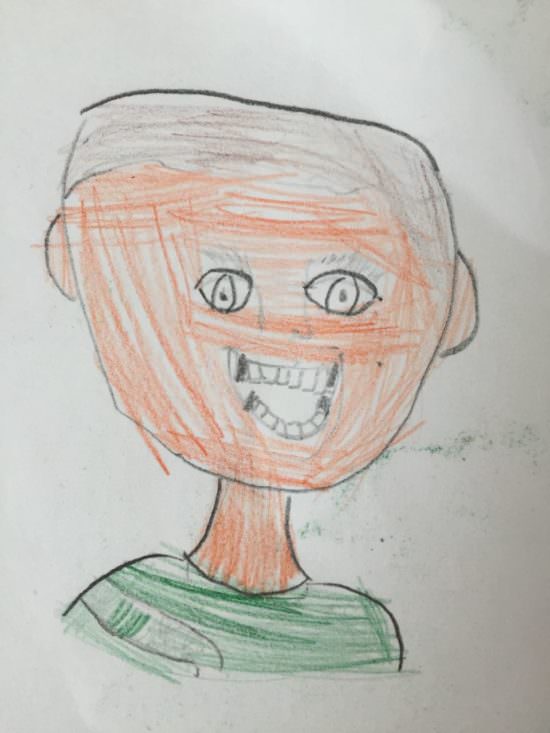 Another child who can't resist doodling at school: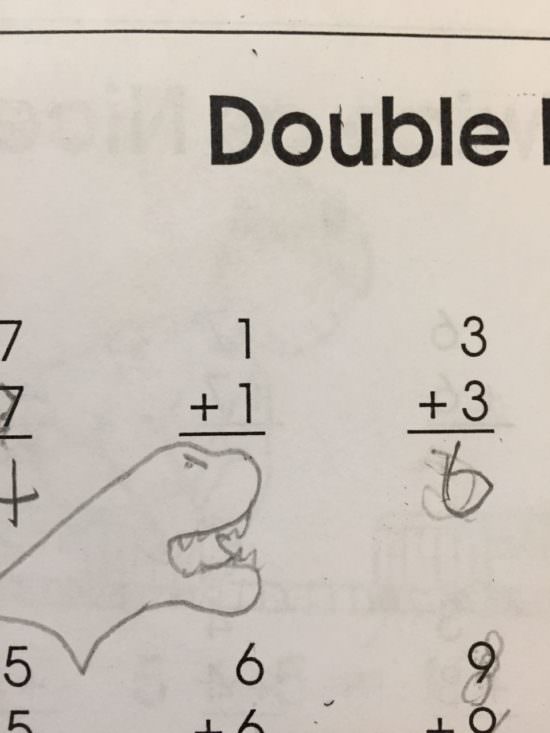 Spencer went through a phase where he was really into flags. He'd look up pictures of different flags and recreate them in miniature:
Lately Madison has been joining the artistic ranks.
Madison drew this one in church. Her friend Norah is sad, so she's giving Norah a doll to make her happy: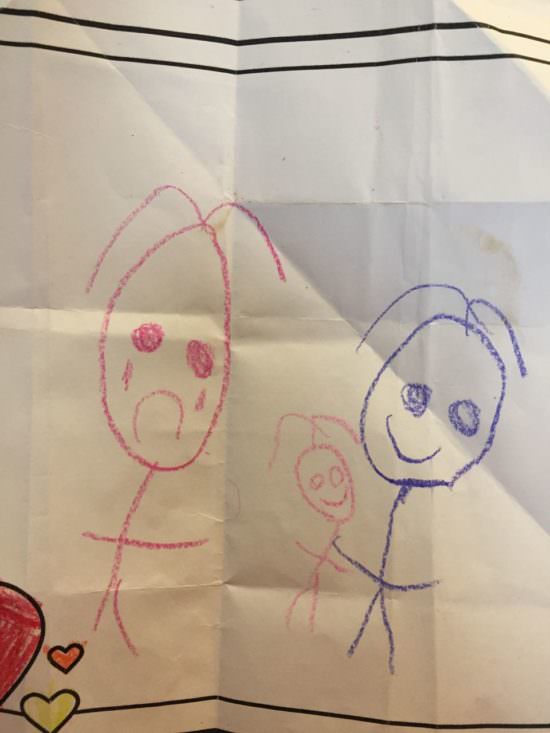 This princess got caught in a rainstorm and wasn't happy: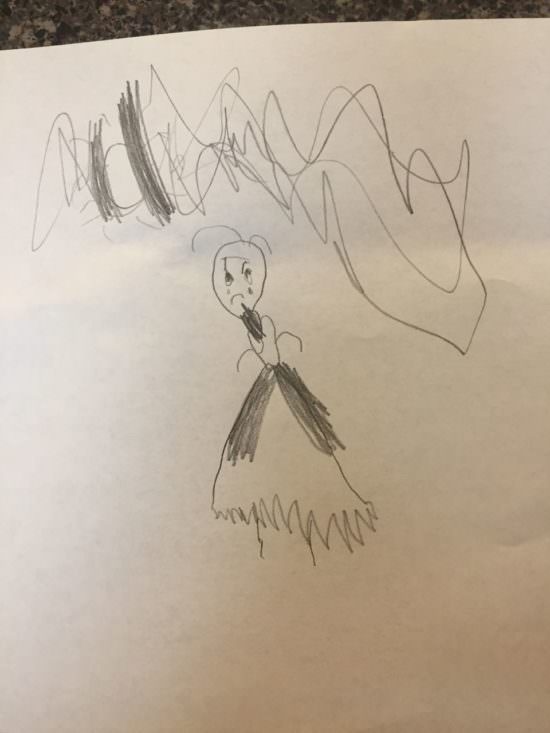 Madison brought this paper home from preschool. I was shocked at the adorableness of that zebra and had to text her preschool teacher to see if Madison actually drew that. Turns out she did draw it all by herself. It's especially surprising how good her zebra is when you compare it to the other two animal blobs beside it.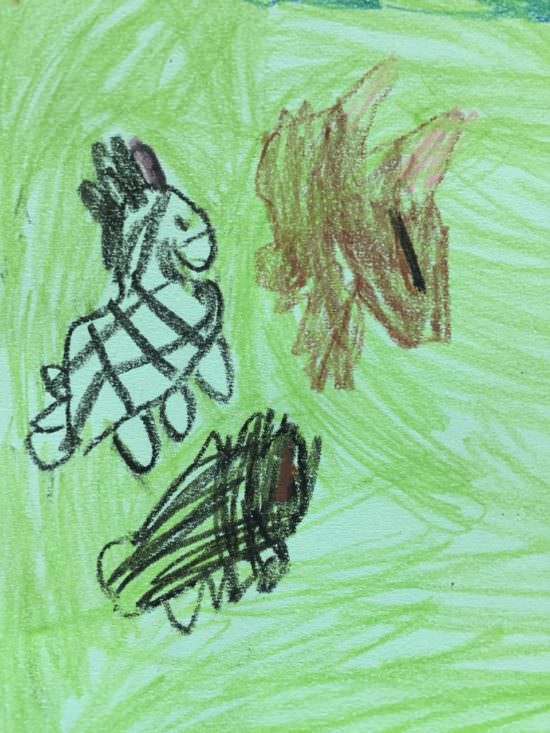 One day we played Pictionary as a family. We told Madison she could draw whatever she wanted. The category was "animal." She drew this: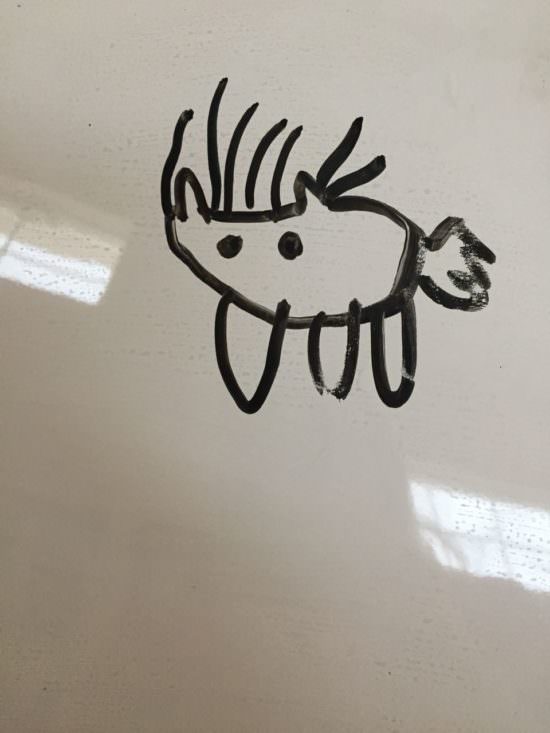 After guessing every animal we could think of we finally asked Madison what it was. Her response? A giraffe. I continue to chuckle to myself every time I think of her neckless giraffe.
Related
Family Fun, Holidays, Uncategorized
Christmas was fun, but the week after Christmas was even better. My brother Ben and his wife Haley surprised us with a visit. The first thing Ben said to me when he told me he was coming was, "Get a babysitter. We need to do an escape room."
I told him I had an even better idea. Enter Lockbox Mysteries. My super clever and creative friend started this business which is basically an escape room in a box. You rent the box from her and inside there are clues and codes and locks and boxes that you have to crack in order to solve the murder mystery.
We went over to Jeff and Sarah's house and the six of us shooed the kids in the basement with a movie and popcorn while we (literally) donned our detective hats and got to work solving the mystery.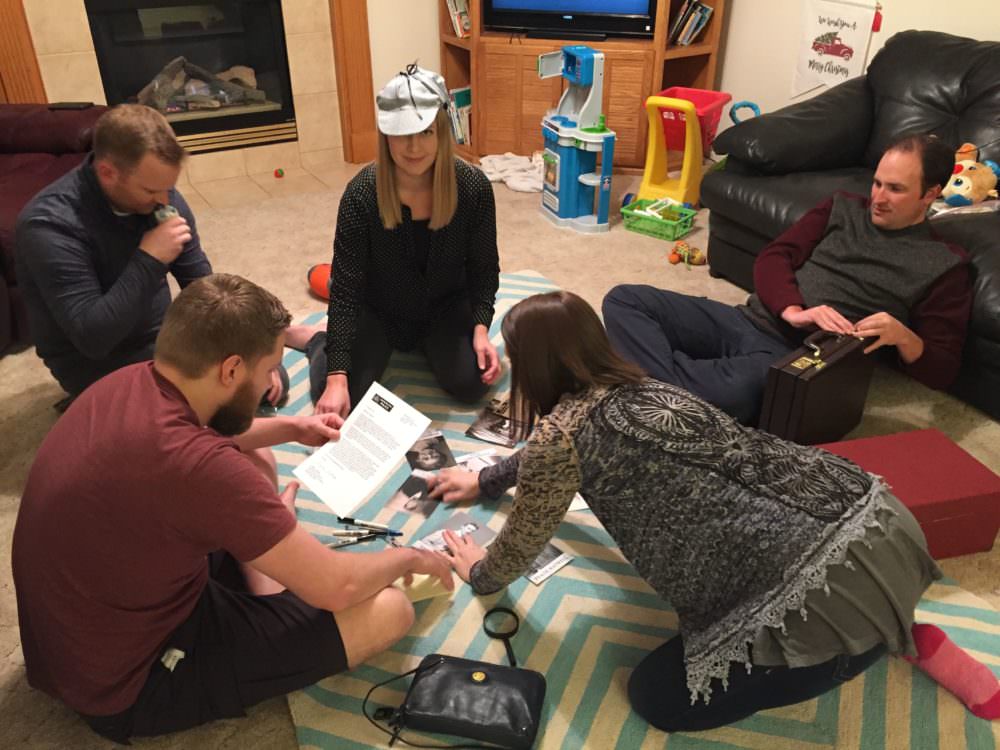 It was so fun. I had done one escape room before and this was every bit as good as that was, but we were able to do it in our own home! No need to pay extra for babysitters! No need to possibly be grouped up with weird people you don't know! You just play with all the weird people you already know!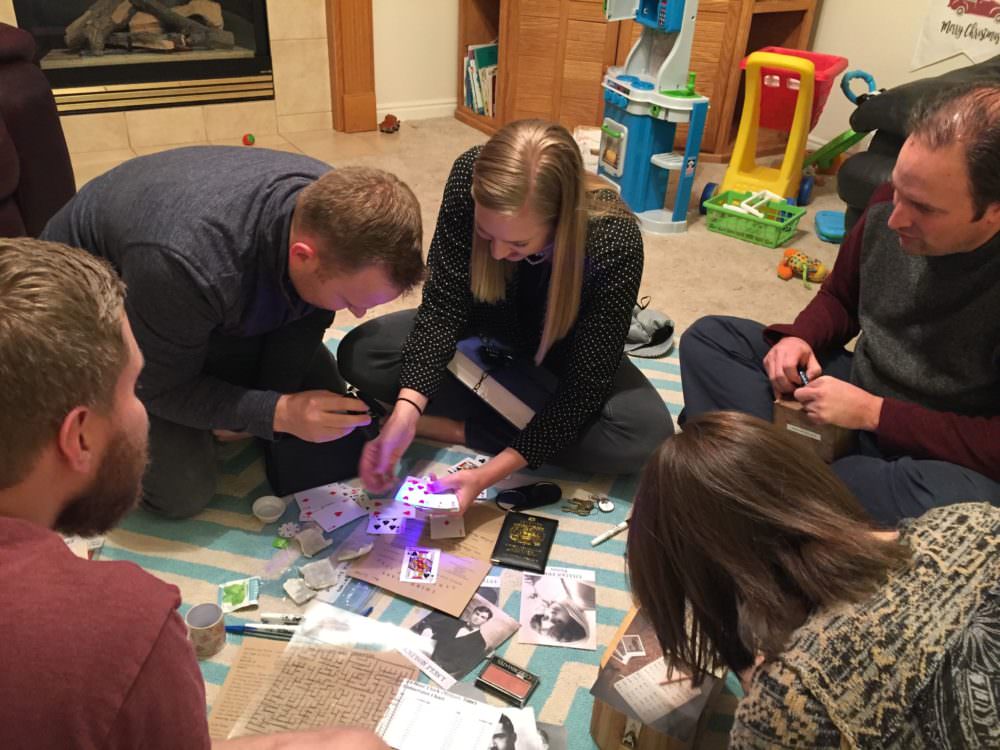 Not to brag, but we solved the mystery in 46 minutes and used zero hints.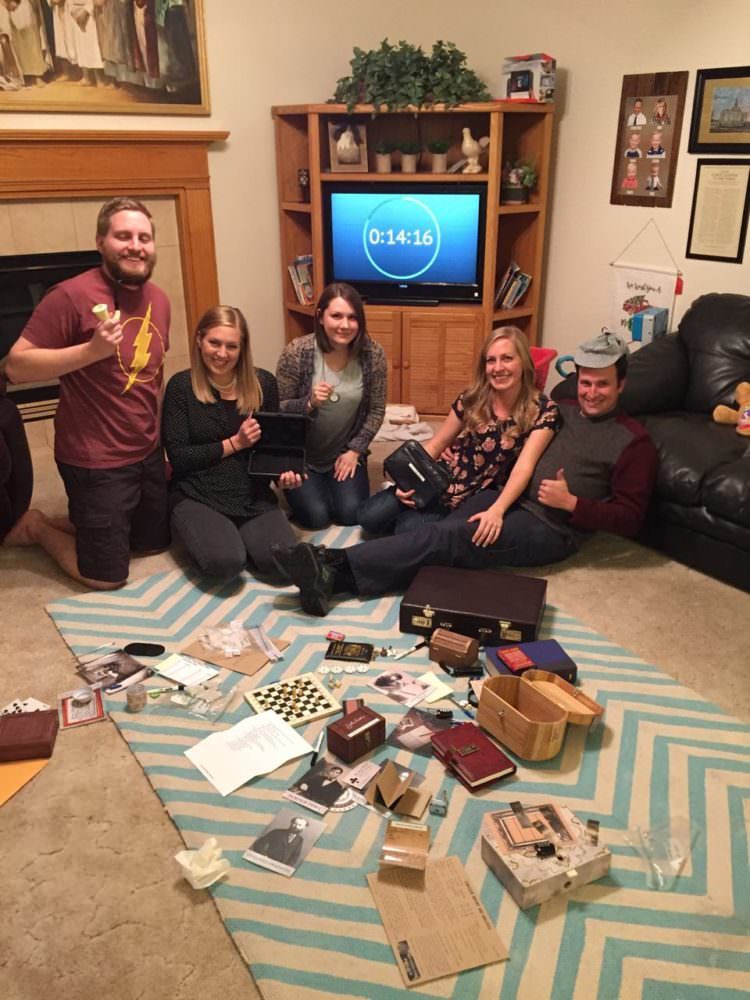 If you're local, you should definitely get a group of friends or family together to try this out. We all loved it!
We took advantage of the first real snow of the season and went sledding: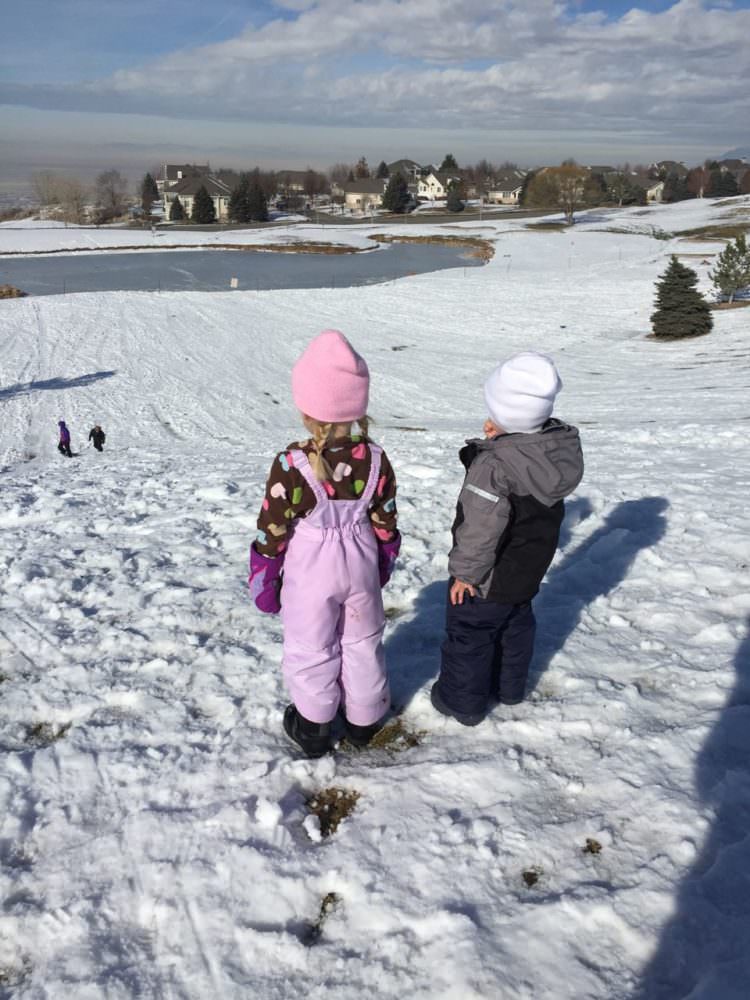 What is is about kids all bundled up in snow attire that's so adorable?
Someone please give Haley the best aunt award! Turns out Madison is a total thrill-seeker, and she loved going down the biggest hill. Haley walked Madison up that hill and slid down with her at least five times. Each time Madison would jump up out of the sled before Haley could even catch her breath and yell, "Again! Again! That was so fun!"
We went back to Sarah's house to warm up and take cute cousin pictures: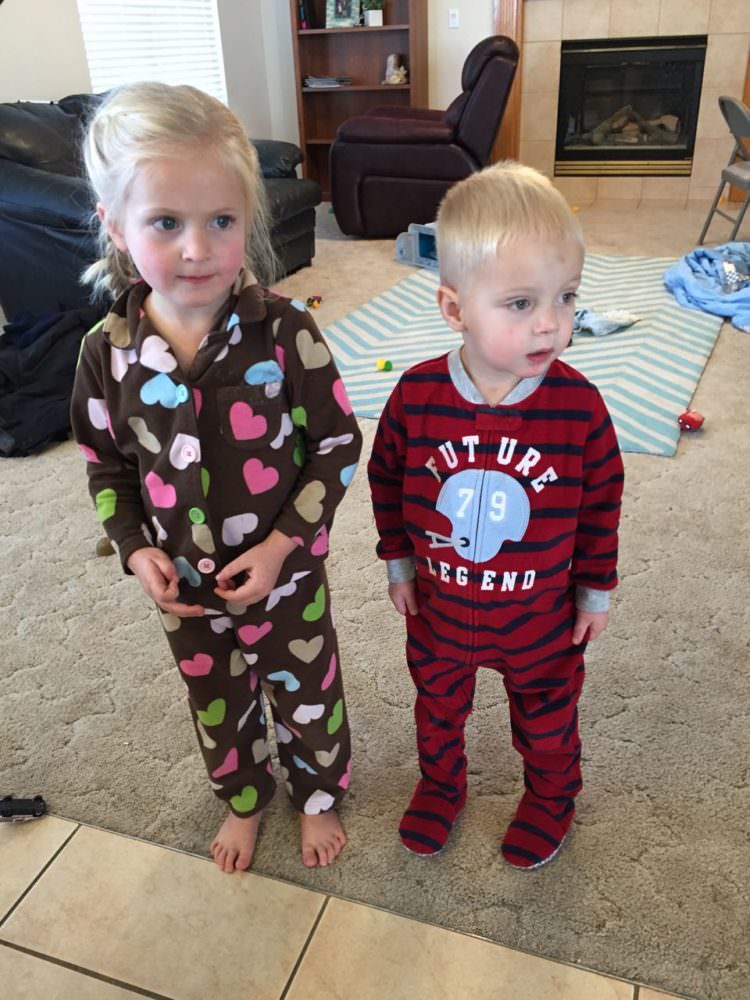 But SOMEONE wasn't having it.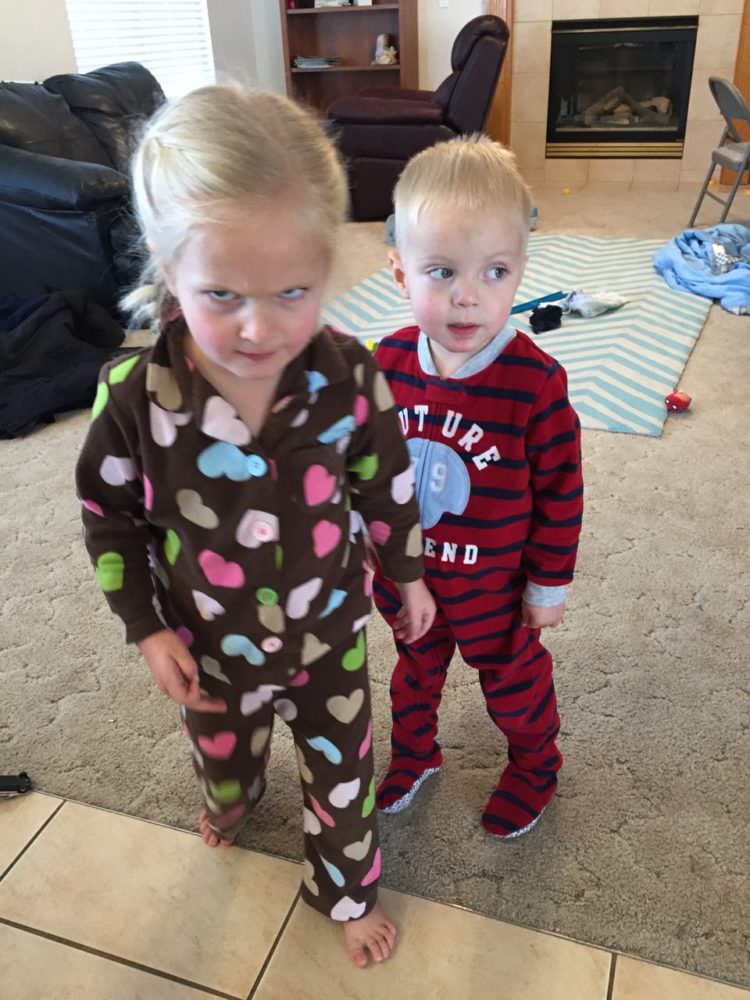 Sarah's boys got a lot of dress ups for Christmas that were put to good use during our stay:
Brooke went cross-eyed over her cross stitching:
Dollar skate night was an opportunity we couldn't pass up:
Bonus! Princesses were there!
Brooke helped Haley and Sarah make pizzas and was very proud of her accomplishment: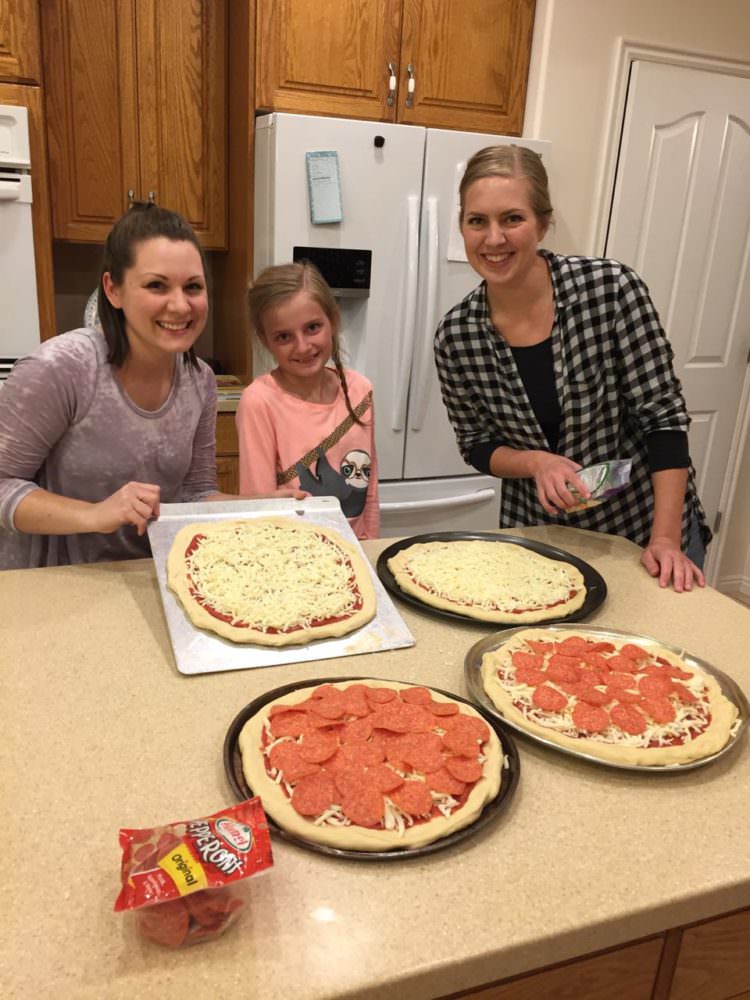 Ben and Haley love to play games. They always introduce us to fun, new games. Codenames quickly became a favorite: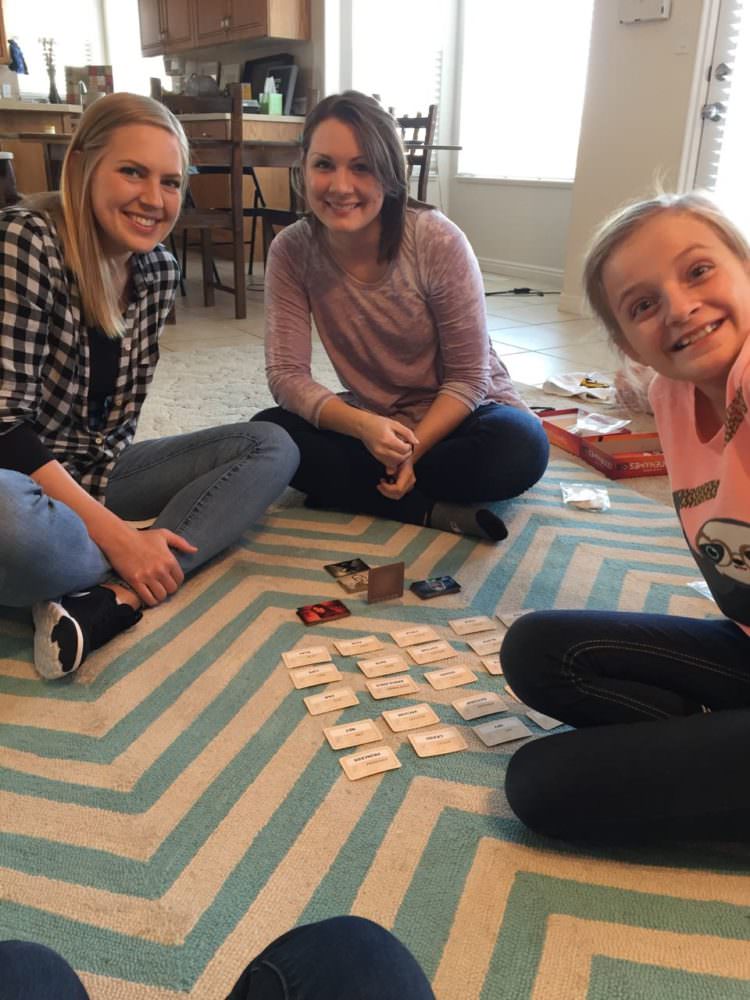 If Codenames quickly became the favorite, we might say Legacy Pandemic: Season 2 slooooooooowly became the least favorite. If you're unfamiliar with the game, here's an amateur's synopsis of it. It's a cooperative game which means you all work together to beat the game. In this case, we were trying to find a cure to save the world from a pandemic.
When you start the game, you're happy and excited and smiling: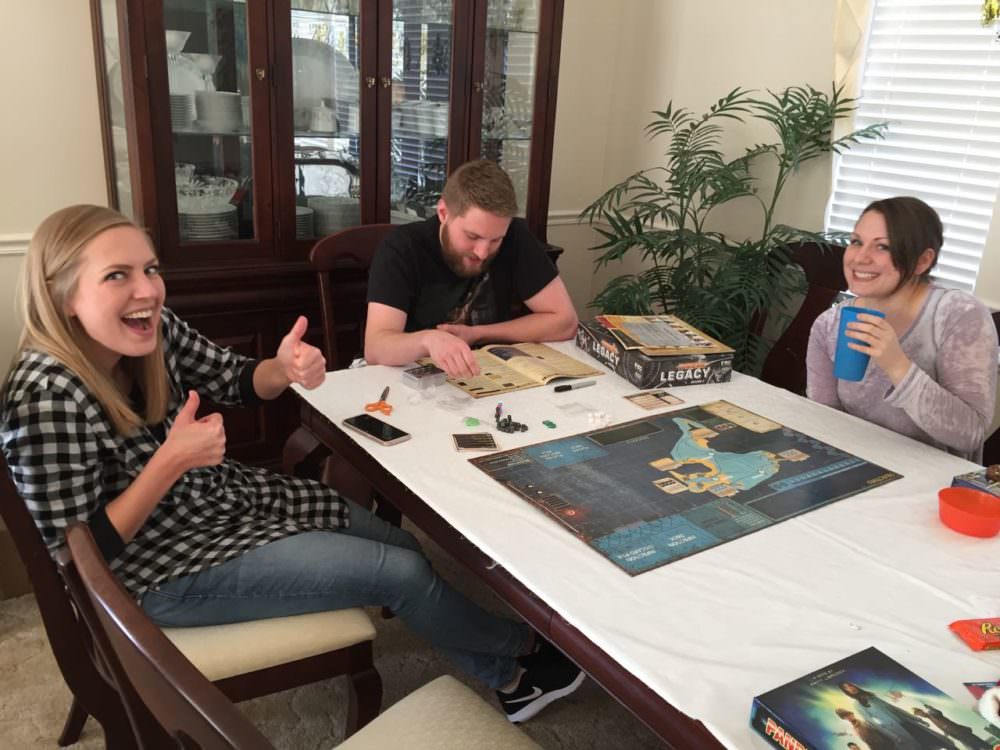 As the play progresses you draw on the board and add stickers and pathways. Some cards have things you scratch off. You can only play the game in its entirety one time. However, the game consists of 12-24 rounds, and each round takes about an hour to play and an eternity to set up, so when you tell your brother and sister-in-law that you're "game" to play the game, you better know what you're in for.
Sarah and I most certainly did not know what we were in for.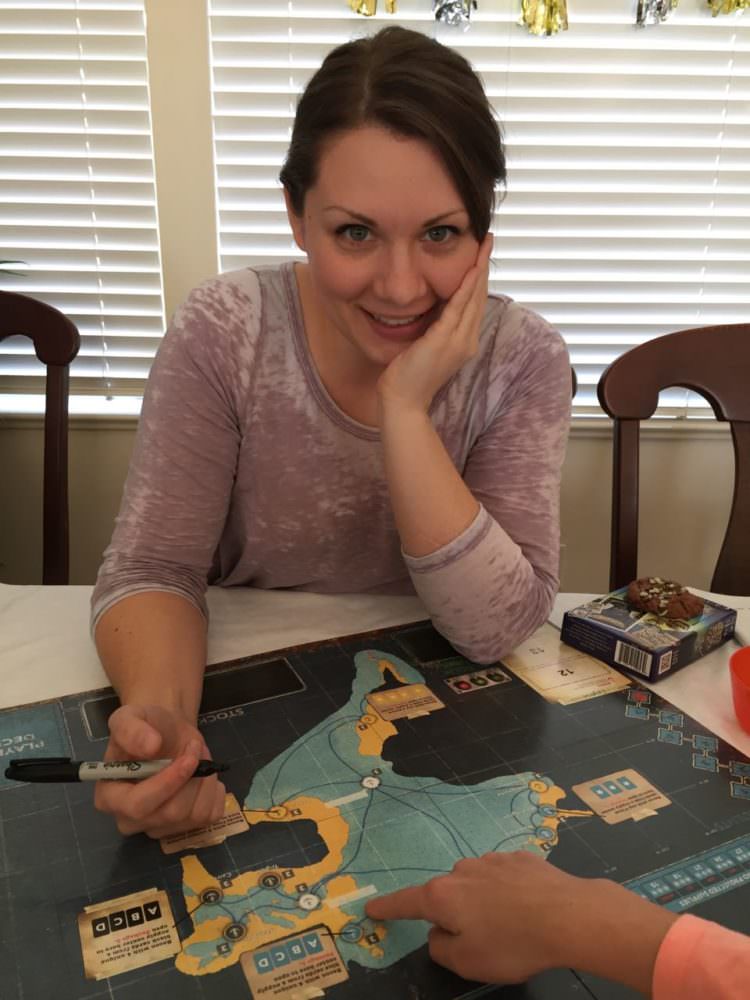 I think we knew how seriously Ben takes his games, but we had never seen this type of serious. There were multiple dramatic pauses, giddy exclamations, and intense shoulder rubs during each round.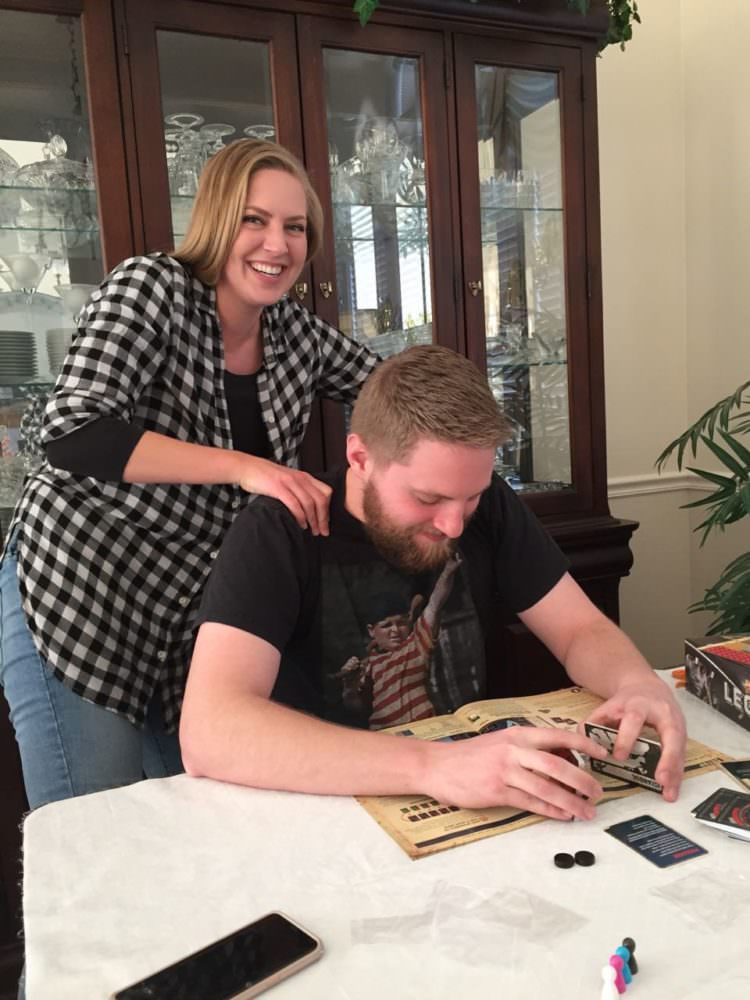 This was a game of logic and strategy playing to Ben and Haley's strengths…and not so much to my and Sarah's. Sarah bailed on us about four hours into the game. Some of the more invested players did not mourn that loss, though others keenly felt the absence of her cheers, hollers, and dance moves.
We took a break from our game playing, and I was able to remember I had a husband and a life outside of supply cubes and Hollow Men. We had a fun group date at Boondocks for some bowling, laser tag, go-karts, and 4-D movies.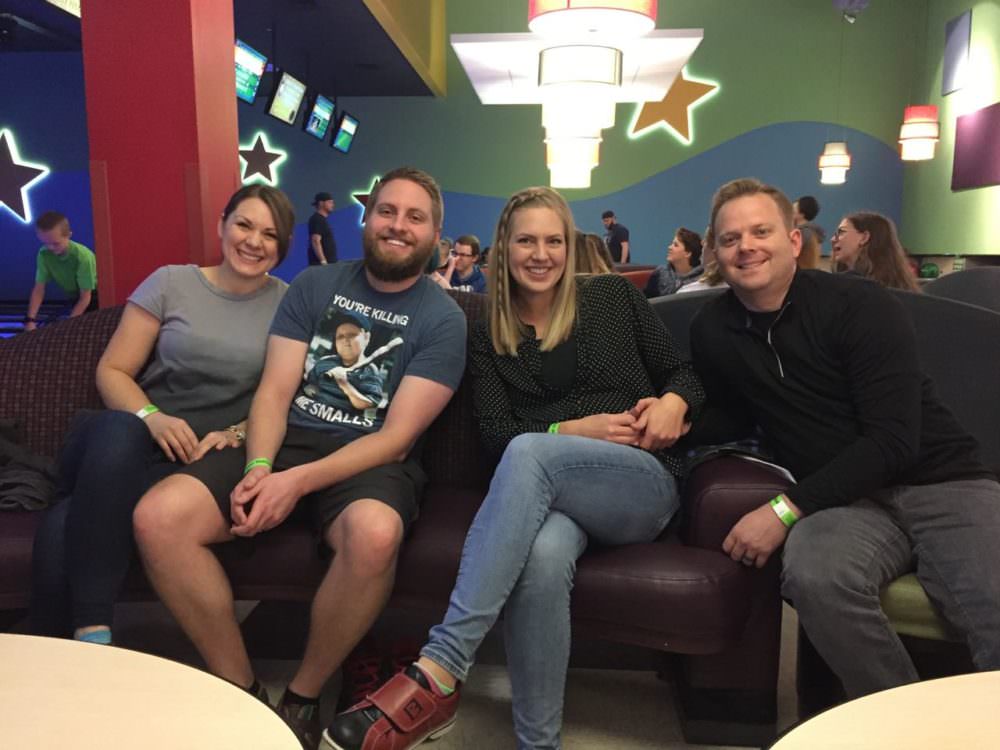 We saw the princesses again!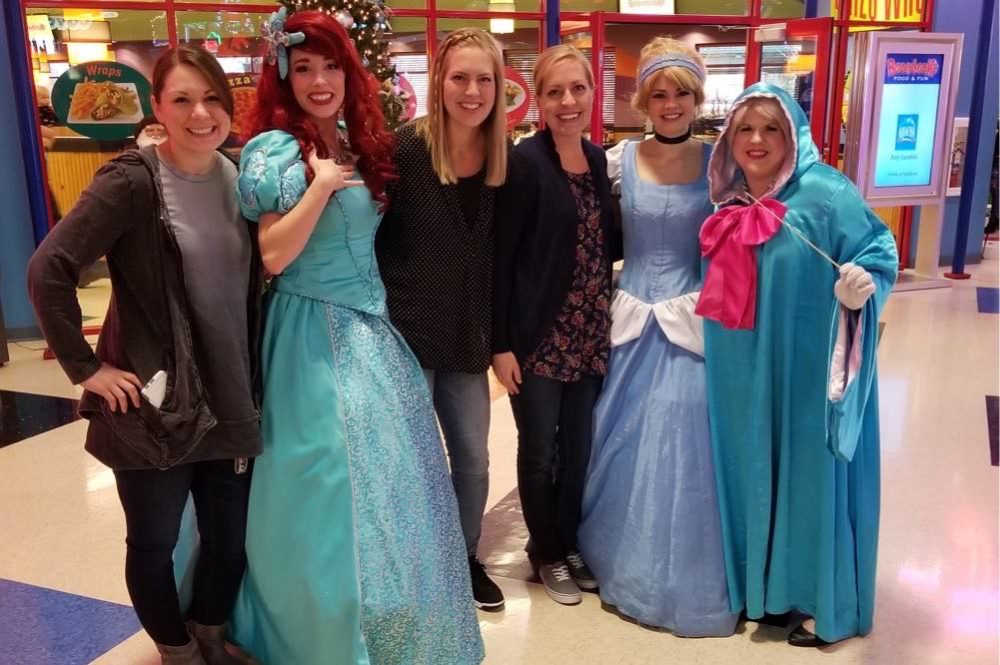 Do we look like expert bowlers? Because we are not.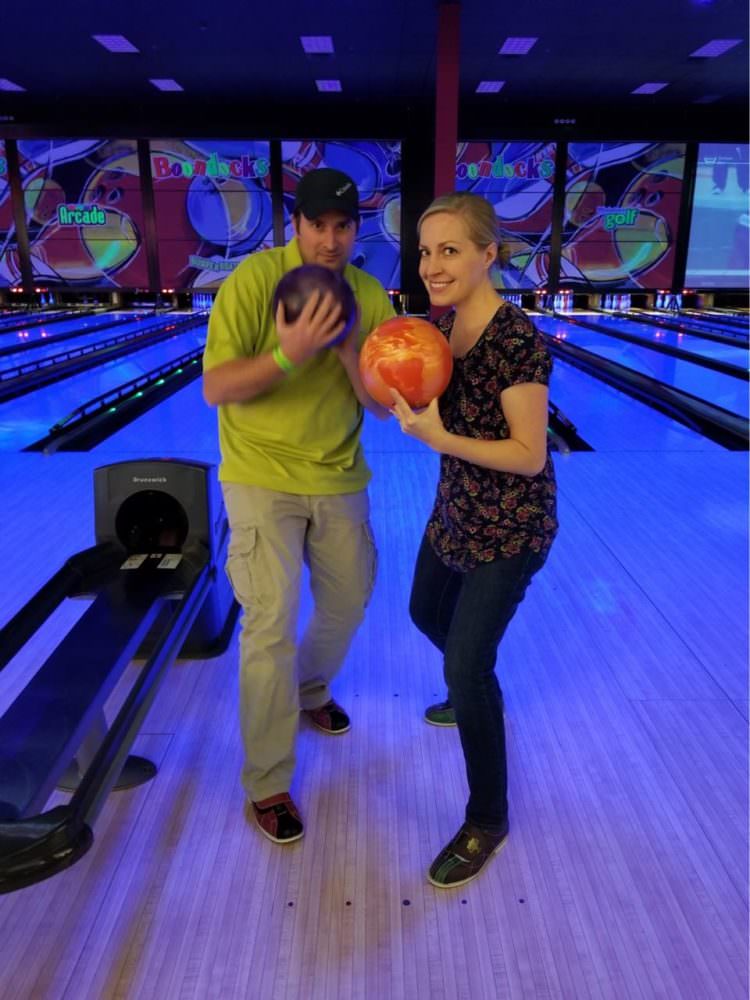 After our Boondocks break we went right back to our marathon game. Hours and hours and hours and hours later we did it. Against all odds we saved the world from disease. Our score was kind of crappy, but we blame that on the fact that we misread a few key rules which made our play much more difficult than it would have been had we demonstrated better reading comprehension skills.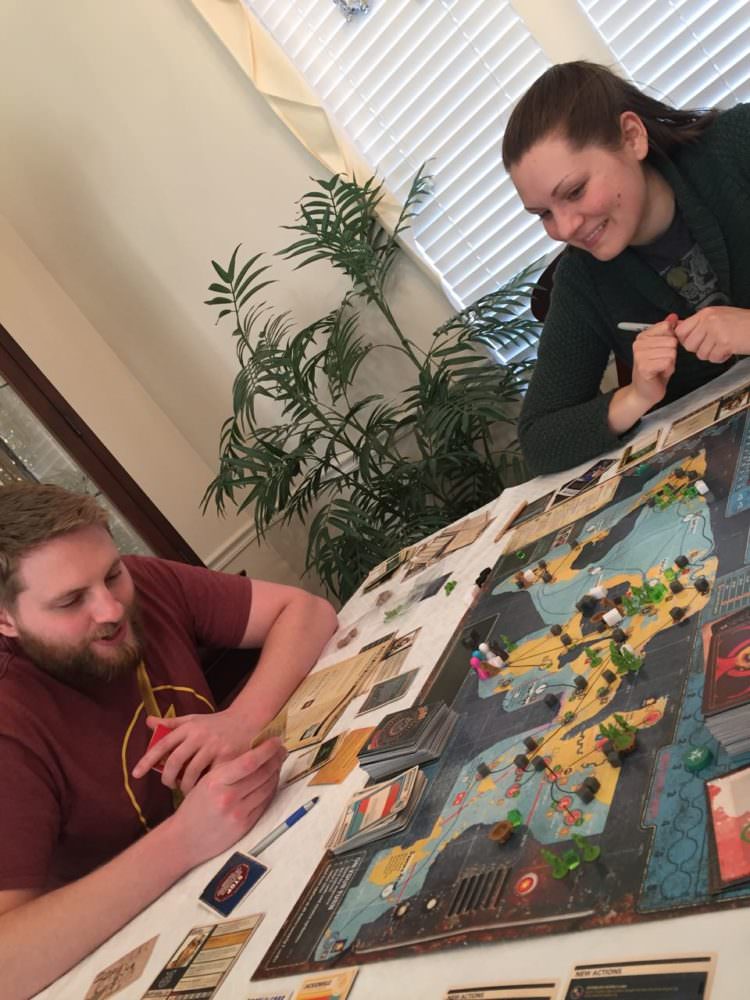 The game ended and I felt a strange emptiness. My brain had no idea what to think about. I kept worrying about our cities and hoping they were doing okay. Now that several weeks have elapsed since we played, I no longer dream about epidemics and outbreaks…but I think it will still be some time before I agree to play a game like that again!
Related