Related Posts
All of this quarantining business left us with a need to get away from our house and have a change of scenery! My friend told me she just returned from Yellowstone and it was a great time to visit because it was less crowded than usual. I had never been to Yellowstone. Dallas and I did a little research, realized we had three completely empty days on the calendar that next week, and behold! A family vacation was born.
We packed up and headed out. Our first pit stop demanded a photo: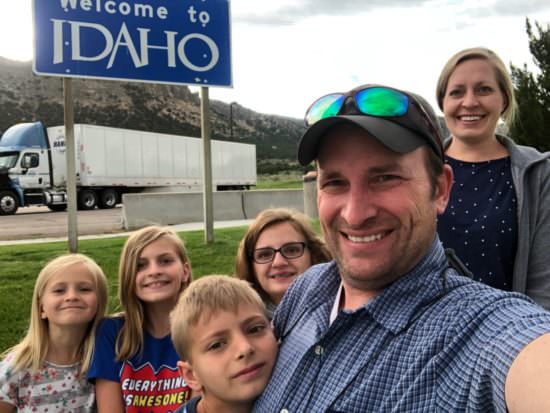 The drive was so fast and easy, and before we knew it, we were in West Yellowstone. We enjoyed this sign: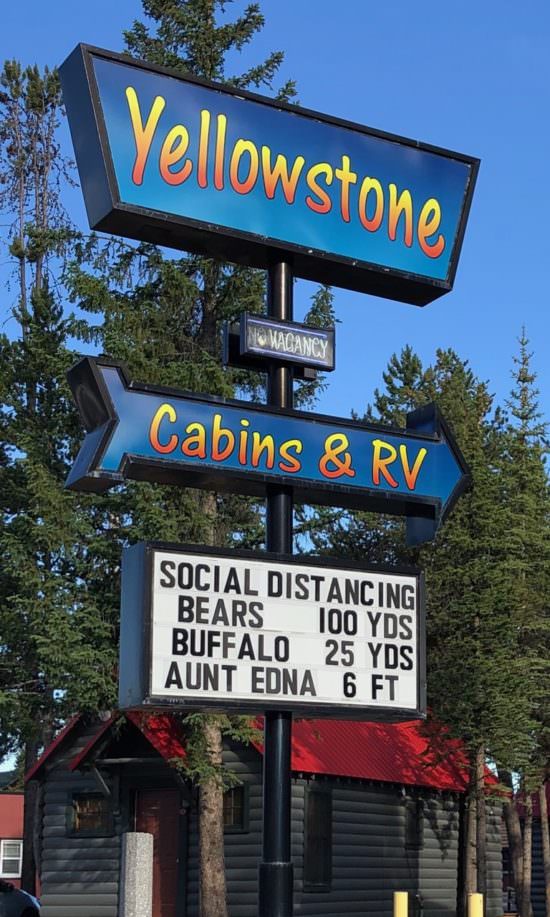 We got to the park and realized that we had just enough time to book it to Old Faithful before its predicted eruption time. We made it there in time to sit and wait…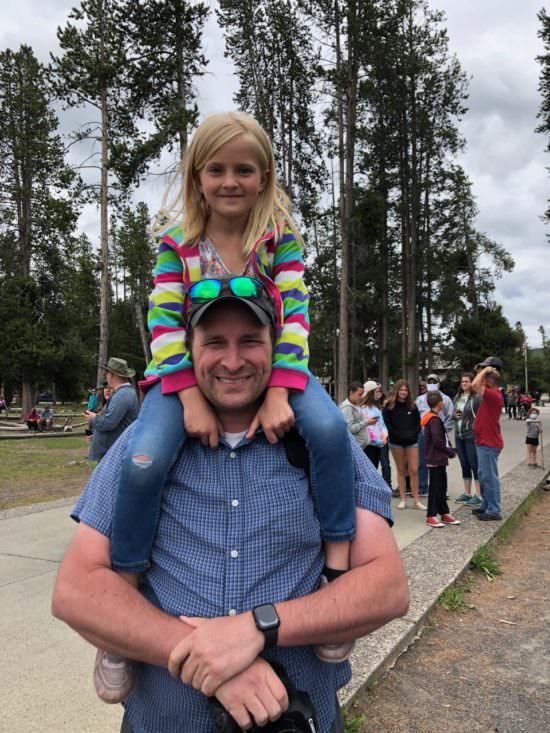 and wait…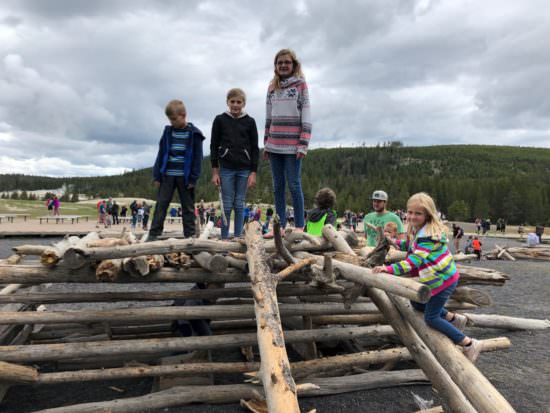 and wait…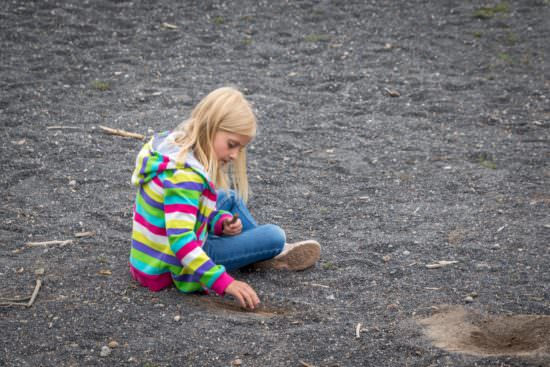 until finally…she erupted!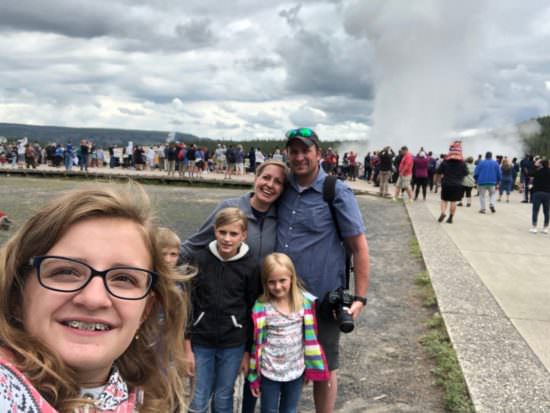 We decided to walk the boardwalk around Old Faithful. Caroline bit into a Starburst on the way and her loose tooth came right out mid-chew: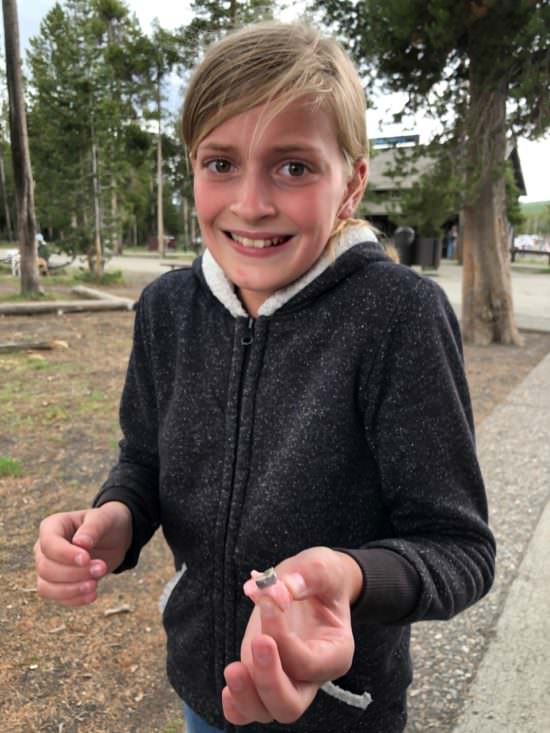 I loved this little hike. I'm not sure if it's because it was the first thing we did, so everything was so new and amazing to see, but, well, everything was just so new and amazing to see! We loved looking at the geysers, trying to come up with our own names for them, and then running ahead to find the next wonder to behold.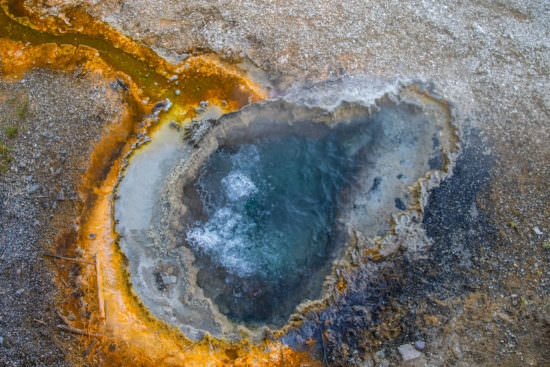 Luckily for us, Old Faithful decided to erupt again about forty minutes before the predicted time, so we got to see another explosion from a less-crowded spot: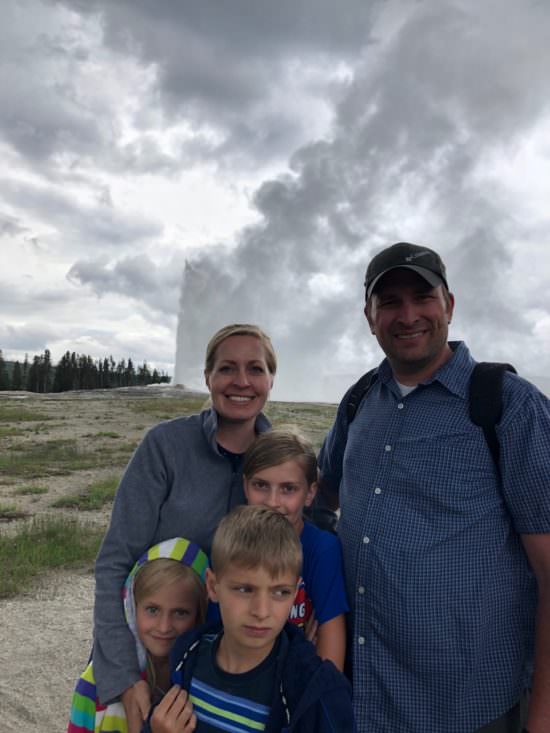 Dallas took the little kids to the bathroom while I waited with the big girls. We had nothing to do, so we had to get creative as we waited for them. We took awkward jumping pictures: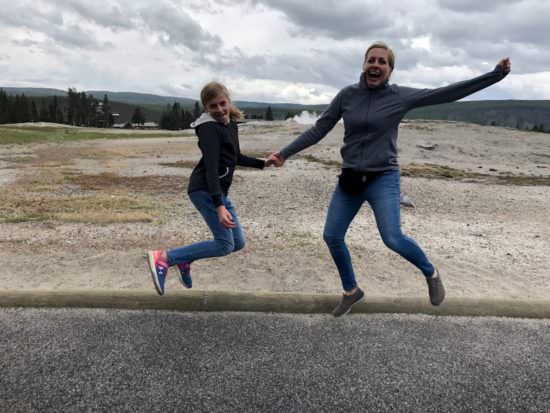 And we took turn-your-sister-into-a-rabbit pictures: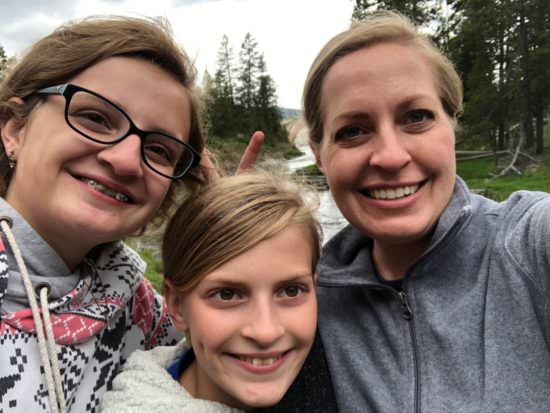 Then Brooke learned how to take creepy panoramic pictures and that kept her busy for the rest of the trip.
After Old Faithful we went to Black Sand Basin to see the geysers there. It was getting really stormy and we were afraid we were about to get dumped on. There was a nice rainbow geyser there that I liked.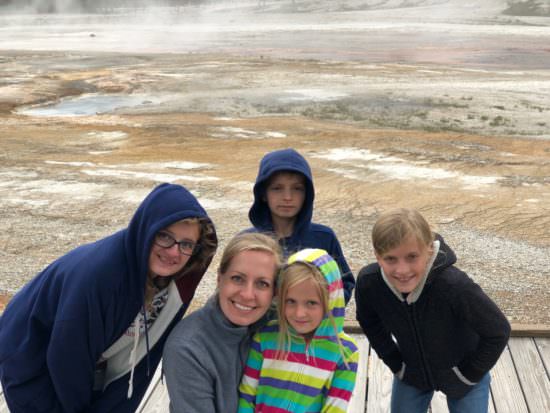 We walked around quickly to see everything:
Then we ran to the car right before the heavens opened and rain, sleet, snow, and hail slammed down on us. It was a pretty impressive storm.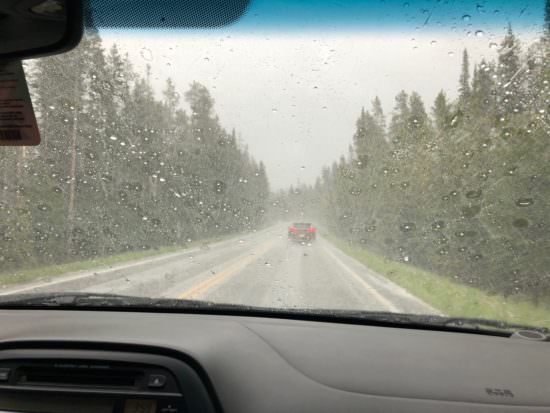 We were worried it would rain out the rest of our day, but before too long the rain cleared up and Madison spotted some elk. We stopped for a closer look.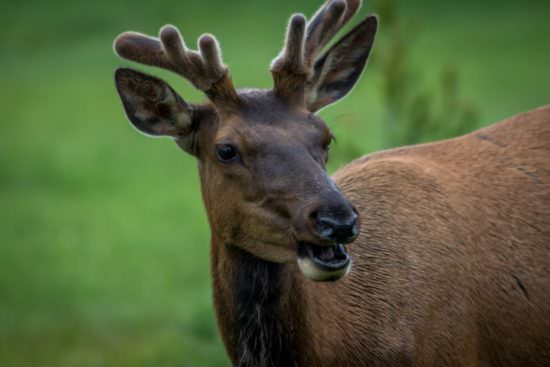 We ate dinner at Lake Village and walked through a gift shop looking for treasures. None found.
Then we stopped at Mud Volcano and saw Dragon's Mouth Spring which was a favorite. We loved the steam coming from the cave and the groaning noises that felt like a dragon did indeed live there.
On our way back to our hotel in West Yellowstone we stopped by the Artists Paintpots which was another favorite. We liked the white stew/soup spot that gurgled and bubbled and made us feel like an ogre lived beneath it.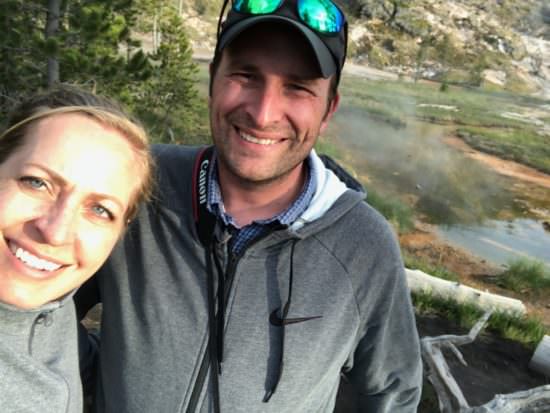 At the hotel the kids loved playing with the old fashioned phone: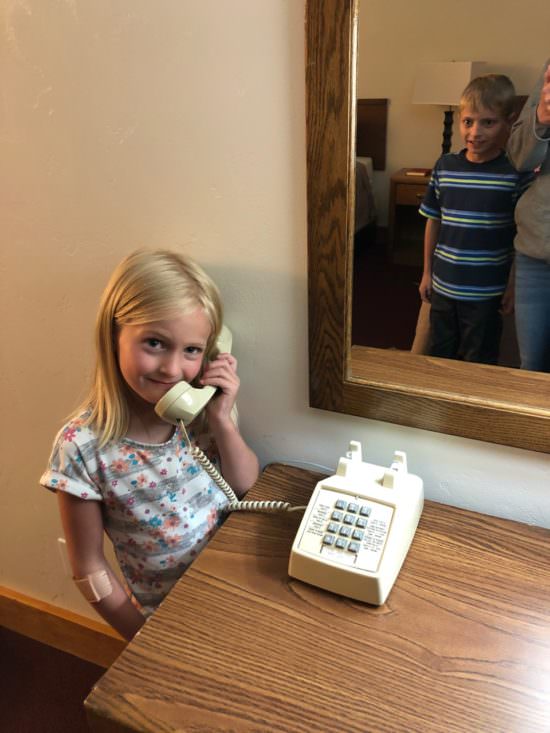 The next morning we decided to get up bright and early and drive out to Lamar Valley to look for wildlife. We saw lots of bison, elk, pronghorn, and birds.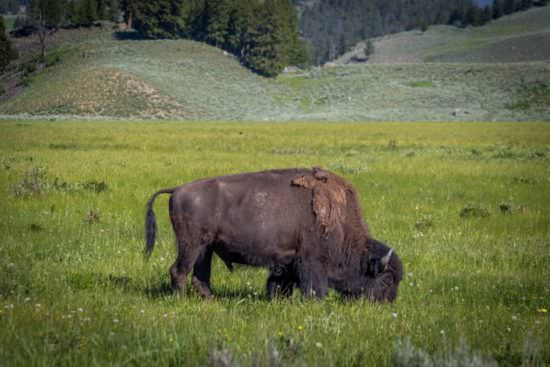 We were mostly searching for a bear…and we found one!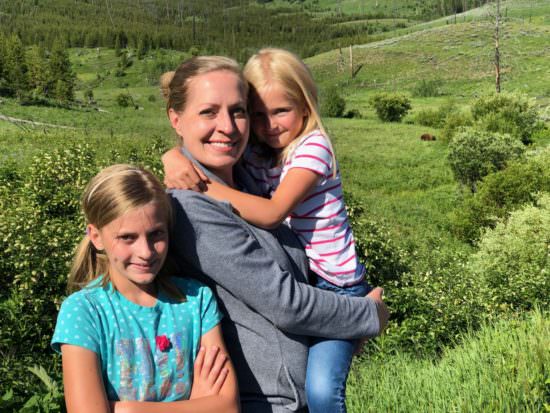 It was just frolicking in a meadow full of wildflowers. It felt like the most perfect spot to watch a bear play.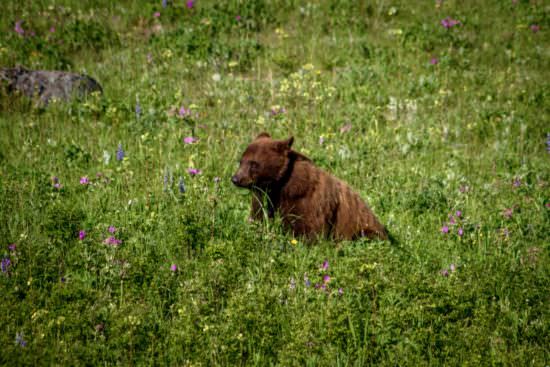 After driving around Lamar Valley we went back to Mammoth Hot Springs for lunch.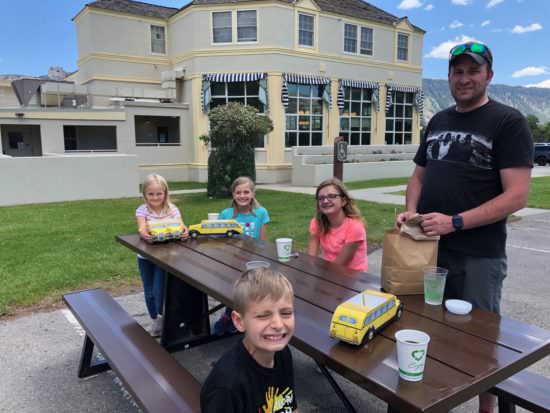 We liked watching the elk that roamed through the little town. We explored the Mammoth Hot Springs Terraces. This was the hottest part of the hottest day that we were there and there were so. many. steps. so this wasn't the most pleasant of all of our stops, but we made it through and this picture will give you the illusion that we all had smiles on our faces the whole time. I'm sure none of us complained one bit during this hike.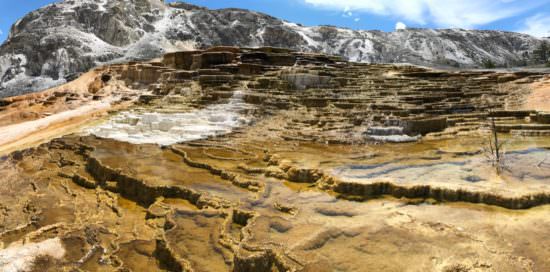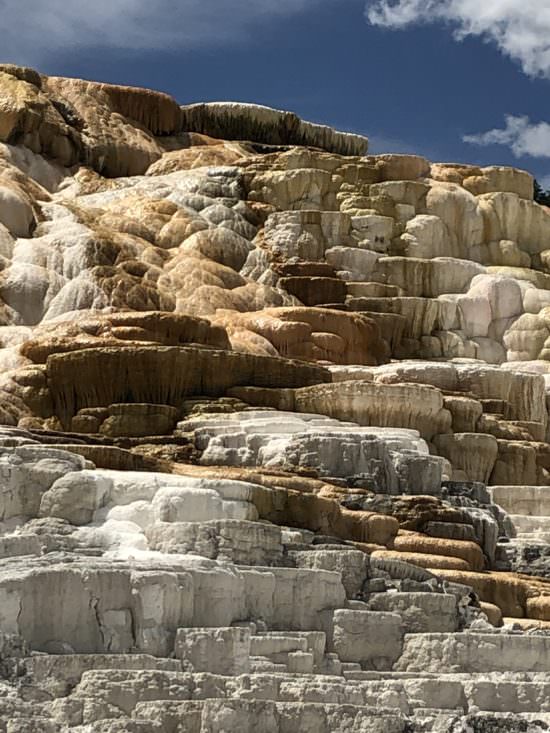 We found some rocks to climb: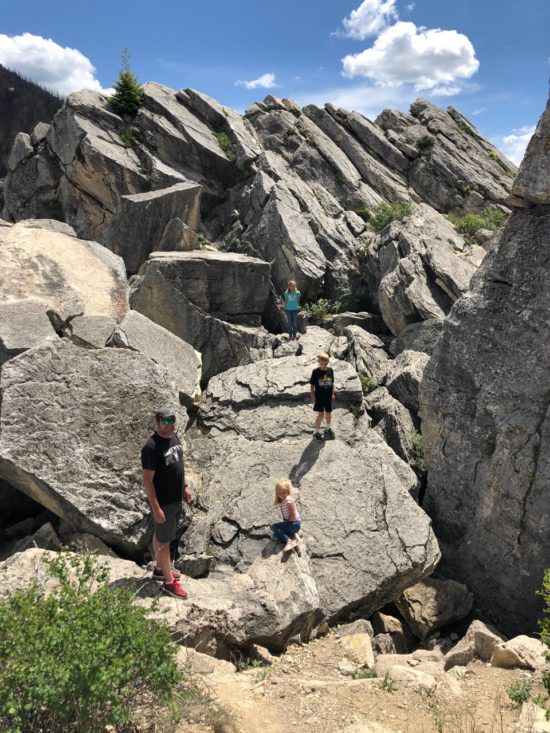 We drove down to Norris and tried to stop, but that was the only place where we couldn't immediately find parking, so we just continued on.
We went on to the Grand Canyon of Yellowstone. That was also beautiful. I loved how each part of Yellowstone was so different but so beautiful.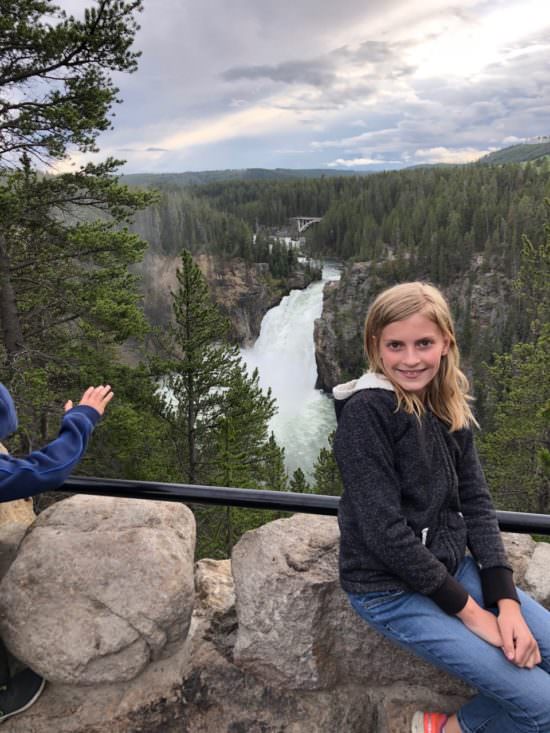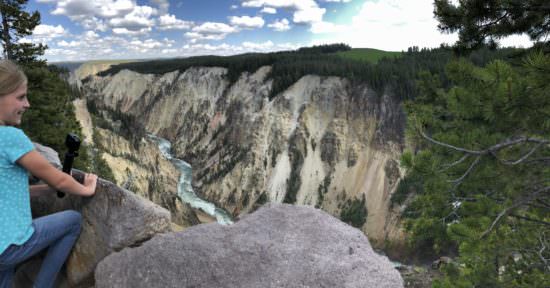 We loved the waterfall and did a couple different hikes to view it from different spots.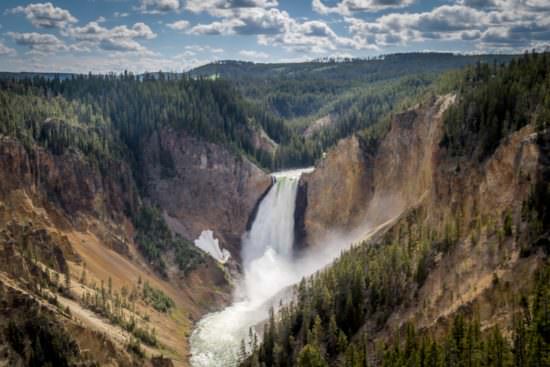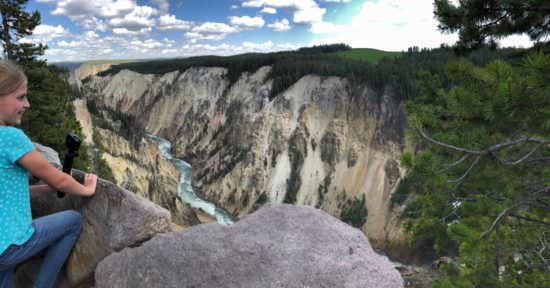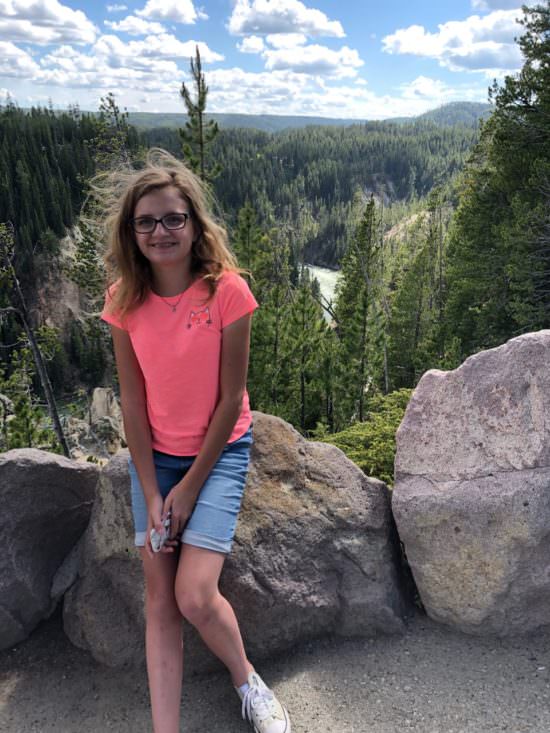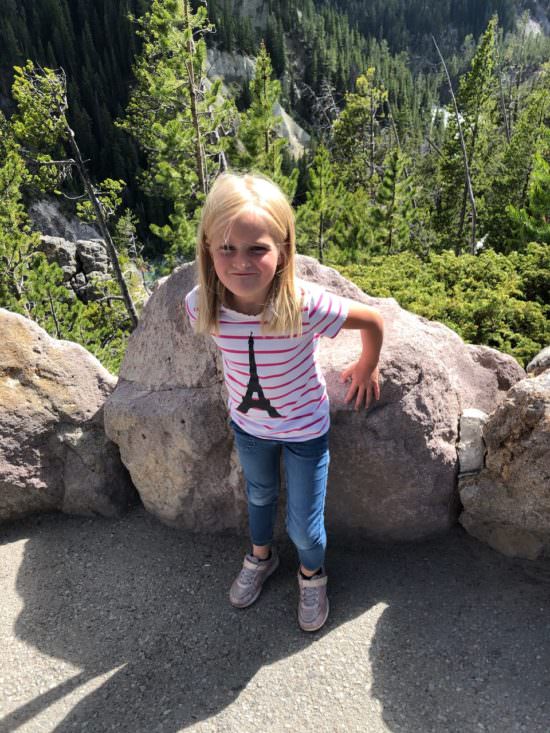 Brooke made a friend with a dragonfly:
On our way back to the hotel, Dallas spied some cranes, so we stopped to look. (They're behind Brooke right in front of the tree line.)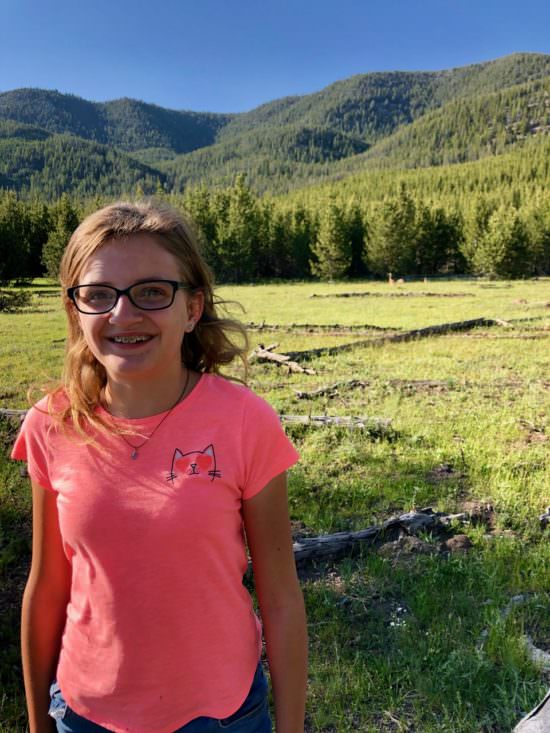 The next day was the day our kids were looking forward to the most – horseback riding day! We had to wait for our turn which gave the kids plenty of time to bond with the company's pet dog: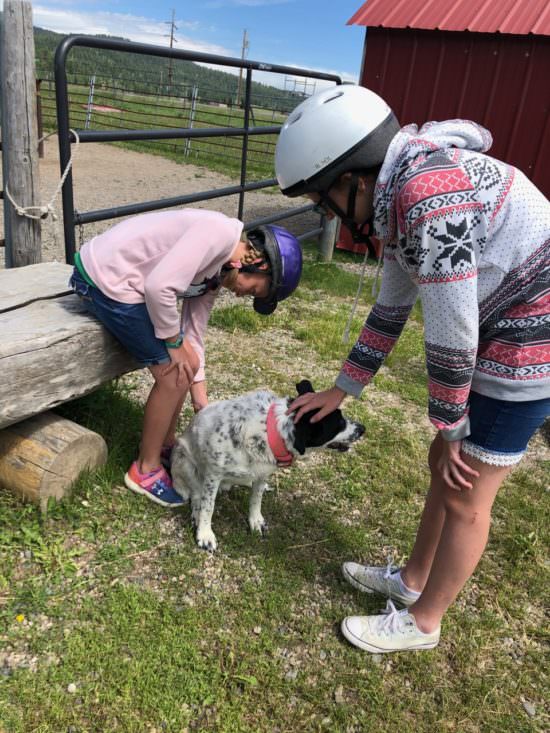 And to walk on wood planks: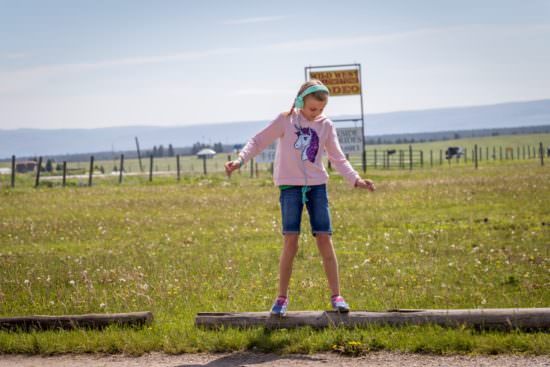 And to show off how Brooke can twist her leg in unnatural ways:
Finally we were able to hop on our horses and ride through the woods.
Brooke's horse was a little stubborn, so her horse got roped up to the guide's horse in front of her. This arrangement is important because it led to the highlight of Brooke's vacation. The horse in front stopped to poop and somehow the rope got caught in the horse's butt…? And the guide couldn't get it out. So she had to call to the guide at the front of the line and ask if she had gloves. Which made that guide ask why she needed gloves. So the guide in the back had to say, "Because there's a rope stuck in my horse's butt and I can't get it out. I'm going to need some help back here." Which led to silence from the guide at the front until she said, "I was not expecting to hear that!"
Meanwhile Brooke giggled uncontrollably through the poor horse's ordeal…and anytime afterward when she thinks about that story.
Luckily the guide was able to free the horse without compromising too much of his dignity and we were able to continue our ride.
Dallas's horse also brought comic relief as he kept stopping to eat every chance he got and when he wasn't eating, he was finding small trees to walk over to scratch his underside.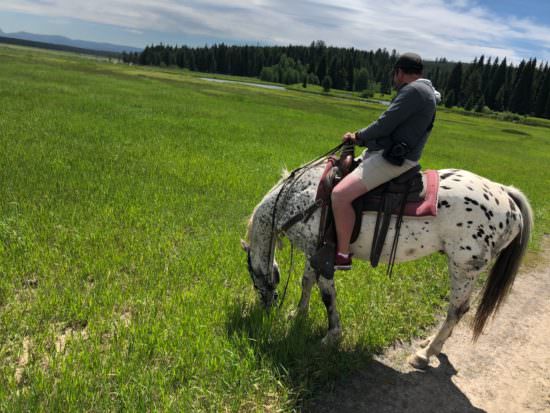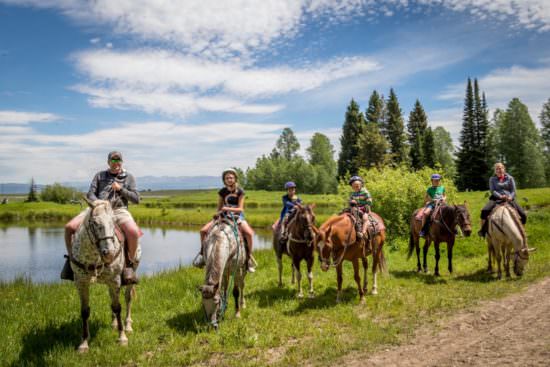 After horseback riding we were ready to head home. We decided to drive through Yellowstone and go home through the Grand Tetons and Jackson Hole. This gave us the perfect chance to take these pictures:
We stopped at the Grand Prismatic Spring on our way out. The pictures of this spring look so pretty, but unfortunately, from the boardwalk, you can't really see it. I was sad about that. Next time we go to Yellowstone we'll have to hike from above so we can look down on it and appreciate the colors.
Dallas was amused by this poster every time we saw it, so we had to do our own version.
(To be clear – Caroline wasn't really off the boardwalk. Dallas just Photoshopped her there. We were good tourists and stayed on the path.)
Our trip to Yellowstone was just the diversion we needed to break up the monotony of having nothing to do because of COVID. Dallas and I are already dreaming of when we can go back.
Related
Brooke, Caroline, Family Fun, Madison, Spencer
I've been storing up kid artwork for a while, so here's a post dedicated to our aspiring artists/graphic novelists.
Brooke's school papers continue to be used (for better or for worse) as her sketch pad:
Holidays bring out her creativity:
She saw our bananas and couldn't resist giving them a little personality: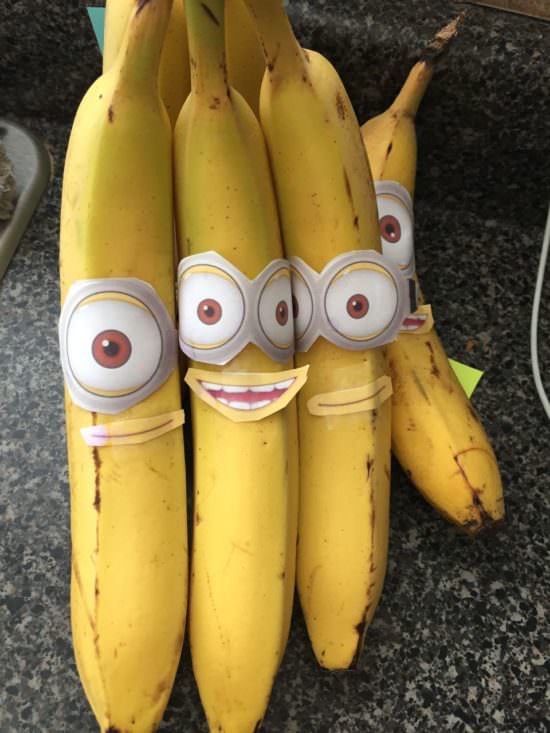 And then we have the endless doodles and comics she draws on every scrap of paper she can find:
Caroline isn't quite as prolific of an artist, but she does do cute drawings as well: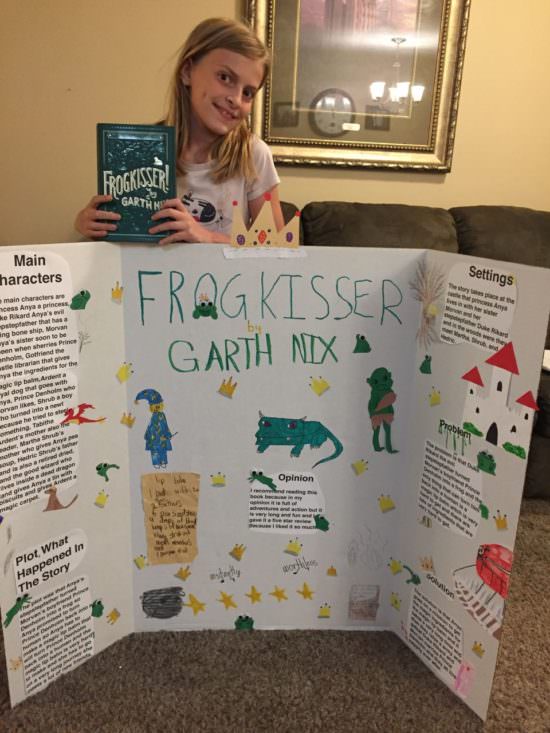 Spencer enjoys drawing also. Here we have a self portrait: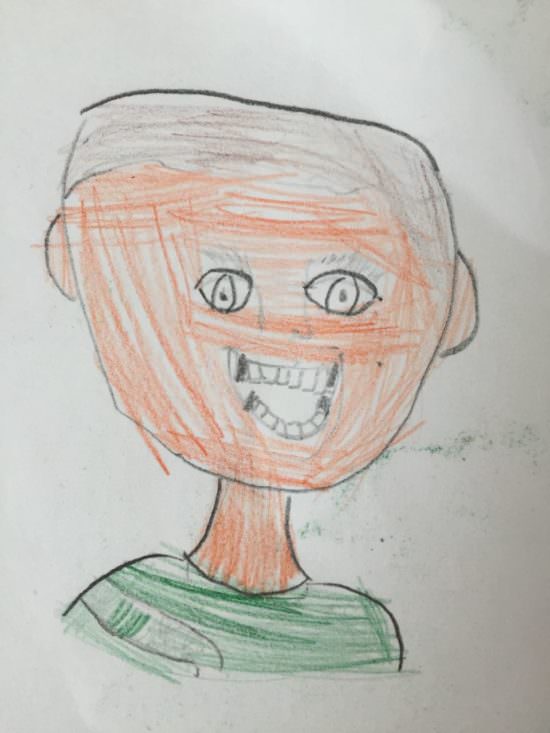 Another child who can't resist doodling at school: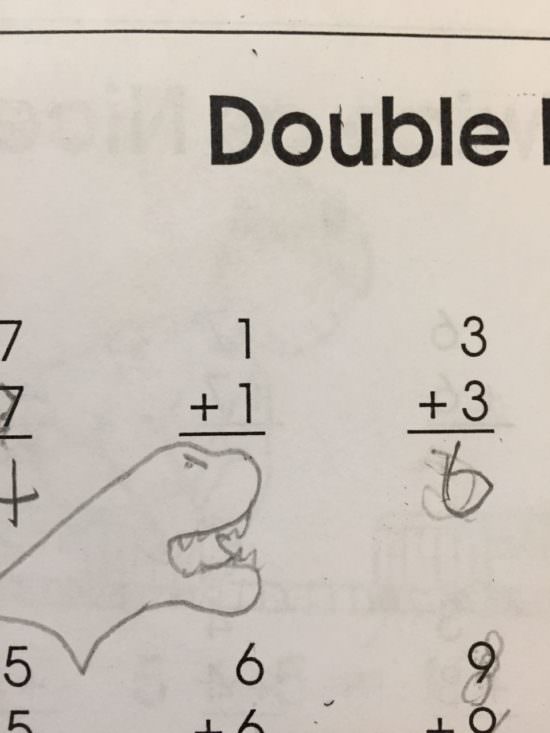 Spencer went through a phase where he was really into flags. He'd look up pictures of different flags and recreate them in miniature:
Lately Madison has been joining the artistic ranks.
Madison drew this one in church. Her friend Norah is sad, so she's giving Norah a doll to make her happy: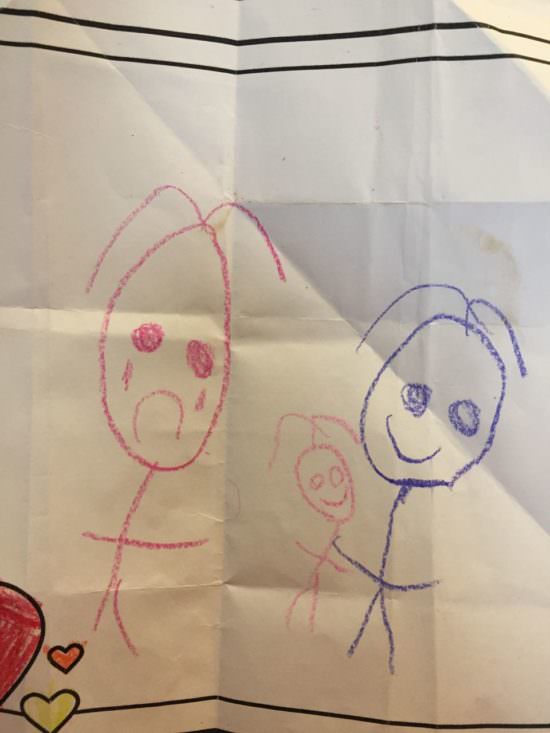 This princess got caught in a rainstorm and wasn't happy: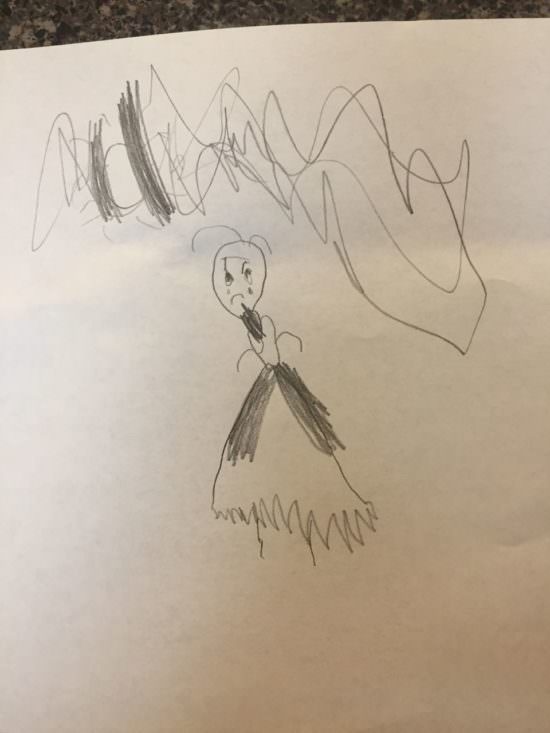 Madison brought this paper home from preschool. I was shocked at the adorableness of that zebra and had to text her preschool teacher to see if Madison actually drew that. Turns out she did draw it all by herself. It's especially surprising how good her zebra is when you compare it to the other two animal blobs beside it.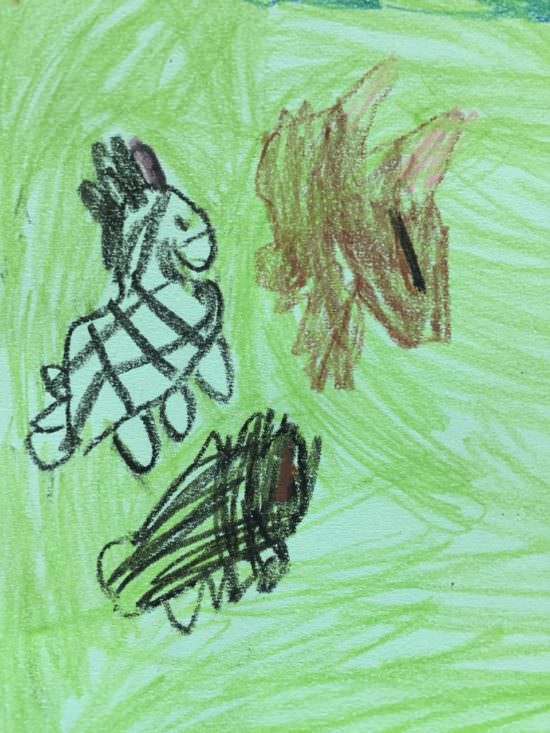 One day we played Pictionary as a family. We told Madison she could draw whatever she wanted. The category was "animal." She drew this: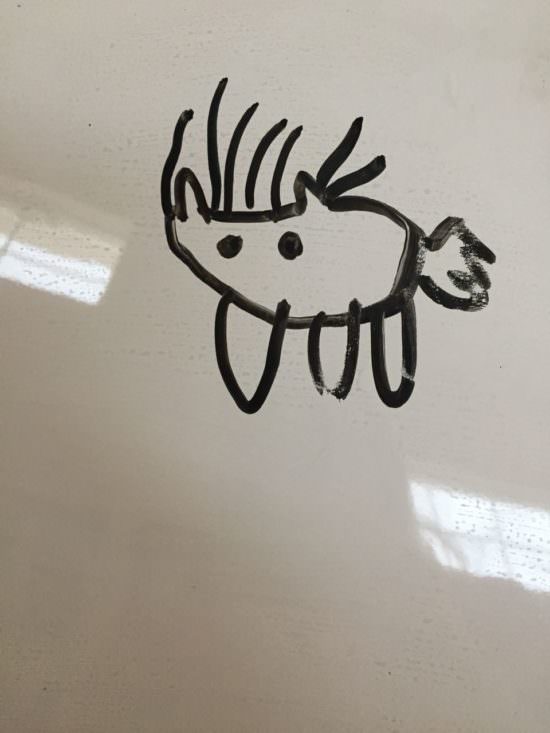 After guessing every animal we could think of we finally asked Madison what it was. Her response? A giraffe. I continue to chuckle to myself every time I think of her neckless giraffe.
Related
One of my New Year's resolutions was to stay up-to-date on the ol' blog. Here we are at the end of April, and I'm finally documenting Halloween and Christmas. Not quite as timely as I had hoped, but this is the kind of behavior you've probably come to expect from me by now.
We did our usual Halloween activity of attending the Monster Block Party and riding horses:
I had heard about a guy who builds huge dinosaurs in his front yard. We had to take our dino-loving boy to check it out. It did not disappoint:
Halloween day brought us the cutest little unicorn: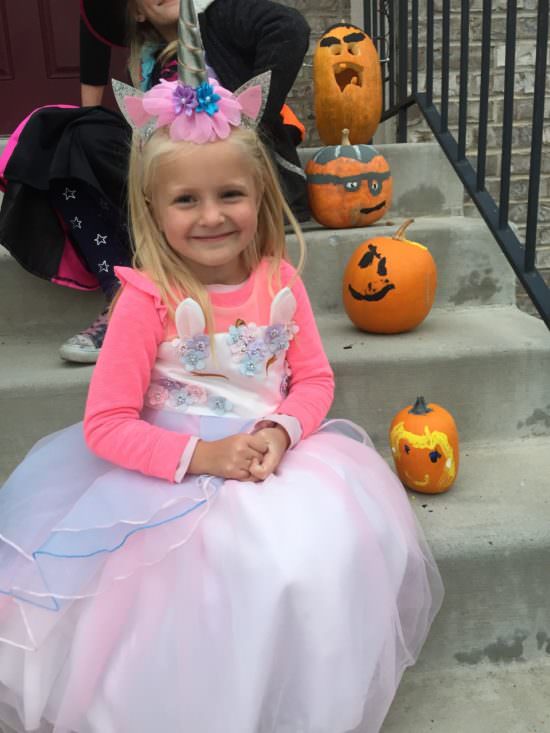 We also had a dinosaur, an angel, and a witch:
Christmas started with the kids making Christmas lists. I particularly enjoyed the top right picture of Brooke's list. She loves to express herself through pictures: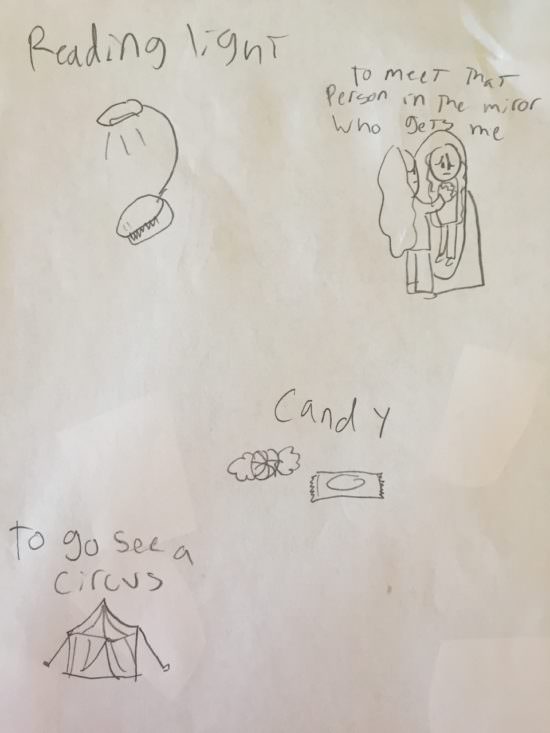 I got a brand new nephew! My baby brother had a baby! Well, I mean, his wife had the baby, but still. Baby Kade is adorable and we all love when we get to snuggle him:
We looked at amazing Christmas lights. Only half of us were appropriately dressed:
Christmas morning came and brought with it the usual excitement: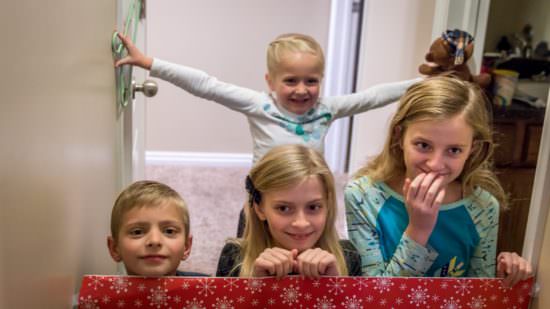 Several days before Christmas Brooke was doing weird things with my hands. Upon closer inspection, I realized she was getting my fingerprints. She would color my finger with pencil and then place clear tape over my finger. When she removed the tape, she found she had captured my fingerprint. She also retrieved Dallas's fingerprint. I couldn't figure out why our fingerprints were all of a sudden so important to her.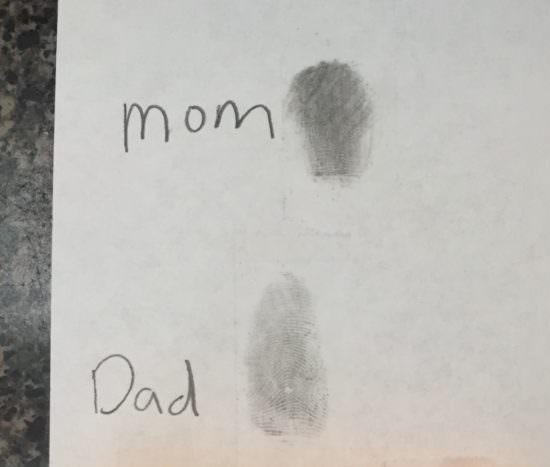 Everything became very clear once we saw the note that Brooke left for Santa on Christmas Eve: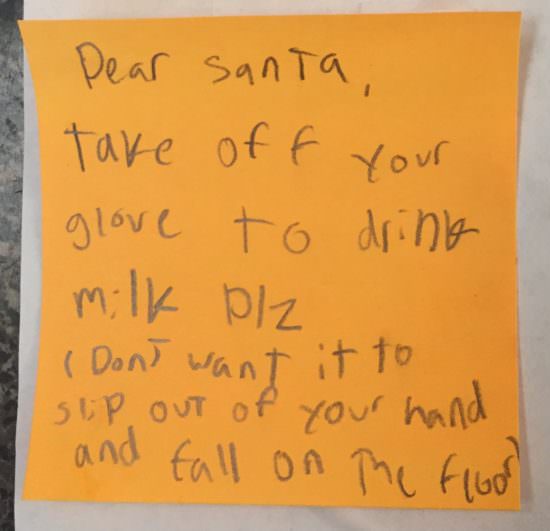 Sure enough, on Christmas morning Brooke went straight to the glass of milk. She held it up to the light and found a fingerprint. She used her tape method to transfer the print and compared it with her known samples (mine and Dallas's fingerprints). After much inspection she concluded that Santa had a completely different fingerprint from me and Dallas proving without a doubt that he is the real deal.
Right before Christmas we heard the news that our 11-year-old Brooke would be able to start young women's in a few days AND attend the temple to do baptisms for the dead. A temple recommend holder was in order!
Madison REALLY wanted Shopkins. Her wish was granted. To say she was thrilled would be an understatement:
The kids went on a scavenger hunt which ended in the garage with a new bike for Brooke, new scooters for Caroline and Spencer, and roller blades for Madison.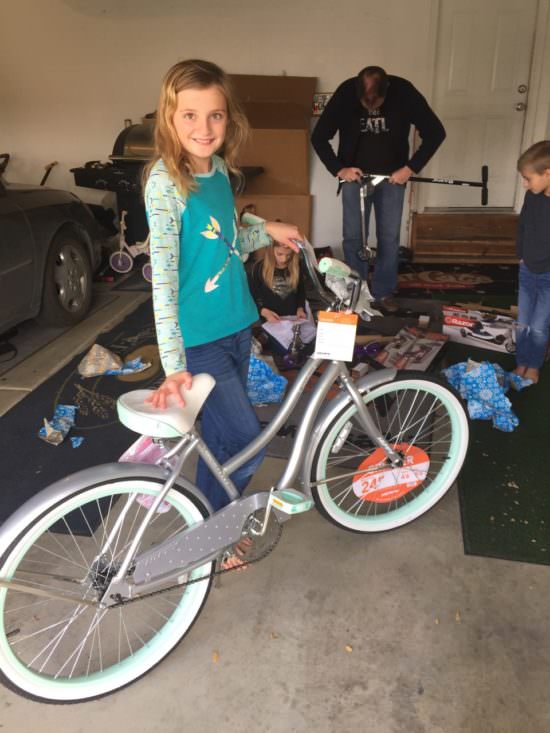 The kids got right to work building their Lego sets: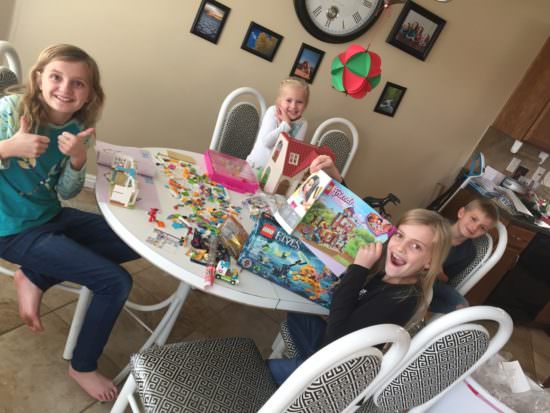 Brooke got creative and built Bigfoot's foot…wearing a flip flop:
Brooke decided the time had come to get her ears pierced. She got some earrings in anticipation and she couldn't stop looking at them: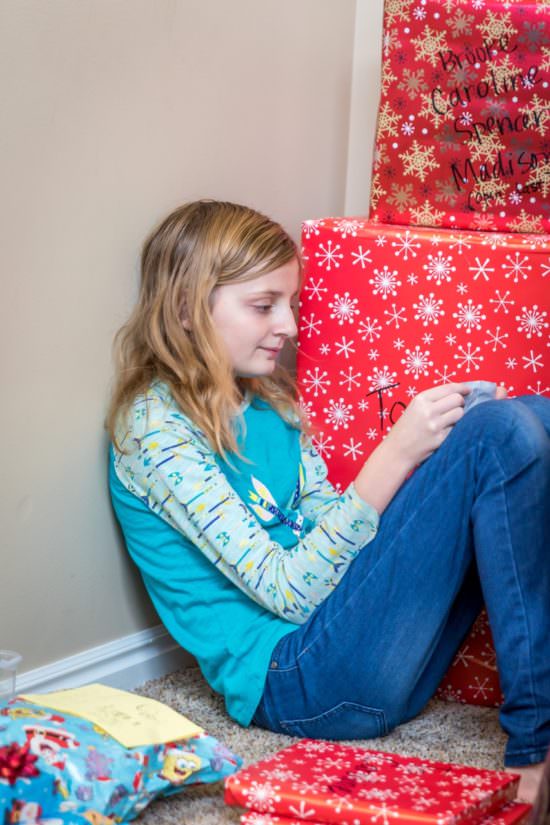 Here's our last picture of Brooke with hole-less earlobes: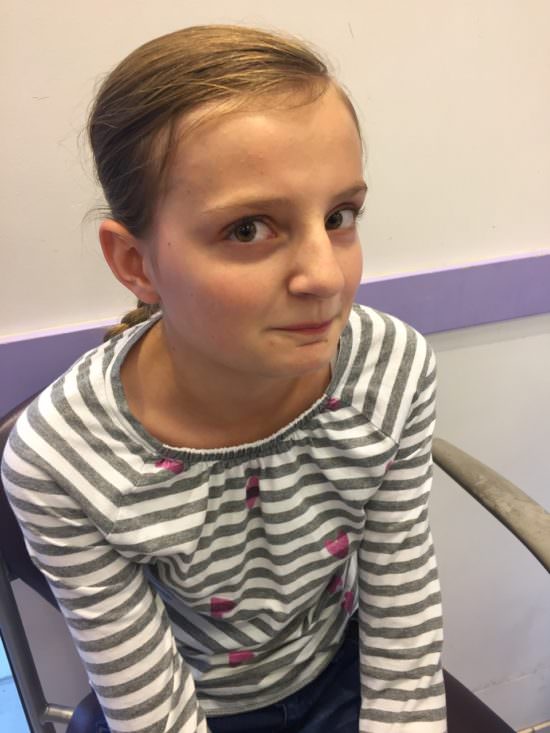 Brooke's first picture with earrings: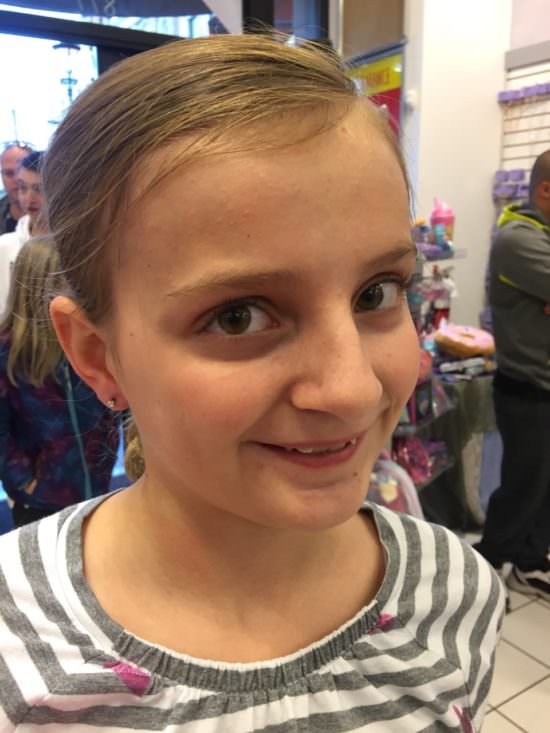 We did our annual candy house creations:
We went to temple square to see the lights and visitors' center:
We had to hit up the local skating rink so Madison could try out her new roller blades. She amazed us by how fast she could go without holding onto anything. By the end of the evening she was even jumping in her blades!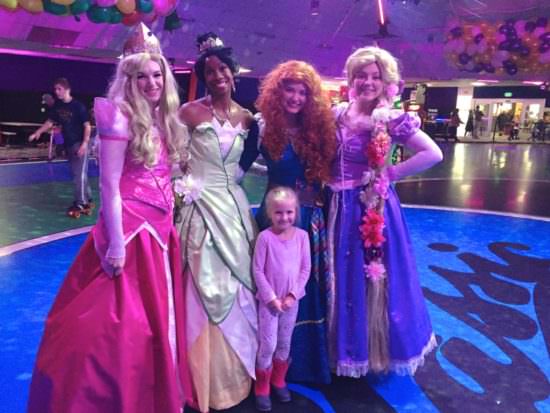 Brooke played a game and won the token jackpot!
In conclusion, on this Easter Sunday I'd like to say Happy Halloween, Happy Thanksgiving, and Merry Christmas!
Related